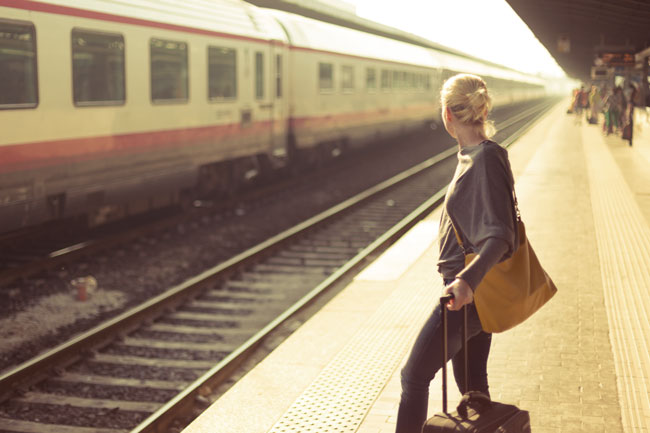 Go World Travel Magazine is reader-supported. If you make a purchase through a link, we may receive a commission.
It was small, fitting neatly into the palm of my hand, but it held great promise. This simple slip of paper, my Eurail pass, allowed me to hop on any train in Europe. It was like winning the lottery or landing the golden ticket.
Back then, I was an exchange student studying in Austria, so I was close to the action. Eurail in hand, I would pull out my map of Europe, which started off crisp and new but soon grew tattered with use, and plan my adventures.
Should I meet friends in Spain? Travel with my roommate to Budapest? Or should we try to reach the Arctic Circle in Norway? It didn't matter that I had to sleep in youth hostels or on overnight trains. I was exploring Europe!
Many years have passed since the train trips I took at age 20, but I'm still in love with train travel in Europe.
For me, one of the biggest benefits of vacationing in Europe is that it's easy to visit several countries in one trip. Unlike travel in the United State or Australia, where traveling between states can take days, you can travel just a few hours — or less — and be in a completely different culture.
This makes traveling in Europe much simpler. I've rented cars in Europe, and that's a great way to explore rural areas like Tuscany. But when it comes to driving in large cities and populated areas, driving can be stressful, and it can be difficult to find your way around.
By contrast, the train system is well-organized and takes much of the guesswork out of travel. That's why, once again, I chose to travel by train on a recent trip with friends to Europe.
Our plan was to start off in Paris, and then travel around Switzerland. After a few tricky spots maneuvering our luggage through the Paris subway system, we took off from Paris.
It took less than six hours and just one connection to make it to the small town of Montreux, Switzerland on Lake Geneva. Going to the airport would have been more expensive and taken more time, considering all the hassles of checking in and going through security.
From there, we chose to buy a five-day Swiss Pass, which provided unlimited access on trains, buses, and boats over the course of eight days.
The Swiss take train travel to new heights. Their organized, efficient and punctual train system means that you can make each connection as planned. If the schedule says the train will leave at 15:39, you can be guaranteed that it will.
From Montreux, we took the train to the cheese-making village of Gruyeres (yes, of the famous cheese). That entailed a breath-taking train trip through the Alps, a short connection in the village of Montbovon, and then we were there.
Getting from the even tinier Swiss village of Charmey, Switzerland to Zurich required a bit more adventure. First, we took a regional bus to Bulle, caught a train to Romont, and then connected one more time in Bern to reach Zurich.
Each connection was perfectly spelled out on the Rail Europe travel planning website, and went smoothly. The entire trip, including all the connections, only took 2.44 hours.
Train travel in Europe varies by country, of course, but in general, it's safe and efficient. You still need to take the usual precautions, though. I learned this when my purse stolen once while sleeping on a train in France. Fortunately, police can be found at most stations if you need assistance.
Not long ago, my daughter told me about her upcoming summer plans – a month-long trip around Europe.
Like any parent, I worry. My daughter would be traveling overseas, far away from me. But what could I say? I remembered a girl who once did that same thing at the same age.
"Let me tell you about the Eurail Pass," I told her, and then we pulled out a crisp new map of Europe.
Where to Buy Train Tickets
Eurail Passes
Purchase your Eurail pass at Eurail.com
Overnight Travel
For overnight train travel, sleeper and couchette tickets can also be purchased.
Sleeper/couchette options include:
* Sleepers/Couchettes
* Deluxe: A bed and private restroom
– T4 Compartment: Four beds, washbasin, linens/towels
– T3 Compartment: Three beds, washbasin, linens/towels
– Single: First-class compartment with one bed, washbasin, linens/towels
– Double: First-class compartment with two bunk beds
– Couchette: Second-class compartment with six bunk beds and shared public washroom
Please note: Some trains, such as TGV, require a purchased seat reservation in addition to your ticket.
Eurail Passes: www.eurail.com
2. Rail Europe
www.raileurope.com
General Bookings/reservations:
1-800-848-7245 (USA)
1-800-361-7245 (Canada)
1-800-726-1936 (Mexico)
Buy train tickets: Rail Europe
3. Omio Travel
Compare Flights, Trains, Buses & More
Helpful Links:
Need Luggage? eBags offers Free Shipping over $49 + Easy Returns