As we deplane from our two-hour Cape Town/Durban flight, my friend asks if we are still in South Africa. I glare at her. But then, I think about it. Few North Americans go to Durban. Too bad.
Blessed with natural beauty, the city sits on the east coast of South Africa. The aquamarine Indian Ocean glides onto Durban's gilded, sandy shore.
With the popular resort-like Golden Mile Beach and art deco architecture across the street, some liken it to Miami Beach. But that's where the similarity ends. Durban sparks the senses with its collage of colors, tastes, sounds, and smells.
This urban scene, a vibrant mix of cultures – British Colonialism, Zulu and Indian – has the largest East Indian population outside of India. Beginning in 1860, Asian Indians were brought here as indentured slaves to work on sugar plantations. By 1904, East Indians outnumbered white people.
Victoria Street Market for Bunny Chow
Locals will tell you that Victoria Street Market (151-55 Bertha Mkhize St.) in the Indian District has the best Indian food in the city. Savor spicy, curry dishes like bunny chow (hollowed out bread filled with bean curry and meat).
This enormous market on the city's east side has a madness about it. Noisy and crowded, vendors loudly call to prospective customers when hawking their medicines, meat, seafood, clothes, and souvenirs. Bowls are piled high with spices of yellow, red and orange. Aromas from spice vendor stalls waft through the air.
Bargaining for goods is the practice here. It isn't to be missed, but make sure you watch your belongings and be aware of pickpockets (as in all the Indian District). My best advice: hire a reliable guide.
Madressa Arcade for Sari Fabrics
Madressa Arcade, another shopping area in the district, offers brilliant bolts of fabric for making saris. Costume jewelry and bright buckets of spices line its narrow winding passage.
Juma Mosque Holds 7,000 Worshippers
Another "must-see," the Juma Mosque on nearby Grey Street, is the largest mosque in the Southern Hemisphere, accommodating about 7,000 worshippers. Its colonial and Islamic architecture, golden-domed minaret and columned verandas pose a bright contrast to the deep blue sky.
Muthi Market – The Zulu Answer to Walgreens
Muthi Market near Victoria Street Market (Warwick Junction and Julius Nyerere St. in the suburb of Berea) is Africa's most extensive traditional medical market and the Zulu answer to Walgreens. Stalls lined with burlap bags overflow with colorful powders and potions made from seeds, plants, animals and bark.
Alongside age-old Zulu medicines, patrons will find remedies touted to bring good luck (umuthi-wenhlanhla) and to help with communication (uvelabe hleke). Traditional medicine men are also available to assist with your ailments.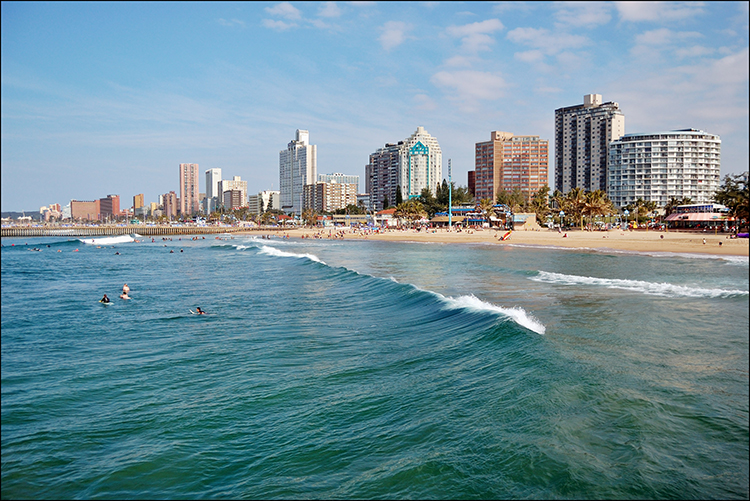 Golden Mile Beach
With all the sights, sounds and aromas that the Indian District has to offer, Durban's biggest attraction is the aptly named Golden Mile Beach. Divided by piers, its gilt-colored sand stretches north to south from Vetch's Pier to Suncoast.
Many come to surf or to splash in the warm waters, which are protected with shark nets.
And, yes,  it is usually crowded. But, there are water slides, snack shacks, bars and a promenade.
Zulu rickshaws are the most-unique beach attraction. Once a major mode of transportation, only a few remain. These multi-colored rickshaws are steered by drivers dressed in brightly beaded costumes and headdresses. Hire one for a ride around the sand.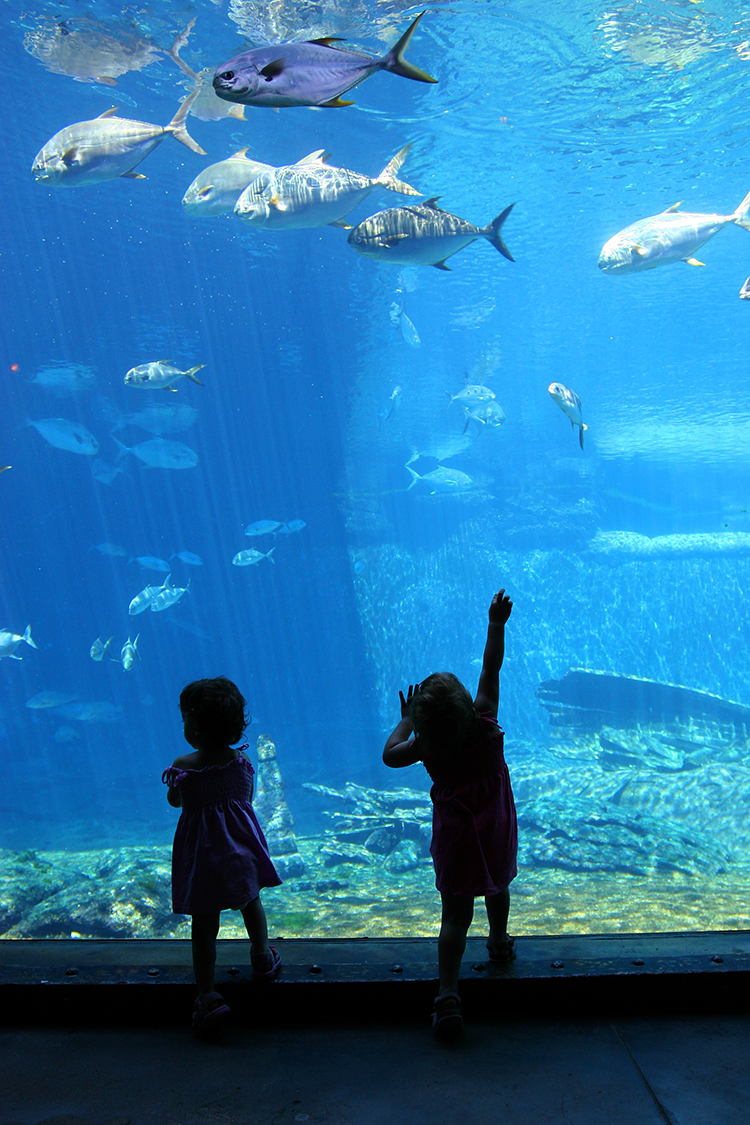 uShaka Marine World
The uShaka Marine World is another major attraction. Situated between the beachfront and the harbor, this 39 1/2-acre (16-hectare) family destination has a giant ship for an entrance.
Home to the largest aquarium south of the equator and a water park with 10 different rides and slides, this theme park will keep everyone busy.
The Dangerous Creatures section has seals and penguin shows, while ziplines and rope adventures at Chimp & Zee make the more adventurous in the group happy.
BAT Centre for Art and Poetry
Sights and sounds rule at Maritime Beach (Victoria Embankment). BAT Centre focuses on local artists. Watch them sculpt and paint, listen to poetry readings and hear performances by local musicians. The Africology show features traditional dancing and teachings. Fine ceramics and fabrics also are available at the craft shop.
Shopping, Nightlife Along Florida Strip
The ½-mile-long, treelined Florida Strip has more shopping – and nightlife. Edwardian architecture houses a variety of businesses including the African Arts Centre, coffee shops, an Apple store, a cigar store and a leather shop. Both the strip and the BAT Centre can be a bit seedy, so watch your belongings.
Umhlanga Resort Town
Much safer and just north of Durban sits the resort area of Umhlanga (pronounced Umhshanga), which is blessed with beautiful beaches, good restaurants and my favorite guest house, Anchor's Rest at Umhlanga Rocks.  It's difficult to find but well worth the search.
Most North American visitors to South Africa usually see only Johannesburg, Cape Town, Krueger National Park and sometimes a private reserve. They should add a few more days to discover Durban's vibrant sights, sounds and aromas.
If You Visit Durban, South Africa
Durban: www.durban.gov.za and https://visitdurban.travel/
Anchor's Rest: www.anchorsrest.co.za