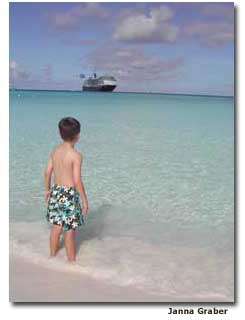 We snorkeled (pulling my six-year-old along on a viewboard), watching schools of fish swirl beneath us, and finding conch shells on the ocean floor. But the best part of the day was simply lounging on the white sand beach and playing in the crystal blue shallow waters.
When a sudden rainstorm pounded us with warm drops later that afternoon, we ignored it, choosing to continue our play in the Caribbean waters. (There was no lightening around, of course.)
By the time we pulled ourselves from the sea in order to make the last boat back to the ship, my six-year-old had developed a love for the water and grins covered our tired faces.
"That was the best day!" my daughter exclaimed, while the others nodded in agreement.
Such family experiences are treasured memories in the making. And that, after all, is any parent's goal.
If You Go
Holland America Line
www.hollandamerica.com