Cruises for Families with Children
When it comes to cruise lines, one size does not fit all. There are cruises designed for adults only, others geared towards families with children.
Some cruise ships carry thousands of passengers, while smaller vessels may cater to only 50 guests.
The variety of cruise lines can seem overwhelming when it comes to planning your vacation, so it helps to decide what kind of experience you are looking for.
Finding a Perfect Cruise for Our Family
In our case, we wanted a cruise that offered something for the whole family, but wasn't just geared toward kids.
We wanted a ship that was big enough to offer dozens of activities, yet wouldn't make us feel like we were always in a crowd. Most of all, we wanted an affordable cruise that would make us feel pampered.
In the end, we found ourselves aboard Holland America's Zuiderdam ship in the Western Caribbean. This may seem a surprising choice, given Holland America's past popularity with the "over 50" age segment.
My siblings and I sent our own 60-something parents on an Alaskan cruise with Holland America last year — and they enjoyed every minute of it.
Cruising with Kids on Holland America Line
The whole family is coming on Holland America Line cruises because the ships have something for everyone.
The kids can go to Club HAL, mom and dad can relax by the pool, grandma and grandpa can go to high tea in the afternoon and everyone can meet for dinner.
This multi-generational facet was evident from the moment our ship left the Fort Lauderdale, Florida port.
We saw grandparents watching their grandkids jump into the pool, 30-something parents dancing at the Crow's Nest and teenagers playing hoops on the top deck.
The only demographic that seemed to be missing were singles in their twenties.
Club HAL was a big hit with my kids. It was small enough so that the Club teachers knew each of our children by name (there were 428 children onboard out of some 1,800 passengers).
Activities on Cruise
Yet there were plenty of activities on offer, from computer game rooms to craft programs to swimming games. The kids even put on a talent show at the end of the week.
Club HAL currently has programs for three age groups: kids ages 5–8, the "Tweens," ages 9-12, and Teens, ages 13-17.
The two younger groups have separate sides of the Club HAL center, while the teens meet in various parts of the ship. (They even have their own late-night discos and sports tournaments.)
There was a good teacher-child ratio, and the classes never felt too crowded during our week aboard the Zuiderdam.
There are plenty of other activities for kids onboard the ship. My 11-year-old met several other young people her age, and they spent hours playing basketball, going to the movies, exploring the ship and eating together.
To keep track of her, I gave my daughter times that I wanted her to check in with me. And one of her friends carried a walkie-talkie that allowed us to reach the kids anywhere on the ship.
For many of these 11- and 12-year-olds (including my daughter), it was the first time they had been allowed the freedom to explore on their own, away from mom — and it was an experience that my daughter still talks about.
Passing My Time
While the kids were pursuing their activities, I spent rare treasured hours on my own — reading by the pool, getting a massage at the spa, and yes, (I admit it), even surfing the Internet in the ship's computer center.
Yet while life onboard is enjoyable, port visits are usually the highlight of any cruise.
Our Western Caribbean itinerary stopped in Key West, Florida, Cozumel, Mexico, Grand Caymans and at Holland America's private island in the Bahamas.
Each port offered over a dozen family-friendly onshore excursions, and we had a difficult time deciding what to do.
Our favorite shore excursion turned out to be the four-wheel-drive Jeep tour in Cozumel.
The kids roared with laughter when I took the wheel on our journey through the jungle to a deserted beach.
While I was a timid driver at first, I was soon maneuvering over rocks and through deep sand with the best of them, while my kids cheered me on from the back seat.
Exploring the Sea
In Grand Cayman, we boarded a semi-submersible submarine to explore the sea, a perfect adventure for my six-year-old, who was still not quite sure about the ocean.
But the best stop of all was Half Moon Cay, Holland America's private island in the Bahamas (see Private Island Paradise).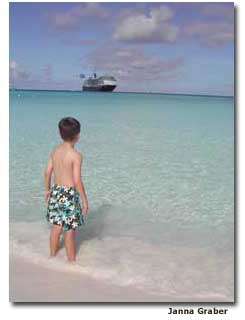 We snorkeled (pulling my six-year-old along on a viewboard), watching schools of fish swirl beneath us, and finding conch shells on the ocean floor.
But the best part of the day was simply lounging on the white sand beach and playing in the crystal blue shallow waters.
When a sudden rainstorm pounded us with warm drops later that afternoon, we ignored it, choosing to continue our play in the Caribbean waters.
(There was no lightening around, of course.)
By the time we pulled ourselves from the sea in order to make the last boat back to the ship, my six-year-old had developed a love for the water and grins covered our tired faces.
"That was the best day!" my daughter exclaimed, while the others nodded in agreement.
Such family experiences are treasured memories in the making. And that, after all, is any parent's goal.
If You Go
Holland America Line
www.hollandamerica.com