I often visit Mexico for warm sunshine and beach time, but this vacation is different. Although La Paz, the laid-back capital of Baja California Sur, has plenty of sunshine and golden-sand beaches, this time I'm here to experience the region's rich marine life.
La Paz is the gateway to the Sea of Cortez, one of the most abundant and wonderful ecosystems in the world. It's rich with marine life.
Yesterday, I went swimming with whale sharks on the Sea of Cortez, and later, my friends and I went snorkeling with sea lions. Both experiences were bucket list adventures that would be hard to top. But today, we're going to try.
We're headed to see the gray whales of Magdalena Bay.
Whale Watching or Human Watching?

Whale watching is a wonderful adventure, but the gray whales of Magdalena Bay are unique. While tourists come to view the whales, it seems the curiosity is mutual. Over the years, the gray whales of Magdalena Bay have developed a curious fascination with humans that has been passed on from generation to generation. This is one of the few places in the world where whales and humans can view each other up close.
Gray Whales of Magdalena Bay

From December to March, more than 400 gray whales come to Magdalena Bay in lower Baja California Sur, Mexico. The protected lagoon is the perfect place for the whales to give birth and raise their young.
Gray whales have been coming to Magdalena Bay for decades. Each year, they travel almost 10,000 miles from the Arctic to Baja California Peninsula, where they breed and give birth to their young.
In the bay, the young whales are safe from orcas, also known as killer whales, which often prey on young gray whale calves. But Magdalena Bay is shallower than the orcas like, so they don't enter. This gives the gray whales a safe place to have their young.
A limited number of tour operators are permitted to take guests for whale watching in small panga boats, a type of fishing boat. As the panga boats sit quietly, watching the whales, the whales often approach, wanting to view the tourists as well.
Such trusting wildlife can sometimes be exploited, so whale watching tour companies at Magdalena Bay are highly regulated. Guides must do yearly training, and time with the whales is strictly limited. Permit fees go to help protect Mexico's wildlife.
Whale Watching Adventure with Choya Tours

With that in mind, we don't mind getting up early to begin our whale watching adventure. Getting to Magdalena Bay and back is an all-day affair. The bay is far off-the-beaten path about three hours from our hotel in La Paz.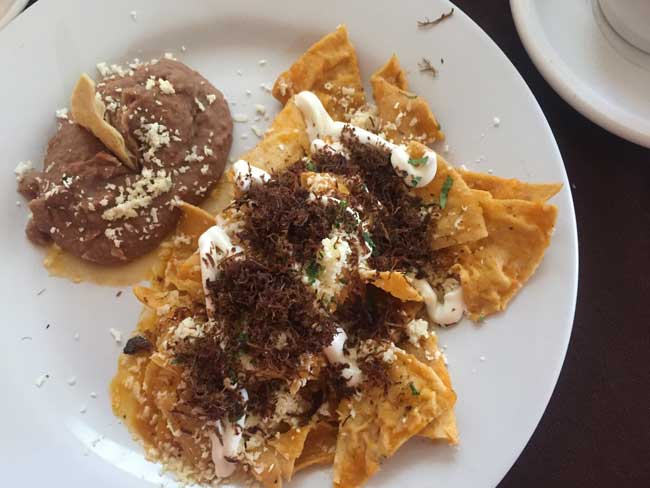 Fortunately, we're spending the day with Choya Tours, a well-respected outfitter, and they have the whole day planned. They pick us up at our hotel early, and along with 25 other guests, we make the three-hour drive in a comfortable tour bus.
On the way, we stop for breakfast at a local restaurant. (Breakfast and lunch are included in the tour.) The restaurant is unassuming, but my breakfast of Chilaquiles is good.
Our guide for the day is Isaac, who is studying to be a marine biologist. As we drive, he tells us more about the whales we will encounter. Gray whales can reach up to 50 ft. long and weigh from 20 to 35 tons. They are baleen whales, and eat tiny invertebrates that live in bottom sediments, mostly amphipods and marine worms.
Up Close with the Whales

It's warm and sunny when we arrive at the lagoon and board our boat. As the panga boat skims across the water, we can see whale spouts in the distance. We go to the far end of the lagoon, and then sit quietly.
For several minutes, we sit and wait. But there are no whales. Isaac tells us to be patient, and that the whales will come to us if they want to. There is no feeding allowed, so the whales do not approach the boat for anything but curiosity and interest of their own.
Sure enough, we soon hear a loud spout of air and then turn to see a large gray whale approaching us. She circles us slowly, checking us out.
We sit and wait, exclaiming with glee when she eventually swims right toward us. I realize that we are in a tiny boat, and she could easily flip us with one toss of her head. But she is slow and gentle in her approach.
Eventually, the tip of her massive head is touching our boat, going slightly under it, in fact. But again, she is gentle, and does not push.
She waits patiently on the side of our boat. "She wants you to touch her!" our guide says.
In many parts of the world, this would not be allowed. But here, the whale seems to insist. We reach out under the careful gaze of our guide, and gently rub her large head. She remains there for a few minutes as we exclaim over her.
Then she swims away, and we wait again.
Minutes later, she approaches again. This time, a wobbly calf swims awkwardly beside her. "The calf is just a few days old," Isaac tells us. "She is still learning to swim."
Indeed, the baby whale's tail is floppy, and she has trouble managing it. Eventually, the mama whale swims under her calf, and gently pushes it towards us. I can hardly believe my eyes. This is deliberate and purposeful. She is bringing the calf to see us!
When the baby reaches the boat, she pokes her head out of the water to get a good look at us. We exclaim with joy and pat her head too. One time, she comes to the boat and flips over, exposing her belly. We scratch that for a few seconds, which she seems to enjoy.
This gentle human-whale interaction is touching, and I am deeply moved. I am alongside a beautiful, 50-foot animal, and we are experiencing this time together. It's something I will always remember.
All too soon, our guide says it's time to go. He turns the boat around, and we slowly head back to shore. I turn one last time to see the mama and baby whale. They are still there, swimming slowly in the tranquil waters of Magdalena Bay.
Don't Miss All Three Parts of Our Series: "Whales, Sea Lions and Gray Whales, Adventures in La Paz"
Part 1: Swimming with Whale Sharks in the Sea of Cortez
Part 2: Snorkeling with Sea Lions in the Sea of Cortez
Part 3: Humans and Gray Whales Meet at Magdalena Bay
If You Go
Whale Watching Tours to Magdalena Bay
Choya Tours offers whale watching day trips to Magdalena Bay from January – March for $ 2,200 MXN (adults) or $ 1,100 MXN (age 1 to 9 years). The price includes transportation from La Paz, breakfast at a restaurant along the way, two-hour whale watching tour, and lunch at a restaurant on the way back.
Where to Stay in La Paz
La Paz is an excellent base for exploring the Sea of Cortez (see golapaz.com for more information).  I stayed at CasaBaja Resort, a lovely luxury resort overlooking the water. Breakfast was included. My room was large with a comfortable bed and patio overlooking the bay.
What to See and Do in La Paz
Stand-Up Paddle Boarding with Harker Board Co.
Harker Board Company is located right on the Malecón (waterfront) in the heart of La Paz, and offers paddle boarding on the bay. Best of all, they have a restaurant too. There's nothing like going paddle boarding and then coming back for a burger and a beer right there along the beach.
Whale Museum (Museo de La Ballena)
Although it's not huge, the Whale Museum in La Paz is excellent and well worth your time. Excellent exhibits in both English and Spanish provide insight into whales, dolphins, sharks and sea turtles. Guided tours are often available.
Where to Eat in La Paz
Dining in La Paz is a highlight. Fresh seafood and local produce are a frequent part of every meal. Here are some La Paz restaurants that I like and can happily recommend.
Mariscos Bismarkcito
The seafood dishes here are amazing – and huge! We got a large variety of dishes and shared, which was fun, since they were all good. I especially liked the Seafood combo and seafood pizza. If it's nice, sit outside.
Rancho Viejo
Don't miss this place if you love Mexican cuisine. Meat is grilled outside and is a specialty, with many dishes based on favorite dishes of owner Martin Oracio Carillo. Rancho Viejo is affordable and laid-back. If it's nice, you can also eat outside.
Steinbeck's
Named after the great writer who wrote so passionately about the Sea of Cortez, this open-air restaurant at CostaBaja Resort offers views of the marina and serves an extensive range of angus beef, fish and other meats cooked over a mesquite wood grill.
Sorstis
One of the top restaurants in La Paz, Sortis is known for their Italian dishes, including excellent pizza, a good wine selection and their unique dining courtyard, which has a pleasant ambience for an intimate meal with family and friends.
Azul Marino
My favorite part of dining here was its great location on the patio overlooking the marina in Costa Baja. Azul Marino is known for their good wines, seafood, Mediterranean and other international dishes.
Author Bio: Janna Graber has covered travel in more than 40 countries. She is the editor of three travel anthologies, including A Pink Suitcase: 22 Tales of Women's Travel, and is the managing editor of Go World Travel Magazine.