Spread across 2,000 kilometers of the South Pacific Ocean, the exotic islands and atolls of French Polynesia hold a mystical appeal that attracts travelers the world over to their tranquil tropical shores.
Azure lagoons fringed by endless palm-lined beaches are interrupted only by the occasional row of traditional thatched huts, meandering out toward the ocean.
On the surface, French Polynesia is as close to a peaceful paradise as one might hope to find, however, below the rippling waves a different scene awaits.
Diving in French Polynesia
Renowned for its breathtaking underwater diversity, French Polynesia is one of the best places in the world to scuba dive.
Vibrant reef systems and coral gardens are home to a huge array of lively marine life, a colorful spectacle that's truly awesome to encounter. It's hard to imagine this bustling underwater highway that contrasts so sharply with the serenity above.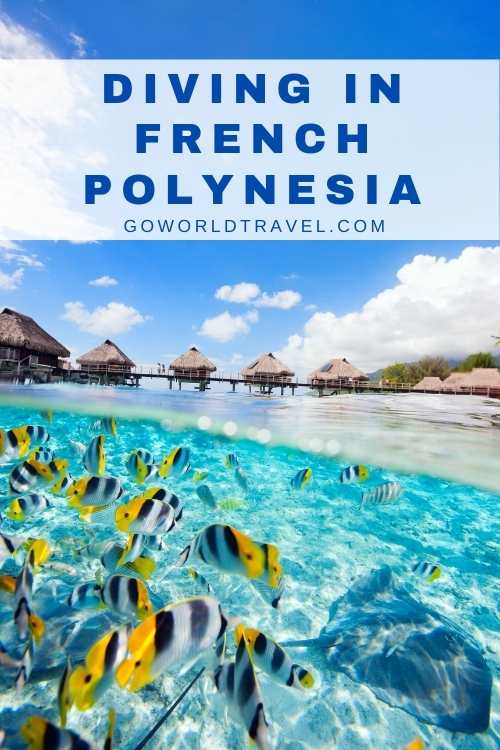 Sharks Abound!
We can discover marine creatures of all shapes and sizes around French Polynesia's healthy reefs and lagoons, however, the islands are perhaps best known for their abundant populations of sharks.
Exploring the region's many dive sites, one can discover at least 16 different species of shark, including whitetip, blacktip, and silvertip reef sharks, gray reef sharks, lemon sharks, and the iconic hammerhead shark.
Such variety is not the only appeal. Individuals number in their millions here, and it's not unusual to encounter dozens of sharks on a single dive!
Diving in Rangiroa and Fakarava
While sharks can be seen throughout the islands, the best spots for shark diving in French Polynesia are the atolls of Rangiroa and Fakarava.
Located in the Tuamotu Archipelago to the northeast of the main island of Tahiti, these two destinations offer exceptional shark encounters to rival the world's best shark diving destinations.
In particular, the waterways that pass to the north and south of Fakarava are heavily populated with numerous sharks, barracuda, and rays, a dream to observe in exceptional visibility.
Whale Season in French Polynesia
Between August and November each year, wildlife enthusiasts are drawn to French Polynesia in the hopes of encountering a different species entirely. Autumn is humpback whale season, and scores of individuals migrate to the outer reefs of the region to rest, socialize, and nurse their young.
French Polynesia is one of the very few places in the world where swimming with these huge mammals is managed safely and with close regard for the welfare of the animals. While scuba diving with the whales is not permitted, swimming and snorkeling amongst these gentle giants is an incredibly rewarding experience.
Best Time to See Whales
Arguably the best spot for whale encounters is the island of Moorea, a short hop west of Tahiti. Mothers and calves are a common sight frolicking in Moorea's shallow lagoons, and it's not unusual to spot dolphins, sharks, and any number of turtles just below the surface.
French Polynesia offers such a variety of diving and snorkeling experiences that many visitors island-hop to ensure they get the most out of their trip. Each atoll is unique both above and below the surface, and there is always something new and exciting to discover.
Where to Stay in French Polynesia
Best known for its luxury resorts and romantic overwater bungalows, there is actually a range of accommodations available throughout French Polynesia to suit all budgets.
Many local families offer pensions and guest houses which provide a more authentic element to your stay, and hotels away from the beach tend to be less expensive than those with sea views.
It is worth booking ahead, especially if you plan to visit the smaller islands. Accommodation fills up quickly during peak times and it's not unheard of for all the rooms on an island to be fully booked.
When Is the Best Time to Visit French Polynesia
June to August offers the driest weather and slightly cooler air temperatures of between 78 and 95oF (28 to 35oC).
However, this is also peak tourist season, and resorts and dive sites can be busy. December and January are the wettest months, with hot and humid conditions outside rain showers and gusty winds. The transition months of September/October and April/May are often good periods to visit.
How to Get to French Polynesia
Faa'a International Airport (PPT) on Tahiti is the gateway to French Polynesia, and direct international flights from North America depart from Los Angeles International Airport (LAX) and Vancouver International Airport (YVR).
Travelers from Europe will need to connect in Los Angeles, and those starting in Asia have the option of connecting in Auckland, New Zealand, or Sydney, Australia.
Once on Tahiti, domestic flights and ferries are readily available to connect you with the other islands.