Santa Fe, New Mexico, is a city unlike any other. Nicknamed the 'City Different,' it was founded between 1607 and 1610 and is the country's oldest capital city. Santa Fe embodies a rich blend of Hispanic, Anglo, and Native American cultures and is internationally renowned for its legendary history.
Everything from the architecture, cuisine, visual and performing art and more have been influenced by the fusion of these diverse cultures together, making Santa Fe a world-class destination, attracting more than 1 million visitors every year.
Santa Fe is the soul of the American Southwest; there are countless experiences to encounter. Its natural beauty is stunning and has inspired artists for generations. The city has carefully preserved its architectural heritage. Strict building codes mandate Territorial and Spanish Revival style.
There are no high rises obstructing the mountain views. It is a natural-grown town, full of nooks and crannies. Mark Twain reportedly said that Santa Fe was "laid out by a drunk riding backward on a horse." Streets don't follow an artificial grid pattern, but the lay of the land.
Explore more to see: Top Things to Do in Santa Fe
Weekend Destination Ideas in Santa Fe, New Mexico
Friday
Wake up in the Eldorado Hotel (309 West San Francisco Street, 800-955-4455; https://www.eldoradohotel.com/). Pull back the colorful curtains and see the sunrise over beautiful Santa Fe. Adobe-style houses in warm earth tones with blue doors and window frames radiate the golden morning light.
Eldorado Hotel in Santa Fe
The Eldorado is Santa Fe's first four-diamond, four-star hotel. Built-in New Mexico's celebrated pueblo revival style, it is centrally located just off the town's historic plaza. All rooms have handcrafted furniture and are decorated with original works by local artists, reflecting Santa Fe's vibrant southwestern spirit. There are even kiva-style fireplaces, fashioned after the round ceremonial chambers of Native Americans.
Start the day with a few laps in the turquoise waters of the hotel's rooftop pool with a grand view of the surrounding Sangre de Cristo Mountains. Order room service for breakfast before you leave for your swim, and steaming hot coffee will be waiting for you when you return all refreshed, wrapped in a crisp terry-cloth bathrobe and ready to explore.
You are probably curious to get a first glimpse of the pulsating heart of Santa Fe: the plaza. It is a grassy square with shady trees, benches, and an obelisk in its center. Sit down and try to picture the turbulent history that happened at this very spot.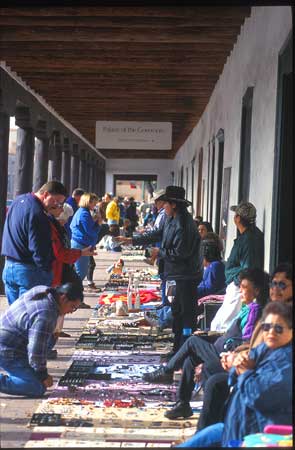 Palace of the Governors

The plaza was built in 1610 by the first Spanish settlers and even had a bullring then. In 1680, a minority of Pueblo Indians revolted against the harsh rule and drove away from the Spanish colonists. They reclaimed their ancestral lands and camped out in the Plaza and nearby Palace of the Governors.
The Spanish abandoned the province for 12 years before they returned. The Indians surrendered without a fight, and the Spanish ruled Santa Fe until 1821 when Mexico broke free from Spain, and New Mexico fell under Mexican authority.
Since 1821, the plaza has marked the end of the 800-mile (1,290 km) long Santa Fe Trail. Until the railroad was constructed in 1880, it was the major trade route from Independence, Missouri, to the Southwest. Close your eyes for a moment and imagine wagon trains and stagecoaches rumbling through the square bringing the first gringos (white settlers). Adventurers, entrepreneurs, and fortune seekers poured in, and the town was quite a rowdy place with bars and brothels galore.
At the outbreak of the 1846 Mexican-American War, New Mexico was occupied by U.S. troops and became U.S. territory two years later. Walk up to the obelisk and read the plaque. It recalls the brief Confederate occupation in 1862.
Within only a month's time, the town was retaken by the Union and became the capital of the 47th state in 1912. In the late 19th century, legendary outlaw Billy the Kid was supposedly kept in chains in the plaza before he was transferred to a secure jail.
Today, the plaza is still an exciting site, the place for fiestas and fairs, political debate, romantic rendezvous, and business affairs.
For almost 400 years, Native American artisans have spread their small blankets under the long portico, or porch, of the Palace of the Governors (105 West Palace Avenue on Santa Fe Plaza, 505-476-5100; https://www.palaceofthegovernors.org/) and sold their handcrafted goods. This is the best place to shop for Native American jewelry.
The adobe-style fortress was constructed by the Spanish in 1609-1610 and is the oldest public building in the United States. Today, it houses the state's history museum and features a selection of outstanding pre-Columbian artifacts such as mysterious arm-length ceremonial gold tweezers (ca. BC 100-AD 700), for example, that makes a non-historian wonder if bushy eyebrows or nose hair must have been a really big problem in the old days?
It's already lunchtime. Try Tia Sophia's (210 West San Francisco Avenue, 505-983-9880), a local favorite for Northern New Mexican fare. But beware: "Not responsible for too hot Chile," warns the menu.
City Tour of Santa Fe
Fueled up, take a City Tour with Fiesta Tours (505-983-1570). The open-air Santa Fe-style brown bus with blue window trim departs at the northwest corner of the plaza. The hour and 15 minutes narrated trip will give you a great overview.
There's plenty to see in this town of about 63,000 people — museums, galleries, churches, and an abundance of hiking trails only minutes from downtown. Most likely, you won't be able to fit it all into your weekend. After taking the tour, you know what sites you want to go back and explore.
Loretto Chapel

The Loretto Chapel (207 Old Santa Fe Trail), with its miraculous staircase, should definitely not be missed. Built in 1873, it is the first gothic structure west of the Mississippi.
Unfortunately, there were no steps to the choir loft, which was not unusual at the time. Most choirs consisted of male singers who would just climb up on ladders. This, of course, didn't quite work for the Sisters of Loretto, an order of nuns originating in Kentucky, who wore long and cumbersome habits. But a regular staircase would take up too much seating space. What now?
The ladies of faith had placed the construction of their chapel under the patronage of Saint Joseph, the patron saint of carpenters. Logically, they decided to pray to St. Joseph for help.
It arrived in the person of an old gray-haired, gray-bearded carpenter who offered to build the much-needed staircase and disappeared without asking for pay, not even leaving lumber bills. So the legend quickly formed that Saint Joseph himself had come to construct the stairwell.
Then again, there are 32 other claims from those who assert their father or grandfather built the stairs, chuckles Reverend Bill Brokaw, who is the chapel's curator today. "But I don't care who built it. That the sisters got an answer to their prayers, that's a miracle in itself."
Resting solely on its base and against the choir loft, the stairway makes over two complete 360-degree turns, is 20 feet (6 m) tall, and has no center support. Supposedly it is made from an unknown wood species — perhaps extinct, perhaps a miraculous material to hold up the wondrous construction.
Cathedral Church of St. Francis of Assisi
Sante Fe, which means the City of Holy Faith, has its name for good reason. People are attracted by the spirituality here and come for soul-searching of all kinds. Most religions of the world are represented here, and psychic consultants and spiritual healers abound. And there are plenty of churches here, the Cathedral Church of St. Francis of Assisi (231 Cathedral Place, 505-982-5619) being the largest one.
The present structure is the third one on the same spot. Father Jean Baptiste Lamy, a Frenchman who became Santa Fe's first archbishop, allegedly never liked the earlier adobe building and began the construction of a new stone cathedral in 1869, choosing a curious mix of French Gothic and Romanesque styles to create a building quite alien to the Spanish Heritage of Santa Fe, yet it is one of its greatest landmarks.
Lamy ran out of money, and to this day, the cathedral is missing the intended two spires. Two chapels are connected to the main structure. La Conquistadora Chapel houses Nuestra Señora de la Paz (Our Lady of Peace), possibly the oldest Madonna statue in the United States, which was brought to Santa Fe in 1625.
San Miguel Mission Church
San Miguel Mission Church (401 Old Santa Fe Trail, 505-983-3974) is the oldest church in Sante Fe. Its adobe walls were built by Tlaxcalan Indians from Mexico under the direction of Franciscan Padres circa 1610. The area around the mission church had been part of an abandoned pueblo dating back to about 1100, portions of which were included in the chapel. Nothing of the original building remains today. Legend has it that the Pueblo Revolt started with burning down San Miguel. The present structure was completely rebuilt in 1710.
As the sun sets on your first day in Santa Fe, head back to the hotel, change and make your way back downstairs to The Old House Restaurant (309 West San Francisco Avenue at Eldorado Hotel, 505-995-4530). Chef Martin Rios' outstanding contemporary American menu has won numerous awards. The Japanese Chile and Acacia Honey-glazed Ahi Tuna are outstanding.
Saturday
Plot your day over breakfast. Today you will explore the artsy side of Santa Fe. Take your pick from several museums.
Museum of International Folk Art
The Museum of International Folk Art (706 Camino Lejo, Museum Hil) features two permanent exhibits: "Multiple Visions: A Common Bond" is a colorful display of toys, traditional arts, and textiles covering more than 100 countries. "Familia y Fe/Family and Faith" documents the two major sources of strength and continuity in Hispanic New Mexico by illuminating this theme through displays of religious imagery to household utensils, jewelry, and architectural elements.
Museum of Indian Arts & Culture
The Museum of Indian Arts & Culture (710 Camino Lejo, Museum Hil) tells the stories of the people of the Southwest from pre-history through contemporary art. A visit to this museum is an excellent introduction to the diverse worlds, sacred spaces, and richly diverse communities of the Pueblo, Navajo (Diné), and Apache cultures of the Southwest. The exhibitions feature oral histories, Native scholarships, music, and displays of select objects from the most comprehensive archaeological collections in the country.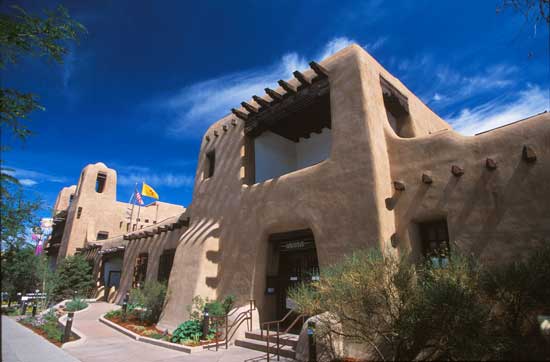 Museum of Fine Arts
The Museum of Fine Arts (107 West Palace Avenue), founded in 1917, is housed in a beautiful Pueblo Revival adobe building with a lovely tranquil courtyard. The museum's architecture, including façade elements of Spanish mission churches, sparked the construction of many more buildings in this mode that has come to be known as "Santa Fe Style." On display are paintings, photographs, and sculptures by artists from New Mexico and elsewhere.
Georgia O'Keeffe (1887-1984) is probably the artist that first comes to mind. Like many of her colleagues forming the Santa Fe artist colony, O'Keeffe was drawn to high desert New Mexico by the magical light, the power of the land, and exotic motifs.
In 1929, she spent her first summer painting here. In 1940, she permanently moved to her Ghost Ranch house at Abiquiu, north of Santa Fe. And in 1997, the intimate Georgia O'Keeffe Museum (217 Johnson Street) was dedicated. Excellent exhibits not only show her trademark large-scale close-ups of flowers but also lesser-known paintings of animal bones and abstract charcoal drawings.
Original Plaza Café
The Original Plaza Café (54 Lincoln Ave), located only a stone throw away from the Georgia O'Keeffe Museum, is your destination for lunch. It is a unique retro spot for classic diner fare along with Southwestern comfort food in a family-friendly setting.
This is where the locals eat; they serve authentic and have the regular New Mexican fare plus regular diner staples with a New Mexican twist. The portions are very good sized for the price with friendly staff, a lively atmosphere, and interesting interior decor.
Canyon Road
After lunch, take a stroll up Canyon Road (between Paseo del Peralta and East Alameda) dubbed the "Art and Soul of Santa Fe." Native Americans have used this narrow thoroughfare for centuries, and it later became a trail for woodcutters en-route to the piñon-studded hills.
In the 1920s, a handful of writers, artists, and painters settled in this former low-cost area of secluded residential compounds and small studios and started selling art out of their homes.
Now, there are about 80 mostly professional galleries, perhaps the highest concentration of this kind anywhere. (Altogether, there are 245 galleries sprinkled around Santa Fe representing roughly 3,000 artists.)
You will find anything from 12th-century Native American pottery, handmade turquoise jewelry, cowboy art, paintings in any style, and crazy sculptures like the life-size woman seemingly taking a bath in the sidewalk's brick.
Retail space has become expensive, and many galleries have no choice but to sell works of already well-established artists. The Baca Street Area southwest of downtown has emerged as an alternative arts district.
La Choza Restaurant
Dinner tonight is at La Choza Restaurant (905 Alarid Street). Santa Fe has developed its own cuisine, not Tex-Mex, not Mex-Mex, but culturally unique and very different from traditional Hispanic cooking. Flat enchiladas served at La Choza about a mile (1.6 km) southeast of downtown will give you a good example of this New Mexican fare: two flat blue corn tortillas with cheese, onions, and the official state vegetable, red or green chilies.
Sunday
Start your last day with a little bit of pampering before heading back to your busy life tomorrow. The Nidah Spa at Eldorado Hotel (309 West San Francisco Street, 505-995-4535) pays homage to the Native American Medicine Wheel and its Sacred Directions.
The fresh treatment ingredients are prepared daily and are inspired from the natural healing properties of plants, legumes, and herbs indigenous to New Mexico. The signature chocolate mud wrap features natural clays from the Southwest blended with cocoa powder and regional spices of cumin, nutmeg, and cinnamon to purify and nourish the skin. And the best part: This chocolate treat has zero calories!
This is something that, unfortunately, doesn't apply to the famous Sunday brunch at the Eldorado hotel. There's fresh fish, seafood, chicken and sliced roast beef, salad, a dessert, and fajita station, in addition to the "typical" breakfast stuff of eggs in all thinkable variations with sausage, bacon, or just plain toast.
Downtown Santa Fe

Santa Fe School of Cooking
Already hooked on Santa Fe's art of cooking? Why not try to bring the taste home and take lessons at the Santa Fe School of Cooking (116 West San Francisco Street, 505-983-4511) this afternoon?
The Santa Fe School of Cooking offers classes in southwestern cooking and gourmet food products from New Mexico for chefs and individuals. The owner of the school, Susan Curtis, is a member of the International Association of Culinary Professionals and of Les Dame d'Escoffier.
You will learn to master the unusual flavors and special ingredients that contribute to the incomparable experiences that is Southwestern food in hands-on and demonstration classes.
Fuego Restaurant
This weekend has passed so quickly. It's already time for your grand finale dinner at the Fuego Restaurant (330 East Palace Avenue at La Posada de Santa Fe Resort & Spa, 505-954-9659 or 866-331-7625)
Try his acorn squash gnocchi in rosemary caramel sauce. And don't miss the amazing "cheese cart" before dessert, featuring the world's finest artesian creations.
There is a long list of restaurants worldwide standing in line to receive a chunk. Taste this limited cheese edition at the Fuego. The restaurant alone is enough reason to plan for another visit to enchanted Santa Fe!
If You Go
Explore more to see: Top Things to Do in Santa Fe
More information: Santa Fe Convention & Visitors Bureau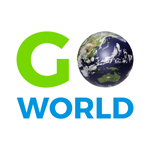 Latest posts by Go World Travel Magazine
(see all)