Steeped in a heritage blending three cultures—Native American, Hispanic and Anglo—the ancient city of Santa Fe in the high desert of New Mexico reigns as one of the world's top art communities. It is also the epicenter for Native American art, being surrounded by the state's 19 Pueblos (the Spanish word for "village").
Ancestors of these Pueblo people lived in the San Juan Basin from as early as 850 CE to 1250 CE, predominately in Chaco Canyon in northwestern New Mexico. Their architectural and artistic achievements were rooted in tradition, spirituality, functionality and nature.
Today we see these elements among the many kinds of Native American art. Turquoise, coral and silver jewelry; painted hand-thrown pottery; woven baskets and blankets; delicate beadwork on clothing; and contemporary mediums like oil and acrylic painting, and bronze sculptures are predominant.
Albuquerque Native American Art
Particularly, at the Indian Pueblo Cultural Center in nearby Albuquerque, I learned about the Pueblo culture in its permanent exhibit called "We Are of This Place: The Pueblo Story." Sitting on the footprint of the former Albuquerque Indian School, the Center's museum houses more than 4,000 artifacts and works of art, both ancient and contemporary, illustrating Puebloan history and culture.
Also, in the Indian Pueblo Store, you can shop for art by internationally renowned artists. And every weekend, Indian dancers from the Pueblos interpret their way of life through dance in the plaza.
In addition, the Indian Pueblo Kitchen offers authentic indigenous cuisine Tuesday-Sunday from 9 to 4. Hence, it's the perfect starting point on my journey of discovering Native American Art.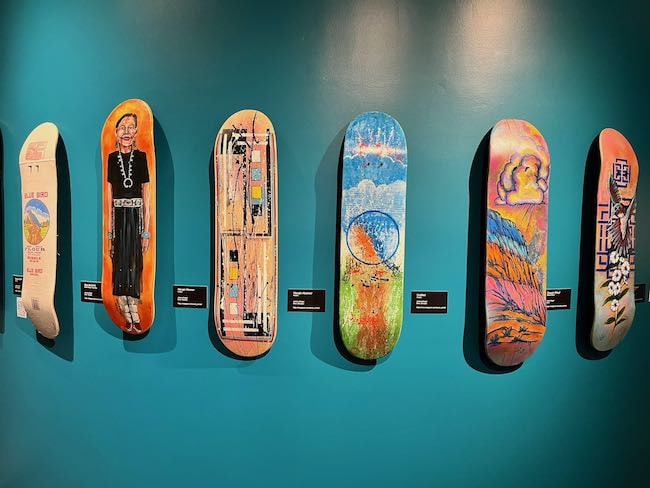 Santa Fe Native American Art
Santa Fe is an enigma, a city so distinctive it has no comparison. From its earthy adobe architecture to its impossible sunsets to its incomparable cuisine, everything about this 412-year-old town is unique. Indeed, its logo is "The City Different."
As you walk around the famous plaza and stroll the narrow streets, you immediately get a sense of how its storied past and indigenous art dominate the area. For example, you find art not only in museums, galleries and shops but also in cafes, churches and hotels.
Amazingly, there are more than 100 art galleries on the legendary Canyon Road alone. Here are some other places worth exploring.
A small retail shop on Don Gaspar street not far from the Plaza dedicates itself to artists of the remote Zuni Pueblo, where 80 percent of households make a living from art.
At Keshi, I learned about their intricate signature style of jewelry Petit-Point (small turquoise stones hand-cut and laid in a cluster into a design). Another Zuni art form is a fetish (carvings of animals that represent our own attributes). Indeed, Keshi holds one of the largest collections of fetishes in the world. Fetish necklaces are always Zuni, but there are knockoffs.
You must recognize the name of the Zuni carver and know the materials used (heishe is a kind of bead from the Kewa Pueblo strung between each fetish). Also, the price is a giveaway, as an authentic Zuni fetish necklace will never cost less than $250.
The Zuni pass down skills and patterns through generations. "I am grateful to be from a family of jewelers," said Zuni artist Jess Johnson who specializes in Petit-Point inlay jewelry. "I thank my grandparents for teaching me the values of patience, acceptance and willingness to learn the hidden skills of becoming an artist."
Perhaps no one was more influential in generating interest in Native American art than Ralph T. (Ted) Coe. A former museum director, he curated two significant exhibitions on indigenous art—both ancient and contemporary—and amassed a private collection by visiting and living in reservations around North America. He died in 2010 at his home in his adopted city of Santa Fe at 81.
Consequently, The Coe Center houses his amazing collections of more than 2,300 eclectic pieces from across the globe.
The staff invites you to touch and explore the objects, like local high school students do in its hands-on curatorial program. Eliza Naranjo Morse, an artist from the Santa Clara Pueblo who has partnered with the Coe Center in one of its many community-driven projects, said, "Art is part of our lives, in everything we do if we let it. Everyone in my family is an artist." Visits are by appointment only.
We've seen the important role that family plays in Native American art. Nothing illustrates that more than the Namingha family. Soft-spoken and modest, Dan Namingha comes from a long line of internationally famous potters from the Hopi Pueblo.
Dan was only 30 when he showed his paintings at the Grand Palais in Paris. Now 71, after a long career of creating sculptures and colorful canvases inspired by personal experiences, his work—largely featuring abstract elements of Hopi symbolism and linear landscapes—is known throughout the world.
Together with his sons Arlo, a sculptor, and Michael, a photographer, they display and sell their work at the family's Niman Fine Art gallery they opened more than 30 years ago in Santa Fe. In addition, the wives of Dan and Arlo—Frances and Nicole—graciously run the gallery. Niman in Hopi means "a coming home."
Arlo, who started carving Kachina dolls for ceremonies in high school and watching his great grandfather work with stone, says his sculptures in stone, wood and bronze tell stories using cultural symbols relating to the land and the four directions.
Some of them are interactive. Meanwhile, the youngest son, Michael, launched his visual arts career when his dad gave him a camera at age 10. He perfected his craft at the Parsons School of Design in New York City. His latest two-dimensional abstract compositions are a social commentary on the effects of the oil and gas industry on native lands.
Andrea Fisher says she "got the collector's gene when I was born." It wasn't until college at Berkley that her interest in tribal art percolated. Once in Santa Fe, she combined the two passions and opened her own gallery in 1993, specializing in pottery that she prefers of all the arts.
"It's something about being connected to the earth," she said. Today, the store is the foremost gallery of Native American pottery in the world. Fisher collects and sells only authentic hand-crafted pottery from artisans in pueblos mostly in the Southwest. Additionally, you'll find more pieces of the famous potter Maria Martinez (1887-1980) perhaps at this gallery than at any other.
Fisher arranges her pottery by pueblo, so it's easy to see the variations in the style of each village and the families represented. She works with hundreds of artists and highly respects their work. Prices are non-negotiable when she buys and sells.
"The value of a pot to a Native American is in the process, not the dollar amount," she says, and wants her customers to know that. Furthermore, her staff is knowledgeable about pottery and can tell you the agonizing process of creating each piece. Potters regularly give demonstrations; check the website for the schedule.
The MIAC is one of four museums in Santa Fe included in the Museums & Historic Sites Pass offered by the New Mexico Department of Cultural Affairs ($30). It sits on the Museum Hill plaza with three other prominent museums.
It is significant as it chronicles Native American art and artifacts from pre-history to contemporary times in the Southwest. For instance, a brand new permanent exhibit called "Here, Now and Always" features more than six hundred pieces of ceramics, jewelry, paintings, fashion and more. It's a must-see for understanding the culture and achievements of the Native people.
One medium we've not seen until now is glass. Fortunately, at MIAC we were lucky to catch a groundbreaking exhibit called "Clearly Indigenous." This temporary show features 29 Native artists interpreting traditional stories, designs and social issues in a new genre – glass.
It was a result of glass master Dale Chihuly teaching the art form at the Institute of American Indian Arts (IAIA) in Santa Fe, and some of his pieces were in the exhibit too.
Founded in 1962, IAIA is a prestigious four-year college and the only one in the world focused on Native American arts and culture. "It's the Harvard and Yale of Native American art," said art writer Chadd Scott.
Public relations specialist Jennifer Villela agrees. "In my opinion, IAIA is the reason why all the other Native Arts organizations and galleries are thriving in Santa Fe," she said. Incidentally, Dan Namingah received an honorary doctorate from there.
Founded in 1937, the Wheelwright is the oldest non-profit, independent museum in the state. If you like Native American jewelry, the largest collection of Navajo and Pueblo jewelry in the world is here. In a permanent exhibit, The Center for the Study of Southwestern Jewelry, you can view the oldest squash blossom necklace and learn about its maker, the Navajo silversmith Paiche-la-Ki (worker in white iron) dating from the latter half of the 1800s.
This museum store inside the Wheelwright is one of the top in the nation for Native American art. Built to resemble a Navajo trading post, its authentic collections for sale include jewelry, kachinas, books, belts, pottery, baskets and more, all purchased directly from established artists as well as emerging talent.
In a renovated Coors Beer warehouse in the hip Railyard District, vast space in this contemporary museum allows for huge murals like Spectrum, a lovely body of work from Nani Chacon, an indigenous artist from Gallup, NM.
Jeffrey Gibson's striking mural The Land is Speaking Are You Listening fills the wall in the building's front lobby. "We have superstar artists," said Executive Director Louis Grachos. "This community has a rich environment for organizations that support the arts."
Kewa Pueblo artist Ricardo Cate provides satirical humor in his cartoons for the Santa Fe New Mexican and sells his work online. I caught up with him at his booth in La Fonda Hotel and found this poignant cartoon.
Celebrating 100 years, La Fonda on the Plaza is Santa Fe's oldest hotel on the famous Plaza. Over the years, it has accumulated more than 1,200 pieces of art worth nearly $3 million. Since lots of artwork is in the charming Old World guest rooms, you see more when you stay there.
Otherwise, you can take a free docent tour of the art and decor from 1920 to the present. Tours are offered Wednesday-Saturday at 10:30; reserve with the concierge.
The Picuris Tribe owns this hotel in downtown Santa Fe, so naturally, they immerse you in the Pueblo culture. From the flute melody that greets you to the kiva fireplace that warms you, it's all about traditions. Their multi-million dollar Native art collection indoor and out tells their story.
Architectural elements and materials of Chaco Canyon's Great Houses are incorporated into the design of this stunning new luxury hotel in Albuquerque. Indeed, the building itself is a piece of art.
The round lobby resembles a kiva – quiet and serene. More than 23 local contemporary Native American artists' original works fill the spaces, both public and private. Even the pottery-inspired staff uniforms are the work of Patricia Michaels, a famous Native American fashion designer.
Furthermore, the hotel's Gallery Hozho displays and sells local artwork. "You wouldn't know what happened in New Mexico if it weren't for the art," said gallery director Suzanne Newman Fricke.
Lastly, but certainly not least, next to the plaza under the portico of Santa Fe's Palace of the Governors—America's oldest public building—Native Americans sit every day, all year selling their jewelry and wares.
Each vendor is authorized through a state program, ensuring the authenticity of their work. This outdoor market has been a Santa Fe tradition for generations of native families since 1909.
For more information, click on santafe.org and visitalbuquerque.org.
Read More: Top 10 Things to Do in Santa Fe
Colorado-based Claudia Carbone is an award-winning travel writer and member of the Society of American Travel Writers, North American Travel Journalists Assoc. and Denver Woman's Press Club. Currently, her work is published in The Denver Post, Colorado Expression Magazine, London Sunday Telegraph, GoWorldTravel.com, RealFoodTraveler.com and MTNtown Magazine. Her blog Sleepin' Around covers any place you can sleep on vacation.