My husband's mouth is agape as we taxi from the airport to our accommodation in the heart of Rome, Italy. It's his first time in the Italian city, and he underestimated the sheer scale of the buildings here.
Rome is like a time capsule, filled with traditional Mediterranean-style buildings of times gone by, intermixed with churches, temples, and ruins from centuries ago. The cobbled streets are worn smooth. Statues can be found on every other street, with a fountain in every piazza.
How to Get Around in Rome
We're glad we brought our walking shoes because even though it is 10 pm when we arrive at our hotel in Rome's historic center, we are keen to see the sites at night.
Walking is the best way to get around the city. Most of the big landmarks are within an hour of each other, so it's better to soak up the atmosphere by foot, stumbling upon churches, shops and historical buildings not in the guidebooks.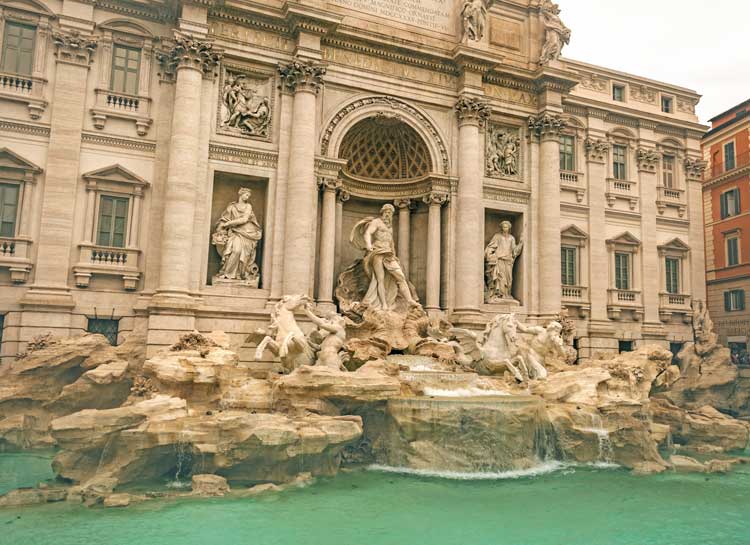 Trevi Fountain
The usual tourist spots are worth a visit. Our first stop is the Trevi Fountain. It's nestled among the cobbled streets, closed in by shops on all sides. The fountain is as tall as any of these buildings and romantically highlighted at night.
The faces of each statue are frozen in time, each crease of their robes captured in stone, billowing behind them by the non-existent wind. Travel guides advise to visit at night to avoid the crowds, but even at 10 pm, there are still hordes of people crowding around this intricately carved marvel.
The next day in Rome brings intense heat (especially for me, with my ghostly pale Northern Irish complexion). Walking again to our site for that day, The Vatican, we are introduced to the chaos that is traffic in Rome.
Traffic in Rome
The traffic in Rome takes some getting used to if you are from the UK. The drivers tend not to take much notice of pedestrians. You must get out of their way and not expect them to move for you.
Surprisingly, the cars fit down most of the cobbled streets, so don't be fooled into thinking these areas are pedestrianized. If you hear a car, move.
At zebra crossings, the cars will not stop for you either. You have to take your life in your hands and step out. Once you are past, the car will continue driving. Motorbikes will continue to drive, even when the green light is letting you cross.
It seems chaotic, but it is organized chaos. Everyone in Rome seems to know these are the rules and it works.
The Vatican and Castel Sant'Angelo
Despite the traffic, we safely make our way through the cobbled streets and traffic to The Vatican and Castel Sant'Angelo. The architecture of The Vatican alone is captivating, not including an abundance of paintings, religious artifacts, sarcophaguses and painted ceilings on show which can take two hours or more to view.
However, it becomes more crowded as you reach the Sistine Chapel. You'll find yourself shoulder to shoulder with people as you shuffle through. There is not much time to look at the items here before you shuffle forward again.
The Sistine Chapel is an amazing fete of painting, the figures look 3D and every inch of ceiling includes details of Biblical scenes, but again, you are packed into the chapel with what seems like the rest of humanity. Over loudspeakers someone intermittently shouts, 'Silencio, silence.'
Dining in Rome
After a tiring day of walking miles in The Vatican, we are looking forward to some Roman food. A trip to Rome would not be complete without enjoying as much food as possible. Even when I am fit to burst, I still have to try Rome's specialty dishes.
We want to avoid the tourist traps and make our way to Trastevere to try authentic cuisine. Trastevere is less of a tourist hot spot. It sits across the Tiber River from the historic center and south of The Vatican.
Like the historic center, it has cobbled streets and fountains, but exudes charm with fairy lights adorning doorways and ivy running along the buildings.
Trastevere
In Trastevere, I find my favorite Roman dish, Suppli. It is a ball of rice covered in tomato sauce and deep fried. There is a piece of mozzarella in the middle that oozes out and makes a very satisfying snack. Like all the food I have in Rome, it is simple yet delicious.
Spotting a restaurant down a side street, we ask if they have a free table. The waiter walks inside and carries a table out along with two chairs. Our first dinner in Rome is everything we expected. We both enjoy a pasta dish, and of course, some Italian wine. The pasta is cooked less than at home, giving it more texture. The ingredients are simple, but full of flavor.
After dinner, we stumble upon a man singing and playing guitar in one of the squares. Rows of people sit on the steps facing him and enjoying the music. We do the same as he calls up volunteers to sing with him. People sway to and fro and join in the singing with the sounds of the city in the background.
The Colosseum and Forum
Our second day in Rome is spent at the Colosseum and Forum, which takes half a day as it encompasses such a large area. The Colosseum, with its rows of archways still standing majestically after nearly 2,000 years, is worth a visit even if you have seen it before.
It's an impressive structure now, so it must have been spectacular in its early days, with its marble columns, rows of seating and ceilings rising so high it makes your neck hurt. Recent excavations have revealed narrow walkways where people and animals would have waited to be thrown out to fight, giving a glimpse of the barbaric history of the building.
The Forum is what is left of a once flourishing city. The ruins lie under the shadow of the Colosseum, a hint of the majesty of the buildings which once stood there. There are intricately carved archways, made to look small by great columns which held up temples, no longer there. The sense of what life was like for this rich and powerful nation seeps from the remains of the grand and ostentatious buildings.
Villa Borghese Gardens
Our last day in Rome is spent at the Villa Borghese Gardens. The Gardens have cafes, fountains, statues, a lake with boats, bike hire, carousels, a theatre, and museums. It is a peaceful place amongst the buzz of the city.
The gardens offer one of the best panoramic views of the city of Rome. It is a place that must be seen to appreciate the scale and detail of this once almighty empire.
If You Go
For more information, see the Rome Tourism Office
Book Colosseum tickets or Vatican tickets
Author Bio: Since she lives in Northern Ireland, Rebecca Boyle tries to go somewhere sunny as much as possible. She is a qualified Journalist and trained chef who writes on everything from travel to politics, all while holding down a 9 am-5 pm job.