Some European cities are known for romance. Paris, for instance, is top of mind, while others find the charming canals of Venice the most romantic spot for lovers.
But romance can be found anywhere that you can spend time with the one you love. It's especially romantic when you're experiencing something new and fascinating together.
A Romantic Getaway in Rome
That's why my husband, Benjamin, and I decided to plan a romantic weekend in Rome, Italy. The Eternal City is the perfect setting for a romantic getaway. This amazing city has something magical with its ancient ruins and spectacular architecture. It's no wonder that Hollywood has used it as a backdrop in many famous movies.
Rome is a top destination for good reason. Top attractions like the Pantheon, Coliseum and Roman Forum bring a continual stream of travelers. Add to it the lively culture of Rome and it's easy to see the attraction.
READ MORE: Top 10 Things to Do in Rome
Deluxe Suite at Anantara Palazzo Naiadi Rome. Video by Benjamin Rader
A Romantic Hotel in Rome: Anantara Palazzo Naiadi Rome Hotel
The most important choice we had to make on our trip was where to stay in Rome. For lovers who are looking for a romantic place to stay in Rome, the Anantara Palazzo Naiadi Rome Hotel is a perfect choice.
We liked the hotel's central location, which is within walking distance of top sites like the Fori Imperiali, Via Veneto, Trevi Fountain and the Spanish Steps. It's just a 10-minute walk to Termini Station and Barberin Square where there are many cafes, restaurants and shops.
We spent hours exploring Rome on foot and only took the metro or cabs to reach the Coliseum and Antica Trattoria Angelino (more on that below).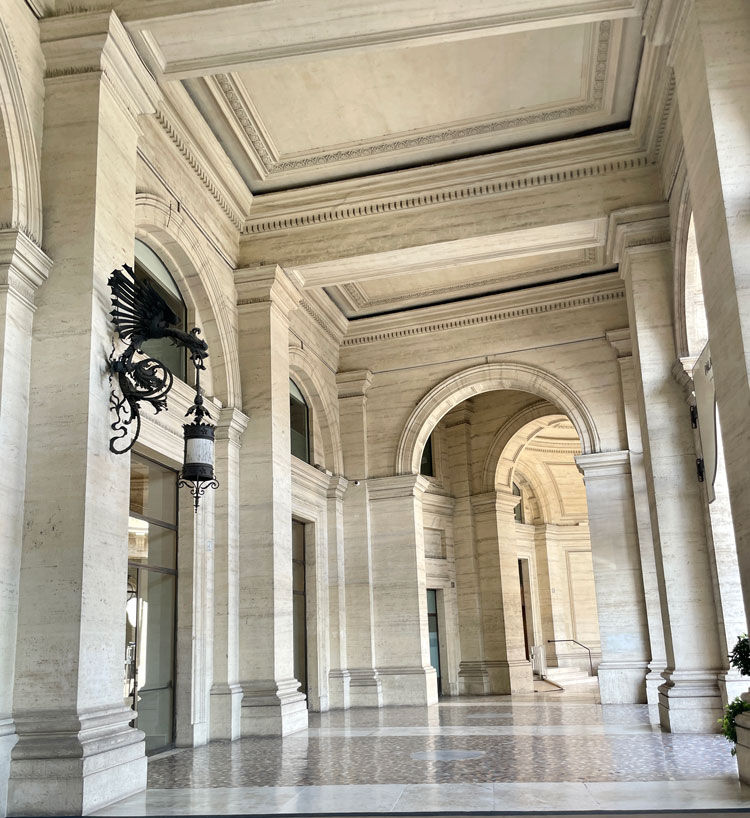 Anantara Palazzo Naiadi Rome is a stunning luxury property housed in a 19th-century crescent-shaped palazzo. The palatial hotel's luxurious marble architecture reflects the riches of the 19th century, but its past goes much deeper.
The palazzo is built over the ruins of the Baths of Diocletian. Much of that ancient past have been carefully preserved, and in some areas of the hotel, you can view the ancient baths through clear glass in the floor. Having a window into that vibrant history made our stay even better.
Rooms at Anantara Palazzo Naiadi Rome range from classic rooms to spacious suites. We stayed in a gorgeous Duplex Suite with a spacious living room overlooking the piazza and the Fountain of the Naiads, with a large bedroom in the loft above the living room.
Ristorante Tazio
One evening, we dined at the hotel's Ristorante Tazio, which offered an intimate and very romantic dining experience. The cozy restaurant is lined with the black and white photography of Tazio Secchiaroli, a legendary Italian photographer. He is said to have been the inspiration for the character in Fellini's La Dolce Vita whose name, Paparazzo, would come to be applied to celebrity-chasing photographers.
Our waiter at Ristorante Tazio was exceptional, providing friendly and attentive care during our meal. We chose the seven-course tasting menu paired with fine Italian wines and can highly recommend it.
What to See in Rome
Of course, we didn't spend our whole weekend at the hotel. Rome has so much to offer, and you can see a lot in one weekend.
Roman history runs deep, and we had a front-row seat to that history during our visit. Rome can trace its history through more than 28 centuries. The Romans and their innovations changed the course of human history, and much of that history can still be seen today.
Private Tour of the Colosseum and Roman Forum
The first item on our must-do list was a visit to the Colosseum and the Roman Forum. The Colosseum and Roman Forum are two of the most famous landmarks in Rome. At nearly 2,000 years old, the majestic Colosseum is an amazing remnant of ancient times.
I'd seen the Colosseum before, but this time, we decided to book a tour. There are many good options for tours of the Roman Colosseum, including skip-the-line tours with Get Your Guide or Viator. Each will provide fascinating information that you wouldn't learn if you tour the Colosseum on your own.
This time, we decided to book a private tour of the Colosseum with a guide from WithLocals. We have taken tours with guides from WithLocals in the past, and we have always had a wonderful time. Seeing a location through the eyes of an expert local makes all the difference.
We booked a private tour with Carlo, a historian and Rome native. Our three-hour tour flew by as he shared fascinating stories and insight into the ancient Colosseum and Roman Forum. I learned more from him than I could have ever learned on my own or even from a college class.
A Visit to the Trevi Fountain
Because we'd never seen it before, we had to visit the Trevi Fountain, an 18th-century fountain in the Trevi district in Rome in Piazza di Trevi square. Though it was initially designed by Bernini for Pope Clemens XII, it wasn't built until 50 years later by the architect Nicola Salvi.
As the most famous fountain in Rome (and maybe even the world), you can guess what we found when we visited the fountain – people. Lots of people. The crowd was so thick that it was hard to get a whole view of the famous Rome icon.
So, we asked around. When is the best time to visit the Trevi Fountain? We learned that if you visit in the evening after 8 PM, the fountain is lit up beautifully and there are fewer people. If you want to visit the fountain without the crowd, the best time is in the very early morning, around 6 to 7 am.
Dining at Rome at Antica Trattoria Angelino
One of the best parts of any vacation in Italy is the food, and Rome is no exception. One of our favorite meals in Rome was at Antica Trattoria Angelino on the very quiet Piazza Margana, about a 15-minute drive from our hotel.
The trattoria was founded in 1658 and serves classic Roman dishes in a very charming atmosphere. The weather was perfect, so we dined on their lovely outdoor patio. We had perfectly cooked monkfish and calamari, with tiramisu for dessert. They have an impressive wine list, but we chose their house wine, which was delicious. Reservations are recommended.
Evening Stroll around Piazza Navona
One of our favorite things to do in a new city is simply to stroll. Sometimes we get lost, but our wanderings let us explore a destination on a new level. We turn down tiny alleyways, walk through parks, along winding rivers and wherever our feet lead us.
Sometimes, we follow the crowds. In Rome, that led us to Piazza Navona, a beautiful square filled with amazing sculptures and fountains.
The summer night air was warm and we stopped for pistachio gelato, our favorite. There are many cafes and shops on the square, as well as the impressive Basilica di Sant'Agnese. Piazza Navona is especially romantic in the evening, with its many illuminated fountains.
A weekend isn't long, but it was enough to give us a good taste of the Eternal City. While I knew I would enjoy seeing the sights in Rome, I didn't expect to enjoy the city itself so much. The people were friendly, the pace was relaxing and the streets offered many wonderful discoveries.
Our time here left me wanting more. For me, Rome is definitely a city to come back to.
If You Go to Rome
You can book a room at Anantara Palzaal Naiadi here
When is the best time to go to Rome?
The best time to visit Rome is in the spring or the fall when there are fewer tourists, and the weather is pleasant.
How to Get from Rome Airport to Your Hotel
You can take a taxi from the Rome Airport. There is a fixed fare of 48 € between Fiumicino Airport and destinations in Rome's city center.
You can also book your own private transfer from the airport to Rome with VIATOR
How to Get from Rome to Civitavecchia cruise port
Many travelers fly to Rome to board a Mediterranean cruise. Yet the cruise port is not in Rome. It's a 90-minute drive from the city to the port. Plan at least two hours in case of traffic.
We booked a relaxing private transfer from Rome to the port through Viator.
GetYourGuide offers bus transfers from Rome to the port.
Read More: Italians Vote on Their Favorite Places in Rome
Read More: Top Tourist Attractions in Italy
Latest posts by Janna Graber
(see all)