Carmel-by-the-Sea is nestled in Monterey County just off California's Highway 1. It's the gateway to Big Sur and San Francisco but should not be overlooked as its own destination.
I live in Southern California myself and have visited the charming coastal town numerous times over the years. It's a fun six-hour road trip from Los Angeles and each time I visit is more magical than the last. Although the population is under five thousand, there's a lot to explore.
Things to do in Carmel, California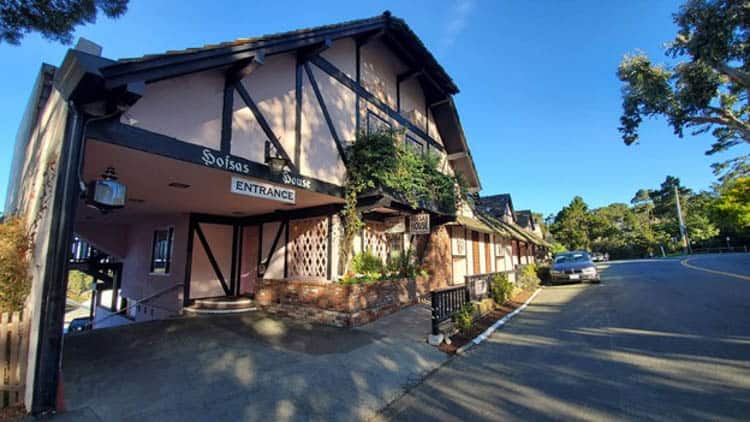 Where to Stay in Carmel-by-the-Sea
The streets of Carmel Village offer a plethora of delightful boutique hotels. The one that has my heart is Hofsas House Hotel. It's centrally located in the center of town and ideal for getting around on foot.
With its Bavarian-inspired architecture and art, Hofsas House has been a family affair for 75 years. Owner Carrie Theis is often the one who checks in her guests and answers the phone.
Just like she did as a youngster when she spent summers managing the hotel with her grandmother, Donna Hofsas.
Several rooms offer ocean views and fireplaces. If you're looking for an extended stay, there are also select suites with kitchenettes. Their daily continental breakfast serves up local organic coffee, pastries, yogurt and fruit.
After a day of driving from LA, I was thrilled to find a bottle of local wine and cheese waiting for me in my room. All guests can upgrade their stay with one of Hofsas House's add-on packages.
There's Wine and Cheese, Wine and Chocolate and even a Tail Wagging package. The perfect treat if your pooch is joining you. As a dog lover, that's another reason I love visiting Carmel-by-the-Sea. It's often ranked as one of the most Dog-Friendly Towns in the USA.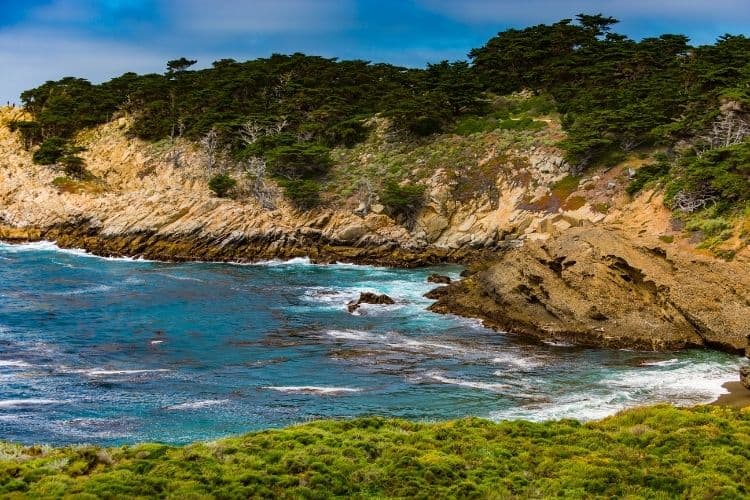 Carmel-by-the-Sea and the Great Outdoors
Carmel has so many opportunities to be outdoors. Point Lobos State Natural Reserve is just a few miles away from Hofsas House. The views are stunning and there are many trails to choose from.
All roads lead to the ocean and what could be better than that? Parking is $10 within the reserve or there is street parking along Highway 1.
Another terrific option for redwoods, cypress trees, trails, and shimmering ocean views is the 17-Mile Drive. The 17 Mile Drive is reminiscent of Hawaii's Hana Highway and is a "must" for first-time visitors to the area. It's also an excellent destination to experience by bike.
Speaking of a bike ride, Cannery Row is also ideal for a cruise. Rentals are available and a gorgeous trail begins at the row and takes riders over to Pacific Grove. Back at the Hofsas, Carmel River State Beach is an easy 10-minute walk away and an absolute slice of paradise.
Since it's an off-leash dog beach, four-legged friends abound and views of Pebble Beach surround you. It's a wonderful beach to walk or simply sit in the sand and reflect.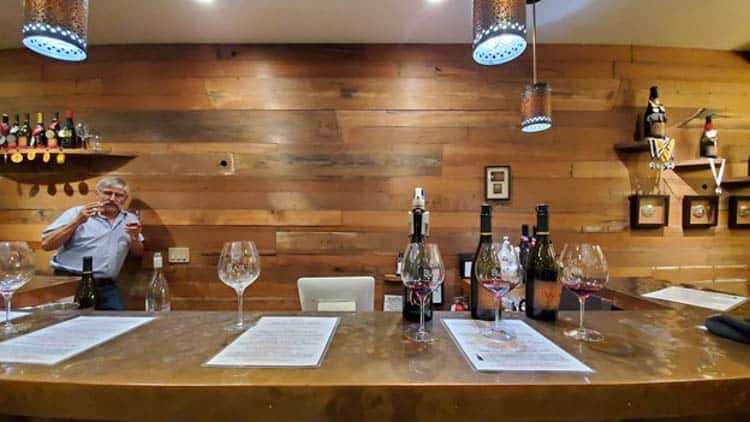 Wine a Little
Having our toddler in tow didn't stop us from enjoying some wine. Monterey County is next door to Napa so it's no surprise there's some great wine to be sipped in these parts. Stroll the village and take your pick from a vast selection of wineries.
We pulled up a chair at Dawn's Dream and instantly felt right at home with the welcoming staff and open atmosphere. Pinot Noir drinkers will love Dawn's varietals which are each named after their daughters. Make sure to get your Insta-worthy picture in their adorable bathtub.
Over at Carmel Plaza, we noticed the laid-back-looking Blair Winery. Situated unassumingly in the corner their wine flight was a highlight of the trip. We discovered we had none other than Jeffrey Blair, the winemaker himself, pouring our vino.
Turns out that is often the norm for Blair as well as most of the other wine tasting rooms in town.
Where to Eat in Carmel
There's always somewhere new to try when I'm in town. That said, my husband and I have our favorites. Ever since we began coming to Carmel we've always stopped at Dametra Cafe.
Their Mediterranean-inspired menu is superb and the environment is never anything but positive. If you're lucky, you may even catch the father and son restaurateurs serenading their diners. Your best bet for this is during brunch.
Since you can never go wrong with Italian, don't miss La Bicyclette. Given we're now worn-out parents, we opted to take away some of their pizzas and unwind back at the hotel. They did not disappoint.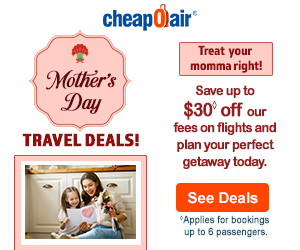 My Champignons pizza was mouth-watering with some of the best mozzarella I've tasted. I devoured every bite.
It may sound cliche, but I love hanging out in coffee houses when I travel. Ocean Avenue has some great ones. We discovered Cafe Carmel on our latest trek. Specialty coffees, teas, sandwiches and pastries make up the casual menu.
Over at Carmel Valley Coffee, there's always a steady line of eager caffeine seekers. It's for a good reason. Their coffee is stellar but we have a "hack" to enjoying it sans the line. Hofsas House serves it every morning and supplies it in each room.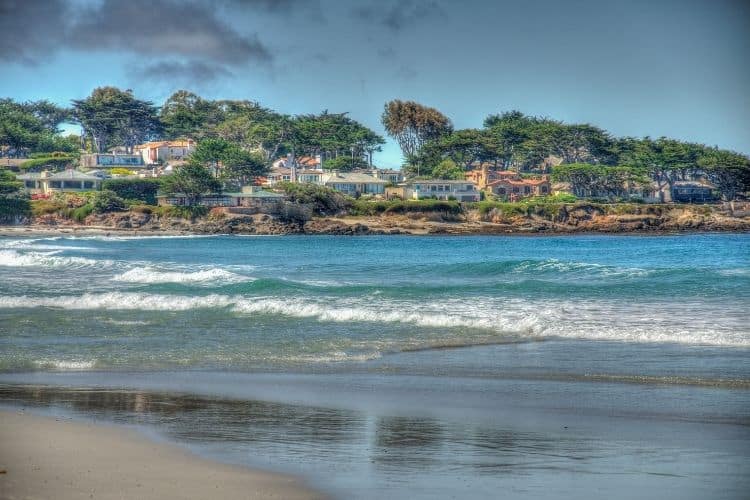 You Must Visit Carmel-by-the-Sea
It's always hard for me to see a trip to Carmel-by-the-Sea California end. I savored my time on our private patio with my daughter before check-out. We sat and enjoyed the beautiful ocean view and watched for seagulls.
As tempting as it was to cozy up in a breakfast nook in town, the comfortable rooms at Hofsas make it difficult to leave.
Book This Trip
Start planning your stay by the sea in Carmel, California today. Get prepared with knowledge on the best beaches, hotel and VRBO reservations, local restaurant favorites and more through TripAdvisor and Travelocity.
Plan even more fun by booking some unique Carmel activities, expert-led tours and skip-the-line tickets to major attractions through GetYourGuide. Find more information and book your tours here.
For exclusive flight discounts, car rental options and vacation packages, check out CheapOair.
Author's Bio: Mary is a Los Angeles-based freelance travel writer. She's written on her blog, Along Comes Mary, since 2012. Her work can be found in various online outlets including FWT Magazine, Palm Springs Preferred Small Hotels, and GoWorld Travel. Mary is a proud member of IFWTWA, the International Food, Wine, and Travel Writers Association. A former executive board member, she currently serves on their conference and editorial committees. When she's not writing or traveling, her favorite place to be is with her husband, daughter, and their two dogs.