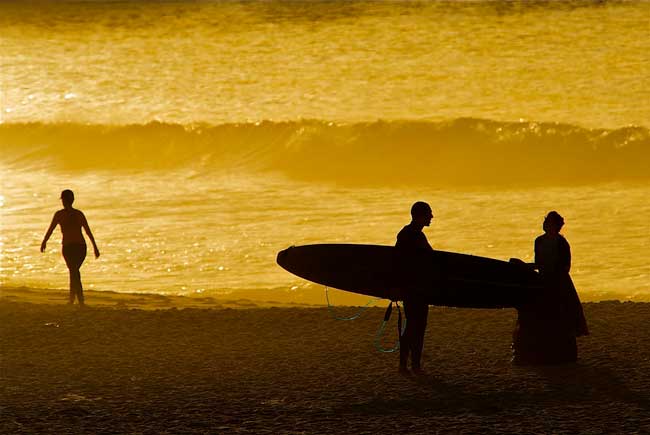 From its rugged Outback to its golden sand beaches and world-class cities, Australia has plenty to offer travelers. Here are our top seven reasons to visit Australia.
Bondi Beach
If you love beaches, Australia has many to choose from including Byron Bay, Whites Beach, Perth and more.
Bondi Beach is classic Australian. This beautiful (and often crowded) white-sand crescent beach in Sydney is a favorite for locals and visitors. The reliable waves draw the surfing crowd, making Bondi the perfect place to watch the local surfing action. Bondi Beach is also good for families and beach lovers of all ages. There's even a children's pool at Bondi's north end. Walkers, joggers and cyclists frequent the clifftop path running from Bondi to the Coogee Coastal Walk, and there are many picnic tables and barbecue areas if you want to bring your lunch. Pubs and restaurants also line the beach so you won't go hungry. Take plenty of sunscreen and spend the day here.
Blue Mountains

Blue Mountains National Park sits at the edge of the Great Dividing Range west of Sydney, Australia. Named for the hazy blue colors of the eucalyptus trees that cover the hills, the Blue Mountains are a popular location to go bush walking. The park has trails of all lengths and skill levels. Popular trails include the Three Sisters Walk, Echo Point Lookout and the Cliff Top Walking Track.
Ayers Rock

Another Australian icon is Ayers Rock, also known as Uluru. This massive sandstone rock formation is located in the heart of the Northern Territory in Uluru-Kata Tjuta National Park. This remote region is often called the Red Center – and for good reason! The dirt and rock formations are all a deep red. The view of Ayers Rock from a hot air balloon is incredible, if you'd like to see the region from the air.
Kakadu National Park
The other top national park in the Northern Territory is Kakadu National Park, an enormous and diverse reserve which includes waterfalls, sandstone formations, wetlands, rivers and much more. Prehistoric Aboriginal rock paintings can still be seen at Nourlangie, Nanguluwur and Ubirr. What can you do at Kakadu National Park? Hiking, fishing, boating, birdwatching and swimming are just a few of the top activities here.
Queen Victoria Market
Queen Victoria Market in Melbourne is the largest open air market in the Southern Hemisphere – and it's a sight to see. From vendors hawking fresh fish to local cheese, clothing and fruit and veggies straight from local farms, there is something here for everyone. Don't miss the Dutch Pancakes, which are quite tasty. One interesting note — Melbourne has a large Greek population, and you'll find excellent Greek cuisine here at Queen Victoria Market.
Sydney Harbour Bridge
While you're in Sydney, you're sure to see the famous Sydney Harbour Bridge. BridgeClimb Sydney allows you to strap into a harness and actually walk over the bridge. The view from the top is amazing (if not a bit windy). Even if you're not a fan of heights, this is well worth the experience.
Take time to explore Sydney, which is among our favorite world cities. Sydney has an excellent restaurant scene, as well as top clubs, museums and art galleries. There's no shortage of nightlife and entertainment options. One unique way to view Sydney is from the water. The Sydney Public Transport system includes many ferry lines. Purchase an Opal card and go exploring.
Go on an Outback Safari
The Outback. It's the classic symbol of Australia. One of the best ways to explore it with an Outback safari from a trusted outfitter. The word "safari" can mean many things here – from trekking and camping in tents in Arnhemland to lounging at a luxury lodge while exploring the bush during the day.