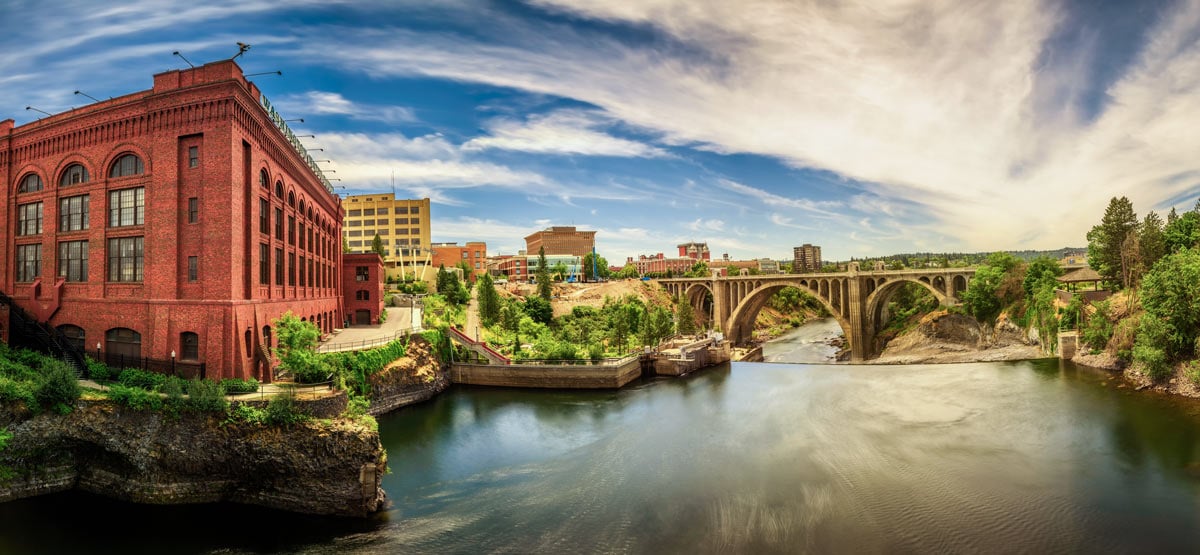 Go World Travel is reader-supported and may earn a commission from purchases made through links in this piece.
Spokane, a city in Eastern Washington, is a place some people might be inclined to miss.
Surrounded by both alpine mountains and bucolic farmland and less than 20 miles from the Idaho border, it's tempting for people flying into Spokane International Airport to skip town opting instead for the area's rivers, lakes, hills, and ski resorts.
My three-day weekend to visit my newly relocated brother proved Spokane has much to offer visitors. Here's three ways to enjoy the Inland Northwest. 
First Stop: Spokane Falls
With my brother working extra hours, I had the mornings to myself which I used to explore downtown. My first stop was Spokane Falls, the city's heartbeat. These impressive falls have been a gathering place for thousands of years beginning with Native Americans who used them for meetings and ceremonies – a sacred place.
Spilling into the falls from a hydroelectric dam, the Spokane River rushes over a series of basalt boulders creating a thunderous roar. It's loud enough to make people admiring the view from Huntington Park raise their voices.
Best Tips & Tools to Plan Your Trip
Although people can take in the falls from several overlooks, you can also get a bird's eye view in a Skyride cable car. A sign at the entrance says it only takes 20 minutes. 
Riverfront Park follows along the Spokane River from the falls in the west, winding along both sides toward the Division Street Bridge in the east.
Spokane Art and Sculptures
Along the northern side are walkways and greenspace for people to both rest and recreate. Rising like a beacon in the center is the Great Northern Clock Tower, part of the once mighty Great Northern Train Station around which the city was built.
Easy to spot, the clock tower makes a reliable meeting place. Another landmark is the spiral structure rising above Spokane Pavilion, an outdoor entertainment venue. During performances it lights up in a dazzling display; during the day, it looks like a swirling work of art. 
Speaking of art, throughout the park are sculptures turning a morning stroll into an art appreciation walk. The Bloomsday Sculptures – The Joy of Running Together – were created to celebrate the city's annual 12K race and show a lively group of human figures of all shapes and sizes as they turn the corner for an unseen finish line. Nearby is the mesmerizing Riverfront Rotary Fountain and splash pad.
Open from May to September, it's fun to watch children run through the fountain or become a child yourself and get your feet wet. Near the clock tower, the shiny Centennial Sculpture appears to float in the middle of the river.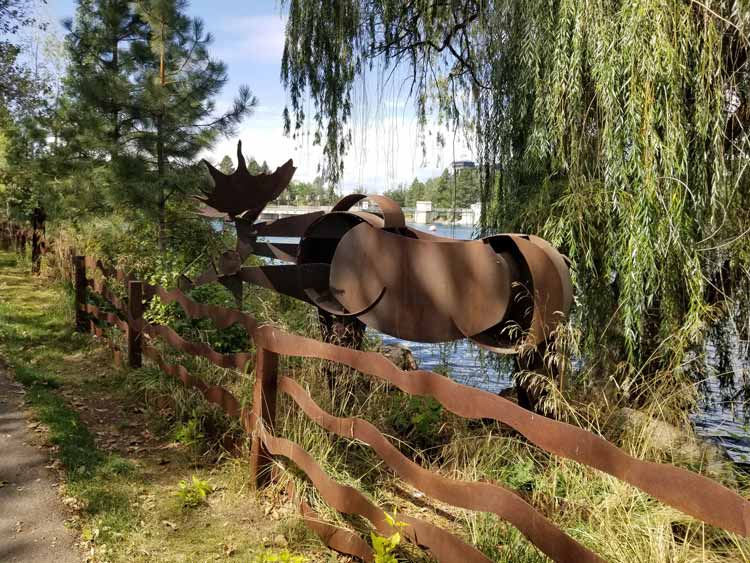 Architecture Excitement
Along the southside path at the Spokane Convention Center, Tapestry is a flowing metal ribbon that breaks off into other sculptures along the way. I spied a moose, the outlines of people, fishing nets, and water wheels. 
Adjacent to the Gonzaga University campus is St. Aloysius Parish, a stunning Romanesque-style church opened in 1911. Its twin spires towering above the city are lit up at night and visible from many vantage points around campus and the riverwalk.
We stepped inside the foyer before evening services to take in the architecture of the grand cathedral. Inside were colorful stained-glass windows and an altar of Italian white marble with wooden arches and accents.
We listened to a pre-service hymn, the music amplified beautifully throughout the reverent space. Visitors are welcome and guests can take a self-guided tour using brochures located near the visitor's guestbook. 
Spokane Spots
The Courtyard Spokane Downtown in this Washington City makes a great home base. Located on the Centennial Trail at the Division Street Bridge, guests have the park and trails of downtown to the west and college campuses to the east, all within walking distance.
The hotel has a large courtyard with soft seating, an indoor heated swimming pool, and fitness center. My room's comfy bed and sofa area made it easy to answer work emails before heading out each day.
Another amenity that came in handy was The Bistro, a lobby café serving Starbucks coffee and hot breakfast dishes in the morning and small bites or entrees and adult beverages at night. 
While dining at the hotel was convenient, Spokane had plenty of restaurants from fast food to fine dining to choose from. An easy choice for us was Osprey at the Ruby River Hotel. That's because I could see the restaurant's dining patio across the river from my hotel window.
It was packed every time I looked, which says something positive about the place. We waited until almost 8 pm for dinner traffic to subside and were rewarded with an outdoor table near the river where we watched people walk their dogs under the glow of patio lights.
My brother had a Wagyu ribeye steak (he said it was the best steak he's ever had) with garlic Yukon mash potatoes while I had Bucatini pasta with jumbo shrimp. We shared a crème brulee for dessert and then walked off the heavy meal along the river as the last bit of sunset left the sky. 
Top Spots to Eat
After my stroll to Spokane Falls the first morning, I enjoyed lunch at Clinkerdaggers. Located in a historic brick building originally home to a flour mill, the restaurant evoked a bygone era of dining with its antique décor, Victorian wallpaper, and dark mahogany bar.
The restaurant had large windows in the back so guests can see the river from the comforts of inside, or outside is a long narrow patio that goes right to the river's edge for al fresco dining.
Since I was by myself, I sat at the bar instead of taking up a table where a friendly bartender took my lunch order and we discussed the opening weekend of college football over my Caesar salad with grilled shrimp and pint of Porch Glow Amber, a local beer from No-Li Brewing.
That beer helped me choose the next day's lunch. When my brother finished work, I suggested No-Li Brewhouse, a place he hadn't been yet. We walked there from the hotel, but had to take the long way because some construction work closed a pedestrian bridge.
The brewhouse was at the end of a dead-end street in a large building behind some nondescript warehouses. However, the cars in the parking lot and the music we heard emanating from the building told us it was popular.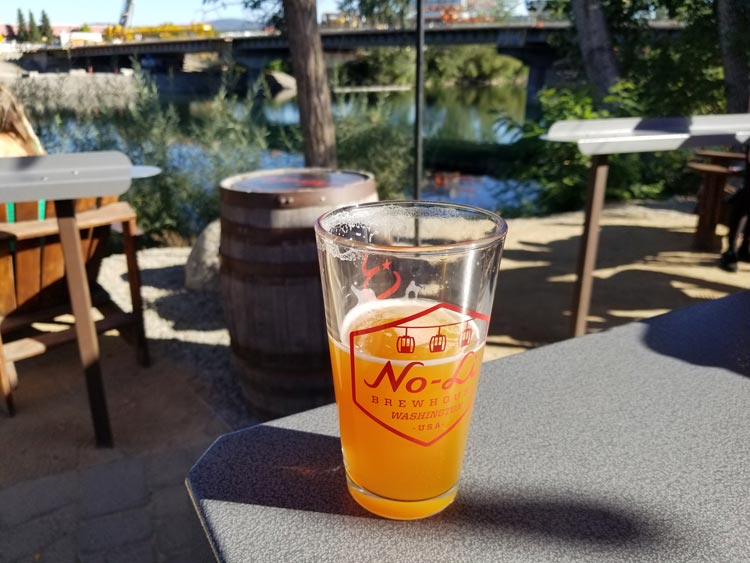 The building was huge and housed a few other businesses and a Thai restaurant, but the brewery took up most of the space. There was a large beerhall with TVs and the gastropub was next door. There was also a game room with skeeball. Next to that was a door leading to a riverfront patio with its own bar.
We enjoyed a filling lunch in the brewpub. My brother ordered a Cajun chicken sandwich while I had a cobb salad. After getting through the sliced grilled chicken breast, boiled egg, tomatoes, bacon bits, and feta cheese on top, I finally made it to the lettuce leaves, but I was so full I didn't make much of a dent in the greens.
I concluded the salad bowl was bottomless and gave up trying to finish it. After we were done eating, we ordered fresh beers and headed out to the patio to enjoy the sunny day. 
On my last day, I had an afternoon flight, so my brother took me to brunch at his favorite neighborhood diner, Hogan's Café. It's a place he's familiar with and he already knew what he wanted to eat before we arrived.
We sat at a booth in the 50's themed diner and during our meal, I noticed our fellow diners were a variety of ages, from a group of high school kids chatting in a booth to a table of elderly men. I ordered my go-to brunch meal of French toast while my brother had bacon with eggs (server didn't blink when he asked for extra bacon).
It was a good thing I had this hearty brunch because during my long day of flights and connections back to the East Coast, it was the only meal I had. 
Spokane Outdoor Adventures
Wanting to experience some nature, my brother drove us to a hiking trail his co-workers told him about. Dishman Hills Conservation Area was a short drive east of downtown and south of Spokane Valley.
We parked at the Iller Creek Trailhead, which had a lot of cars along the road, but we didn't see that many people along the forested trail. With a bit of effort uphill, we arrived at the Rocks of Sharon, a giant rock outcropping that towered over the alpine summit.
Climbing on the shaded side to sit on a cool boulder, we viewed the expanse of Eastern Washington farmland known as The Palouse. A slight haze from summer wildfires hung on the horizon hiding the Cascades.
From there it was all downhill as we looped around the eastern side this time with views of the urban area of Spokane Valley with Post Falls, Idaho, and the Selkirk Mountains beyond. 
The next morning a short walk from my hotel, I found CDA (Coeur d'Alene) Sports offering kayak and paddle board rentals under the shade of the Division Street Bridge. Because of the dam on the western side of the bridge, the only direction you can paddle is east, but it's a calm section of water that winds its way through the campuses of Gonzaga and Washington State Universities.
Green trees and shrubs line the banks and the water is blue and amazingly clear. It was so clear I could see large bass swimming along the pebbly bottom. Depending on how far you paddle, you'll go under a variety of bridges.
As I meandered along, I saw two great blue herons and witnessed a cormorant perform a water take-off, wings splashing across the river's surface. Paddleboarding on the Spokane River is an active, yet peaceful endeavor and I look forward to doing it again on my next visit.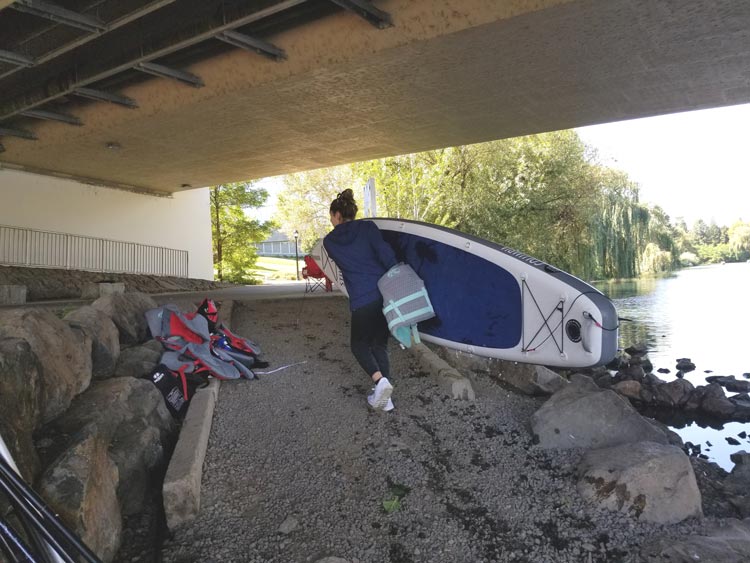 If You Go
Courtyard Spokane: https://www.marriott.com/en-us/hotels/gegch-courtyard-spokane-downtown-at-the-convention-center/overview/
Spokane International Airport is served by carriers Alaska, Allegiant, American, Delta, Frontier, Southwest, United, and Sun Country
Visit Spokane: https://www.visitspokane.com/ 
Author's Bio: Carrie Dow is a freelance travel writer based in Charlotte, NC. Find her on Instagram @whereiscdnow.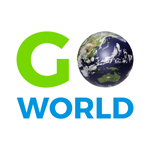 Latest posts by Go World Travel Magazine
(see all)