Editor's Note: Travel is complicated right now. Please check local regulations and location openings before you go. We share places, products and activities we recommend. If you make a purchase using a link on our site, we may earn a commission.
It's a rugged, beautiful, and lonely land. The Outer Banks are a string of narrow barrier islands sheltering North Carolina's mainland coast. These islands start at the Virginia border continuing south for 120 miles to Ocracoke Island.
For thousands of years, they have acted as a natural buffer zone between the ravaging Atlantic and shallow offshore sounds. Windswept dunes and sandy beaches mix with fertile marshes and tranquil woodlands.
This is paradise. Welcome to the Outer Banks, North Carolina — you may never want to leave this relaxing vacation destination.
Weekend in the Outer Banks, North Carolina
If you're searching for overcrowded beaches and a touristy beach vacation, then these barrier islands are not for you. But if you're ready to get away, really unplug and relax, then take a look at all the wonderfully unwinding yet re-energizing things to do on a weekend getaway to the Outer Banks, North Carolina.
Warm waters of the Gulf Stream merge with the cooler Labrador currents, creating a home for a wide variety of rare plants and animals. The pristine Outer Banks is a nesting area for terns, American Oystercatchers, and Black Skimmers. Shy Sea Turtles crawl up from the surf to lay eggs on its sun-warmed beaches.
And if you're lucky, you can even catch a glimpse of wild horses roaming about the Northern Shores.
The treacherous waters off the Outer Banks have been dubbed the Graveyard of the Atlantic, entombing about 2,000 vessels — one of the highest concentrations of shipwrecks in the world. Many a desperate seaman has lost his fight not only against the angry sea but also against forces of war and piracy.
Long stretches of these fragile ribbons of sand have been placed under federal protection to preserve natural and cultural resources.
The Outer Banks host two National Seashores: Cape Hatteras and remote Cape Lookout, further to the south and reachable only by boat or ferry.
Communities are sprinkled throughout this curving arch of islands. It is a bustling and well-developed commercial hub.
Find a hotel or Airbnb in Outerbanks
How the World Learned to Fly
Here the Orville and Wilbur Wright flew the world's first motorized airplane in 1903. The 60-foot (18 m) Wright Brothers National Memorial, crowning a 90-foot (27 m) dune of shifting sand that has been stabilized with grass, proudly towers over the town.
But the roots of history run much deeper here. On the neighboring Roanoke Island, Sir Walter Raleigh established a military settlement in April 1585 — the first British Colony in the New World.
For more history on the Wright Brothers check out this interesting book, The Wright Brothers, by David McCullough. Available here on Amazon.
You'll find much more to discover, including so many outdoor activities, on the Outer Banks, North Carolina, than just wide sandy beaches. Take a trip to where land and water rendezvous, where the history of the United States began and the future of air travel started.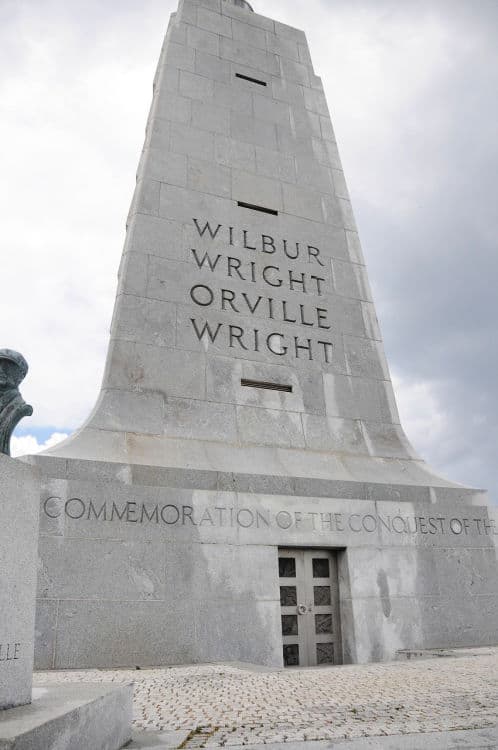 Where to Stay in Outer Banks, North Carolina
Your best bet for Outer Banks rentals is perhaps one of the many vacation homes or condos available. Choose from a multitude of private cottages on the beach. Where you can watch the sun sink into the ocean right from your wooden deck. Where sea oats gently wave along the dunes and the sound of rolling waves will lull you to sleep.
If that's not your preferred accommodations, opt for local Bed & Breakfasts, hotels, and campgrounds.
Friday in Outer Banks, North Carolina
Since this is your first day on the Outer Banks, head for the seashore, and just chill.
Try Coquina Beach, south of Nags Head. It's less crowded than beaches close to residential areas. Pack a picnic lunch and go for a swim in the clean blue water. Curl up with a good book. Take a walk along the beach.
Watch a band of brown pelicans fly closely above the water's surface, the tips of their wings almost touching the waves.
Go beachcombing or just relax.
Saturday in Outer Banks, North Carolina
Roanoke Island, Outer Banks
In Kitty Hawk, don't miss visiting the Wright Brothers National Memorial (U.S. Highway 158 Bypass between Mileposts 7 and 8, Kill Devil Hills; 252-441-7430). Start at the Visitor Center with the exhibits of a full-scale reproduction of the 1902 glider and the 1903 flying machine. These explain the events leading to the first flight. Numbered markers point out the spots where the first airplane left the ground and landed. Some people fly brightly colored kites or model airplanes by the granite Memorial on top of grassy Kill Devil Hill — a beautiful sight the Wright brothers surely would have liked.
Nearby Jockey's Ridge State Park (U.S. Highway 158 Bypass near Milepost 12, Nags Head; 252-441-7132) is the tallest natural sand dune system in the Eastern United States. It was preserved as a state park in 1975. Soft sands and year-round winds allowed the Wright brothers to make the dream of aviation come true on the Outer Banks.
Today, you can fly the same skies just like the famous pilots did. Kitty Hawk Kites offers a three-hour beginner hang gliding lesson on the dunes. They also offer many more flight-related activities such as parasailing, ultralight lessons, seaplane tours, or kiteboarding.
History is Alive on Roanoke Island
If you've always wanted to find out how soldiers camped in the 1500's, visit Roanoke Island Festival Park (252-475-1500) next. It's located about 5 miles (8 km) from Nags Head on Roanoke Island, across from the Waterfront in downtown Manteo.
Explore 400 years of the Island's history, with live blacksmithing and leatherworking demonstrations. In the interactive Adventure Museum, children can dress-up in period costumes and learn about boat building, pirates, shipwrecks, and lighthouse keepers.
The highlight of the museum park is the replica of the 16th century English merchant ship Elizabeth, one of seven in Sir Walter Raleigh's 1585 expedition to establish England's first colony in the New World. Climb aboard and listen to some of the sea tales, legends, and facts as presented by history interpreters dressed in authentic costumes.
Minutes from Nags Head Beach, the nearby Elizabethan Gardens were designed by two of America's foremost landscape architects: M. Umberto Innocenti and Richard Webel. There are 10 acres (4 hectares) of butterfly bushes, ginger lilies, rhododendrons and lavishly blooming azaleas honoring the "Birthplace of America."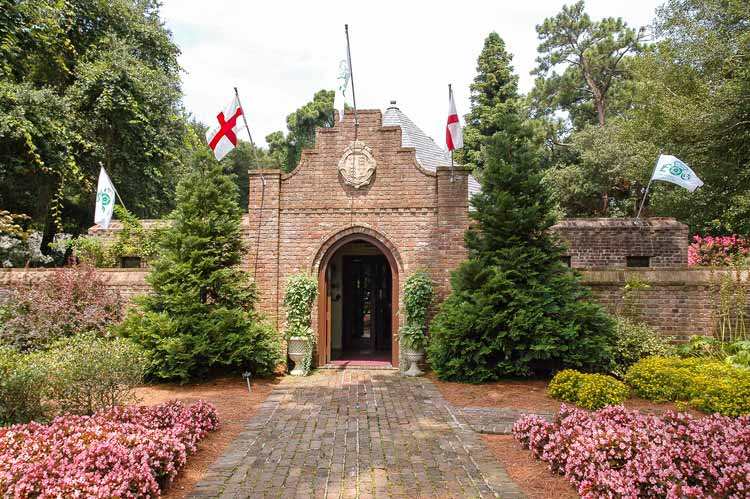 Kid-Friendly Things to Do
Children might prefer a trip to the North Carolina Aquarium. Little visitors can pet small rays. Learn what to feed an alligator, and ask a diver about life under the sea. The aquarium features a freshwater gallery, a wetlands atrium, and 285,000-gallon (1,078 liters) ocean tank.
Watch a performance of The Lost Colony at the Waterside Theatre on neighboring Roanoke Island. It's the nation's longest-running outdoor drama, first opened in 1937 for what was supposed to be one season.
The symphonic play, by Pulitzer-prize winning author Paul Green, tells the story of the mysterious disappearance of America's first English settlers in the New World. It is a dazzling spectacle of Elizabethan music, song, dance, and drama beneath the stars. Take plenty of bug spray!
Where to Eat on Roanoke Island, Outer Banks
You'll find dinner options galore in Manteo. Dine with a waterfront view at Lost Colony Brewery and Cafe and sample yummy dishes like Carolina Crab Cakes and Low Country Shrimp and Grits (Manteo Waterfront; 252-473-6666), Big Al's Soda Fountain and Grill (100 Patty Lane, Manteo; 252-473-5570) or hearty German food at The Weeping Radish Brewery & Bavarian Restaurant (Highway 64, Manteo; 252-473-1157).
Sunday in Outer Banks, North Carolina
The Outer Banks stretch much further than you first might think. It's a 115-mile (185 km) long drive — plus a 40-minute free ferry ride across the Hatteras Inlet — along the main traffic arteries (Highway Bypass 158 and Highway 12) from Corolla's untouched Northern Beaches to quaint and isolated Ocracoke Village in the south.
Today, take a road trip to explore more of the general area and get a better feel of the lay of the land. While spending the entire day cooped up in the car isn't fun, the roads can be congested in summer. Depending on where you're based, consider whether you'll take a trip up north or down south.
The Chicamacomico Life Saving Station (N.C. Highway 12 Milepost 39.5, Rodanthe; 252-987-1552) was the first of 29 stations in use on North Carolina's shores. The museum site includes structures from two historic periods. The original station was built in 1874, which was later turned into a boathouse, and the newer station dates from 1911.
Keepers guarded the dangerous coastline with its lurking sandbanks along Hatteras Island for 70 years, pulling countless crewmen off wrecked ships to safety. Living History storytelling, a variety of exhibits, and hands-on-demonstrations highlight the most dramatic rescues of the last century. The Life Saving Service was integrated into the U.S. Coast Guard in 1915, and Chicamacomico Station was decommissioned in 1954.
Visit Outer Banks' Lighthouses
Each island has its own lighthouse, different in design and history. There are five altogether, the most famous one being the Cape Hatteras Lighthouse in the village of Buxton.
At 208 feet tall (63 m), Cape Hatteras Lighthouse is the nation's tallest. Visitors can climb the 257 steps to the lofty balcony of this giant beacon built in 1870 and painted with distinctive diagonal black and white spirals. Erosion by wind, waves, and water made the location of the lighthouse increasingly unsafe. In 1999, the lighthouse was cut from its original base, and lifted onto steel beams. Then it was taken on an amazing 23-day trip on railroad tracks to a new and safer spot.
Ocracoke's Lighthouse, a chubby white plastered brick building dating from 1823 and only 63 feet high (19 m), is the oldest operating lighthouse in North Carolina.
Bodie Island Lighthouse built in 1872 (156 feet or 47.5 m)
Currituck Beach Lighthouse (1875; 150 feet or 46 m)
Cape Lookout Lighthouse (1859; 150 feet or 46 m).
Take a Beach Break
Take a break at the Canadian Hole, a beach spot on Pamlico Sound 1.5 miles (2.4 km) south of Avon. It earned its nickname because it is a magnet, particularly for wind-jockeys from the Great White North. The breeze blows constantly, making The Hole a popular attraction for windsurfers and kiteboarders of all skill levels. The calm waters of the sound are warm and shallow, a perfect place to try windsurfing on your own.
Or you could just get out of the beach chair and watch the swarm of sails dance over the water's surface.
Catch the free ferry to Ocracoke. It's a busy place during the high season but still manages to keep its romantic small-town flavor.
After disembarking and heading to Ocracoke Village, find yourself on a road lined with marshlands and meandering creeks to your right. Blue herons stalk the swampy waters. To your left, seagulls soar, taking a sudden plunge to catch a fish from the clear blue waters of the Atlantic Ocean. At times, the slender island is so narrow you can almost see the sound and sea at the same time.
Dine at one of the patio restaurants overlooking Silver Lake Harbor before you start your long ride back into the sunset.
If You Go to Outer Banks, North Carolina
Outer Banks Visitor Bureau, a resource for local tips, as well as a list of rental agencies as well as info on Bed & Breakfasts, hotels, and campgrounds.
Cape Hatteras National Seashore
Cape Lookout National Seashore
Wright Brothers National Memorial