A Pacific Northwest road trip is a great way to enjoy the stunning natural beauty of the northwest USA. Driving through this region provides the chance to view gorgeous scenery of mountains, lakes, rivers and forests.
However, nature is not the only attraction. There are lots of charming and historic towns along the way perfect for a rest stop or overnight stay.
Charming Towns on a Pacific Northwest Road Trip
Leavenworth: German Cuteness in the Cascade Mountains
Imagine a Bavarian village as seen through a Disney lens and that's Leavenworth, WA. It's both kitschy and wonderful and is set among the beautiful Cascade mountains.
Every building, including the Starbucks and McDonald's, is Bavarian-themed. So much so that I expected people in lederhosen and dirndls to be serving in the many shops selling wine, sausages and an array of German goodies and trinkets.
The center of the town is pedestrian-only with a large wooden Maypole in the middle. Art fairs, wine tastings, hiking and river tubing are popular spring through fall.
You can taste more flavors from the area while you plan you're trip with a PICKED wine selection. Get bottles of wine from the northwest selected by a sommelier based on your preferences delivered to your door. Chat with a wine expert, find subscriptions and browse one-time deliveries here.
Meanwhile, in the winter there's a Christmas celebration which lasts a full month. During this time the town is lit to the max with twinkling lights and carolers sing in the town square Gazebo.
There is also skiing, sledding, activities for kids, a display of Santa costumes from around the world and a festive place for gift wrapping. We stayed at the Icicle Inn which has comfortable rooms and a pool that was fun and cooling on a hot summer day.
Trip to Yakima Old and New in the Pacific Northwest
Leaving Leavenworth we drove to Yakima where the Lewis and Clark Expedition visited in 1805. It was this expedition that led to homesteaders to settle there shortly after.
The settlers lived on fish and also grew wheat to make bread and raised cattle for meat and milk, turning some to butter.
At the excellent Yakima Valley Museum, I admired the dog-powered butter churn that belonged to the Gleed family who owned a dairy farm. The Gleeds left their home of Colorado and set out for Walla Walla, WA.
However, after learning of a diphtheria epidemic there they changed plans and went to Yakima. The journey was long but amazingly, Shep, the ultra-faithful family dog, walked the whole way.
Mrs. Gleed oversaw the arduous task of making butter. To assist with this task a churn was ordered along with a First Prize Dog Power Treadmill. The patented Davis Swing Churn the family bought was made by the Vermont Farm Machine Company of Bellows Falls, Vermont.
The cost was $8 and it could churn five gallons of cream at a time. It worked by rocking the cream so it rolled over itself repeatedly until turning into butter.
The treadmill sat outside the dairy where the Gleeds intended it to be worked by a goat. But the goat refused to perform so good old Shep was called into action. It seems he hated the job as he apparently often attempted to disappear on churning days.
Subsequently, the Gleeds varied the churning schedule hoping to catch Shep off guard and nab him before he knew what was happening. The scheme must have worked, as James and Sara Gleed operated the dairy, producing dog churned butter, until 1899.
The museum also has many other exhibits like the surprisingly beautiful fossilized fifteen-million-year-old trees. Furthermore, there's a recreation of the Washington D.C. office of Supreme Court Justice William O Douglas who served under President Franklin D Roosevelt from 1939 until 1979.
Other items in the museum include paintings and sculptures by renowned regional artists; neon signs; vehicles, including an 1889 horse-drawn steam fire engine and a lot of other quirky, interesting material. The entire collection is eclectic, informative and fun.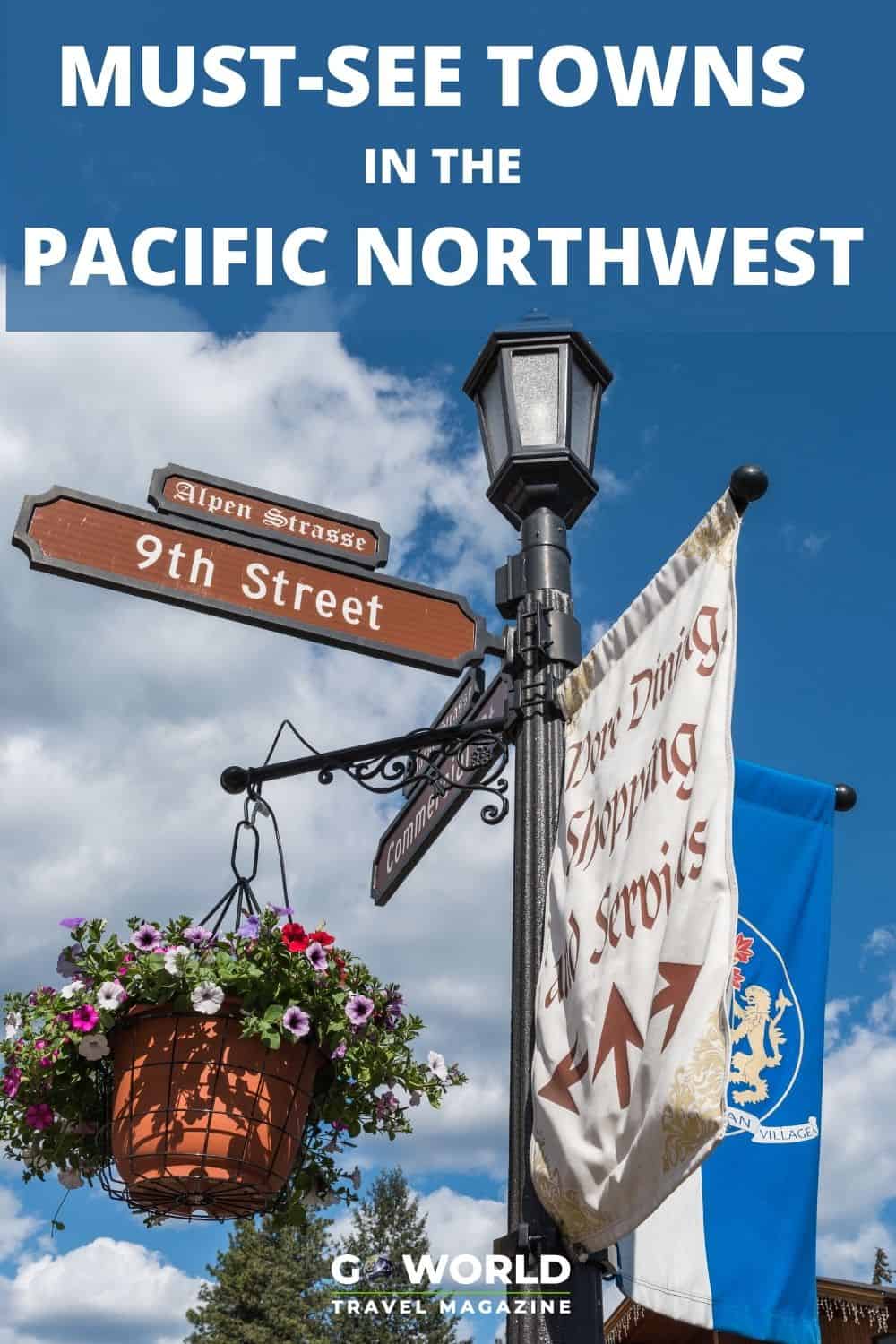 Time Stands Still in Cashmere and Waterville
Later we turned into Cashmere, a town in the center of Washington State known for its fruit orchards. Cashmere is HQ of Liberty Orchards where Aplets and Cotlets are made.
Liberty was started in the early 20th century by two young Armenian men, Armen Tertsagian and Mark Balaban. The men met in the Northwest after both had emigrated to the area. They grew apples and figured out how to dry them and send the fruit to American servicemen overseas in WWI.
By the 1930s, they were in the canning business and came up with another use for surplus fruit: rahat locoum. This near eastern candy was something they had loved as children.
Much recipe tinkering yielded an apple and walnut candy dubbed Aplets. A few years later they introduced Cotlets made from apricots and walnuts.
You can tour the small factory, eat free samples, admire the wonderful old stove adorned with the Liberty founders' picture and buy all the candy you wish.
Down the block from the candy factory is a general store with an old-fashioned soda fountain. The store is adorned with pictures of Elvis Presley and the iconic Norman Rockwell illustration of a boy drinking a soda.
We were there on a Thursday when root beer floats were featured and my companion had to have one. The young woman made it with a theatrical flourish, artfully applying the ice cream to the side of the glass.
Nearby Waterville is a tiny town with a consignment-cum-fabric shop, an old hotel and a visitor center that shares space with a deli. As I stepped in, a man was being served lunch. Each lamppost was hung with a picture celebrating one of this year's high school graduates.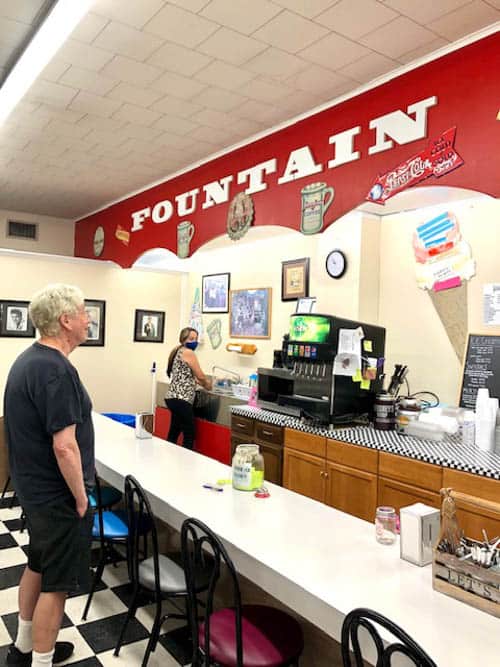 Culture in Spokane
That night we stayed in Spokane. Here the Northwest Museum of Arts and Culture and the next door 1898 Campbell House are must-sees. Admission to the Museum includes the Campbell House which has been extensively restored to its early 20th-century glory.
Dinner at Anthony's is highly recommended for the wonderful food and a terrific view of the Spokane Falls.
Pack some extra layers from GOBI for walking around Spokane on a cooler day. Check out their selection of heated vests and jackets here.
Pendleton: Where the West is Still Wild
After Spokane, we drove over desert plains to Pendleton, Oregon, a town that's more Wild West than Wyoming. This is where the famous Pendleton woolen goods were made.
Today, however, it turns out that most items in the store are fashioned in China and Vietnam. Nonetheless, shoppers flock here and take advantage of the many sales.
Every September the town hosts a Round Up, that's such a big deal hotel rooms are snapped up a year or more before the event. It is held during the second full week in September.
The Round Up includes parades, a kick-off concert with major country and western stars, a cowboy mounted band, bull riding, men's and women's bull roping, wild cow milking and thousands of cowboys and cowgirls as well as those chasing Western dreams.
The first Round Up was held in 1909. It included bronc riding, horse races, greased pig contests, sack and foot races and fireworks. The event became formally incorporated as a non-profit organization on July 29, 1910.
In 2019, the Pendleton Round-Up hosted close to 60,000 visitors from all over the U.S. and other countries. Happy Valley, a nightly post-rodeo pageant, features scenes of Native American culture, cowboy/native skirmishes and a look at a wild frontier town's rollicking main street.
The Pendleton Round Up is a tribute to community spirit with over 1000 volunteers, townspeople, Native Americans, local workers and enthusiastic crowds. It also provides scholarships to college-bound students and has earned its title as Best Professional Rodeo.
On display in a local supermarket was an elaborately tooled leather saddle intended for this year's grand prize winner appropriately set among Coors beer cases. Let 'Er Buck!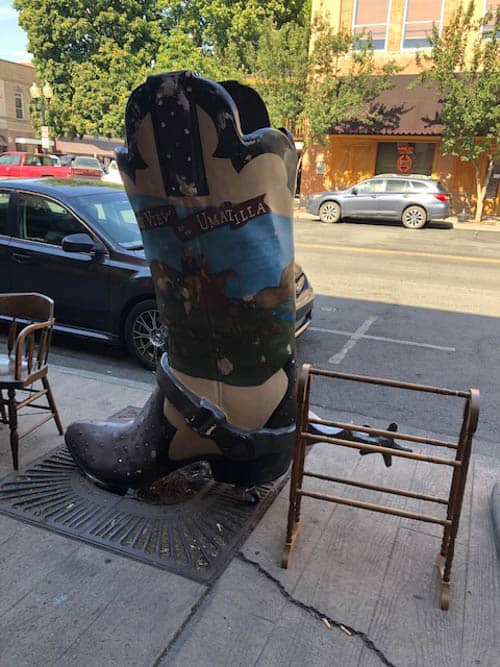 Book This Trip to the Pacific Northwest
Start planning your trip to the wild Pacific Northwest today. Be prepared with hotels or VRBO accommodations, local restaurant favorites in each town, best nature stops and more through TripAdvisor and Travelocity.
When you're ready to book your dates, check out OMIO Travel Partner for the best plane, train and car rental reservations. Find your tickets here.
Author Bio: Mari S. Gold is a freelance writer whose work has been published in The New York Times, American Profile, Go Nomad, www.newyorkarts.com, Passport, Davler Media's City Guide, Stratton Magazine, Go World Travel and other outlets. A life-long New Yorker and avid traveler, she often writes on food, theater and cultural events. Her blog, But I Digress… is at www.marigoldonline.net