Kenya is a multiethnic and multiracial country. Its roots dig deep into the colonial era when it was colonized by the British in the 19th century. The British government founded the East African Protectorate in 1895 and Kenya was declared a British colony in 1920. Some 22 years later, members of the Kikuyu, Embu, Meru and Kamba tribes took an oath of unity and secrecy to fight for freedom from British rule.
The Mau Mau Movement (made up of both men and women) began with that oath and Kenya embarked on its long, hard road to national sovereignty. The Mau Mau rebellion against British colonial rule led to a state of emergency from 1952 to 1959. Thousands of Kenyans were incarcerated in detention camps.
During this period, African participation in political matters increased rapidly, and in 1954 all three races (African, Asian and European) were admitted to the legislative council. Later, in December 1963, Kenya gained independence from the British and became a republic, with Jomo Kenyatta as its first president.
Nairobi, Kenya
Nairobi is the capital of Kenya and the biggest city in Kenya. The name Nairobi is originally a Masaai phrase, "Enkare Nairobi," which means "cool waters" and refers to a river in Nairobi that flows through the city.
Kenya is known for championing the Olympics and being one of the best tourist destinations, as well. The following is information to help you explore the country.
Book your stay in Nairobi here.
Kenyan culture
Kenya is a culturally diverse nation, with 44 different and unique tribes. These tribes have different languages, cultures, traditional songs, food and communities.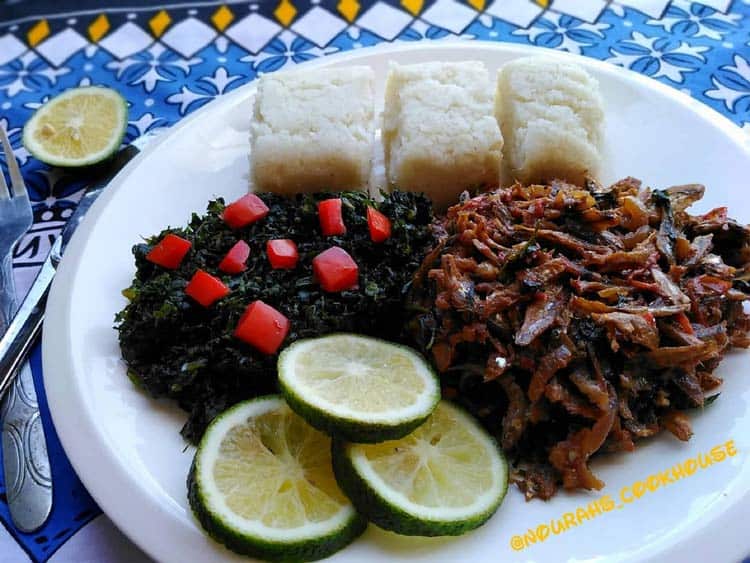 Food in Kenya
Kenya has a variety of food. The staple meal is ugali, ground maize that is made into flour. Its cooking process includes boiling hot water, then pouring the flour and stirring it until it gets a firm consistency. It is usually eaten with traditional vegetables, and beef or fish of choice as its accompaniment.
Tourists seem to thoroughly enjoy ugali with nyama choma (barbecue) and beer. Every tribe in Kenya has its own special food. A favorite meal for the Luo community consists of ugali, silver cyprinid fish (locally referred to as omena) and vegetables.
The Kenyan food culture also involves a lot of street food, usually cooked by the roadside during evening hours to attract the vast majority heading home after their work or school hours.
One favorite delicacy enjoyed locally is mtura, which is loosely translated as Kenyan blood sausage, made from the clotted blood of an animal. The cooking procedure is exactly like the process used in making a barbecue. It is then sprinkled with salt and sold with a side of tomato and onion salad also called kachumbari in Swahili. Most people prefer to eat it right there by the roadside, believing that it is more delicious eating it where it is sold rather than carrying it home. Its price is under a dollar.
Traditional Attire in Kenya
Every tribe in Kenya has its own unique attire that represents its communities, beliefs, and social and marital status. One popular attire is that of the Maasai.
It has been featured on runways and red carpets as a fashion statement in the western nations. The most recognizable piece of the Maasai ensemble is the Maasai shuka, a shawl-like piece of cloth worn or wrapped around the body.
The women's ensemble consists of colorful handmade beaded accessories that are perfectly layered on the women's necks and heads. The accessories, however, represent different things.
Social and marital status determine the kind of jewelry they wear in terms of shapes and colors.
Red symbolizes blood (cattle blood), which they drink mixed with cattle milk. They also believe in giving this drink to the unwell because it helps boost the immune system. It is also drunk in times of celebrations, rituals and local festivals.
Blue represents the sky that provides rain. Green represents the land that provides vegetation for both the people and their cattle. The Maasais treasure their cattle; it is their wealth. The more cattle a Maasai has, the wealthier he is considered to be. Barter trade is also still a key factor in Maasai land.
Orange represents hospitality and friendship. Yellow is symbolic of growth and fertility. Black represents the people.
Music in Kenya
Kenya has a diverse range of music genres, each with its own target audience, from mugithi that is appreciated by the Kikuyu community to taraab music that is enjoyed by the Swahili community.
Kenyan music keeps metamorphosing, with the sound changing from generation to generation. Some of the music genres listened to are Afro-fusion, benga, hip hop, reggae and gengetone, which is largely consumed by the younger generation of millennials and centennials.
Some of the musicians Kenya boasts of include award-winning boy band Sauti Sol. Muthoni the drummer Queen, Stella Mwangi alias STL, Nyashinski, Eric
Wainaina, Suzanna Owiyo, Victoria Kimani, Juakali, among many other notable musicians. Photo source; Sauti Sol.
Tourism
After agriculture, tourism is one of the economical hearts of Kenya. CNN travel ranked Kenya as one of the best African countries to visit for a vacation in 2020.
Kenya was also featured in CNN's "30 of Africa's most amazing places to visit," https://www.cnn.com/travel/article/africa-amazing-places/index.html.
Some of the top-rated tourist sites in Kenya are:
Maasai Mara National Park
Located in Narok County, Kenya, Maasai Mara is one of the world's most magnificent national game reserves. It is named after the Maasai people who live and herd in and around the park.
The park is famously known for the great wildebeest and zebra migrations around the months of July – October, during which the animals cross the Mara River. If you are an animal lover, the Mara is definitely a destination to note on your bucket list.
Another great sight would be the Thomson's gazelles that travel from the Serengeti in Tanzania through the months of July-October and usually migrate with the millions of wildebeests. Other amazing wildlife here are lions, cheetahs and leopards.
Things to Do in the Maasai Mara:
Game drives – There is no better way to enjoy and experience the fullness of the Mara than going on a drive. And if you are lucky, you may see a hunt going down.
Nature walks – Tour guides will walk with you and show you around. You will learn about the environment and see some of the less-dangerous animals up close. And if you are bold enough, you can take photos a few feet from them.
Date night – Maasai Mara is one of the most romantic places to have a date – and maybe even propose to your better half. There are beautiful setups outside on the reserve looking at the sunset or by the river, listening to the sound of water.
If you are a nature lover, this is definitely the place for you.
Book your trip to Masaai Mara here.
Amboseli National Park
Amboseli takes the crown as the second-most-popular national park in Kenya. The name is derived from a Maasai word meaning salty dust. This is because of the parched conditions that can be seen there. This is where you will find large herds of elephants, as well as big cats, giraffes, impala and waterbuck.
Things to Do in Amboseli:
Sightseeing – Amboseli has one of the best views of Mount Kilimanjaro in Tanzania. Amboseli has a lot of beautiful landscapes, so you definitely will want to carry your camera with you.
Visit the Maasai community – Amboseli is home to thousands of Maasai. You can learn about their culture and language, and shop for handcrafted souvenirs. It is a fun place to experience firsthand who the Maasai are, what they do, and some of their songs and dances.
Visit the elephant research camp – This research project was established in 1972 By Harvey Croze and Cynthia Moss. They actively gather data on the African elephant.
Mombasa – Mombasa is Kenya's second-largest city after Nairobi. Mombasa is a cosmopolitan hub for tourists, known for its white beaches and historical sites. It is also home to the largest seaport in East Africa. Some activities to do in Mombasa include:
Tour Fort Jesus – This historic site is located on the island of Mombasa County and was named a World Heritage Site by UNESCO. It was built in the shape of a man when viewed from above by the Portuguese in 1593.
It was originally built as a garrison for the Portuguese Army but it later was changed to a tourist attraction with a museum inside.
Book your trip to Amboseli here.
Author Bio: Nourah Ocholla is a Kenya based freelance Food and Travel Writer. Popularly known for her food blog that teaches people how to make scrumptious and healthy meals on a low budget. When she is not cooking, she is usually reading a good book and watching documentary films.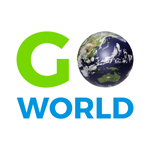 Latest posts by Go World Travel Magazine
(see all)