Dry, inhospitable, rugged, and remote, Lava Beds National Monument in Northern California is often hot in the summer, foggy in the winter, and inexplicably eerie at dusk. And it's a gem.
With hike-able lava tubes, craggy volcanic chimneys, and a climbable cinder cone etched with tumbleweed and sagebrush, Lava Beds has an otherworldliness that can't be easily described. Nearby Tule Lake, a National Wildlife Refuge, is a bird watcher's paradise that also boasts petroglyphs carved on sandstone cliffs.
Evidence of volcanic activity in Lava Beds is inescapable. Lava Beds' 72 square miles (186 km²) are covered with volcanic rock deposited there by periodic eruptions over the past 500,000 years. Scattered with fumaroles, cinder cones, spatter cones, maar volcanoes (with low cones and bowl-shaped craters that are wide relative to rim height), chimneys, and lava flows, it boasts the largest collection of lava caves in the continental United State.
The lava tubes were formed when hot fluid lava spilled from the cracks and fissures on the Medicine Lake volcano. As it flowed, the exposed tops and sides of the lava cooled and solidified. This hardened outer layer acted as insulation so the interior flow remained hot and liquid. When the volcano stopped erupting, the lava drained out through the tubes. Over 400 tubes have been located in Lava Beds so far, and experts believe there are more undiscovered.
Exploring these sinuous lava caves is a must. Only one, Mushpot Cave, whose entrance is in the parking lot of the Visitor Center, is lit, but over two dozen have been outfitted with steps, ladders, or cleared paths. During the summer, there are ranger-led tours of the caves, but visitors can explore on their own at any time.
The Visitor Center lends lanterns for use in the caves, and sells inexpensive bump hats. Two flashlights per person, sturdy shoes, and long pants are recommended. Most of the caves are clustered along Cave Loop Road. Some are relatively easy to navigate; others require crawling or scrambling over rough lava floors.
Improbably, this moonscape-like terrain also supports a wealth of wildlife. Mule deer, pronghorn antelope, bats, bobcats, cougars, kangaroo rats, quail, jackrabbits, and rattlesnakes all live in Lava Beds. Over one million shorebirds and waterfowl touch down during spring and fall at the nearby Tule Lake. Raptors and other birds of prey are very common. Bald eagles winter in the Lava Beds in greater numbers than anywhere outside of Alaska.
The human history of Lava Beds is almost as strange and desolate as its landscape. Signs of early human habitation include petroglyphs at Petroglyph Point and pictographs in Big Painted Cave, Fern Cave, and Symbol Bridge.
Lava Beds is also the site of the only major Indian war in California history. The Modoc War of 1872-1873 pitted a small band of tenacious Modoc Indians against the US Calvary.
The Modocs abandoned the Klamath Reservation, which was established in 1864 and covered about 50 square miles (129 km²) of land east and northeast of Klamath Falls in neighboring Oregon (about 30 miles or 48 km north of Lava Beds National Monument). The tribe hoped to return to their homelands near Tule Lake, but troops were sent to drive the Modocs back to the reservation "by force, if necessary."
The soldiers headed across what they believed to be flat land towards an easy victory over a small band of Modoc men and their women and children. But Lava Beds — particularly viewed from the distance — is deceiving. The deep lava trenches and underground lava tubes provided the Modocs protection the Calvary had not imagined.
Exhausted by the razor sharp terrain and bitter cold, confused by fog and the seemingly magical appearance and disappearance of the Modocs, the troops suffered heavy losses the first day of the battle and retreated, abandoning enough weapons to stage another war.
Fifty-two Modoc warriors held off a growing army — eventually 20 times larger than them — for five months, making the Modoc War, at over a half a million US dollars, the most expensive war ever launched in the United States against a native people. But inevitably, the sheer number of troops overwhelmed the Modocs, and by May 1873, the battle was over, and with it, the Modoc culture.
The soldiers were baffled by the Modocs' fierce determination to hold on to what appeared a barren and worthless chuck of rock, but it only takes a day or two here to feel an inexplicable connection to this strange, but beautiful, place.
If You Go
Lava Beds National Monument
Box 867
Tulelake , CA 96134
530-667-2282
Lava Beds National Monument is open to visitors year round. The visitor center hours are 8 a.m. to 5 p.m. during winter season (closed Christmas Day), and 8 a.m. to 6 p.m. during summer season. Bump hats are sold for US$ 3.50; free-use lanterns may be borrowed, but must be returned by 4:30 pm, so bring flashlights if you wish to explore the caves in the evening. Entrance fee: US$ 5 per car (good for 7 days).
Lodging
Indian Well Campground in the south end of the park has 40 campsites suitable for tents and small-to-medium-sized RVs. Fees are US$ 10 per night, per site. Water and flush toilets are available. No hookups.
One group site is available by reservation; the other sites are available on a first-come, first-serve basis.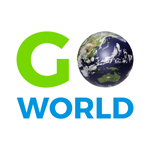 Latest posts by Go World Travel Magazine
(see all)