In 2018, I got the chance to view Mother Nature's fury in action at Hawai'i Volcanoes National Park on the Island of Hawaii. At the time, the volcano was erupting. Heat and smells of sulfur scorched earth and burning vegetation filled the air. Acrid smoke from the melted asphalt of a lava-covered highway choked me and made breathing difficult.
It brought to mind the words of that intrepid early traveler to the Hawaiian Islands, Mark Twain, on his visit to the volcano in 1866: " … the smell of sulfur is strong, but not unpleasant to a sinner."
Sinner or not, when one comes right up a lava flow and peers into the abyss of surreal beauty and incredible power, one is duly humbled by Mother Nature's machinations. The eerie scene gave the illusion of being present at the beginning of life on Earth.
Hawaii Volcanoes National Park
The awesome display of Mother Nature's fireworks, or in this case, of Madame Pele, the Hawaiian volcano goddess, attracted thousands of visitors daily at Hawaii Volcanoes National Park on the Island of Hawaii (also known as the Big Island). At the time, Hawaii was one of the few places in the world where an erupting volcano could be viewed close up in relative safety.
Today, Hawaii's Kilauea Volcano is no longer erupting, but visitors still flock to the unique national park to see the volcano's visible past. You can still view many steam vents, even along many walking trails. According to the U.S. Geological Survey's Hawaiian Volcano Observatory, the Big Island volcano has "paused" producing new lava., but she still awes with her mighty power.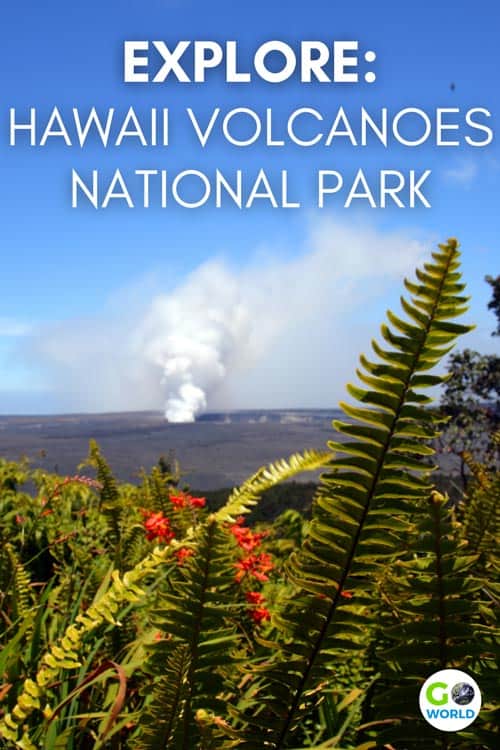 You can see all of the best parts of the park and learn the intimate history of the island on the Kona: Hawaii Volcanoes National Park Tour. Book this tour, which includes transportation and meals, here.
That mighty power was in full evidence on May 17, 2018, when the volcano erupted at the summit in Halemaʻumaʻu. It threw ash 30,000 feet (9,144 m) into the air. The activity began with cracks in the earth's surface that created lava flows, which increased over time. The lava ran several miles down slope in vast surface flows, at times reaching the sea through underground lava tubes.
In that eruption, lava flows several feet deep covered some 45 square miles (11655 hectares) of rain forest and desert. The eruption created more than 560 acres (226 hectares) of new land along Hawai`i's southeast coast.
The eruption has claimed no lives, but it had a serious impact on area residents. It devastated the quiet seaside village of Kalapana and area subdivisions, wiping out more than 180 homes and other buildings, and disrupting many lives. Flows covered beach parks, several miles of roads and power lines, archaeological and historical sites, and a national park visitor's center. It destroyed rare plant and animal habitats.
But time marches on, and Hawaii Volcanoes National Park has taken on a new type of beauty.
Chain of Craters Road
Today, there is no visible lava flow, but 20-mile (32 km) drive down the Chain of Craters Road to the eruption site is visually stunning. The fern and ohia lehua forest (Hawaii's most prolific native tree) open to vast stretches of lava flows reaching several miles down to the distant coastline.
Roadside markers note the various eruptions, lava flows and still-steaming cinder cones bearing melodious Hawaiian names. The strong winds carry wisps of clouds downslope and out to sea as your car carefully winds down the steep pali (cliff).
Along the route, marked trails across the lava fields lead to ancient Hawaiian petroglyphs, early rock etchings that record important events in the lives of people who held this land sacred.
This can be a short hike or a longer, more difficult hike of a couple of hours or more one way, over rough terrain. Looking up slope, one can see vast lava flows that have cleared wide swaths through the pristine Hawaiian forest on the way to the sea.
Some visitors get as close as they can to the creeping tongues of lava. The smooth pahoehoe lava flows like fresh cake batter dumped from a bowl. Others stand on the edge of what used to be a lovely black sand beach, now covered by cooling, but still crackling and steaming, lava. Clouds of volcanic haze fill the air as the red-orange lava flows into the crashing surf.
If You Go to Hawaii Volcanoes National Park
Read More: Back to the Big Island of Hawaii
Get outfitted for your volcano hikes and the Hawaiian beaches at Sierra Trading Post. Check out their swimsuit, hiking boots, sun protection and more here.
While visiting the national park, you may also enjoy Crater Rim Drive and Halemaumau Crater, Bird Park Trail and the Thurston Lava Tube. Be sure to be on the lookout for the endangered nene (Hawaiian goose), the state bird.
For lodging at Hawaii Volcanoes National Park, check out the rustic Volcano House Hotel, www.volcanohousehotel.com. Backpackers can opt for simple A-frame cabins at Namakani Paio Campground in the national park; campground reservations are also made through Volcano House Hotel. Another good choice is the upscale bed & breakfast Kilauea Lodge, in nearby Volcano Village, www.KilaueaLodge.com.
Book This Trip
Ready to see the majesty of Hawaii Volcanoes National Park? Find everything you need to prepare for your trip, like favorite local hikes, where to shop, restaurant reviews, hotel or VRBO rentals and more by checking out TripAdvisor and Travelocity.
To find the best deals and direct flights to the Hawaiian islands through Hawaiian Airlines. Check out their specials and pick your dates here.
Hawaii Volcanoes National Park – www.nps.gov
Island of Hawaii – https://www.gohawaii.com/islands/hawaii-big-island