Editor's Note: We're all dreaming of travel ahead. Here's some inspiration for future adventures. We share places, products and activities we recommend. If you make a purchase using a link on our site, we may earn a commission.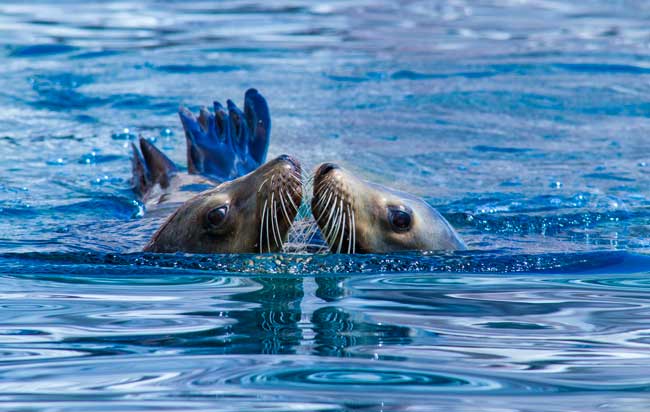 Cortez Aquarium of the World
The Sea of Cortez has been called the Aquarium of the World – and for good reason. It's rich with abundant sea life, from dolphins to whales to sea lions. After making our base in the laid-back Mexican city of La Paz, several friends and I are on a boating adventure on the Sea of Cortez. The weather is warm, and the sun shines brightly in a clear blue sky as we zoom across the water.
We're still riding high from our morning adventure of swimming with whale sharks, and now we're off on the second part of our day trip – we're going to snorkel with sea lions!
After a picnic lunch on Ensenda Grande, a quiet, picturesque beach on an aquamarine bay, our Cortez Club captain heads the boat toward Isla Espiritu Santo, the 12th largest island in Mexico. The island is part of the Espiritu Santo Biosphere Reserve, named a UNESCO Biosphere due to the region's biodiversity.
Los Islotes, a small island at the northern end of Isla Espiritu Santo, is home to one of the largest and healthiest sea lion colonies in Mexico – and that's where we are headed.
Sea Lions of the Cortez Sea
I hear the sea lions before I see them, barking and calling to each other on the rocky shoreline. As my eyes focus, I see hundreds of sea lions, some playing in the water, others sunning on the rocks.
Several of them swim right up to our boat, as if to check us out. The sea lions are here year-round, although swimming with them is not allowed during mating season in July and August.
Our plan is to snorkel here among the sea lions. Javier, our guide, gives us a little background on these amazing creatures before we go in. The yearling pups tend to be quite playful, and have even known to be mischievous, tugging at snorkel straps or headbands.
Play Time
The adult females are graceful swimmers, watching over their young as they glide through the water. Javier advises us to stay away from the bulls, however. They are much larger – up to 600 lbs. – and can get aggressive of their territory. If we give the alpha males their space, we'll have no problems, he says.
Although diving with the sea lions is also allowed, we are on a snorkeling tour. So, donning our masks and fins, we slip into the water. Within a minute, I'm surrounded by sea lions gracefully slicing through the water as they turn and twist.
They're not afraid of us at all. In fact, many are curious. They swim right up to me, then turn at the very last second. I follow some of my friends into a small cave, where many of the lithe creatures play.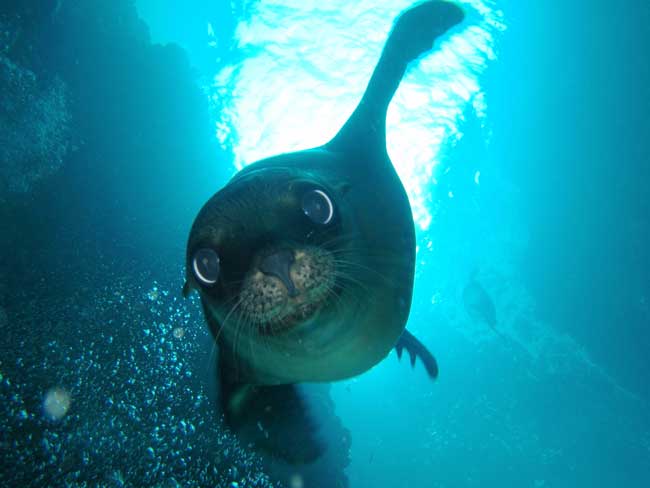 Cortez Club
Sunlight pours in from the entrance, providing a spotlight for the sea lions. One small female swims right up to my face, looking me directly in the mask, just inches from my face. She's just as curious as I am. She stays there, not moving, and I'm so fascinated I can barely breathe. Then she slips away, off to another adventure.
Dozens and dozens of sea lions continue to swim around me, and then suddenly a behemoth male swims by with his harem. I back away, but he pays me no mind.
We stay in the water for 45 minutes, which is the time allowed. The water is chilly this time of year (spring), but thankfully the Cortez Club, our tour operator, has provided us with full-body wet suits, which help to keep us warm.
All too soon, it's time to climb back into the boat. What an adventure today! I'm tired, but happy as we head back. It's just a quick ride back to La Paz, which has been the perfect base for our Sea of Cortez adventure.
Unwinding After the Ocean
After relaxing at our hotel, the lovely CostaBaja Resort & Spa, a luxury property overlooking the water, I'm starving and eager for our dinner out. Dining in La Paz has been a highlight so far.
Fresh seafood, vegetables and fruits have been a staple in every meal, and the local Mexican cuisine has been excellent.
Tonight, we're dining at Sorstis, a popular local restaurant known for its classic Italian dishes. I like the décor and open courtyard, and my seafood pasta is excellent. We're tired, but happy as we relax around the table, still eagerly discussing our day's adventures.
We still have many plans for our time in La Paz, including stand up paddleboarding on the bay, visiting the Whale Museum — and then tomorrow, a trip to see the gray whales at Magdalena Bay.
Don't Miss All Three Parts of Our Series: "Whales, Sea Lions and Gray Whales, Adventures in La Paz"
Part 1: Swimming with Whale Sharks in the Sea of Cortez
Part 2: Snorkeling with Sea Lions in the Sea of Cortez
Part 3: Humans and Gray Whales Meet at Magdalena Bay
Latest posts by Janna Graber
(see all)