Editor's Note: We're all dreaming of travel ahead. Here's some inspiration for future adventures. We share places, products and activities we recommend. If you make a purchase using a link on our site, we may earn a commission.
American President Joe Biden recently issued an order requiring the use of face masks on all forms of public transportation in the United States, including airplanes, trains, buses, ride-shares and more.
The mandate also states that travelers must wear masks at airports and transportation hubs like subway stations, ferry terminals and more.
What is the Best Face Mask for Travelers?
What is the best face mask for travelers to wear? It can be confusing to decide among the options.  
Germany recently required that "medical-grade" masks be worn outdoors, and France banned homemade face coverings and fabric masks that inadequately filter out airborne particles.
But there is no clear U.S. government guidance which mouth and nose covering should be used when flying on an airplane, staying at a hotel, engaging in other travel-related activities or just buying groceries at home.
So I asked for recommendations from three people: Dr. Mike Hansen, an internist and a pulmonologist; Rachel Walla, an industrial hygienist who is the president of Ally Safety in Vancouver, Washington, and Mia Sultan, a marketing official for N95Masko, a New York-based company selling masks and N95 respirators.
An N95 respirator resembles a mask but must meet federal standards for filtering airborne particles.
"The question of what mask to wear in a particular situation is a tricky one, and there are lots of things to consider," says Hansen, who also specializes in critical care medicine.
What to Consider with Masks
Before deciding, readers should first understand that no mask or N95 respirator, according to Hansen and Walla, guarantees 100% protection from contracting the coronavirus or spreading it to others. Masks or N95 respirators are most effective when fitted and handled properly, and it may be wise to heed the mask considerations of the Centers for Disease Control and Prevention (CDC).
N95Maskco sells five types of mouth and nose coverings: Respokare NIOSH N95 respirators, NIOSH N95 respirators, KN95 masks, three-ply surgical masks and cloth masks.
The N95 respirators are considered "medical grade" and meet federal standards established by the National Institute for Occupational Safety and Health (NIOSH) for filtering out at least 95% of airborne particles. The N95 respirators are affixed to the head with head and neck straps, while the masks have ear loops.
KN95 masks, which are certified by China and some European countries, were approved for use by the U.S. government during the pandemic. KN95 masks are supposed to filter out 95% of airborne particles, but the government has a dual warning: Several Chinese companies' KN95 masks do not meet that performance standard, and various types of counterfeit masks and respirators are being sold.
N95Maskco says its KN95 masks, made in China, are rounder and thicker than other KN95 masks and filter out 95% of airborne particles.
The Respokare NIOSH N95 respirators have four layers of material protecting the wearer; the NIOSH N95 respirators, KN95 masks and three-ply surgical masks have three layers, and the cloth masks have one.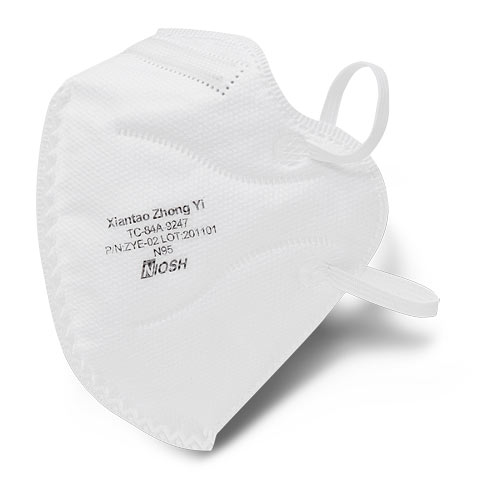 KN95 Respirators
Sultan explains the general use of her company's respirators and masks. (Other companies approved to sell this equipment are listed on the CDC website, and three-ply and cloth masks can be bought at pharmacies and retail shops.)
"Cloth masks are the most basic form of protection and are meant to protect others from your liquid droplets," Sultan says. "The effectiveness of cloth masks is still being evaluated by the CDC.
The three-ply face mask is the general public's go-to face covering that we see worn on the streets all the time. Use it while out for a stroll with the family or when you come within six feet of someone.
"Use a three-ply mask or better when in a public space like a supermarket or school," Sultan continues. "Wear a KN95 or NIOSH N95 when you may be in close proximity to others such as in a school, an office, a shopping center or when traveling.
While the KN95 is an acceptable respirator to use under the Food & Drug Administration's Emergency Use Authorization, the NIOSH N95 has historically been the approved, accredited U.S. standard.
Those who are at risk because of underlying health conditions or are more than 60 years old may also want to be on the safe side and wear one of the higher-protection respirators."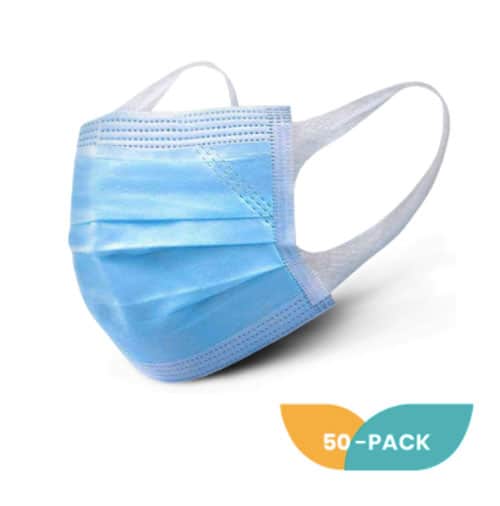 Federal Standards for Masks
The CDC's website advises the public to not use surgical masks and N95 respirators because they "should be reserved for healthcare workers and other medical first responders to prevent supply shortages."
But Sultan says N95Maskco has enough inventory for all, and the company will suspend sales to the public if sufficient supply for healthcare workers and other medical first responders becomes a concern.
In a Washington Post opinion piece Tuesday, Harvard University associate professor Joseph Allen said everyone should be wearing an N95 respirator (he called it a "mask"), because they can filter out 95% of airborne particles. Allen is the director of the Healthy Buildings program at the university's T.H. Chan School of Public Health.
If two people are wearing N95 protection, he says, the particles must pass through the N95 material twice — when being emitted and before breathing in — and more than 99% of airborne particles are filtered out.
This N95 mask meets federal standards established by NIOSH and is sold by N95Maskco.
N95MASKCO
Walla and Hansen caution that N95 respirators make it harder to breathe, so people with respiratory problems should consult with a doctor before using one.
"Not all people can tolerate these masks for very long," Hansen says. "They are more uncomfortable, as they have to fit tightly to your face to be effective. Beards should be shaven for a proper fit."
Walla gives her advice about how to stay safe and which mask or N95 respirator might be best to wear in various travel-related situations.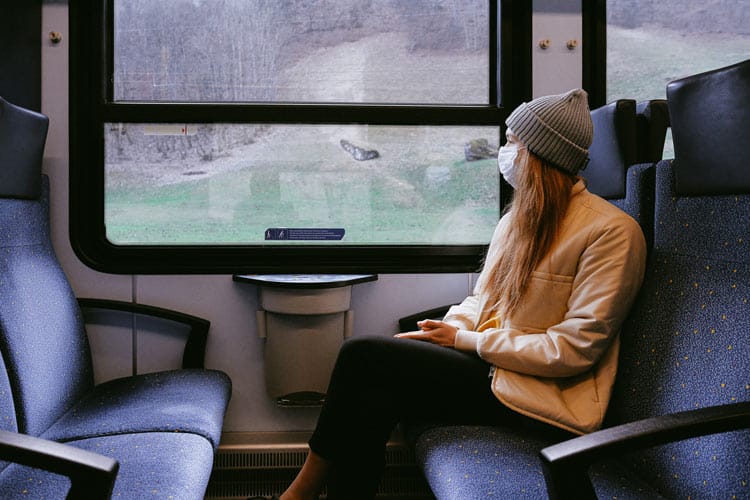 What You Should Know About Masks and Travel
Traveling inside a taxi. "All passengers should wear a face covering. It will be more protective to wear one that provides a good seal. Surgical masks are intended to serve as a barrier but do not seal. A multilayer cloth mask that sits closer to the face or an N95 can provide improved protection."
Traveling on a bus or a train. "Traveling on public conveyances increases a person's risk of getting and spreading COVID-19 due to the close contact and frequently touched surfaces. The most effective method is for everyone to wear face coverings and distance as much as possible. Social distancing is often not possible, so wear a face-covering or an N95 that provides several layers of protection and the best seal. Hand washing is also significantly more important than it is in many other public settings."
Going through an airport security checkpoint. "Many passengers report difficulties in maintaining social distance at airport checkpoints. You want a mask that sits closer to the face and has several layers of filtering. Many workplaces are currently offering employees N95s for travel."
Waiting to board a flight at the gate. "In this situation, it's often easier to maintain social distancing, so a surgical mask or an ordinary face mask may be adequate if everyone is wearing them."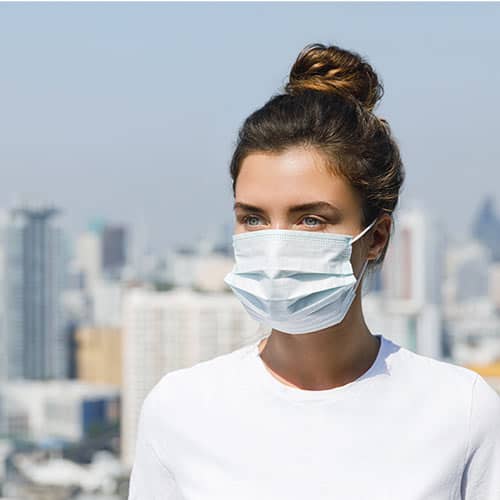 Inside an airplane. "This is controversial. Studies conducted by airlines and the government have shown the risk of contracting COVID-19 during a flight to be low enough that several airlines are currently back to filling the middle seat. In addition, flight attendants have lower rates of COVID-19 than the general population.
Many airlines have implemented improved air filtering along with UV sanitization systems that help to reduce airborne viruses. However, there have been claims that the study methods were flawed or exaggerated claims of safety.
Although an airplane is safer than other modes of shared transportation, wearing a multilayer mask that provides a reasonable seal or an N95 can help to overcome the lack of social distancing."
Eating inside a restaurant. "The problem with eating in restaurants is that once the mask is taken off to eat the risk of exposure greatly increases. Safety is most dependent on the restaurant's adherence to social distancing, indoor drafts, whether patrons are laughing or yelling and a variety of other factors. Since face coverings aren't worn during the entire visit, even wearing an N95 whenever you are not eating or are walking to the restroom can't overcome some of the other risk factors."
Hansen, who wears an N95 respirator whenever he travels on an airplane, has a final note of caution.
"For people who are at higher risk either due to age or underlying health conditions, the first line of defense should be to avoid all nonessential contact with others."
Read more from Gary Stoller
Read more Helpful Travel Tips