Greece is one of the top destinations in Europe for good reason. Greece's coastline, one of the longest in the world, beckons with its gorgeous beaches – some full of beach umbrellas and sun beds, others secluded and nestled against cliffs.
Imagine yourself strolling through the sun-soaked ruins of the Acropolis or cooling off in the clear, blue waters of the Aegean Sea. Picture yourself meandering down narrow, cobblestoned alleys of whitewashed island villages, engaging with locals who welcome you with genuine warmth.
Then indulge in a culinary journey that takes you through a medley of fresh, mouthwatering Greek cuisine under a sky glittering with a million stars. This is just a taste of what Greece has to offer.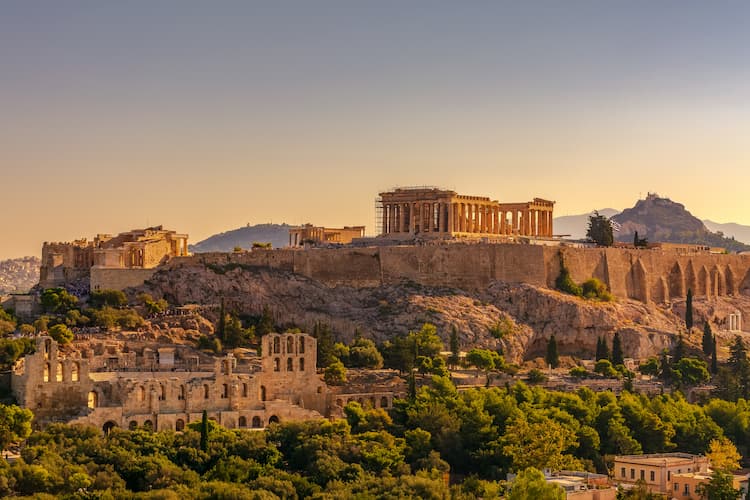 Vacation in Greece with Local Experts on a Small Group Tour
Seeing Greece in a small group tour with local guides is the best way to view this alluring country. Local insight is valuable when it comes to experiencing authentic Greece with its millennia-old history, rich traditions and diverse landscapes.
The personalized approach of a small group tour allows you to connect with Greece on a more intimate level, gaining insights that large tour groups often miss. Among these intimate travel opportunities, Raro is a name that stands out in its ability to deliver an exceptional experience.
SPECIAL OFFER FOR GO WORLD READERS
Book your trip with Raro now and save $1,750 by using promo code GOWORLD23 
Raro – Your Gateway to Authentic Travel
Raro, which translates to 'uncommon' in Italian, lives up to its name, offering travel experiences beyond the ordinary. The company offers all-inclusive small-group tours to Greece and other top destinations.
Raro is driven by a passion for exploration and cultural immersion, and a commitment to forge genuine connections between travelers and destinations. When you're on an adventure with Raro, you're more than a tourist; you're an explorer delving into the heart of your destination.
7 Benefits of a Raro Small Group Tour in Greece
1. Expert Local Guides: The Insider's Perspective
Raro provides local travel Hosts who will expertly guide you through their homeland and share their deep, personal connection with Greece. With their intimate understanding of the country's culture, history and secret spots, they offer an insider's perspective, making you feel less like a visitor and more like a friend.
2. Authentic Local Experiences: Dive Deep into Greek Culture
Raro believes in offering a truly immersive and authentic travel experience. To this end, they arrange an array of local experiences that help you dive deep into the Greek lifestyle and get off the beaten path. From exploring historic sites to experiencing traditional Greek festivals, every activity is an opportunity to learn, engage and connect with Greece.
3. All-Inclusive: Ultimate Worry-Free Travel
A truly all-inclusive experience means you don't need to worry about a thing. From the minute you arrive everything is included including local transportation and transfers, accommodations, meals, wine, activities, guides, entrance fees and even gratuities.
4. Unique Accommodations: Live Like a Local
Your Greek adventure with Raro isn't confined to sightseeing during the day. The experience continues with unique accommodations that blend comfort, charm and authenticity. Raro handpicks the accommodations from boutique and historic hotels to charming pensions immersing you in the local culture even as you relax and unwind.
5. Authentic Cuisine and Wine: A Gastronomic Journey
Raro's commitment to authenticity extends to your dining experiences. You'll indulge in meals at cozy, local family-owned restaurants and enjoy the breathtaking views at seaside hotels and villages. Coupled with the finest local wines, your culinary journey with Raro will be as memorable as the ancient sites you visit.
6. No Admission Fees: Focus on the Fun
With Raro, your focus remains on the experience, not the logistics. Raro takes care of all admission fees, from fascinating historical sites to enchanting local attractions. So, all you need to do is relax and soak in the rich tapestry of experiences that Greece offers.
7. No Transportation Hassles: Smooth and Easy Transfers
Figuring out local transport can be a daunting task in a foreign country. With Raro, you don't have to worry. From your arrival to your departure and everything in between, Raro manages all your transportation needs, providing seamless transfers and making your travel experience stress-free and enjoyable.
An Uncommon Greek Experience with Raro
As the summer sun sets over the Mediterranean, it casts a golden glow over the land where gods once walked, and you'll find yourself looking back at a Greek experience that defies the ordinary.
This is the promise of Raro – an uncommon journey, a road less traveled and a chance to see Greece in a way few tourists do.
With its expert travel Hosts and local guides, all-inclusive experiences, unique accommodations and hassle-free travel, Raro will make your Greek summer escape an unforgettable adventure.
For more information, see travelraro.com
Inspire your next adventure with our articles below:
Latest posts by Go World Travel Magazine
(see all)