It's early morning on the Sonoran desert of Arizona. I'm following my Native American guide on horseback, one of the many experiences offered at Sheraton Grand at Wild Horse Pass. No sooner does he say, "We may run into a herd of wild horses," we see them. . . beautiful, sleek, clustered together under a patch of shade.
We watch the horses for quite some time until the stallion tosses his head, then gallops away from us. The others follow, their manes blowing like wheat in the wind. These wild creatures are for whom the 2400 acres of the Gila River Indian Community is named. There are 1,500 of them roaming this ancestral homeland of the Pima and Maricopa tribes.
Sheraton Grand Wild Horse Pass Heritage
From the moment we enter the elegant lobby with haunting flute music in the background, a sense of place engulfs me. It feels sacred. I meet lovely Rosie Rivera, the hotel's cultural manager and stepdaughter of a member of the tribal council that developed Wild Horse Pass as a destination. She gives me a tour, pointing out significant native artwork, artifacts, decor and customs throughout the hotel that distinguish it and gives it the "Grand" designation of the Sheraton brand, the first in North America. "Cultural and history are woven into every fabric of the hotel," she says
Rosie explains the ceiling murals by Maricopa artist Penrose Fulwilder that depict the 2,300-year history and customs of the tribes. I was astounded to learn that more than 100 years ago, white settlers siphoned off water from the Gila River, leaving natives without the crucial life force that sustained farming for centuries. Starvation and poverty followed, made worse by the government's unhealthy food rations that bred obesity, diabetes and heart disease. It wasn't until 2004 that Congress gave water rights back to the tribes, and the precious commodity began flowing again in the canals built by their ancestors, the Huhugam, as far back as 300 B.C.! The community started development of Wild Horse Pass in 1997.
I learned so much from Rosie, and I encourage anyone visiting the resort to take her tour. It's free to hotel guests; $8 for non-guests.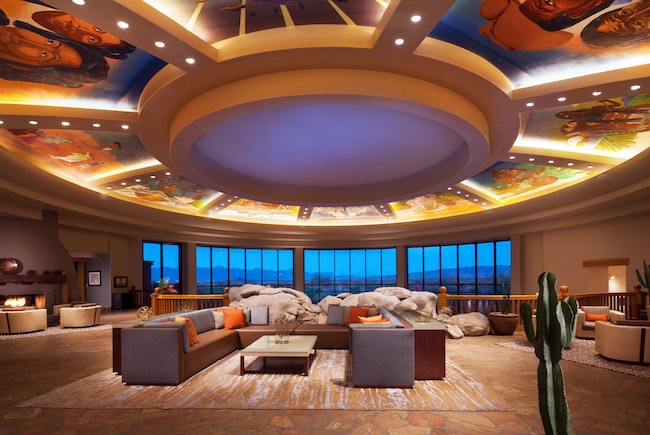 Rooms at Sheraton Grand Wild Horse Pass
Native American themes are found throughout all 500 rooms and suites—artwork by local artists, throw blankets designed by tribal artist Amil Pedro, and basket designs on duvets and headboards. "Ribs" of the Saguaro Cactus—its blossom is Arizona's state flower—stand tightly together like soldiers in decorative valances for curtains and on furniture.
The motif is evident even in the hallways.
Our "grand deluxe" room is spacious with a desk, lounge chair, bureau, TV, WiFi, fridge, coffee service and safe. A balcony overlooks the meandering swimming pool, beautiful grounds and mountains beyond. The tile bathroom has a soaking tub, separate rainforest shower and single sink. Robes and iron/ironing board are in the closet.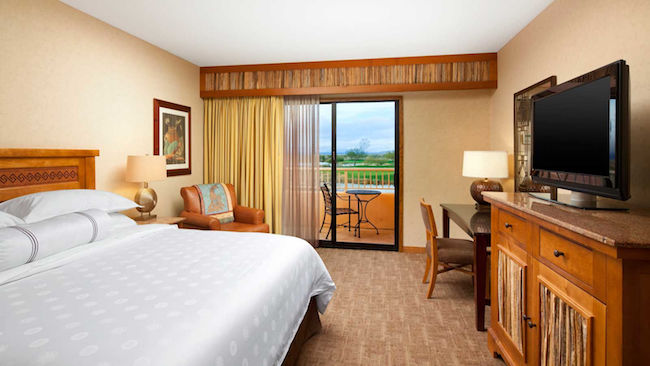 Dining at Sheraton Grand Wild Horse Pass
The only restaurant in Arizona with Forbes Five-Star rating is right here. Kai, (Pima for "seed"), is also one of Open Table's "Ten Best Restaurants" in America. The awards are well deserved. Kai is an exquisite dining experience.
After graciously seating us, head waiter Feliciano introduces his "team" of four or five servers. Soon after, the team in one synchronized move throws open the curtains to reveal a stunning sunset. That begins an unparalleled dinner service that never wavers from cocktails to dessert. Feliciano explains each gourmet dish and servers deliver our courses in the same synchronized manner. The Native American-inspired food is fantastic, much of it coming from the Gila River Indian Community. Original native artwork graces menus, each one different. Kai is open only for dinner and has a dress code.
Another, more casual restaurant is Ko'Sin, (Pima for "kitchen"), offering three daily meals with southwestern cuisine, also very good. Sunday morning buffet runs until 1:30 p.m.
Lunch on the patio at the Aji Spa is delightful. Aji Cafe serves delicious salads and sandwich-type dishes as well as smoothies, desserts, and drinks (bar and non-alcoholic).
Other food spots are Hanyo ("oasis"), a poolside grill; the lobby bar in the lower level; and a Starbucks Cafe.
Aji Spa at Sheraton Grand Wild Horse Pass
Flute music greets me again as I enter the sanctuary of award-winning Aji Spa, a separate building along the pathway of the hotel that also houses a salon, fitness center, and adult-only outdoor pool. Aji means sanctuary in the Pima language, the name for the nearby Aji Mountain to where women and children escaped when tribes were attacked. Like the hotel, the entrance faces east according to tradition. Inside, every bit of the design is significant, beginning with symbols in the gorgeous mosaic floor to the changing clouds in the ceiling dome to the artwork of the natives. Butterfly motifs carry out the spa's theme: "Beauty and strength lie within us. As the butterfly emerges from the chrysalis, may your time at Aji provide you with a sense of radiant renewal." It's a magnificent and sacred space.
Spa treatments were developed from Native American rituals using ingredients from the Gila River. Mine is A'UT THOACHTA, a healing agave wrap using avocado oil, raw agave nectar and lime essential oil and includes head and body massage. It is heavenly!
Other activities at Sheraton Grand at Wild Horse Pass
The lower level is split between conference and event rooms on one end and at the other a spacious lobby with a bar and fireplace; a boutique and sundries store; a library and business center; and Ko'Sin restaurant and coffee stand.
A large swimming pool with a waterslide anchors the back of the hotel. Patios have fire pits and seating where natives share legends and personal stories in evening storytelling gatherings. There's also a two-mile interpretive trail through the desert that tells, among other things, how the Pima harvested cotton. On the smooth, man-made "Gila River" that meanders away from the hotel we like kayaking and trying to stand up on paddle boards (falling was ok since it's only about four-feet deep!) They also rent pedal boats and hydro bikes; and you can take a boat to Rawhide, a movie-set western town with shops and shootouts that kids will like. Koli Equestrian Center is nearby.
Adults may want to try their luck at Wild Horse Pass Casino, shop at Phoenix Premium Outlets, play a round at Whirlwind Gold Club or hit a few balls at Aji Spa tennis courts. There's even a auto raceway that hosts various events. If you want to learn more about tribal history and customs, the Huhugam Heritage Center is just two miles from the hotel. A hotel shuttle can take you to all these places on Wild Horse Pass.
Things To Do Nearby
For activities and places to go in the greater Phoenix area, click on visitphoenix.com. Called the "Valley of the Sun," the area includes Chandler (the closest), Mesa, Gilbert, Glendale, Scottsdale, Tempe, and Peoria.
Getting to Sheraton Grand at Wild Horse Pass
The resort is two miles from Phoenix Sky Harbor Airport on AZ-143 South.
5594 West Wild Horse Pass Boulevard, Chandler, AZ 85226  602.225.0100; www.wildhorsepassresort.com
Claudia Carbone is an award-winning travel writer based in Denver. Read about other hotels and resorts she's visited in Sleepin' Around.