They had me at Tombstone.
Getting invited to a dude ranch is exciting. But when it has Tombstone in its name, you know it's going to be authentic dirt-kickin', gun-fightin', horse-ridin', saloon-drinkin' fun!
Just three miles from the most bad-ass frontier town of the old west, Tombstone Monument Ranch steps back in time to the 1880s when the west was wild and silver mining was rampant. Built in 2009 by a German investment group to replicate the real Tombstone, its streets are dirt, its sidewalks are wooden and its storefronts are false. They got that right. However, turns out the Germans didn't know much about running a dude ranch; so when they lost it, longtime dude rancher Russell True (owner of Rancho de la Osa in Sasabe and White Stallion Ranch in Tucson) took it over and turned into a proper dude ranch. It is everything I thought it would be. Rustic yet comfortable, western but not cheesy.
Rooms at Tombstone Monument Ranch
Each of the 18 guest rooms enter from the street and are decorated in an old west theme. You may wake up in Miss Kitty's Bordello. . .
or find yourself in jail. . .
or hung up at the Post Office.
Dining and Drinking at Tombstone Monument Ranch
The Old Trappman Saloon is the hub of town. Punch open the swinging doors and you'll want to belly up to the bar—a fancy one at that—or sit down at one of the tables to learn how to play cards like Wyatt Earp.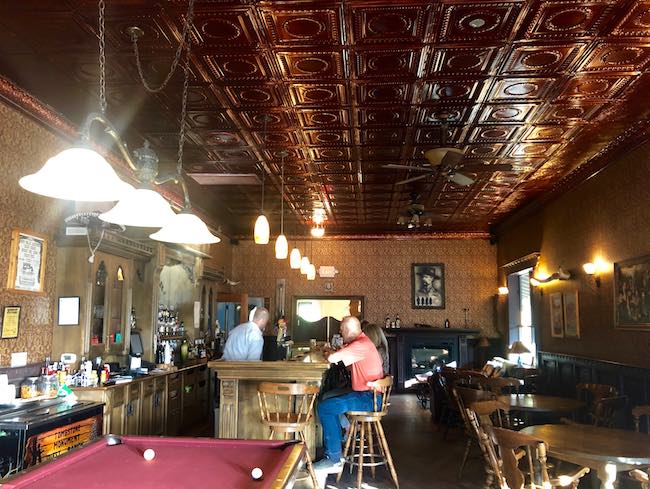 Often there's live music after dinner; sometimes dancing too.
The ranch serves three meals a day in this pleasant dining room. Though the cuisine is typical western fare (steak, ribs), the chef does his best to accommodate my vegetarian diet, so my meals are quite good.
One morning we have a campfire breakfast with our choice of cowboy coffee (when the ground coffee is thrown in with water and heated) or regular brewed. I opt for brewed.
Mmmmm. . .nothing like a hearty breakfast in the crisp air of early morning!
Activities at the Ranch
Like all dude ranches, horseback riding is the main activity. Wranglers assign you a horse based on your height, weight and ability that you will ride the entire time. Consequently, your horse becomes your best pal. You and he learn each other's nuances, which makes it an easier ride each time you mount up.
You can choose nose-to-tail slow rides, fast loping rides or other specialty rides through the desert landscape and visit the monument (hence the name), the grave site of prospector Ed Schiefflelin who discovered silver there, became rich and founded the town of Tombstone. He named it that because his disbelieving friends said the only rock he would find would be his tombstone. Because of the silver mining, Tombstone grew prosperous in a short time until mining ceased in the late 1880s. The monument can be seen in the background of this photo below.
If you really want to work with your horse, you can sign up for "team penning"—herding cattle around an arena—and "obstacle course," just like it sounds. You can ride as much or as little as you want. They offer riding lessons, which can be super helpful.
There's also archery, a pool and shooting old-time pistols and rifles with a gun pro (an extra $50).
Visiting Tombstone
This is a quintessential old western town that draws on its famous history to survive. The gunfight at the OK Corral is the most well-known event, and there are re-enactments all over town. The showdown was between four lawless cowboys and police chief Virgil Earp, his brothers Morgan and Wyatt, and Doc Holiday. Wyatt Earp was the only one who walked away unscathed. He lived to be 80, passing away in 1929. The town's museums and multimedia shows illustrate the history of this violent yet cultured town.
Tombstone Monument Ranch, 895 West Monument Road, Tombstone, AZ; 520-457-7299; tombstonemonumentranch.com.
Claudia Carbone is an award-winning travel writer based in Denver. Read about other hotels she's visited in Sleepin' Around.