Pensacola, Florida is known for its beaches, but the emerald waters that bathe its coast have a story to tell. Spanish Conquistador Tristan de Luna's expedition landed on the Gulf of Mexico shores in 1559, establishing the first European settlement in North America.
Their mission was to establish a colony and an overland trade route to the region now known as South Carolina. Unfortunately, a hurricane destroyed most of these efforts, and the explorers left in 1561. If they stayed, it would be Pensacola in our history books instead of Jamestown.
Pensacola remained a desired location for its sheltered waters, brick-making, and live oak trees, which were well suited for shipbuilding. As a result, five different flags have flown over the city since that first expedition.
Spanish, French, British, Confederate States, and United States flags have flown here. And as one can imagine, the city's architecture and cuisine reflect the history of these nations.
Pensacola Museum of History
The Pensacola Museum of History is the best place to begin learning about over 460 years of the past. The magnificent Mediterranean Revival building contains decorative period pieces highlighting the city's archeology and dioramas that discuss Pensacola's heritage. You can also see the ship's anchor from the first Spanish explorers proudly sitting on display.
Planning a last-minute trip to Florida?
Top Experiences and Tours in Florida:
Where to stay and transportation in Florida:
Revolving exhibits, such as an homage to Trader Jon's collection of naval aviation memorabilia, are located on the upper museum floors.
Trader Jon's was a local bar frequented by young flight students, military personnel, astronauts, movie stars, and local politicians. The iconic establishment's atmosphere comes to life in this space.
America's First Settlement Trail
After visiting the museum, stretch your legs on America's First Settlement Trail, a three-mile route through the Pensacola Historic District and downtown. A red-colored path marks 20 locations with an icon and QR code for a deep exploration of over 70 points of interest.
The Commanding Officer's Compound is a fascinating stop along the trail. You can see the layers of history in the ground. The area illustrates the outline of a Spanish fort that existed from 1756-1763.
Then you can see how the British expanded the space with buildings for their commanding officers. A second Spanish period ensued, as evidenced by remnants of a wall. Finally, another layer reveals an American-period Masonic Lodge.
Historic Pensacola Village
America's First Settlement Trail leads you down Zaragoza Street, past the Museum of Commerce and Museum of Industry, and into Historic Pensacola Village. Here, French Creole, Renaissance Revival, and Folk Victorian architectural styles highlight Pensacola's vast history.
The Julee Cottage, owned by Julee, a free woman of color, showcases a working-class African-American family home during the Era of Reconstruction. You can see the drawing room furnished in style from the 1860s with oriental throw rugs, books, and decorative needlework. This room was a room meant for conversation.
Nearby, at Julee Cottage, a gentleman in period costume demonstrated how to sew a 19th-century shirt while working in the outdoor kitchen. Kitchens were kept separate from primary homes, and the well, located next door, was used to keep food cool and a water source.
The oldest house in the Village dates back to 1805. The Lavalle House depicts 19th-century French Creole architecture with its bright colors. A sailcloth, repurposed as a rug, adorns the floor. You can see the patio bench designed to double as a bassinet and imagine greeting people passing by.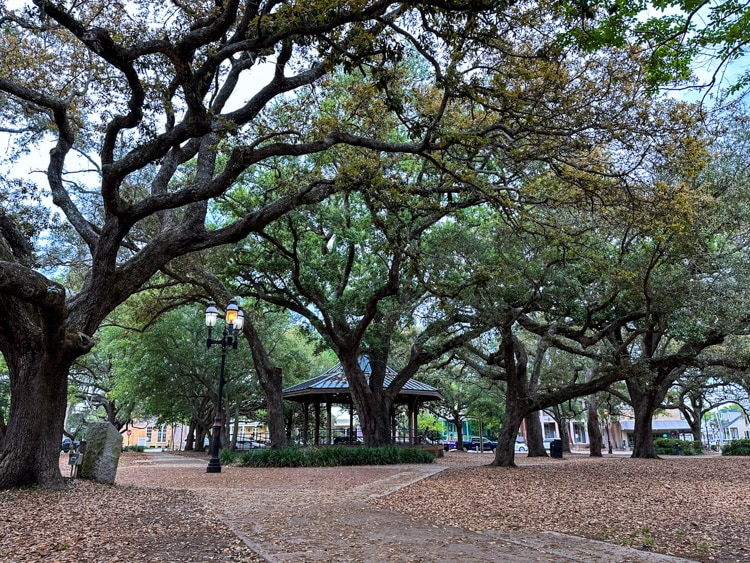 Old Christ Church
18th and 19th-century Victorian-style homes sit next to Old Christ Church. Built in 1832, the Episcopal church is the oldest in Florida, still standing in its original site. The church has had many purposes, ranging from a Civil War barracks and hospital to a public library.
Across the street from Christ Church, gigantic live oaks fill Seville Square. A gazebo invites you to sit and enjoy this nature-filled space. You may also spot a festival here, as the square is the home to many of Pensacola's events.
The city is also home to a growing craft beer community. Pensacola Bay Brewery, located on the corner from Seville Square, is an inviting place to sit outside and enjoy a pint.
What to See in Downtown Pensacola
Architectural design continues in the heart of the highly walkable downtown at Palafox Street. Named one of the "10 Great Streets in America" by the American Planning Association, you'll feel Pensacola's sense of community. There always seems to be something happening on this charming street.
In addition to restaurants and nightlife, alluring boutiques and coffee shops invite you in. Order a honey latte at Bodacious Café, where you can smell the coffee beans roasting.
The balcony looking onto Palafox Street or the patio on the second are perfect spots for a break. Alternatively, head to the south end of Palafox Street for water views and a delectable meal at Jaco's Bayfront Bar & Grill.
For a bit of culture, stop in the Pensacola Museum of Art. You'll enjoy the revolving exhibits on the museum's two floors. Fun fact: the museum was converted from the city jail, and you still see remnants of the cells.
If You Go
Tickets to the museums and historic homes can be purchased in advance. You have the option to buy a 7-day ticket or a Sunday-only ticket. The 7-day ticket is worth it as it's impossible to cover all the activities here in one day.
Don't forget to spend time on the crystal white sands at Pensacola Beach and Gulf Islands National Seashore. You can watch the US Navy's Flight Demonstration Squadron, the Blue Angels, practice from the beaches, or catch the aerial practice sessions from the Pensacola Bay City Ferry.
Author Bio: Julie Dee Suman is a Maryland-based freelance travel writer and photographer. She has traveled extensively, including over 46 countries across five continents. In addition to featuring the Mid-Atlantic Region, Julie enjoys destination travel with a focus on nature and wildlife excursions. She is a member of the Travel Writers Café and the International Food, Wine & Travel Writers Association (IFWTWA). In addition, she's a regulator contributor at Wander with Wonder.
Julie is also a pharmaceutical scientist and co-editor of Respiratory Drug Delivery. Her research has been published in peer-reviewed journals and trade magazines.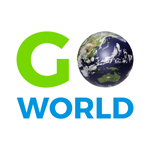 Latest posts by Go World Travel Magazine
(see all)