The first time I stepped foot on the island of Key West, Florida, I knew I was someplace special. First off, it's the southernmost point of the mainland United States, and it feels like a world of its own.
It's quirky and its eclectic culture has an "anything goes" laid-back vibe which you immediately sense as you're walking past the pastel-hued, conch-style houses in its historic Old Town.
Some of that might stem from its rich and storied history as a pirate haven in the 1800s. The island's sheltered harbor and shallow waters made it an ideal spot for pirates to hide out and repair their ships.
Pirates such as Blackbeard and Calico Jack were known to frequent Key West. The island was also a popular spot for pirate loot and contraband to be hidden. In response to the pirate activity, the U.S. government established a naval base on there in 1822, which helped to curb the pirate activity in the area.
Key West is part of the Florida Keys, a string of tropical islands stretching about 120 miles off the southern tip of the U.S. state of Florida. Each island has its own feel and offerings, but Key West is no doubt the most popular with visitors.
Planning a last-minute trip to Florida?
Top Experiences and Tours in Florida:
Where to stay and transportation in Florida:
Key West is surrounded by the turquoise waters of the Gulf of Mexico and the Atlantic Ocean, and its beaches offer plenty of opportunity for fun in the sun. It's the perfect remedy for the winter blues and is a must-visit for anyone visiting Florida.
What Are the Top Things to Do in Key West?
1. Visit the Southernmost Point in the USA
You can't come to Key West without stopping by the southernmost point marker. Located just 90 miles from Cuba, this iconic landmark is a must-visit for tourists and a great place to snap an Instagram photo.
2. Explore Old Town, the Historic Heart of Key West
Old Town is the historic heart of Key West and is home to several museums, art galleries and historic homes. Key West is known for its quirky nature and you can see that firsthand as you stroll down the streets. You'll pass popular restaurants, fun shops and unique architecture in this laid-back island town.
🏘️WHERE TO STAY IN KEY WEST
3. Take a Sunset Sail in Key West
Key West is famous for its stunning sunsets and a sunset sail is a perfect way to experience this natural wonder. Choose from a variety of sailboats, catamarans and schooners, then relax as you enjoy the colorful sky and the gentle breeze of the sea. During our last sunset sail in Key West, a couple even got married on the boat.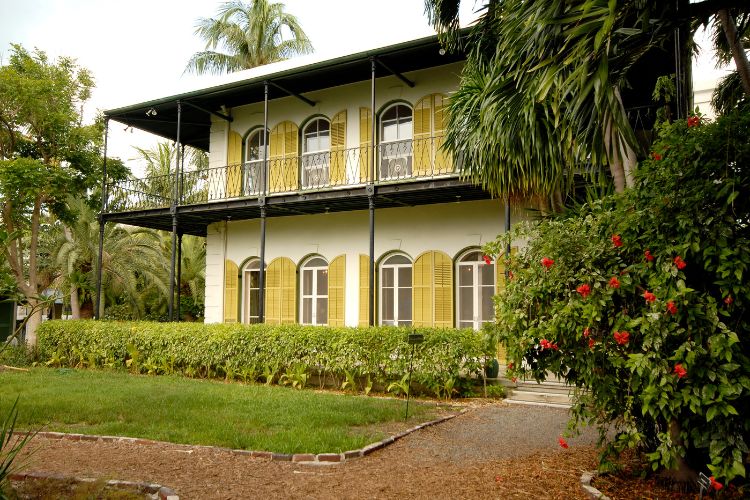 4. Visit the Ernest Hemingway Home and Museum
Ernest Hemingway was one of the most famous writers of the 20th century. He lived and wrote in Key West for over 10 years and his former home is now a museum dedicated to his life and work. Explore the beautiful grounds and take a tour of the home to learn more about Hemingway and his connection to Key West.
The museum also houses a collection of Hemingway's personal belongings, including furniture, books, and art, providing an intimate look into his life and the world that surrounded him.
In addition, the site is home to dozens of six-toed cats, descendants of Hemingway's own pets. These friendly felines are a unique feature of the museum and a popular attraction for visitors.
The home itself is a beautiful example of Spanish Colonial Revival architecture, with lush gardens, intricate tiles, and a stunning pool. You'll get a sense of the beauty and elegance of Hemingway's lifestyle in Key West.
5. Walk the Butterfly and Nature Conservatory
The Butterfly and Nature Conservatory is a beautiful indoor garden with hundreds of live butterflies and exotic birds. Take a stroll through the lush greenery and enjoy the peaceful beauty of this unique attraction.
6. Visit the Key West Aquarium
The Key West Aquarium is a family-friendly attraction that offers a glimpse into the underwater world of the Florida Keys. See a variety of marine life, including sharks, rays, and colorful tropical fish.7. Take a Trolley Tour in Key West
A trolley tour is a fun and convenient way to explore and learn about its history and culture. Choose from various tours that take you through the streets of Old Town, the southernmost point, and other popular attractions.
8. Visit the Key West Cemetery
The Key West Cemetery is a fascinating and unique cemetery located in the heart of Old Town. Take a stroll through the historic grounds and see the colorful grave markers and interesting epitaphs.
9. Enjoy the Nightlife
Key West is famous for its nightlife, with a wide range of bars, clubs, and live music venues to choose from. Whether you prefer a quiet drink at a beach bar or a wild night on Duval Street, Key West has something for everyone.
10. Explore the Harry S. Truman Little White House
This historic house was the winter White House of President Harry S. Truman and is now a museum dedicated to his life and presidency.
These are just a few of the many activities to discover in Key West. With its clear waters, sunny skies, and laid-back vibe, this destination is a must-visit for anyone visiting Florida. Plan your trip today and experience the beauty and charm of this tropical paradise.
TRAVEL TIPS
✈️Book your flight in advance
To find the cheapest flight options, you can use WayAway and find the most suitable option for you
🏘️Book your accommodation
Agoda.com will help you to book accommodation in advance and check availability on the days of your trip
🏎️ Rent a car
for the duration of your trip with Rentalcars to make it more convenient
Book This Trip
Start planning your sunny escape to Key West today. Get prepared with knowledge on the best shopping, hotel and VRBO accommodations, beach fun, local restaurant reviews and more through TripAdvisor and Travelocity.
Plan even more fun on your trip by booking some unique Key West activities, expert-led tours and and skip-the-line tickets to major attractions through GetYourGuide.
For the ultimate flight deals, car rental options and vacation packages check out CheapOair.
Author Bio: Jenny Peterson is a travel blogger who loves exploring new cities.