What an incredible trip this has been. Today is the last day of our journey down the Pacific Coast Highway (PCH). We pack our bags, say goodbye to San Francisco, and head south on the PCH. The views and hairpin turns continue to amaze us. My husband is enjoying our sporty rental car and this stretch of the road. My stomach not so much.
Santa Cruz, California
Fortunately for me, we stop in Santa Cruz, a beach resort community, to meet friends for breakfast. Santa Cruz sits on the northern edge of Monterey Bay. It is home to the Santa Cruz Beach Boardwalk, which is open daily from April-August and on limited days during the rest of the year.
Today the boardwalk is closed, so we find a cafe to sit outdoors and enjoy brunch with friends. The weather is cool, but the sun is shining. I love the smell of the beach air.
After our leisurely brunch, we continue south. We have come to Big Sur, California. Big Sur is the rugged stretch of coastline from Carmel to San Simeon. It's bordered on the east by San Simeon Mountains and to the west the Pacific Ocean. This winding narrow two-lane portion of the PCH offers breath-taking views.
I want to emphasize here – be sure to fill up with gas before this stretch of the road. It's a good idea to fill up in Monterey or Carmel. We needed gas in the middle of this stretch and paid $6.59 a gallon. Ouch.
This is also the only spot on our whole trip where we encounter a significant back up of cars. I remind myself to be patient and enjoy the view. After all, isn't that why we came on this trip? One tip: if you find that vehicles are backing up behind you, be courteous and pull over in the slow car turn outs.
Near San Simeon is the famous Hearst Castle. We have been told it's worth the stop, but at $25 a person, we decide to forgo it. Instead, we pull over at Elephant Seal Vista Point nearby for free. I love free! There are hundreds of Elephant seals basking in the sun. It is so windy and cool that I would love to join them laying in the warm sand.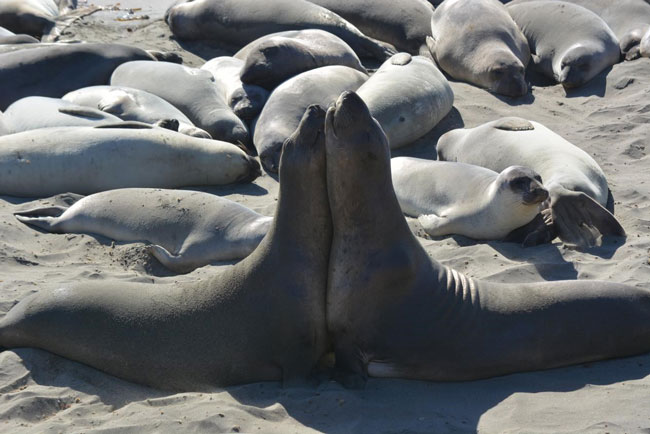 Cambria, California
Next, we head into San Luis Obispo County and stop in the small town of Cambria. If we weren't staying here for the night, we would have missed the charming downtown area since it can't be seen from the highway.
We have picked a Bed and Breakfast for the night and are not disappointed. J. Patrick Bed and Breakfast has claims to being the first B&B in Cambria. Linda, the owner, has updated the home and rooms in a country chic style.
We join the wine and appetizer hour, and chat with other guests and even a few locals. Linda's appetizers are homemade, as are the evening cookies that sit outside our room.
Linda arranges dinner for us tonight at Madeline's, which comes highly recommended by the locals. It's a wine shop by day and becomes at restaurant at 5 pm. The dishes we try have great flavors. Be sure to try the warm vinaigrette spinach salad.
The gourmet breakfast in the morning at J.Patrick's is delicious, and again we enjoy chatting with new and repeat guests to the B & B. It is obvious why Linda's guests come back to visit.
Cayucos, California
From Cambria the next morning, we head to Cayucos, an ocean resort town on Estero Bay. Our goal is cookies – Brown Butter Cookies to be exact. Sitting in a lovely red building with views of the bay is Brown Butter Cookies Company.
In 2008 two sisters, Traci and Christa launched a website for the Original Brown Butter Sea Salt Cookie. After the overwhelming response, they closed their specialty food store and opened the Brown Butter Cookie Company in January of 2009. They have continued to grow, opening a retail store in downtown Paso Robles CA.
The aroma of cookies wafts through the air as we enter the store. They are making cookies right in front of us. I have never tasted Brown Butter Cookies and I absolutely love them. The sea salt adds a flavor that is scrumptious. Their cookies can even be ordered online.
Morro Bay, California
After being fueled by cookies, we head down to Morro Bay for a short hike. It is warming up the further south we go, which is a welcome change. We get a beautiful picture of Morro Rock during our hike. Visit www.visitsanluisobispocounty.com for more information on San Luis Obispo area.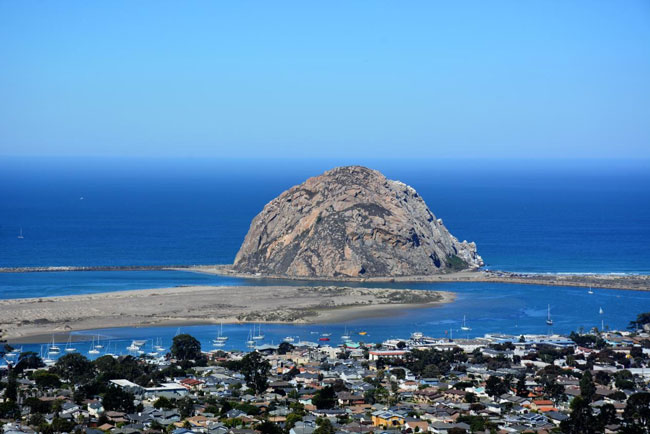 Manhattan Beach, California
Our journey continues down the coast as we head next to Manhattan Beach. The sun, how I am enjoying the sun! What a beautiful day it has turned out to be.
We walk along the sidewalk next to the beach and soak up the sunshine along the coast. Just a few blocks up, we find several restaurants and shops to browse through. I immediately spot an ice cream shop, Manhattan Beach Creamery. Their ice cream is handmade. Funny, how great my ice cream radar works.
It's been an eventful day, the last driving day of our trip. It's been quite a journey traveling the Pacific Coast from Seattle, WA to Southern California. Though the regions we traveled share the same Pacific Ocean, the climate and cultures we encountered were each uniquely their own and we have enjoyed each one.
We've gone through small towns and big cities, cold climates, and warm climates. We have seen amazing views of the coastline, lighthouses, and sea creatures as well as views inland, such as the massive Redwood trees.
We have met and learned from the people who call the Pacific Coast their home. And I'm grateful to them for showing us this beautiful coastal life.
This is part eight and the last in our continuing series on Traveling the Pacific Coast Highway