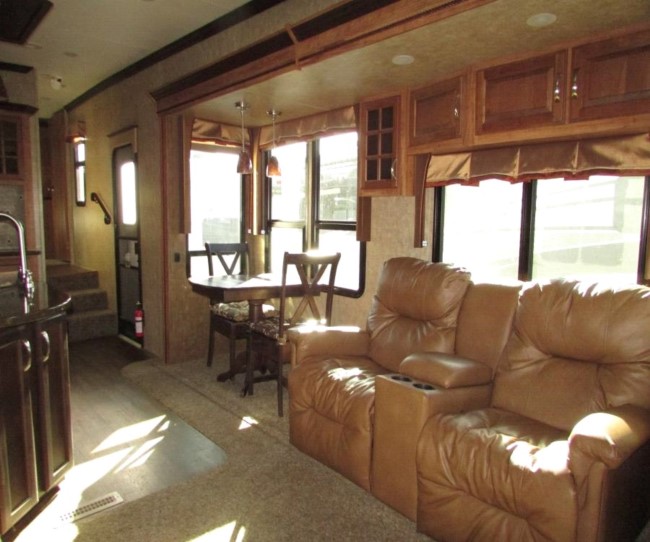 Dear Readers: Our travel shop contains products selected from trusted partners. If you make a purchase, we may receive a small commission. All opinions are our own and we only share things we recommend.
Our maiden RV voyage was now under our belt. What would we now need to live and work from RV for the summer? Obviously, my first thought was where we would stay.
Finding an RV Park
I began calling around to RV parks along the Colorado Front Range. My husband and I wanted to be near Denver. I soon found out that getting a long-term spot for the summer was all but impossible. Sites were booked for long-term.
I soon found, after staying at several RV parks, that there are many people who RV all year long. Not one park could even give us space for the summer a year from now. So I looked farther away from Denver, but found the same results.
Some may love to move around the whole summer, but I wanted to stay in one place.
Swallowing a little panic, I realized I would need to piece-meal the summer together. We would be moving nine to ten times this summer. ADVENTURE, I kept reminding myself.
If you can find them, long term sites will often charge a monthly fee plus electricity, with water and sewer included. Many also have cable TV and internet included. However, we found that you shouldn't rely on the cable and internet to work well, especially if your goal is to live and work from an RV.
Internet and Cable for Your RV
Working from the RV was going to require internet access. All the reviews I read about RV parks told me that I could not rely on the internet provided by parks. I don't believe I read even one good review about it.
There are different internet options available. A lot depends on if you will be continually mobile, staying in one place, or out in the boonies.
Since we would be moving around, we ended up choosing a Verizon Jet Pack that provided us with a hotspot for internet. It's great as long as you have cell phone coverage. We are even able to watch Netflix, Amazon Prime, Hulu, etc. The quality of the video decreases once you hit your data limit, but we can deal with that.
If your work requires a fair amount of streaming, you might look into https://unlimitedville.com/  Unlimitedville touts unlimited internet with no data limits, no throttling, and no contract. It is a membership organization that provides unlimited wireless data using the four major cell phone carriers. The Unlimitedville routers and hotspots connect to cellular towers and provide LTE data connection. They claim that all carriers have unlimited data plans not available to the public, but available to their members. Costs start at $149 after purchase of the hotspot or router. I have not tried this, so am unable to give an opinion.
If you are a member of FMCA (Family Motor Coach Association), Verizon offers an exclusive deal with a stand-alone hotspot for $49.99. https://site.fmca.com/index.php/fmca-verizon-4g-mifi.html
Visit www.rvmobileinternet.com to learn more about internet options.
For TV, if you're staying near a major cities, your antennae will pick up the major channels. But if you are someone who prefers cable, DISH offers plans for the RV. You will need to buy the equipment needed for use.
Washing Clothes in an RV
If we were going to live and work from our RV, we would eventually need to wash our clothes. Almost every RV park that I looked into had a laundromat (with the exception of state or city parks). If we ended up in parks with no sewer at the site, I would definitely be using the laundromat. Otherwise, your gray tank will fill up fast and you will have to move to dump that water. But if I would be staying at parks that have sewer at the site. I wanted a washing machine in my RV.
We did find water hookups in the closet of our bedroom. A small washer/dryer combo would fit there. By washer/dryer combo, I am referring to an all-in-one unit. It washes and dries. They are generally around USD$ 1000. Reviews I read often reported trouble with items getting dry. I found a used one and purchased it for $400. I also purchased a drying rack.
Here's what I found: When I used the washer and drying setting together, my clothes did not get dry. However, they were dry enough to finish line drying within about 1-2 hours. When I used the settings separately — wash only, rinse/spin only, the finally dry only — I was able to increase my dry time an extra half hour and my laundry dried (on the venting option). Be prepared, this washer/dryer combo runs sometimes for three hours a load.
There are many things you have to think about and decide on when you desire to live and work from RV. Make a list of items and services you absolutely need and ones that you would like to have and start doing your research.
Don't miss the next in the series of Life is an Adventure, Enjoy the Ride: Cooking in Your RV
Travel Tips:
See Camping World for all your RV accesories.
RV accesories