Editor's Note: We're all dreaming of travel ahead. Here's some inspiration for future adventures. We share places, products and activities we recommend. If you make a purchase using a link on our site, we may earn a commission.
Canadian Winter
In my never-ending quest to come to terms with winter, rather than doing what apparently every other New England resident does (flee to Florida) I traveled to Ottawa last year.
That's right, up to Canada. I wanted to see how Canadians get through the season. After all, the winters in Canada are much longer, and much, much colder than in Boston, where I live. My research may prove that what they do is turn winter into one big party.
Many people probably know about the famous Ice Hotel in Québec City, an elaborate structure the Québécois build each year during their Quebec Winter Carnivale. I decided to go to Ottawa, Ontario, Canada's capital.
Home to the world's longest ice-skating rink, the Rideau Canal Skateway, I thought it would be a good place to test my newly acquired ice-skating skills.
Find a Hotel or Airbnb in Ottawa
Skating on the Rideau Canal
In February, Ottawa holds Winterlude, when the city turns itself into a winter wonderland for three weeks. Rideau Canal runs through the city and residents eagerly wait for it to freeze deep enough for them to skate. A 4.5-mile-long (7.8 km) stretch becomes one long, free rink, used not only for play, but for residents who want to commute to work by skating.
The canal can stay skateable for more than a month. The record is 46 days! At either end of the canal, skates are available to rent, and every mile or so there are concession stands on the ice, where you can stop and warm up with hot chocolate or a Beaver Tail (a delicious pastry made of fried dough).
I went skating on the canal my first day there. Although very nervous (there are no handrails!), I managed not to embarrass myself. I never fell down. I did, however, have to take about four breaks. My ankles gave out after a while.
Gatineau National Park
All I can say is that it was amazing. Everyone from tiny two-year-olds skating circles around me to novices like myself, to kids playing hockey, to couples skating hand-in-hand. All were out in force. The key, obviously, is to dress appropriately. Once I had bought my snow pants and proper socks, as advised by the natives, I never felt the sub-zero cold again (well, not much).
Not content to merely ice skate, but really wanting to embrace winter in all its glory. I also tried snow-shoeing, which I found surprisingly easy. I went to Gatineau National Park, which is probably why I didn't notice the cold.
It is so beautiful and serene, it would have been a crime to complain about anything. Also — and this was really fun — I went down the snowslides in the Snowflake Kingdom, Winterlude's amusement park located in Jacques Cartier Park. Besides 31 slides made of snow, there are dog-sledding rides, horse-drawn carriages, entertainment such as music and shows and more.
Everything there is free! You can come every day of the festival if you want. During Winterlude, there are ice-carving and snow-sculpting contests and all sorts of events on the canal.
Although I may never come around to declaring winter my favorite season, I have learned that it can be a blast. Especially if you go where it's always a party, and you have the right socks.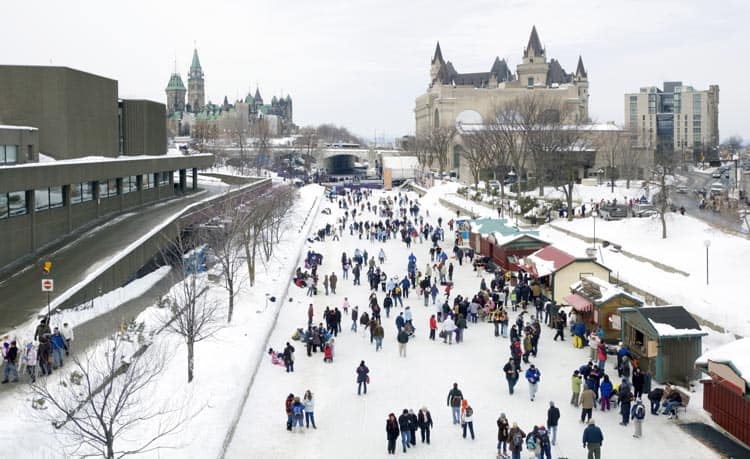 If You Go
Skate conditions and information – https://www.canadascapital.gc.ca/places-to-visit/rideau-canal-skateway
Winterlude Festival – www.canadascapital.gc.ca/winterlude/home_e.asp
The historic Fairmont Chateau Laurier (1 Rideau Street, 613-241-1414) is the headquarter hotel of Winterlude. It is ideally located between the Rideau Canal, Parliament Hill, the Ottawa River, and museums and shops for just about everything you would want to do. For the festival, the hotel offers a Winterlude Getaway Package.
The one-night package includes room, sleigh ride and Beaver Tails for a family of four. They offer a variety of other packages, as well. The hotel also features an indoor Art Deco pool. www.fairmont.com/laurier
Ottawa Tourism – www.ottawatourism.ca/en/
Canadian Tourism Board – www.travelcanada.ca
Author: Kim Foley MacKinnon