I am walking down an otherwise quiet side street in the Garden District of New Orleans ("NOLA") under a canopy of Southern live oak. Staring up at an intricately carved wrought iron balcony, I nearly trip over a wide band of gaffer tape. A Hollywood production is buzzing around me.
New Orleans Film Locations
There's a generator parked in front of a gleaming white truck. A flyer is stapled to a telephone pole alerting neighbors of potential inconvenience. A bright orange sign printed with "22" points to a location behind a massive gate.
On any given day, a film or TV series is being shot in this incomparable atmosphere. Big budget or small, favorable tax credits attract production. The industry provides 15,000 jobs a year for local residents. And with funky neighborhood movie theaters, significant contributions to the history of film and settings familiar from screen favorites, NOLA is a film lover's paradise.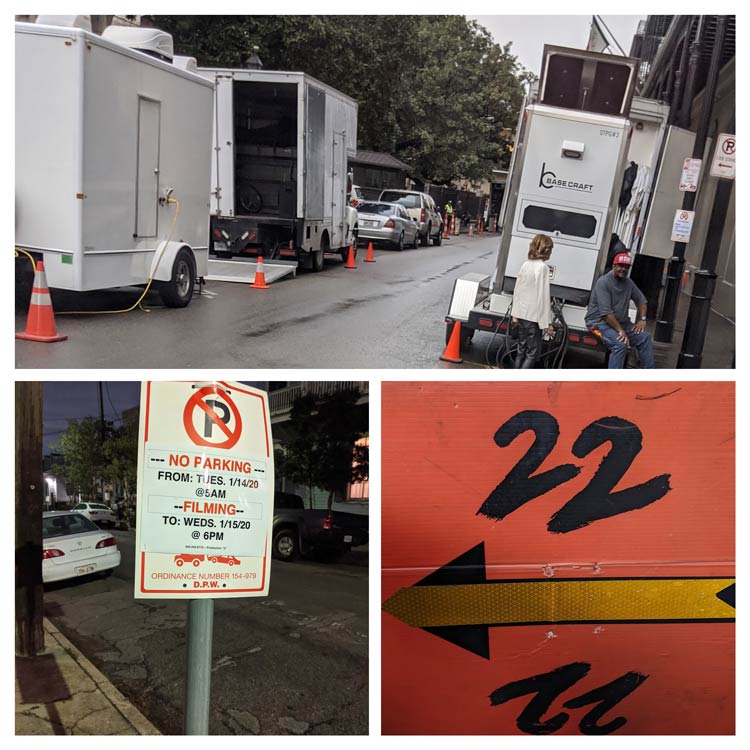 Home Sweet Neighborhood Movie Theater
Imagine a time when a one-screen movie theater with your street name was right down the block. Neighborhood theaters, "an extension of your own living room," once thrived in NOLA – almost 250 of them. Today, only a few remain, and they will school you in the world of film outside the multiplex.
Prytania Theater
The Prytania Theater is in the Garden District on a residential block of the same name. I walk into the lobby and the comfy chairs, bookshelves with titles like "The Filming of Gone With The Wind" and "A New Pictorial History of the Talkies", and old photos of earlier iterations of The Prytania recall a time when movie theaters were a home away from home. It's the last single-screen theater in New Orleans and classic Hollywood films are still shown.
Run by the fourth generation of the Brunet family, movie managers in NOLA since 1905, the theater may have replaced the old 35 mm projector with modern technology, but where else can I watch Abbott and Costello Go to Mars on the big screen during an afternoon rain shower?
The Zeitgeist Multi-Disciplinary Arts Center moved from its New Orleans location of 30 years to St. Bernard Parish, only a block east of the Lower Ninth Ward because rent, utilities, parking and taxes were cheaper.
It is the only full-time art house in the area. The name alone makes it a must-see, as I recall learning the term for "spirit of the times" in a film class years ago.
We foster young filmmakers before they make it and show challenging, interesting films that won't play anywhere else like early Bong Joon Ho and Barry Jenkins. — Rene Broussard, Exec DIrector of Zeitgeist.
And who can resist going inside and grabbing a Gin Jarmusch, Whiskey Kurasowa or Kubrick Libre at the lobby bar?
Broad Theater
The Broad Theater, in a former boxing ring, is a Treme neighborhood favorite because it listens to its neighbors. There's a "Mamma Mia" sing-along in progress prompted by a local's suggestion on the day I visit.
As I sip a cafe au lait in the windowed lobby, I hear gleeful voices joining in on "Dancing Queen," with particular emphasis on "having the time of your life." And later this week, it's BYO(B), Bring Your Own Baby, matinees where it's OK – and even encouraged – to carry popcorn and an infant into the theater.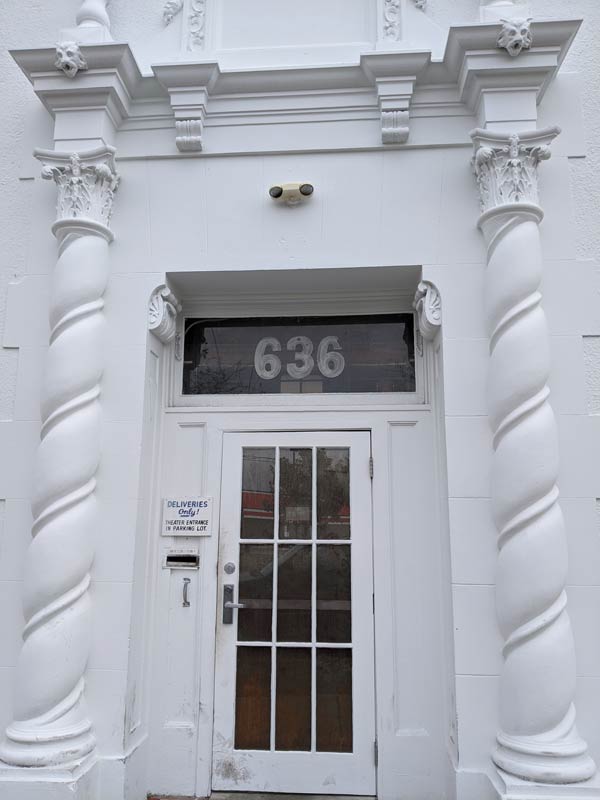 "Elvis Sang Here"
It's possible that on my own I could have found the second floor balcony on Royal Street in the French Quarter where Elvis sang "Crawfish" in the movie King Creole, or imagined myself throwing a Hurricane cocktail in a bartender's face at Lafitte's Blacksmith Shop, New Orleans' oldest bar, like Melanie Griffith did in Crazy in Alabama (shot in NOLA despite the title).
But then I would have missed out on countless other famous neighborhood backdrops and the chance to see the actual film clip references in the specially equipped van on the "Original New Orleans Film and TV Tour."
Run by Jonathan Ray, a local industry insider, I hear enough film gossip to make me feel like an insider, too. And if you have a particular interest, say in where Ben Affleck and Joaquin Phoenix are shooting their latest films, Jonathan will navigate through the traffic cones and blocked-off streets to find the location.
Of course, if I want to observe more film shoots on my own, I can wander around NOLA and: 1) spot the white movie trucks, 2) look for shooting schedule signs on lampposts and 3) find and decode the orange, yellow or blue arrowed signs to figure out what movie is actually being shot. (Hint: 22 is short for "22 Jump Street".) The signs are everywhere.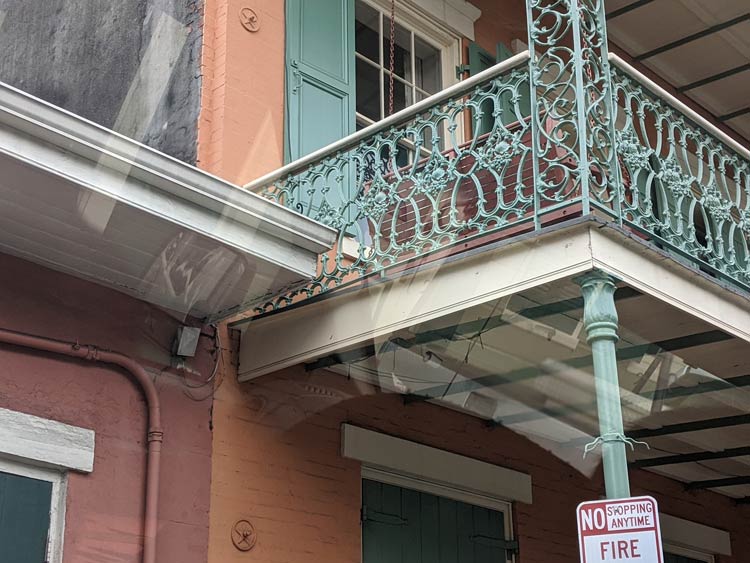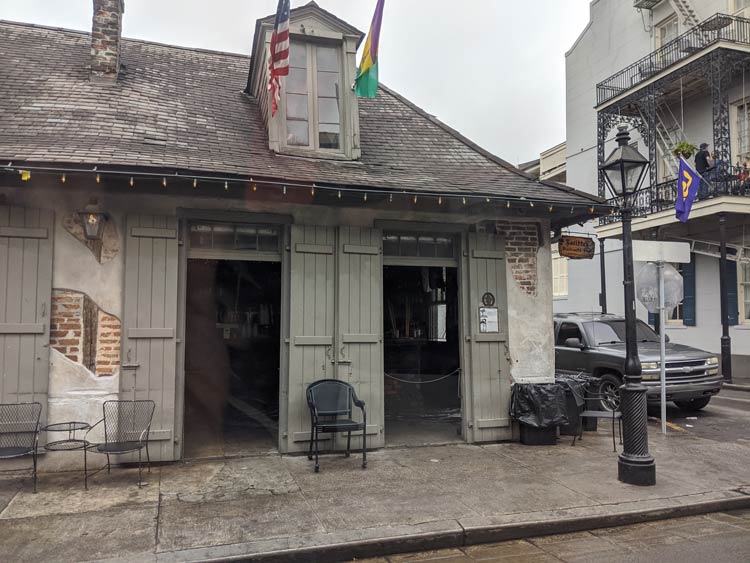 The History of Cinema, Preserved
I make the pilgrimage to the corner of Exchange Place on Canal Street in the French Quarter to show my respects, not to the current resident of the site — a liquor store and mini-mart — but to the former site of Vitascope Hall, opened in 1896.
It was the first seated indoor movie theater with a projecting camera that charged admission in the United States. It was originally dubbed "The Phantoscope" by its inventors Charles Jenkins and Thomas Armat, and introduced at Atlanta's Cotton States Exhibition in 1895.
The Vitascope
Thomas Edison agreed to manufacture the projector if he could change the name to Vitascope and take credit for the invention. A year later, the Vitascope was (re)born.
The Vitascope was initially set up outdoors at West End Park, the popular summer resort on Lake Pontchartrain, near a streetcar line that could be tapped for electricity. Outdoor film screenings proved successful, so entrepreneurs figured moving the projector inside would enlarge the audience even more.
At Vitascope Hall, the story goes, for a dime you could see a dozen short movies. For another dime, you could visit the projection room and actually see the Vitascope. And for 10 cents more, you could pick up a snippet of film from the floor as a memento.
One day, a plaque will permanently mark the spot, but not quite yet. And I couldn't help myself from glancing around on the sidewalk for a sliver of celluloid.
Perusing the movie posters, promotional buttons, and celebrity photos at RampART, a gallery located in the French Quarter, reminded me of trolling the stacks of records at a vinyl store for that special album I didn't know I needed.
Proceeds support NOLA's Movie Poster Archives, which documents and digitizes more than 500,000 "film accessories," a term coined to describe ephemera that promotes motion pictures.
And if you look carefully through the bins, you might also find a copy of "Hollywood South: Glamour, Gumbo and Greed," by Linda Thurman, who is also the executive director of the archive.
NOLA Film Festival
Any time of year, you can celebrate film (and everything else) in NOLA. But if you want a truly immersive film experience, you can time your visit to the NOLA Film Festival in October, deemed "Cannes on the Mississippi," joining more than 400 filmmakers and about 25,000 avid filmgoers.
I happen to run into Albrecht Claeus, an intern at the film festival, who says, "We bring in films you'd never see at a multiplex but that tell important stories." Pass the cajun-flavored popcorn!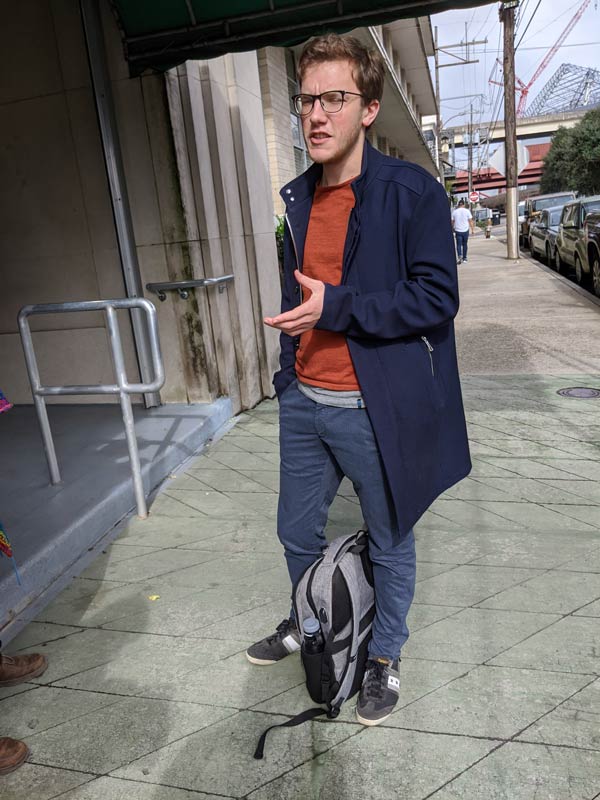 If You Go to New Orleans
The Louis Armstrong International Airport (MSY) in Kenner, La., is about a 20-minute drive to New Orleans. It may be the only airport in the world where you are greeted by a live brass band.
Hotels and Airbnbs are plentiful in the Big Easy. The food and music scene are legendary. It's hard to find a bad musician or meal.
Prytania Theater
5339 Prytania St., New Orleans
Zeitgeist Multi-Disciplinary Arts Center
6621 St. Claude Ave., Arabi, La.
The Broad Theater
636 N. Broad St., New Orleans
Site of Vitascope Hall
623 Canal St., New Orleans
NOLA RampART
1000 N Rampart St., New Orleans, La. 70116
Original New Orleans Film and TV Tour
http://www.nolamovies.com/
The New Orleans Film Festival
Neworleansfilmfestival.org
(The 31st annual New Orleans Film Festival will be Oct. 14-21, 2020)