Every destination has its quirks, traditions, and ways of life. At times, though, many cities feel alike – they have the same stores, the same restaurants, the same kinds of shopping.
One American city, though, marches proudly to the beat of its own drum – New Orleans. At times, New Orleans even seems like the odd uncle in its home state of Louisiana.
But that doesn't seem to bother those who call the city home. New Orleans wears its eclectic style with pride.
Travel in New Orleans
Home to some 350,000 residents, the city's roots are decidedly French, which can still be seen in the French Quarter, a National Landmark.
Founded in 1718, French culture was the norm until 1762, when Louis XV gave Louisiana to his Spanish cousin, King Charles III.
Although the Spanish only ruled until 1801 before the city was returned to the French, they also left their mark on the city.
Napoleon eventually sold the region to the United States in 1803. Later immigrants from the Caribbean, Italy, Sicily, and many other countries added their own influences. The result is a city like no other.
Somewhere along the way, New Orleans developed a "Laissez les bons temps rouler" philosophy (let the good times roll) that still permeates its culture today.
There's an elevated appreciation for the good life — good music, good food and good friends.
NOLA, as she is often called, is famous for its French-inspired Cajun and Creole cuisine, its abundance of talented musicians and an appreciation for the temptations of life. Perhaps that's why it's sometimes called The Big Easy.
It's this incredible wealth of world-class cuisine and good music that draws so many travelers to New Orleans – including me.
I'm here with three friends – a girlfriend's getaway, so to speak – and I'm eager to see the city again.
But on this visit, I see that it has. In fact, it looks even better. Busy restaurants and new hotels serve an increasing number of travelers.
Colorful fresh paint adorns homes and beautifully restored historic buildings. The city's economy is growing, fueled in part by young start-ups and entrepreneurs.
New Orleans, it seems to me, has donned her fine clothing, and walks tall once again.
Bike Tour of New Orleans
It's late spring and the trees and flowers are in wild bloom as we cruise through the French Quarter.
My friends and I want to explore the city by bike, so we're on the "Creole and Crescent Tour" with Free Wheelin' Bike Tour, a local tour operator with an obvious love for the city.
The three-hour tour costs $50. It's a pretty good value, if you ask me.
As we pedal behind our dreadlocked guide, he shares personal stories of life in New Orleans.
He tells of watching the flood waters soar, seeing the resulting devastation and then watching as the city pulled together to make it all good again.
"That's in the past, and we don't talk about it much," he says. "We're enjoying the now."
The "now" in New Orleans looks pretty good to me. The French Quarter is getting ready for the day as we pedal through.
I watch a restaurant employee set out chairs on the patio, and another unload bread from a truck.
From there, we wind through The Marigny, a hip neighborhood below the French Quarter, and then along the mansion-lined Esplanade Avenue, where we pass grand historic homes with tidy manicured gardens.
Finally, we cruise into the Tremé Neighborhood. One of the oldest neighborhoods in New Orleans, it was once the main neighborhood for free people of color.
Today, it remains an important center for African-American and Creole culture.
The neighborhood sustained damage in the floods, but is thriving once again. As we pedal through the streets, many residents sit out on their porches, enjoying the beautiful weather.
They wave as we go by, and we ding a little hello on our bells in reply.
Cuisine in New Orleans

New Orleans is all about food, from high-end restaurants with world-renowned chefs to the tiniest eateries serving up home-cooked favorites. It's hard to find a bad meal in New Orleans.
To learn more about the city's culinary roots, as well as cuisine in the Southern United States, we stop at the Southern Food & Beverage Museum.
It is a museum dedicated to understanding and celebration of the food and drink of the South.
Each southern state has its own exhibit which explains how local cuisine developed and was shaped by the state's geography and unique people. Favorite local foods in each state are highlighted.
The Museum also offers cooking demonstrations by local experts. In our demonstration class, we learn about the Italian influences on New Orleans cuisine, and how to make several Creole Italian dishes.
The best part is that we are served up huge plates of each dish. It makes for an unusual and welcome lunch.
Where to Eat in New Orleans

It's clear that dining will be a highlight of our trip, and our first dinner out does not disappoint.
Located in an historic mansion, Cavan Restaurant & Bar serves up Southern small plates crafted by the Chef Ben Thibodeaux.
I try the Crawfish Bolognese with smoked sausage ragu. It's an unusual combination that truly works.
We plan to spend a lot of time at the table during our time here in New Orleans. We seek our classic New Orleans favorites like Deanie's Seafood Restaurant and Market.
Located in the heart of the French Quarter, Deanie's is one of the most popular seafood restaurants in New Orleans – and it shows. Expect a wait. Possibly a long one.
Deanie's serves hundreds of diners each night, and soon enough, you'll be feasting on barbeque shrimp, Crawfish Étouffée, charbroiled oysters, or my favorite, a traditional crawfish boil (happily, I'm here during crawfish season).
The restaurants in New Orleans are open late. Another night, after a fun evening on Frenchmen Street, where we dance to live music, visit a night art market and look into the windows of voodoo shops.
We arrive at 10 pm at Domenica (123 Baronne Street) for clam and mushroom pizza, roasted cauliflower (an entire roasted head of cauliflower with dipping sauces) and classic New Orleans drinks.
This premium spot is hopping. Even at 10 pm, we must wait a few minutes for a table. And it's worth the wait.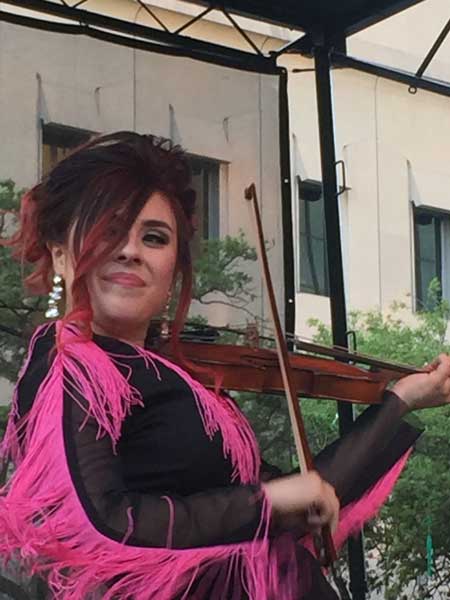 Music in New Orleans
As much as we like the food here, music is the other huge draw.
It's part of the lifeblood of New Orleans, and musical talent and tradition seems to ooze from the very pores of its people.
Walking through the French Quarter, it almost feels like New Orleans has its own sound track.
The sound track changes, like turning the dial of a radio, as we walk down the streets. Live jazz, blues, rock and more streams from each bar and restaurant we pass.
During the spring and summer, the city offers "Wednesday at the Square," a free concert series. On the night we're there, Cajun Fiddler Amanda Shaw is rocking it on stage.
Pure energy emanates from the band as her fingers fly across the strings of her violin. The crowd is entranced, and so are we.
The New Orleans Jazz Museum
Later in the week, we learn more about the city's incredible musical heritage. Housed in the historic U.S. Mint building, the New Orleans Jazz Museum celebrates and explores the city's rich history of jazz.
Interactive exhibits with musical tracks available for listening explore the history of jazz.
You can attend concerts by today's jazz greats in the museum's performance venue. They webcast almost every performance at Musicathemint.com, and performances are archived.
One of my favorite exhibits is on NOLA native Louis Armstrong.
Though beloved later in his life, Armstrong faced discrimination in New Orleans for many years. You can hear his music and learn about his incredible life at the museum.
Music Box Village
The Music Box Village is like no other musical endeavor I've ever seen. This large-scale community project is home to more than a dozen houses which are in fact musical instruments.
Musicians are invited to do residencies at Music Box Village, and performances are held throughout the year.
The audience sits in the round for a concert that is different every single time. Music Box Village has public hours on Sunday after the performances where you can play the music box houses yourself.
Although I may not have the talent required to play a music box well, it's a fun endeavor.
Brunch at Brennan's
It's only fitting that we spend our last morning in New Orleans at Brennan's. Bruch at Brennan's is a time-honored local tradition in New Orleans.
The restaurant, which served more than 180,000 diners last year, is known for their eggs benedicts, turtle soup, crawfish omelets, and famous cocktails.
I have a Caribbean Milk Punch with rum, bourbon, heavy cream, vanilla bean and nutmeg, and you can imagine how good that tastes.
The dessert "Bananas Foster" was created at Brennan's in 1951, and everything is made with fresh ingredients. Before we know it, four hours have passed. Time flies when you're with good friends eating good food in New Orleans.
Only in New Orleans

As I wait in the airport for my flight home, New Orleans' love of music still surrounds me.
When the flight is delayed, the airline staff asks people to volunteer to sing for everyone — and they do.
One after another, total strangers step up to the gate desk to sing gospel, jazz and the blues. The crowd follows enthusiastically along.
Yes, only in New Orleans.
If You Go to New Orleans
For more information on New Orleans, see
https://www.neworleanscvb.com/
Where to Stay in New Orleans
My home base was the lovely Ritz-Carlton New Orleans, a 4-Star hotel with a fantastic location in the French Quarter.
The classic hotel has antebellum mansion-inspired décor, including canopy four-poster bed, and I felt very pampered indeed.
The Jeremy Davenport jazz band plays every night Wednesday to Sunday in the Davenport Lounge at the Ritz. They play classic New Orleans jazz and other music.
Ritz-Carlton New Orleans
921 Canal St, New Orleans, LA 70112
https://www.ritzcarlton.com/en/hotels/new-orleans

Author Bio: Janna Graber has covered travel in more than 40 countries. She is the editor of three travel anthologies, including A Pink Suitcase: 22 Tales of Women's Travel, and is the managing editor of Go World Travel Magazine.