Where does Santa Claus live? When it's time to take the kids to see Santa, wouldn't you rather opt for a real Santa Claus experience at the North Pole? While it may not be possible to travel there, follow along to visit Ol' St. Nick at these North Pole locations in the United States.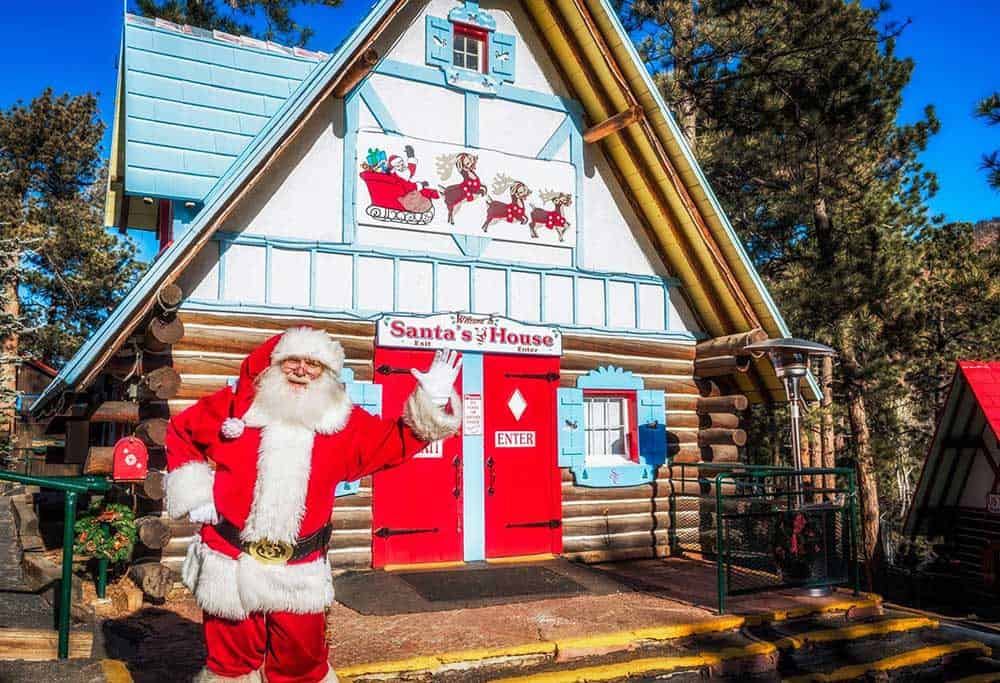 Where to Find the North Pole in the United States
Just ask any kid and they'll tell you that Santa lives at the North Pole (of course!). But St. Nick doesn't want a bunch of tourists traipsing through his workshop and interfering with the industry of his elves. And then there's the weather to consider. After all, we don't have Rudolph and Santa's sleigh to navigate the snow.
Yet Santa thought of everything, designating several "North Poles" in the United States to keep the mystique alive for both children and adults. While there are many best holiday destinations in the U.S., in these special places, it's Christmas all year long.
Visit Santa's House
Naturally, the white-bearded guy who lives here and makes every visit worthwhile has his own little house. He's as authentic-looking as they come, gentle with shy ones, a firm with boisterous ones, and you can pull his beard (gently) if you want: It's real.
The park is busy from the time it opens at 10 a.m. every day. It's a good idea to get there early because afternoon showers (in summer) or the disappearing sun (about 2:30 p.m. in winter) make mornings the best time to visit.
Letters to Santa Claus
Every year, the U.S. Postal Service delivers thousands of letters to the park. Many are marked simply "Santa Claus" on the envelope – no stamp or return address.
"They know where to bring them," Haggard says, laughing. "If there's a return address, the sender gets a post-card reply (if received by the first week in December). If a letter reveals a child in distress or danger, the staff tries to track them down and get help. "And that does happen from time to time."
Several years ago, USA Today voted it one of the top 10 places for grandparents to take grandkids, and the fact that grandparents (age 60 and over) get in free all the time is definitely a bonus.
For hours and prices on the North Pole/Santa's Workshop on Pikes Peak, visit North Pole, Colorado.
North Pole, Alaska
If you happen to be in Alaska, you'll find not just an attraction, but an entire town with Christmas decorations up all year long in town. You can even drive down Santa Claus Lane and similarly named streets. Street lights are shaped like giant candy canes.
Visit Santa Claus House, which is really a gift shop, and buy all sorts of holiday-themed gifts any day of the year. The "World's Largest Santa" is a 42-foot, 900-pound version of the jolly old man himself that stands just outside the store. You can have your picture taken in Santa's sleigh.
For more information on this holiday village, visit North Pole Alaska.
Home of Santa's Workshop: North Pole, Colorado
Colorado is the perfect location for the North Pole during the holidays. Consider Santa's Workshop and the North Pole/Santa's Workshop on Pikes Peak, just west of Colorado Springs, Colorado. This 25-acre theme park lies on the side of America's Mountain, complete with the nation's highest Ferris wheel, a Christmas tree ride, an aerial sky-ride, a carousel with reindeer, and of course, Santa Claus.
The park used to have live reindeer, but "they don't domesticate really well," according to owner Tom Haggard, whose parents built the attraction in 1955. "Now we have English fallow deer and the kids can pet them and feed them through the fence." Fallow deer are small and non-threatening even for toddlers.
Situated at 7,500 feet on the side of Pikes Peak in Colorado's Rocky Mountains, the park opens in late spring and closes on Christmas Day each year. The North Pole/Santa's Workshop has 27 rides, including a Candy Cane Coaster. Anchoring the park is the "North Pole" which is kept below freezing even in July.
A statue of the Jolly Old Elf welcomes visitors to the town of Santa Claus, Indiana. Established in 1852, the town was named during a local meeting called for that purpose on Christmas Eve.
Everyone got into the Christmas spirit, and even today, the town follows the Christmas motif everywhere you look. Visit Santa's Candy Castle and a holiday-themed amusement park, and more!
We've got the details on Santa Claus, Indiana.
North Pole, New York
Open from June to December, Santa Claus is at your beck and call summer, fall, and winter at his home in North Pole, New York. Since 1949, this amusement park was the inspiration for the one in Colorado. Like the one on Pikes Peak, it is geared to the four-foot-and-under crowd. It, too, has rides, shows (a live nativity pageant), and a storybook village full of shops.
To learn more, visit North Pole, New York.