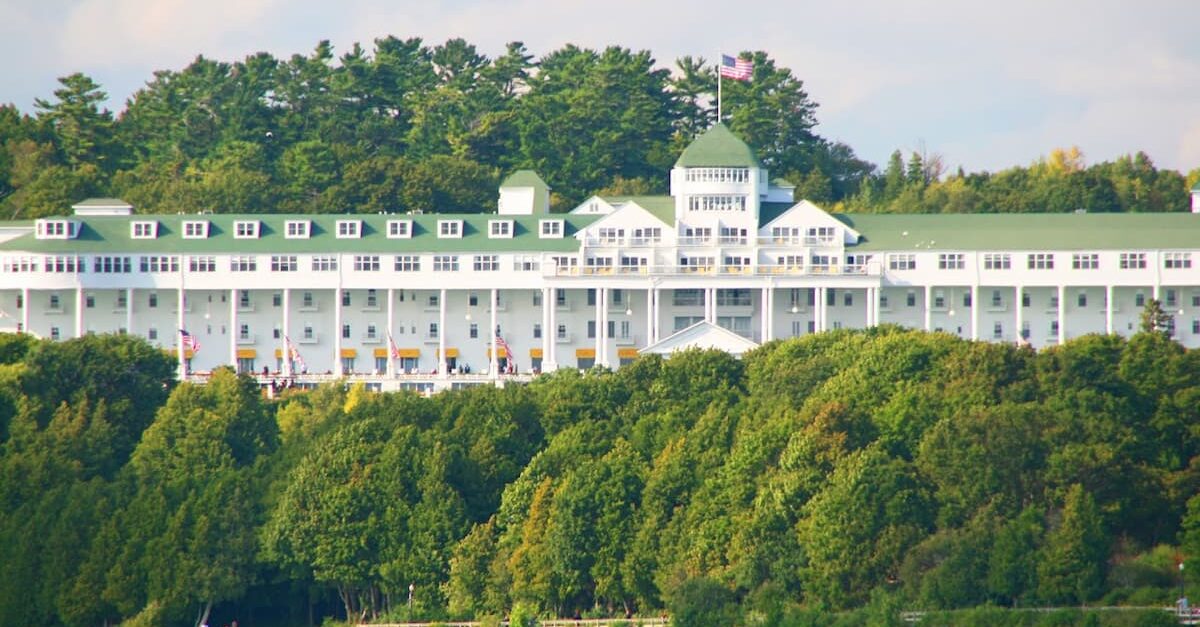 The first time I referred to the iconic island as Mack-i-NAC, I was roundly corrected by the young lady who was wrapping up my peanut butter fudge. "There is no Nack in Mackinac, it's "aw"!" That was many summers ago. It was a linguistic lesson that has served me well.
Be forewarned, pronounce it Mack-i-nac and you'll give yourself away as a tourist who doesn't know how to pronounce the place that you're visiting…and the residents take it to heart.
Whether it is spelled Mackinaw as in Mackinaw City or Mackinac as in Mackinac Island, it is pronounced the same way: Mack-i-naw. A mish-mash of Native American, French, and British heritage resulted in an eclectic spelling & pronunciation.
Best Tips & Tools to Plan Your Trip
The name of this pint-sized island of the Great Lakes is not the only quirky aspect of its countenance. It retains an unusually strong grip on an era long past and a mindset that is decidedly of a slower pace.
Mackinac Island Is Located in Michigan
The island is located at the upper end of Michigan's "mitten" between the state's Upper and Lower Peninsulas. Roughly 4 hours from either Grand Rapids or Detroit on either coast, it's just far enough into the northern woods to make you feel as though you're getting away from it all.
The 3.8 square mile island which straddles the confluence of Lakes Huron and Michigan has been a destination for centuries. Long before European explorers discovered its lush forests, bountiful waters and idyllic summer weather, native Americans had journeyed to Michilimackinac or "The Great Turtle" as they referred to it. It was once a fur-trading post, eventually housed a fort for disparate nations before becoming a vacation spot in the late 1800s for the titans of industry.
You Can Access the Island by Ferry
Being an island, our day-visit began at Shepler's Ferry in Mackinaw City where we boarded one of their high-speed boats for a wind-whipped 15-minute ride that sent a few of the top-side passengers scrambling for the warmer confines of the interior, lower deck.
Approaching the island it is difficult to ignore the stately, imposing countenance of the century-plus-old Grand Hotel and its 660-feet long front porch. The majestic white portico beckons guests with old-world hospitality and charm and portends a unique, and a bit of a throwback, experience.
Stepping onto the island is like stepping into the 19th century. Grand Victorian architecture that has been preserved and frozen in time presides everywhere. As the island became the Midwest's most fashionable summer resort, wealthy families built "summer cottages" that were, in reality, opulent architect-designed mansions.
Automobiles Are Banned
Adding to its throw-back feeling is the fact that there are no cars on Mackinac, the island residents having passed an ordinance banning automobiles in 1898 after the first "horseless carriage" spooked all of the horses and a few of the townsfolk.
Here, a taxi is literally powered by horse or more explicitly, it's a carriage pulled by two Clydesdales. The alternative modes of conveyance are bicycling or walking. But getting around on foot, by bike, or by horse here is all part of the fun of exploring the island of which 80% is a State Park.
Today, this island of 600 residents can host upwards of a million visitors a year. A slower pace, yes, but not necessarily an unobtrusive one.
Stepping off the ferry onto the dock, lunch summoned us, so we headed to the famous, and sometimes infamous, Pink Pony. Located in the Chippewa Hotel, Its tables look onto the water and, in fact, its patio hangs out right over it. Whitefish and crispy, crunchy and flavorful onion-rings were enjoyed with a dose of sunshine and fresh air.
Afterwards, it was time to explore. Feeling the need to stretch our legs, we shunned the throngs of Main Street and headed east out of town towards Lake Shore Rd. 
Visiting Historic Attractions
We came upon two historic churches. Ste. Anne's Catholic Church, whose current building dates to 1878, houses original stained-glass windows, paintings and records dating back to 1695. Two blocks beyond stands the subdued presence of the Protestant Mission Church. Now a museum, it is the oldest surviving church building in all of Michigan.
Further on, we rounded Mission Point which is reportedly the landing spot for French Jesuit missionaries who were the first Europeans on the island. It is now home to the sprawling Mission Point Resort and its lush green and sprawling lawn which hugs the shoreline.
Outdoor Activities
Next up was the Spring Trail whose 206 steps we ascended to the top of a bluff where we found ourselves under the cool canopy of a rich, green forest and overlooking the cherished Arch Rock. Framing a stunning water view of Lake Huron, Arch Rock, one of Mackinac Island's most recognized and popular landmarks, stands 146' above the shoreline.
There are more than 70 miles of hiking trails running through the state park, so it's just a matter of picking a trail and going. Hiking deeper into woods, we came upon Sugar Loaf, a 75-foot-high cylindrical rock formation that towers above the forest floor. Native American legend has a shaman encasing a young man in stone for daring to ask for eternal life.
Strolling through the woods we could not but notice the silence around us. Or, to be more precise, the lack of sounds of civilization. We hadn't come upon another individual in over 20 minutes. The hums of nature became more pronounced and its "quietness" embraced us.
It was a stark contrast to the far more populous downtown area.
Another set of steps, 100 if you're counting, took us upwards to Fort Holmes, a small, fortified redoubt and blockhouse located on the highest point of Mackinac Island. The reconstructed fort provides excellent views of the Straits of Mackinac and the town below.
Returning to the trail we found Skull Cave. A small, shallow cave, it was used by Native Americans for burial and, on at least one occasion, the hideout of a fur trader during the Indian wars.
After hiking for several miles we had barely touched the numerous trails and pathways intertwining the island, but we found it was time to head back down to heart of the island.
Emerging from the woods, we came upon Fort Mackinac. The extensive limestone & palisade fort, built in the late 1700's, dominates the bluffs of the island.
Originally constructed by the British, it was occupied by the Americans after the Revolutionary War and was the sight of 2 battles during the War of 1812. Today visitors are greeted by costumed interpreters who describe life in the 1880s.
At the junction of Fort Hill and Huron roads stands the 7,000 square-foot, 11 bedroom and nine-and-a-half baths of Michigan's Governor's Summer Residence which overlooks the Mackinac Island harbor far below. Originally built in 1902 as a private "summer cottage" for a Chicago attorney, it has hosted guests including Bill Clinton, George H.W. Bush, Gerald R. Ford, John F. Kennedy, and Harry Truman.
Descending Fort Street, at the foot of Fort Mackinac, Marquette Park greeted us. A beautiful greenspace in which several picnickers and a few siesta-seekers enjoyed the sunshine.
Returning to Main Street
Returning to Main Street, we stopped for refreshments at the Mustang Lounge. The rustic interior and its laid-back ambiance provided a pleasant interlude as we indulged in a couple of well-earned cold libations.
Afterwards strolling Main Street was mandatory prior to catching the final boat off of the island. Here, the sounds of traffic are not of revving cars, blaring radios or obnoxious car-horns but the ringing of bicycle bells and the clippity-clop of dozens of hooves hitting the streets.
There is the usual T-shirt and trinket shops, however there are some charming boutiques and artisanal jewelry shops with unique hand-made creations.
And, of course, there is no way to avoid one of the many fudge shops. As the decadent smells waft onto the street, confectioners pour out huge tubs of molten fudge onto marble slabs working it into the most celebrated souvenir of the island.
We bid the island good-bye with a smile as our evening water-taxi chased the setting sun. This had not been our first visit, but it always seems as though we're leaving behind a time-gone-by. One that we will return to.
If you go:
Mackinac Island is located roughly 6.5 hours north of Chicago. Ferry access is from Mackinaw City and St. Ignace.
https://www.mackinacisland.org/
https://www.sheplersferry.com/
https://www.pinkponymackinac.com/
https://www.originalmurdicksfudge.com/
Author Bio: Frank Hosek is an Illinois-based Director of Human Resources who revels in traveling with his wife, Kathy.  He enjoys discovering new experiences, meeting the people that make those experiences enjoyable, and sharing their adventures. He is a freelance writer for newspapers, magazines and travel websites.
Latest posts by Go World Travel Magazine
(see all)