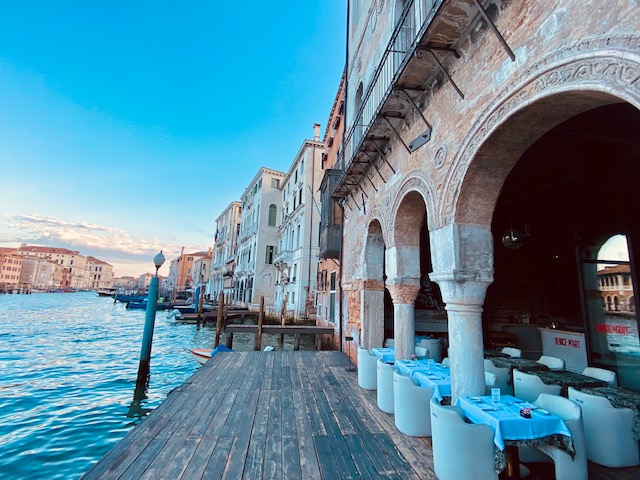 I have, in a series of columns, let my mind and keyboard wander across some of the destinations in which I'd experienced some situational sweetness.
"Da Vinci Code" author Dan Brown sent his protagonist researcher Robert Langdon, played by Tom Hanks, on a clue hunt through Venice in his book and film "Inferno." Piazza San Marco; Aeroporto Marco Polo; the Grand Canal; Ponte di Rialto; Venezia Santa Lucia railway station; and Ponte degli Scalzi are among the locations which serve as the settings.
It wasn't quite as intricate, but I would soon set out on a Dan Brown-style clue hunt of my own through Venezia.
The Gift of Venice
Sometimes Venice comes to you…as it did when I received a gift. Amy Spagnuolo and her family own Spagnuolo's Italian Restaurant in Michigan. The restaurant is decorated with actual family photos of the home village of her parents, family patriarch and matriarch Vincenzo and Silvana: Sant' Ippolito, in the municipality of Cosenza, in Italy's Calabria region. Firsthand photos Amy snapped when she visited Italy during college in 1988, including Venice, also hang in Spagnuolos.
As her teenage son "Giuseppe" neared college age in 2022, she took him to visit Venice. It was Amy's first time back in 30 years, so, as a gift, I secured an expert guide from Italian Connection Bellagio (IC Bellagio) to meet them at their hotel – famed Londra Palace, which has a sweeping view overlooking the lagoon.
The connected and educated IC Bellagio guide enabled them to avoid any lines in order to see and learn of the artistry of Piazza San Marco, Doges Palazzo, the Bridge of Sighs, and other historical treasures, topped off with a traditional gondola ride through the canals.
My travel tip, though somewhat historical in nature, was less sophisticated.
"Drink a Bellini at Harry's Bar," I suggested. "It was invented there. You can drink where Hemingway drank."
Souvenir Shopping
It was, apparently, on Amy's walk to hydrate at Harry's after their tour that she came across a street artist. There are a number of them along the lagoon in front of the Hotel Londra Palace and all the way down near Harry's where the Grand Canal begins.
Amy bought a painting, brought it back from Italy, and presented it to me. It was an elegant, vertical sepia-style painting of browns and tans depicting a gondola floating in front of what appeared to be a church, bell tower and bridge. The windows had subtly colorful flashes of burnt orange in them, as did the gondola seats.
I loved it.
I'd only been to Venice once myself, so I did not recognize the scene depicted. It was not the typical Saint Mark's Square or Rialto Bridge scene seen in so many paintings and pictures. I wondered if the painting was a true spot in Venice or perhaps just an amalgamation of Venice-inspired elements?
When I learned I, myself, was destined to travel to Venice a few months later, I decided to find out. Since I would view this painting on the wall each day in my home, I felt it was worth learning its backstory. I also wanted to honor this "dolce" gift by seeking out the spot of the painting and taking a photo there. And while I was at it, I thought it might be fun to find the artist.
I fancied it a "Robert Langdon-style" clue hunt through Venice worthy of a Dan Brown novel.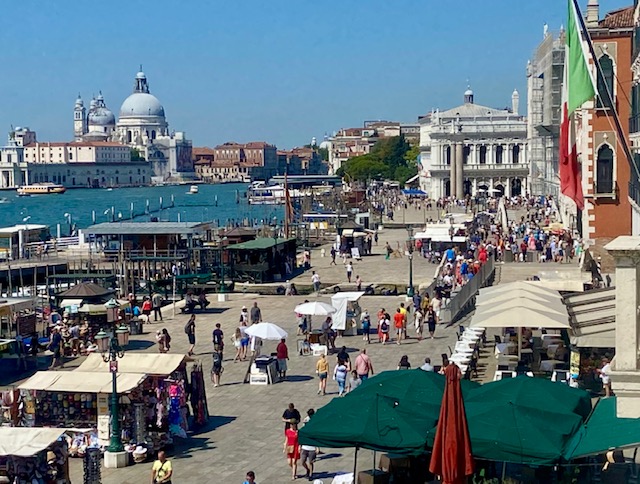 Arriving in Art
My search for the genesis and inspiration of the painting among Venice's treasure trove of architecture and artisans began immediately upon departing Marco Polo Airport by private water taxi.
Upon arrival, I didn't even get up the stairs to the reception desk of the Venice Venice Hotel – an avant-garde new property built inside a 13th-century Byzantine-style palazzo that describes itself as "post venetian" – before I encountered (and I do mean "encountered") a startling work of art:
The dock-floor entrance of the hotel led to a parceled, cement-square walkway over water. At the front of the foyer, a life-sized sculpture splayed out on his back over a stone cube, was the crucified Christ.
I stopped in my tracks as I'd seen a sculpture like that before, but in a very different setting. Not on a cold stone slab, but in the warm lap of love. The hair on my neck stood as I looked across the vestibule. Steps away, as I continued, was a sculpture of the Blessed Mother, looking down into her lap where her dead Savior son usually lays. It was a replica of Michelangelo's Pieta with Jesus separated from the Madonna!
I learned that the artist, Fabio Viale, named it "Souvenir Pieta." It had been shown for years around Italy but this now permanent showing of his two-piece work is the first time both sculptures had ever been displayed in the same town let alone the same building.
Venice Venice Hotel
Prepare to be overstimulated at Venice Venice Hotel. The sensual EROSE (eros?) logo is everywhere…on everything from the black grand piano to the cans of shampoo.
Visual treats reveal themselves around each corner. Once you make your way down the dark, draped hallways and into your room (mine was two-stories tall), you'll find even more sculptures and books. A simple hunk of naturally chiseled sandstone-colored rock on the shelf beside the bed vexed me during my entire stay. At times it appeared to resemble the head of a dog, yet at other moments I saw a human face. Art is subjective, so when a Yeti cooler with wheels is used as a piece of furniture.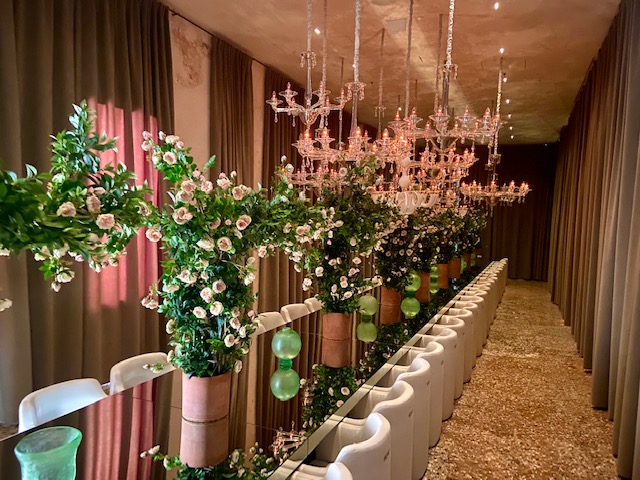 Ambience meets modern convenience. A switch panel at both the door and bed turns on lights, mood lights, and music – and has a USB charging port. (Otherwise, there was only one power outlet in the room – it is a 13-century building, after all.)
A candle was lit nightly by a housekeeper during turn down service and the "dream-builders team" left a hand-written card with the next days' weather forecast. On my last night there, directions to my local vaporetto water bus stop, instructions about which line to take and that I should get off at the San Zaccaria dock. The card was signed, "We rose you."
The coffeemaker was preloaded each day with water and grounds so only the push of one button was needed, and everything in the minibar was mine to drink. The hotel's Venice Bitter Club bar has tapestry-covered walls juxtaposed with a scrolling electronic sign and overlooks the Grand Canal. A number of cocktails included Erose handmade vermouth, including The Blood and Sand, with whiskey, cherry and orange.
Colazione With a Crush
I typically was the first to breakfast, though, in the hotel's Venice M'art because it, like everything in the Venice Venice hotel, is done uniquely and in a "post venetian" manner.
Because of its location near the Rialto Bridge on the Grand Canal, the palazzo's waterside level historically was a connection between the boats and the charming Campo Santi Apostoli square. The open, airy thoroughfare has a bazar-type feel for shopping, dining and art. (You can even buy the Yeti coolers there, and Erose-labeled merch.)
Sitting at a linen-covered table under an arch on the dock, the morning light gave the canal an aquamarine color of air and, though the temperature was already warm, the spot was still shaded. Boats made deliveries all along the canal and suddenly my server delivered a pile of pastries to my table with butter and jam and fruit.
The waitress wore a black and white-striped shirt similar to the ones traditionally worn by Venetian gondoliers and a long apron. She was little with a big smile, dark hair and dark features.
"Buongiorno," I ventured. "Come sta?"
"Bene. Grazie," she answered and then, in English, asked my room number for her ledger.
"Two-forty. Mi chiamo Michele Patrick Shiels."
"Grazie."
"Como ti chaima?"
"Ana."
"Piacere di conoscerti, Ana."
"Okay," she offered in return.
Ana, who spoke very little English, smiled and patiently tilted her head forward each time I attempted to speak in Italian. Sometimes she seemed to laugh a little, too. To be completely frank, had she been a waiter and not a waitress, I may have been more embarrassed. One time I even saw Ana pricelessly trying to guard a grin and shaking her head after she walked away from the table.
Allora…I was in such a festive state that, with the brioche, muffins and croissants, I requested a glass of prosecco. (Ana definitely had to double check my Italian and intention on that one.) An elegant presentation of eggs benedict with lobster followed. The hot chocolate had the decadent consistency of pourable pudding.
A whimsical, silent chess game of sorts ensued with Ana. As a travel writer, I was staging everything on the elegant table, including the silverware and small flower vase, in the right light and beautiful background so that I could take a nice, concise photo to publish with my story. But before I could take the snap, each time Ana passed the little table, she quickly, and I suppose impulsively, returned the butter and spoons and other items to their proper position.
As soon as she walked away, she would watch me start moving the saltshaker and prosecco glass and plates again. Again, the sparkling-eyed server was left to shake her head and laugh. She probably thought I was an ill-mannered, unrefined American tourist.
Allora.
My table at Venice Venice Hotel's Venice M'art, was, in such a noble, ancient place, as sublime a spot as I had ever eaten breakfast.
But it was time to get busy.
My Version of Dan Brown's "Inferno" Quest
While Ana had been enchanting, it was an efficient, yet charming woman named Claudia, at the Venice, Venice Hotel from desk, who got my sophisticated scavenger hunt off on the right step, literally. In the maze of Venice's canals and equally narrow, serpentine streets, I knew it was best to ask for advice – and to do so in English. So, I showed Claudia a photo on my smartphone I'd taken of the painting, and asked her, "Do you recognize this place? Is it a real place?"
Claudia nodded immediately.
"That is San Geremia, near the train station," she said while already pulling out a map.
"Is it far from here?"
"No. Not far," Claudia said, while circling the location along the Grand Canal. She also circled the location of "Ca da Mostra," the name of the ancient palazzo in which the hotel is located, which is how it is still labeled on the map.
"Grazie," I said. "I might not have found my way back, otherwise."
"Prego," she said, while circling another spot on the map, and tapped her pen on it and looked me in the eye to give me a warning. "If you want to see San Geremia from this perspective you must go to the other side of the canal. This view is from across the river."
Had Claudia not told me this, I would have set out behind the hotel, on a 90-degree day, over the small bridge across the little canal, through Campo dei Santi Apostoli, and up the shop-lined Strada Nuova past Ca d' Ora, Casino Venezia and the Nino Chocolate store to reach Chiesa San Geremia and the bell tower and bridge. Once there, if I recognized it, I would have wandered another mile back and forth around it trying, likely unsuccessfully, to find the perspective in the painting.
Just like Langdon's educated sidekick in "Inferno," Dr. Sienna Brooks, Claudia saved me hours of searching.
Bell' Vista
Following the map, I walked well past San Geremia and almost to the Santa Lucia train station to cross from Santa Croce into Cannaregio via the Ponte degli Scalzi – the "Bridge of the Barefoot Monks" Brown included in "Inferno."
Santa Lucia train station is also in the "Inferno," and the saint's bones, since 1861, are nearby in the San Geremia Church in the painting. Brown, who feasts on sometimes sinister historical intrigue, must have relished relatively recent story of "Saint Lucy." In 1955 a Venetian future Pope had a silver mask put on the saint's face to protect the corpse from dust.
The head was the only thing left behind when the rest of Saint Lucy's 1,700-year-old body, in 1981, vanished from the church when thieves broke into her glass and marble coffin. Gunmen bagged her body but her head, with the silver mask, broke off and rolled down the aisle.
Police eventually discovered her bones in a bag at a hunting lodge 25 miles outside Venice…on her feast day! Eerie!
Santa Lucia is the protector of eyesight, and from the barefoot bridge, you can look back to see diners enjoying dishes under the awnings of canal-side restaurants and mounds of flowers lining the railings.
What I could not see from the other side of the canal as I backtracked is when exactly I was across from San Geremia. The placement of some of the buildings directly on the canal does not allow one to walk uninterrupted along it. This forced me to walk "inland" through little passageways occasionally, to check my position, wending my way back on side streets back to the canal until I found the painter's perspective.
"How did that artist even find this spot in the first place?" I wondered as I wandered in the non-descript neighborhood.
The payoff was priceless, though, when I did hit the street that presented the panorama of the painter's perspective. I checked the photo of the painting saved on my smartphone and stood in the spot on the water which recreated the exact angle.
I took in the treasure hunt view and there was a mystical feeling to finding the view. It was as if a dreamy setting had come true. It was like seeing a magazine model in the flesh. All of it was there across the canal: the brown, brick bell tower, the arched windows which appeared orange in the painting, the delicate bridge over the side canal, and the church.
"Bravissimo," I said aloud in salute.
After admiring the moment – and sitting down to rest – I stood in a shaded spot to frame a photograph that would match the artwork. There was no Ana here to reposition the elements of my photo – in fact the current edifice of San Geremia has been there since 1753. But there was one thing that crept into my photo frame: to my amazement, just as I lined up the shot, a gondolier happened to steer his boat by pole right through the frame, across the watery scene, matching the one the painter depicted! The photo I then snapped matched the painting precisely.
And if the gondolier wasn't singing "Santa Lucia" as he passed the church in which she was laid to rest, he should have been!
Approaching the Artist
My next step was to meet the man who sought out such a unique spot to put brush to canvas. His card, with his name, was taped to the back of the painting: Luciano Santangelo Virgilio.
Robert Langdon-style, I did a little triangulation. I considered the footprint of Amy and Giuseppe's visit to Venice: Their IC Bellagio tour focused on the Piazza San Marco-area sights; they stayed at the Hotel Londra Palace; and they took my advice to have a Bellini at Harry's. Those are all places lined up along the lagoon.
Souvenir sunglasses, artwork and keychain kiosks are also lined up along the water. Surely it would be there that I would likely locate Luciano Santangelo Virgilio.
I set out on foot to find him. Brown's character Robert Langdon, and any of IC Bellagio's expert guides, would laugh if he were to see the route to reach San Marco, I took throughout that day. To walk or boat straight "as the crow flies" in Venice is never possible, but a bird bombed on Bellinis would have gone more directly than I did. The countless little streets, though, were so small on the map and I certainly did not want my experience walking through ancient Venice to be guided by Google maps and having my phone chirp every turn to me.
My initial idea was to follow along the Grand Canal, but there is no continuous Malecon in Venice and so I quickly lost sight of the serpentine waterway.
So, like Langdon might have, I was left to look for directional clues along the way. These clues came mainly in the manner of occasional little yellow arrow signs, placed or painted on buildings randomly above eye level, that pointed to either "San Marco" or "Rialto." They were almost never uniform.
I also tended to follow where crowds seemed to be flowing instead of down the countless narrow passageways that sometimes led to dead end courtyards. (Though there weren't many tourists most of the way I went.)
Joy in the Journey
In letting myself get a little lost, I saw much of Venice I would not have otherwise. I wanted to get my steps in and didn't mind the sense of wonderment and wandering because it revealed many scenes of intrigue and surprises.
For the challenge of it I tried not to ask anyone for directions. It did cross my mind that I might need to board a vaporetto bus-like boat at some point to cross the canal, and to do so I might need a protective surgical mask. I ducked into a tiny trinket shop to see if they might sell souvenir masks.
Just as a friendly man behind the counter was shaking his head and explaining that he didn't sell them, I noticed other "protective" items on display beside the counter. I did my best, with a smile, to point out to him the irony.
"Tu soldi condoms; no facia?" was my best try in Italian. My point was his store offered souvenir condoms…but no masks.
"Is better, no?" he queried in response while laughing.
I crossed countless little bridges and spotted political graffiti messages in some spots:
"No Mafia! Venezia e' Sacra" next to Rialto Bridge.
"Basta Fare Schifo (scusa mamma)" next to a little canal further on.
Since it was sunny and steamy, occasionally I would stop for a drink and find some shade to sit for a bit. I walked through an opening in a wall to find benches in a small, deserted university courtyard. A sign indicated "no picnics," but I figured my Coke Zero didn't constitute a violation.
There was a woman on the other bench for me to commiserate with even if it was just with a look, a pantomimed wiping of my brow, and a sympathetic shrug.
I felt rewarded when I stumbled across Chiesa San Rocco – circa 1771. Even though the Renaissance-style church with its sculpted Biblical scenes and stately Scuola Grande di San Rocco next to it were ornate and beautiful from the outside, I stepped inside to view the altar in the church and the large-scale works of Tintoretto and Titian.
My walk had turned into a sort of "art crawl."
Art Crawl
Venice, if you look from above or on a map, is shaped like a fish. I think I was as wet as one with my "art crawl" through steamy summer Venice in search of the painter. It was a worthy walk, though, because in addition to the fanciful architecture my fancy footwork led me through two of the world's greatest art museums: the Peggy Guggenheim Collection and Gallerie dell 'Academia di Venezia.
I also took a peek at the dramatic dome and intricate interior of Basilica di Santa Maria della Salute. It was warm inside the 1681 church, and I almost fell asleep on a stone bench staring up into the basilica's inspiring rotunda. Woozy, I went to chill outside and people-watch on the stone steps of "Saint Mary of Health."
From that watery perch I had a sweeping view across the canal to the towering, pencil-like pointy campanile of St. Mark's Square. It was time to complete my search, so I hopped a vaporetto water bus to get across the Grand Canal to the Zaccaria dock in front of the Hotel Londra Palace. From there I could stroll to survey the sales on the street along the piazza toward Harry's in search of a merchant selling art resembling the painting I possessed.
Meeting the Man
Near the piazza, after perusing and passing by the souvenir trinkets, and seeing a couple of painters with works that did not match mine, I reached a row of artist kiosks set up between the Royal Gardens along the lagoon. Like Langdon I spoke, again in my "pico Italiano," to the first artist I saw.
"Scuzi, signior. Come ti chiamo?"
"Cosa?"
"Tu Signior Luciano Santangelo Virgilio?"
"No."
A man standing with him overheard (and apparently, despite all odds, understood) our conversation so he got my attention and pointed to a man about forty feet further along the sidewalk.
"Si?"
"Si."
And there was Luciano Santangelo Virgilio, with his unmistakable vertically oriented paintings on display, sitting at his easel under a tent-type tarp. He was near the base of a tree and facing the Royal Gardens with his back to the water.
I walked over and introduced myself. He corrected me on my pronunciation of his name but did so in a friendly manner…and in English.
Luciano had about 30 paintings on display, including a larger, full color version of my sepia San Geremia painting. Naturally he had depictions of the Bridge of Sighs and other Venetian scenes.
I explained to him that someone had given me one of his paintings as a gift. And I told Luciano how much I admired his work.
"Complimenti, signior. Bellisimo!" I said in Italiano, out of respect.
"Grazie, grazie. Where are you from?" he asked.
I told him I was from America…Michigan, specifically.
"Ah. I often wonder where the paintings I sell go. Where in the world do they end up," he shared.
I pulled up the photos on my phone to show him the picture of his painting I'd been given.
Amazingly, though it had been four months earlier, Luciano told me he remembered parting with that particular painting.
"Yes. I recall this. It was a woman, yes? With a boy."
It struck me as special. And it occurred to me that Luciano must feel a connection to his creations as if they are his children.
"Luciano, how many paintings have you created?"
"50 years' worth. Venice my whole life. I am 70 years old."
"Occhio non anziano!" I exclaimed, gesturing to his white sneakers, shorts, blue t-shirt with a Hollister teen skateboard logo, and full head of wavy, brown hair.
"Grazie," he said with a smile.
I then showed him the shot I'd taken of the actual San Geremia location that inspired it. Luciano nodded and noticed that I'd even caught the gondolier going through the scene.
"I had to include the gondolier in the painting, you see, because the gondolier is the original actor of Venice. People want the gondoliers," he explained.
Luciano told me that he lived outside Venice and commutes daily.
"How often do you paint?"
"Every day. I paint every day," he answered.
After my warm conversation I asked a passerby, with Luciano's permission, to snap a photograph of us. We posed, smiled…and parted.
My quest across Venezia didn't save the world as Robert Langdon did in the novels and movies. But I did enjoy a feeling of Dan Brown-style, mystery-solving accomplishment. And more palpably a sense of human connection and an opportunity to show appreciation to a Venetian painter who'd dedicated his life to the arts. He now knew where in the world at least one of his paintings hung…and that it was greatly appreciated. I would think of him, and Amy, every time it caught my eye.
I continued on to Harry's Bar to celebrate with a Bellini.
As I walked, before I was too far from the artist, I texted Amy, who had gifted me the work, a few pictures. I sent shots of the painting she gave me; the actual setting I visited; me with the painter…and my gratitude and love.
Read more on Michael Patrick Shiels' travel blog, The Travel Tattler. Contact Travel Writer Michael Patrick Shiels at [email protected]