I began to let my mind wander across some of the destinations in which I'd experienced some situational sweetness.
Consider that Hollywood's most memorable movie romances are ones in which the participants do not end up "happily ever after." I suppose the most celebrated non-couple are Rick and Ilsa, two little people whose problems weren't as important as a hill of beans when Bogey sent Bergman onto a plane out of "Casablanca."
Rhett Butler didn't give a damn when he left Scarlett at Tara in "Gone With the Wind."
Mia and Sebastian cared too much about chasing their showbiz dreams to pursue each other in "La La Land."
And whose heart doesn't swoon at the "misty watercolor memories" lyric in the title song of "The Way We Were" – the movie that left Streisand and Redford alone?
As Good as it Gets
Billy Crystal's "City Slickers" was a comedic adventure but Jack Palance, playing Curly the cowboy, added an element of the sort of momentary road romance I speak of when he was asked if he'd ever been in love?
He explained that once, while on horseback, he'd spotted a young woman in the field working in the dirt. With a faraway look in his eye Curly described her as wearing a little cotton dress when she stood up to stretch her back with the setting sun behind her.
"I turned around and rode away. "I figured it wasn't going to get any better than that," he explained.
When a chagrined Billy Crystal's character Mitch protested and suggested the cowboy should have pursued the woman because she could have been the love of his life, Curly explained to him, "…She is."
The Road to Romance
Each of these romantic vignettes unfolded in colorful settings: Mysterious Morocco, Antebellum Atlanta, Tinseltown, the Big Apple and the American West. The locations can tend to heighten the "watercolor memories" so I began to let my mind wander across some of the destinations in which I'd experienced some situational sweetness. I'm not talking torrid – I'm speaking about the sort of situation that played out more like "Curly" than "Casanova." These brief relationships weren't going to get any better than they were during those golden moments.
Over a collection of columns, I'm going to share some "coronary captures" in a series of stories set at destinations designed to steal your heart.
Honeymoon Alone in Venice
The delicate decadence of Venice begins with arousal on arrival in Italy's Aeroporto di Venezia. Could there be an airport name that stimulates the imagination more than "Marco Polo Airport?" The historic Venetian merchant and explorer drew his last breath in 1324. When my Alitalia flight landed in Venice on Boxing Day seven centuries later, my new marriage, having not lasted one earthly voyage around the sun, was as dead on arrival as Polo, Casanova, Michelangelo, Vivaldi, Tintoretto, or any of the other historical figures who'd breathed artistic life into what I anticipated to be the world's most romantic destinations.
During what was expected to be a romantic trip-for-two I was slogging solo. My blonde bride had found another ride, if you know what I mean, and unceremoniously voided our voyage. She'd applied the word terminal to our marriage instead of the airport.
So, while traveling alone instead, my carry-on was a heavy heart. I expected that toting it alone to Venice would, for me, turn the frosted, wedding cake-architecture of this succulent city into cruel gruel. But I decided to, via Venice, swallow a spoonful of sugar with my split to help the breakup medicine go down.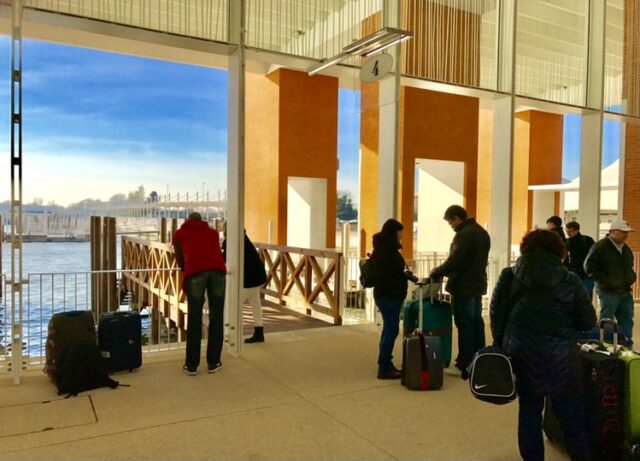 Italian Itinerary was Impossible to Resist
I went on with the show because the stage had been set by IC Bellagio, the bespoke "Italian Connection" company that created a customized adventure through Venice. The detailed itinerary IC Bellagio provided read like a romance novel.
It included local Prosecco-tasting; morning Mass at Basilica di San Marco; a guided tour of the Palazzo Ducale; a visit to the skyline's striking Gallerie dell'Accademia; and an artistic Venetian mask-making experience which would give us an opportunity, even though we were over a month early, to feel a part of the annual pre-Lenten Carnivale di Venezia – one of the most visually mysterious and therefore sensual festivals on earth.
Knowing we were from Michigan and discerning I was a devotee of Ernest Hemingway, IC Bellagio's guest ambassadors arranged for visits to Hemingway's haunts: we would toast Papa with a Bellini in Harry's Bar and take a boat ride across the Grand Canal to the tiny island of Torcello where, in 1948, he wrote "Across the River and into the Trees" at the Locanda Cipriani Inn while sipping Campari near the fireplace in between duck hunts.
The itinerary was very detailed with historical context and thoughtful practical advice. It detailed a full schedule of private tours and insider access behind the stained-glass windows of the Venice elite. My only companions during my days in Venice, it turns out, would be the IC Bellagio tour guides. I was fully aware my visit was scheduled to conclude days later with, of course, a twilight gondola ride under the Bridge of Sighs as a grand finale. I admit I was dreading the prospect of completing that iconic romantic experience with the gondolier singing "O Solo Mio " to me…alone.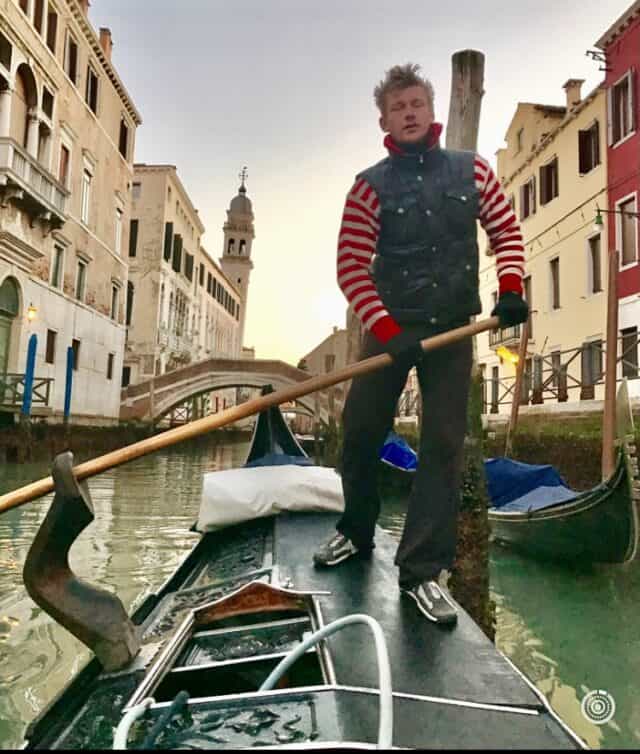 Love Nest Lodging
According to the IC Bellagio itinerary, I had printed and folded up in my passport pocket, our overnight scheduled stays in Venice would be at the historic Baglioni Hotel Luna, lodging cloaked in Venetian history at a circa-1118 palazzo once frequented by the Knights Templar. A couple nights there would include an exclusive, endorphin-enhancing chocolate tasting experience amidst its Murano-glass chandeliers (glass we would actually see hand-blown at the island factory.)
During our stay we were also scheduled to lay our heads at the 53-room Hotel Londra Palace, which my itinerary said had 100 windows in suites overlooking the Vaporetto dock on the San Marco basin and the Venetian Lagoon. Even by my lonesome, an opportunity to experience these hotels intrigued me and seemed relevant to my situation.
Especially when, in the detailed IC Bellagio itinerary, I read poet Joseph Brodsky's words about Venice. He wrote of the restorative powers of waking up in Venice in the winter and flinging open the windows to "let in the damp oxygen and prayers:"
"No matter how autonomous you are, how much you've been betrayed, how thorough and dispiriting, you assume there is still hope for you…or at least a future."
Boating in on Boxing Day
Walking off the overnight flight and through Marco Polo Airport I was in a rumpled, sleepy, hazy daze. Even though it was my first time there I was not concerned about where to go. I didn't have to think much because the itinerary was very detailed. It listed a mobile phone number to an IC Bellagio guest ambassador to use at any hour if I had questions, but it gave me precise directions to the "ground transportation" which turned out to be a covered marina of docks where I would be ferried to my hotel by private water taxi. Just as I stood wondering which boat to step aboard, I heard my name spoken in English with an Italian accent.
"Mr. Shiels, I am Guilia. IC Bellagio sent me to greet you and welcome you to Venice."
I was surprised and struggled to find words to respond with. I'd practiced some Italian language but hadn't had to use it yet. Unprepared, I shrugged, shook her hand, and greeted Guilia in English.
"How did you know who I was?"
"Mr. Shiels, we have been waiting for you and are happy you are here. Is your companion nearby? We are expecting two," she said, her voice rising at the end like a question as she looked around the dock.
"Just me, grazie," is all I answered.
"Bene. Non c'e di che," she said, immediately, dismissing the issue, I felt, diplomatically. But maybe she just wanted to get me where I was going and get on with her day. Either way I liked her energy and hoped to dispense of thoughts of my missing sidecar as easily as she did.
"You speak Italian?"
"Uh, piccolo Italiano," I answered, even fumbling for that most basic response.
She flashed me a toothy smile. I suddenly then found myself also self-conscious about my wrinkled sweater and the way my hair was sticking up after flying all night. I'm sure my eyes were puffy and, though I tried to work in some Italian words, I felt entirely awkward as Guilia, with her wavy brown hair, fresh face and sparkling eyes, in a coat and scarf, directed me to the proper boat.
"Let's go," she said.
"Si, andiamo," I managed this time to reply, though it was only mimicking what she'd said.
Guilia smiled again and nodded – and I suspect resisted chuckling.
Wonderful Words on the Water
Two things surprised me next.
While other arriving passengers were rolling their suitcases onto ferryboats, I was led aboard a smaller, private boat. She was a beauty too – like a maritime limousine. It was a long, elegant wooden boat.
My second surprise was that Guilia came along too. She explained that not only was it her job to meet and greet me but also to guide me to my hotel.
There was open-air seating in the stern, and for a bit I was excited to enjoy the sunshine and view of the expanse of water that motored across. But the morning air, while refreshing, was brisk. Guilia was cuddled in a puffy, winter coat wrapped with a scarf but still, with just a look from her warm eyes agreed it was cold, so, without a word, we agreed to climb into the windowed cabin of the boat.
"Simpatico," I thought to myself.
Warming Up
She seated herself on the upholstered bench seat across from mine and we were knee to knee. Guilia pointed out the plain causeway bridge connecting cars to Venice and explained that Venice is a collection of islands.
"But that bridge is not special," Guilia said. "Your hotel is very near Ponte de Rialto – that is a very famous bridge. You're near the fish market, too."
That was the second or maybe third time she'd mentioned the fish market, which she seemed very excited about. In between pointing out points of interest, the pointy-featured, friendly guide engaged in small talk with me.
"I fell in love with it when I moved here to Venice 20 years ago. And I fall in love with it over and over," she revealed as I looked into her brown eyes and listened. I was beginning to awaken but, at the same time, her story and the rocking of the boat soothed me. "Just when I think I am used to it I notice the light after a thunderstorm or a higher sculpture I had never noticed before."
I nodded and let her words resonate. With difficulty I then shifted my gaze from Guilia to the canals and buildings coming into view and, while looking away, responded by asking her, "Do you find Venice to be the most romantic city in the world?"
She waited for me to look back before she answered. "I think if you are a romantic person anywhere is romantic."
I sat still for a moment hearing only the waves lapping against the side of the wooden boat.
Facing a Façade
As we neared the hotel Guilia then pointed out the façade of a building on the Grand Canal which appeared in the 007 movie "Casino Royale."
"This is the Cannaregio district. People are always surprised to see that palazzo is standing because at the end of the James Bond movie it is seen collapsing into the lagoon," she remarked. She laughed and said, "I remind them that you cannot believe everything you see."
Her words were simple but somehow, on this morning, a reflective one for me in an inspiring destination like Venice, they were resonating at a deeper level.
"You can see this in another way if you look there, near the Palazzo Bolani Erizzo," she gestured. "There you see the Ca' da Mosto."
I nodded.
"It's Byzantine. 13th-century. The oldest in Venice. You see it, and it's striking, right?"
"Si."
"Yes, but inside it is a disaster. And then I remind people that sometimes it looks nice, but it doesn't work. It's not functional."
When our boat arrived at the Rialto Mercado landing stage, I was sorry the ride was over. I rolled my luggage only a few hundred feet along the canal, while Guilia walked beside me offering to help, from the Vaporetto dock to the contemporary Hotel L'Orologio.
Upon check-in I learned the contemporary, boutique hotel was celebrating its second anniversary. It occurred to me that my marriage never would.
Arrivederci, Giulia
With my baggage checked and my room key in hand I walked Giulia back out front of the hotel to take a photo and say "ciao." Before we parted, as thorough and helpful as a mother dropping her child at school, Giulia listed and described areas I might like to explore there in the San Polo sestiere historical center once I was settled in.
She pointed the way to Campo San Polo; Rialto Bridge (Venice's oldest); Palazzo Santa Sofia's golden Ca' d'Oro, and once more, the fish market, which again, by her wide eyes and the tone of her voice, drew her highest level of enthusiasm, which again was charming.
As we hugged goodbye I considered, for a moment, inviting Guilia to join me on that scheduled, end-of-the-visit romantic gondola ride under the Bridge of Sighs. But I just sighed, instead, as I watched her board a boat and glide away down the Grand Canal.
Read more on Michael Patrick Shiels' travel blog, The Travel Tattler. Contact Travel Writer Michael Patrick Shiels at [email protected]