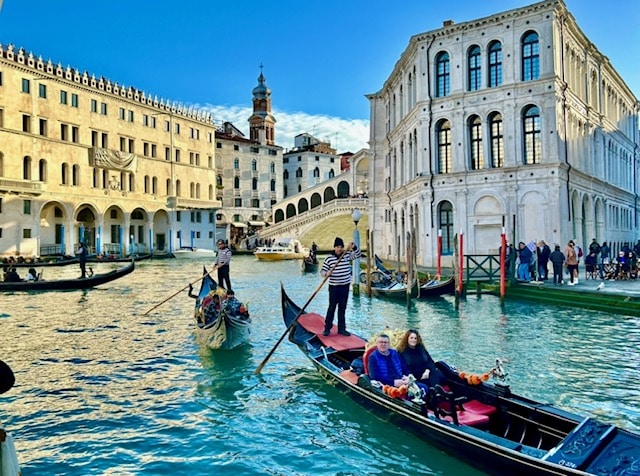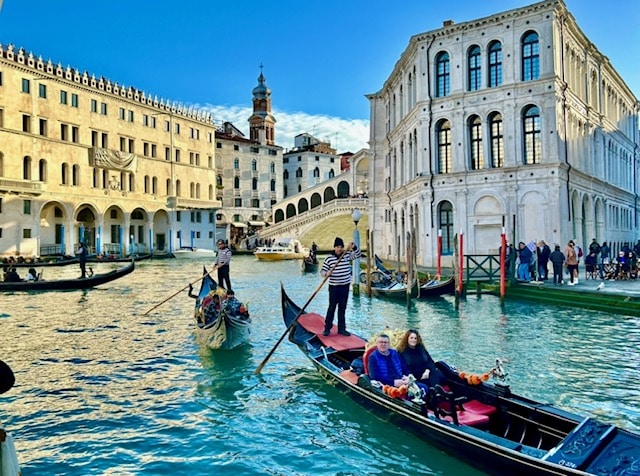 A novelist or film director would have relished the romantic sound of it all – we were to meet at noon on Venice's Rialto Bridge.
I have, in a series of columns, let my mind and keyboard wander across some of the destinations in which I'd experienced some situational sweetness.
I emerged from Harry's Bar after a noonday Bellini, which was unavoidable, really, since the San Marco Vallaresso vaporetto water bus docks directly outside the door of Venice, Italy's historic, classic watering hole. I had ridden the vaporetto only one stop across the Grand Canal from the Salute vaporetto dock, in front of the iconic Basilica di Santa Maria della Salute, near my hotel, the swank, waterfront Sina Centurion Palace Hotel.
I was bound for the Hotel Londra Palace, where I planned to look in on Alain Bullo, the luxury hotel's general manager, whom I'd met during a summer stay there in Venice four months earlier. The Londra Palace has 100 windows overlooking St. Mark's basin and the island of San Giorgio Maggiore. Londra Palace is neighbors to the touristic, historic Bridge of Sighs and Doge's Palace.
If you know Venice, you are aware I could have more conveniently ridden the vaporetto boat all the way to the San Zaccaria dock, which is just steps from Londra Palace Hotel and its Vittorio Emmanuele II monument out front. But what fun would it have been to skip Harry's Bar and not enjoy the opportunity to walk the Riva degli Schiavoni promenade and pass by the sight of the ornate Basilica San Marco, its lively piazza, and Venice's iconic campanile tower on the way?
Art and Ana at the Garden
After I'd made two little left turns out the door of Harry's and at the little corner of Calle Vallaresso it occupies across from the vaporetto dock, I crossed over one of Venice's 300 little bridges and strolled between the canal to the right and the trees of the Palazzo del Magistrato's Royal Gardens on the left. Spots of shade there had been prized when I'd last passed through in July. This time, since it was November, slivers of sunshine were welcomed.
I received a warm smile when I spotted Luciano Santangelo Virgilio, the painter I'd sought in the summer, selling his artwork in the same spot at which we'd met in the summer. This time, instead of shielding his works with a tent-type tarp, he was hustling, with his back to the water, to keep the breezes from taking them.
"Michele," he called out, surprised to see me again. I was surprised, also, to be back in Venice again after only four months.
"Signior Virgilio. Come stai?" I responded as we embraced.
We assured each other we were each "bene" and once again I complimented his compelling paintings. He spoke about my radio show and a column I'd written about him and the Venice, Venice Hotel at which I'd stayed. Amazingly, as if on cue while we talked, my mobile phone rang. The readout on the phone indicated the call was coming from "Ana Lazari," a Venetian woman I'd also met four months earlier during my summer visit to Venice.
Ana at First Sight at Venice, Venice Hotel's Venice M'art
Venice Venice Hotel's Venice M'Art Restaurant location was waterside near the Rialto Bridge on the Grand Canal. It was during breakfast at a linen-covered table along the aquamarine-colored water that I met a server named Ana, who, along with her smile, wore a black and white-striped shirt and a long apron. Ana spoke very little English and pricelessly grinned each time I tried to speak Italian.
I enjoyed the back-and-forth banter and the setting so much that I requested a prosecco, even though it was early morning, to toast the delightful, dark-haired Ana and the beautiful breakfast of brioche, muffins, croissants, lobster and eggs benedict.
Since I am a travel writer, I staged each of those items on the table, including the silverware and a small vase, in order to take nice photographs of the food to publish. But Ana, before I could take the snaps, would quickly and dutifully reset the table and return the butter and spoons and other items to their proper positions on the table.
Then, as soon as she walked away, Ana would watch me reposition the saltshaker and prosecco glass and plates again. The sparkling-eyed server was left to shake her head and laugh. She probably thought I was an unrefined, stubborn American tourist.
Ana and I took a photo and, after the article was published, stayed in touch from afar.
Four Months Later…
Four months later, after the breakfast in July, I stood back in Venice, with the artist I'd met on that same summer day and answering a phone call from Ana. I had let her know, via text message, that I'd be in town if she had time to meet for a spritz, Venice's most popular drink.
"Pronto, Ana. Buongiorno, Ana," I said, in my best Italian, knowing, from past experience, she'd be laughing at my Italian.
Ana's voice then burst through the phone loudly, clearly, and in a colorful spree of rolling, bouncing Italian. Instead of Ana laughing at my language, I was the one smiling at the sound of her colorful, enthusiastic voice. I could make out the words "domani" and "Rialto," which I knew to mean "tomorrow" and Rialto, the area of Venice near the Rialto Bridge where we first met.
Luciano Santangelo Virgilio, the painter, could overhear Ana's voice and also smiled. Since he spoke Italian and English, I got the idea he could translate the call for me!
"Ana? Un momento, per favore, cara," I said into the telephone, before handing it to an only slightly befuddled Luciano.
"Parlare Italiano Englese, per favore, Signior?" I asked. "Possible for you to translate the conversation?"
After the discussion and negotiation, Ana asked me to meet her at noon the following day at Rialto Bridge, which was in sight, along the Grand Canal, of the hotel veranda on which we first met. A novelist or film director would have relished the romantic sound of it all – noon on Rialto Bridge.
Sina Centurion Palace
Hotel Londra Palace; and Venice, Venice Hotel; and Sina Centurion Palace, were each recommended to me by IC Bellagio, the leading "Italian Connection" custom tour company based in Bellagio, on Lake Como, Italy. IC Bellagio is a member of Virtuoso Travel, the U.S.-based international network of worldwide travel advisors and providers. IC Bellagio arranges exquisite experiences, accommodations, tours, logistics, guides, meal reservations and access for visitors to Venice and all of Italy's treasured destinations from the Dolomites to Sicily.
For reviews of Hotel Londra Palace and the Venice, Venice Hotel, see my other Venice-related columns at Go World Travel. The Sina Centurion Palace Hotel has 50 bold-colored, contemporary, artsy rooms and both a courtyard on one side of a glassed-in breezeway…and a terrace overlooking the Grand Canal – where guests arrive by boat – on the other.
The centralized location makes all of Venice accessible by water taxi, vaporetto, and even by foot to many of the treasured museums, landmarks, restaurants, shops, gondola rides, and churches.
The Road to Rialto
The next morning, after a cappuccino on the Sina Centurion Plaza veranda, I strolled, in a blue pinstriped blazer, up the narrow street and climbed, again, aboard the vaporetto boat to get across the canal and over to Mass at the Basilica San Marco.
Historians say construction of the church likely began in 1063 and the design, as well as some of the actual columns and sculptures were plundered from churches and palaces in Constantinople, including the four bronze horses over the entry. The result is Middle-Byzantine, Romanesque, Islamic and Gothic influenced architecture, and St. Mark's bones, also stolen, but from Alexandria, are behind the main altar.
The easiest way to get into the Basilica is by respectfully attending one of the scheduled Masses. This will allow you to avoid any lines or fees, and, if you open your spirit, you might even receive some grace and peace. No photos are allowed, though, and you may be limited to only the side altar, but if you're on a time crunch, and checking off Venice's boxes, you can see most of the basilica from there.
On this particular morning, there was a touch of Venice's "acqua alta," when water temporarily flowed up and flooded the side of Piazza San Marco closest to the basilica and Doge's Palace. Authorities placed narrow, wooden platforms for people to walk on just above the water. It's a little like walking on six-foot banquet tables.
After Mass I avoided putting my Pradas in the puddles and set out, on foot, for the Rialto area through the maze of narrow streets. You can find your way to Rialto or San Marco by following the (mainly) yellow arrows at above window level at the corners and on the walls along the way. You can use your GPS apps too, but it's a shame to miss all of the scenery, people-watching and window-shopping along the way.
I was actually shopping along the way – enjoying looking for a gift to give to Ana at our noon meeting. World famous Murano Glass is made on one of Venice's islands of the same name (IC Bellagio can arrange intriguing factory glass blowing tours) so, in a delicate, tiny shop, I chose a small, glass heart pendant and necklace chain. And, for a laugh, I bought a glass brooch pin of Disney's Snow White because I felt the cartoon character's dark hair and fair facial features resembled Ana's.
Reaching Rialto
I reached Rialto half-an-hour early, for a few reasons. One is that I really like the area (sestiere) around Rialto Bridge. The canal bends after running under the bridge, which makes for a scenic panorama when surveying the area while standing on the bridge, alongside it, or even below it aboard one of the water taxis, vaporettos, industrial barges, or romantic gondolas that slip under it amidst the stream of aquatic traffic.
There is lots of foot traffic, too, with people bustling back and forth, snapping selfies, shopping for souvenirs, buying oversized cannoli, dining on margherita pizzas, and drinking Aperol spritzes.
Rialto Bridge, itself an architectural icon, was built in 1591, and there are shops on white, stone bridge and all around the banks on both sides of it, including the nearby fish market. From the top of the bridge, I spied a location I thought would be nice to enjoy – a table along the sunny side of the canal among the cafes and restaurants just a few storefronts from the foot of the bridge.
I walked down and secured the sidewalk table at what turned out to be Ristorante Caffe Saraceno. I was early enough to enjoy a pre-meeting drink amongst the colorful crowds celebrating Saturday morning. I cut my nervousness and warmed myself up for the meeting by sitting in the sun, sipping a spritz, and chatting up a couple from France at the next table. The woman was drinking a nice, warm cappuccino topped by a heart drawn with milk across the top. The man had a great glass mug of lager so big it was an effort to lift. They were each dressed in all-white, warm clothes that made them appear they had just come off the ski hill at St Moritz. But they seemed happy as clams, which set a pleasant tone as the clock ticked toward noon.
Reunion at Rialto
"At Rialto," read the text from Ana I received at noon.
I quickly straightened my tie and straightened up the table, which struck me as an ironic callback to the breakfast chess four months earlier at nearby Venice, Venice Hotel. I then peered up at the bridge looking for, but not seeing her. I responded to Ana's text by sending her the name and location of the café.
I came out from behind the table and stood on the sidewalk waiting for her, and it wasn't long before, amidst the wandering crowds, Ana appeared, wearing a warm winter coat and big, glamorous, starlet sunglasses.
"Ciao, Ana," I called out as she approached. Hers was as sweet as a smile could be, and we greeted with the three quick, customary air kisses.
I started to attempt to speak more of my rudimentary Italian greetings: "Come stai?" "Piacere di conoscerti."
But Ana, properly, moved the conversation over to introduce someone standing behind her – her 16-year-old son Elia Lazari. Elia was taller than both of us – nearly 6'1, I figured – and fit with a dark head of wavy hair. Elia greeted me politely – in English.
It was all happening fast and suddenly I remembered my manners and gestured for us to get out of the crowd and be seated at the table. I suggested Ana and Elia take the seats offering the view of the bridge and canal while I sat across the table facing them.
Ana managed to speak enough English to explain that she lived outside Venice and had come in with her son to accompany him to a job interview which was scheduled just before our meeting. Whatever gaps she had in speaking English to me were filled in by Elia, who said he'd learned the language in school.
Believe me, Elia had to translate more of the gaps in my attempts to speak Italiano than he did with Ana's English. I was glad he was there to translate, but even more, I was very flattered that Ana would bring her son to meet me at our visit. I told her so – through his translation, of course.
Grazie, mi cara amica. Es accoglienti," I told Ana, gesturing toward Elia. "Tu famiglia bene bambino." Ana nodded and I was hoping that what I said, in my bruto Italiano, conveyed something close to "Thank you, my dear friend, for being comfortable with being your family, your good son, today."
What I thought to myself was, "Poor Elia. The young guy is stuck sitting with a stranger on a Saturday afternoon!"
I thought he might look at me with suspicion or trepidation, but Elia, instead, was friendly and he engaged easily in the conversation, which was great fun.
Caffeinated Conversation
I signaled the always preoccupied server and, when he came to the table, Ana asked for a cappuccino, and I don't recall what Elia drank. I sipped a spritz and we caught up with small talk.
At some point the vibrant French couple at the next table interrupted to kindly say goodbye and that they'd enjoyed meeting me before they departed into the growing throngs of passersby who walked in each direction between our table and the canal.
Remembering the gift I'd brought, Ana seemed surprised as I placed the little bag on the table in front of her, along with a card I'd written out in carefully translated Italian. She opened the card first and read it, in which I basically thanked her for meeting me and told her how much I enjoyed her personality and getting to know her a little while keeping in touch since our first meeting in July.
She looked up when she finished and expressed that she was touched by placing her hand on her heart and verbalizing, "Awww." She made the same sound after opening the box with the Murano glass gifts.
"Grazie. Grazie," Ana said a few times, while immediately putting the necklace with the heart pendant around her neck under the fur around the hood of her black puffy coat.
As for the cartoon brooch pin, to be honest, after Ana unwrapped it, I sensed she either didn't agree with, or didn't like, the comparison I made to her look and the visage of Snow White. Maybe the humor was lost in the translation, but Ana just nodded that she understood my point and took a sip of cappuccino.
Hospitality Business
We eventually got into a functional language rhythm of trying and translation. Ana explained she was no longer a server at Venice, Venice Hotel's restaurant. She now worked at the Hilton but, in February, would be employed by the Hotel Metropole, which she was pleased about.
I asked Elia how he felt about his morning job interview, which was also at a hotel. The question opened up a very engaging exchange about his life.
"My real dream is to go to America and be a Mixed Martial Arts champion," he revealed with total conviction.
"Mama!" I cried out to Ana, gesturing at Elia.
"Yeah, 'Mama,'" she said back to me with a humorous shrug. It was comical, but the more Elia shared with me the more I saw her looking at him with affection and admiration.
"I notice you say you will be an MMA champion, not just an MMA fighter," I said to Elia. "Complimenti!"
"Thank you," he responded, speaking purposely in English to me. "If I am going to fight, I am going to win. And when I win, I will win until I am a champion."
Elia, at 16 years-old, spoke with the complete conviction of a seasoned motivational speaker.
"This is my dream now, but my dream will be a reality in the future."
He was focused purely on his goal, not any hurdles potentially in his way.
"I must do this on my own. And I understand what it will take. It will take training and discipline."
"Mama!" I said again to Ana, wide-eyed to convey how impressed I was with Elia's words.
"Yeah, 'Mama,'" she replied again, trying not to grin. Ana, behind those big, blocky sunglasses, was displaying, yet again, the mischievous charm I noticed in the summer at the breakfast table. She was a sassy Sophia Loren.
Elia then told me all about a Muslim MMA fighter named Khabib Nurmagomedo, a Russian who defeated the Irish star Conor MacGregor on the way to being inducted into the Ultimate Fighting Championship Hall of Fame.
"While Conor McGregor was partying, Khabib was working out and training five times every day. Khabib respects his opponents," Elia explained. 'I will have this choice, as well. When my friends are going out for drinks in the evening, I will go to the train."
Hearing this, as I sat sipping a spritz, made me feel a little inadequate.
"You're inspiring me," I told Elia.
"America is inspiring," he countered. "In America anything is possible. Americans have the attitude they can do anything. I will go to America, and I will be a champion."
"Mama!"
"Si, 'Mama.'"
I toasted Ana's cappuccino with my spritz.
"Salute, Mama. Salute, Elia," I proclaimed.
America the Beautiful and Ana Bella Donna
I admit that while sitting in the shadow of the Rialto Bridge with a beautiful Venetian woman, this was not a conversation I would ever have anticipated having. But it was an experience I thoroughly enjoyed. Ana, who had clearly been a very successful parent to Elia, treated me sweetly. And the discussion allowed me to learn about MMA and UFC, a popular sport I had known nothing about.
Elia's enthusiasm was encouraging and exciting. The young man's admiration for America was touching, especially since so many from the USA desire, conversely, Italy's dolce vita lifestyle. But the Italian art of "far niente" (doing nothing) didn't seem to fit Elia or his hard-working mother, the very active Ana. Elia even intimated that when it came to courting Ana, couch potatoes need not apply.
I invited Ana and Elia, if they come to America, to stay with me.
"Mi casa accoglienti tu," I attempted, again in my "male Italiano."
"Do you mean it?" Elia asked me in a serious tone.
"Si. Vero," I answered him.
"Do you mean it?" he asked again.
"Si, si. Molto Vero."
When he found out I lived in Michigan and Los Angeles, Elia spoke of his admiration for Detroit-born music star Eminem, who also made it in Hollywood.
"I love Eminem. And I embrace his lyrics. 'You only get one shot, do not miss your chance to blow this opportunity knocks once in a lifetime…'"
I turned the conversation back to Ana, who'd finished her cappuccino. We talked lightly, but openly, about our private lives in terms of past romantic relationships, personal situations, and current status.
Elia, involved in the conversation as a translator but also a participant, chimed in.
"You must respect my mother. She is a wonderful person," he said, looking me in the eyes.
Ana touched her heart again. But it was my heart Ana and Elia touched.
"Si. Io molto rispetto tu Mama," I responded. "Ana tu Mama bellissimo persona."
Read more on Michael Patrick Shiels' travel blog, The Travel Tattler. Contact Travel Writer Michael Patrick Shiels at [email protected]
Latest posts by Michael Patrick Shiels
(see all)