Japan's southernmost prefecture of Okinawa, an archipelago of some 160 islands in the East China Sea that stretches to Taiwan, is beloved for its environment.
White sand, stunning coral reefs, and crystal-clear seas await watersport enthusiasts and beach lovers, while subtropical forests and mangroves are perfect for fans of adventure and wildlife.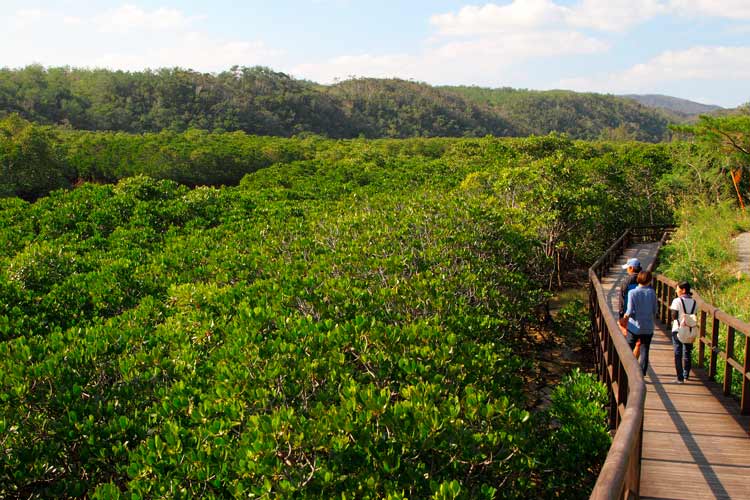 But Okinawa also has a rich and unique culture and heritage because of its history as an independent kingdom influenced by its neighbors in East and Southeast Asia. Evidence of this unique past can be found everywhere, from the ruins of former castles of the Ryukyu kings to the lively folk music, dancing, and traditional cuisine.
Here are just some of the one-of-kind experiences to be enjoyed in Okinawa, whatever your interest.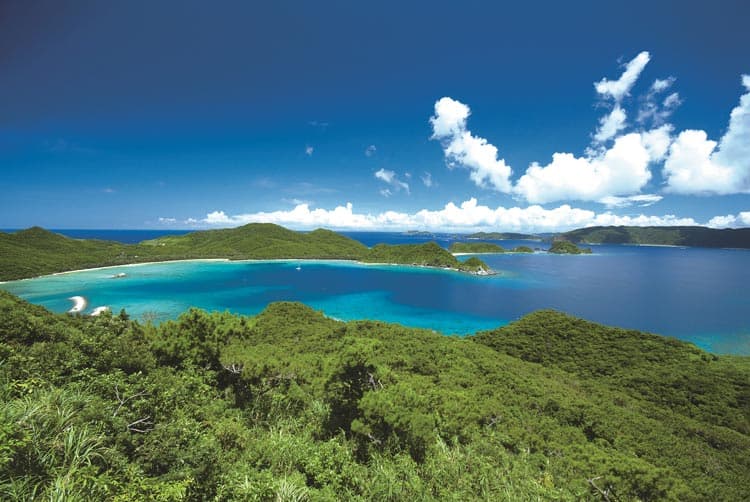 1. Gaze onto "Kerama Blue"
The Kerama Islands off the coast of mainland Okinawa are home to sea turtles and about 250 species of coral. The ocean here is such a distinctive and dramatic blue color it has been named "Kerama Blue."
There are about 20 Japanese isles, large and small, but only four are inhabited. The largest two, Tokashiki and Zamami, are renowned for snorkeling, diving, and other marine sports, as well as sandy beaches and ocean views.
For a close-up of Kerama Blue and all the life it supports (without getting wet!) take a glass-bottomed boat or canoe tour around some of the stunning coastline. In the winter, you can see humpback whales as they go by on their migratory route.
Tokashiki is about 35 minutes from Naha by high-speed ferry.
2. Experience Practicing Karate in its Birthplace of Okinawa
As the birthplace of karate, Okinawa is the ideal place to not only learn about the martial art's history and development since the 14th century, but also try training with a true master.
The traditional karate practiced in the 400 dojos across the prefecture is different to sports karate, which debuted as an Olympic sport at Tokyo 2020. Okinawan Ryo Kiyuna won gold in the new sport, "bringing karate home" to its roots.
At Karate Kaikan, a 15-minute drive from Naha Airport, you can watch a short movie outlining the defining characteristics of Okinawa karate as a technique of avoiding conflict without incident, including the principles of "do not hit" and "do not be hit."
An experience corner offers a flavor of historic training methods; try wearing the geta (traditional Japanese sandals) infused with iron to strengthen the foot and leg muscles.
A permanent exhibition introduces the history of Okinawa karate, the Karate Masters, and ancient documents. There is also an indoor dojo and a special dojo where high-profile practitioners do demonstrations.
If you'd like to visit or train at a dojo while in Okinawa, the Okinawa Karate Information Center can make arrangements. To experience karate heritage and culture at its fullest, visit over August 1–9, 2022, when the prefecture will host The 2nd Okinawa Karate World Tournament and The 1st Okinawa Karate World Junior Tournament.
3. Soak up Some Traditional Culture
Ryukyu Mura offers a glimpse of Okinawa from days gone by. This theme park about traditional local culture features a recreated village from the times of the Ryukyu Kingdom (1429–1879), when the royal family of Okinawa played a central role in trade with mainland Japan, Taiwan, China, and other parts of Asia.
Take a stroll along the streets lined with historic folk houses and try the hands-on experiences, which include playing a local stringed instrument called the sanshin, making traditional Okinawan donuts, and creating your own ceramic shisa: an ancient Okinawa decoration derived from the Chinese guardian lion.
Be sure to catch one of the performances such as eisa folk dancing, taiko drumming, or a reenacted historical ceremony. The eateries serve Okinawan favorites and there are a range of local souvenirs on offer.
4. Experience Walking the Paths of the Ancient Rykyu Kingdom in Okinawa
Once the Ryukyu Kingdom's center of politics, diplomacy, and culture, Shurijo Castle is a symbol of Okinawa. The structures on the small hill overlooking Naha were built using a fusion of local, Japanese, and Chinese architectural styles, using functional and decorative elements.
Today, work continues to rebuild the castle's main halls to their former glory following their destruction in a fire in October 2019. Still, other parts of the castle remain open, as are the vast grounds.
Highlights include the many mon (gates) that lead up to the castle, including Shureimon with its brilliant vermillion color; the pretty gardens; and the views of the city and ocean.
5. Kayak Through Japan's Newest World Heritage Site
The northern part of mainland Okinawa, Yanbaru, was recognized by UNESCO in July 2021 for its biodiversity. The area has some of the last remaining large tracts of subtropical rainforest in Asia and clusters of nationally protected mangroves.
There are about 4,000 species, including more than 20 species of animals and plants endemic to the area, such as Ishikawa's frog. Exploring Yanbaru is a great way to spot wildlife, experience tranquil nature, or simply get away from it all.
On Gesashi River, you can take a kayak tour with an expert guide through the mangroves for an up-close look at the many crabs, insects, and birds that call the mud flats and trees home.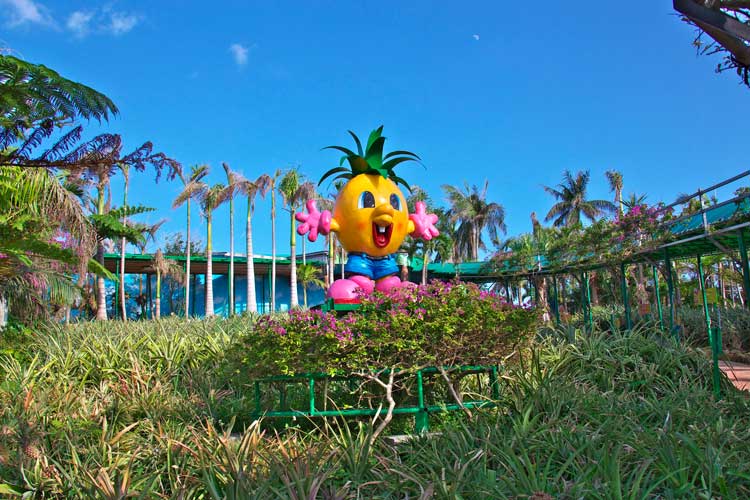 6. Sample Pineapple Wine
Nago Pineapple Park boasts a pineapple winery. Staff manufacture pineapples from across Okinawa prefecture to make delicious pineapple wine and sparkling wine, as well as pineapple vinegar, juice, and health drinks, making it a great spot for foodies. You can also sample fresh pineapple and all kinds of pineapple products.
In addition to tasting experiences, visitors can learn about the variety of pineapple and tropical plants grown on the park. Ride on the Pineapple Train through the fields and gardens or take a stroll along the Skywalk path for a bird's eye view. Children will love interacting with the life-size Pineapple Family: the mascots of the park.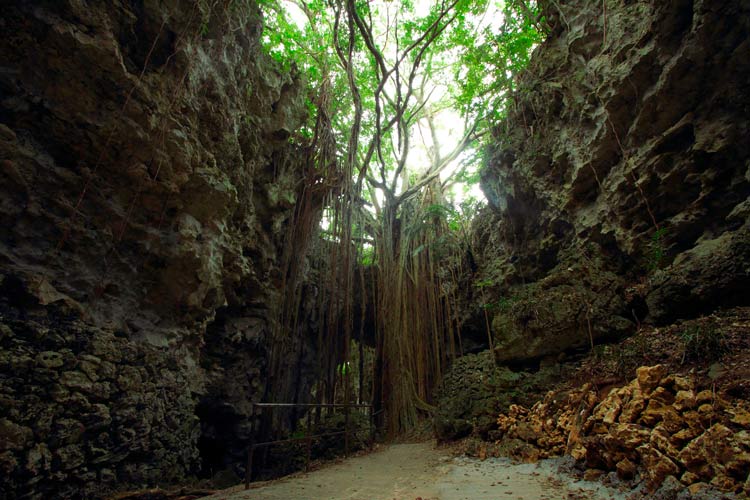 7. Experience Okinawa While You Savor a Coffee in a Limestone Cave
The Valley of Gangala, about 30 minutes' drive from Naha Airport, offers one of the most unique spots for a coffee break. Its aptly named Cave Cafe is situated in a limestone cave formed hundreds of thousands of years ago.
Its yawning mouth brings in the light, which bounces off the many stalactites and stalagmites to form an other-worldly atmosphere. The cold air in the cave is likely to draw you to a hot drink, regardless of the season. Try the signature "35 coffee," which is roasted using coral, and enjoy a chat amid the excellent acoustics.
Guided tours of the ancient valley are available and take about 80 minutes. Passing through the back of the cave, you can see an excavation site where traces of the prehistoric Minatogawa people, the ancestors of the Japanese, have been discovered.
Once outside, the verdant valley opens up, with paths leading to giant banyan trees that are more than 100 years old. The roots of these trees extend from the branches to the ground, creating a dramatic sight.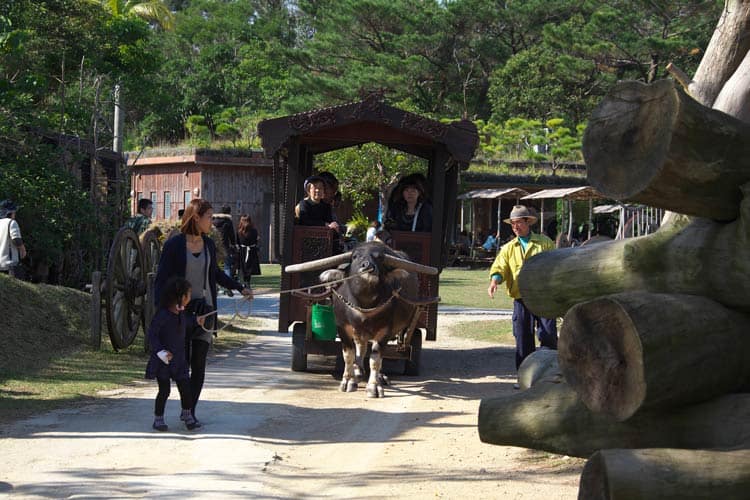 8. Let Water Buffalo be Your Guide
At Bios no Oka, a subtropical forest park, you can ride a cart led by a water buffalo along nature trails designed to showcase the area's rich vegetation. Highlights include the beautiful orchids and subtropical plants.
Visitors seeking more adventure can paddle through the "jungle area" on a canoe or test their skills on the adventure playground, which park staff made using fallen trees collected from the area after typhoons.
With a large open area for picnics, performances of traditional dance, and a petting zoo, this park promises fun for all the family. 

Lead photo by 国営沖縄記念公園(首里城公園)