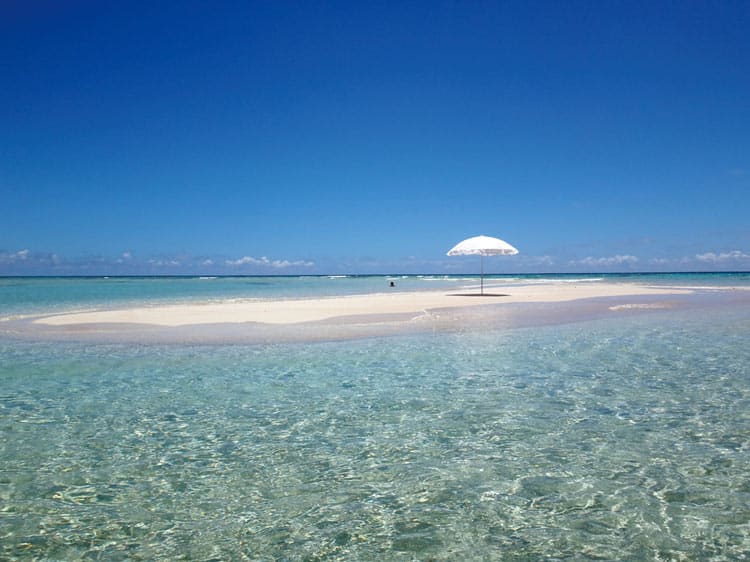 With a sub-tropical climate and a rich traditional culture fusing the cultures of Okinawa and mainland Kagoshima, the Amami Islands offer travelers a truly unique Japan experience. They are a paradise of turquoise seas, pristine beaches and untouched nature while also being home to a lively music scene, delicious local cuisine and a relaxed island vibe.
Visitors can expect to see globally significant flora and fauna, including rare and endangered endemic birds and mammals. Amami Oshima and Tokunoshima—along with Okinawa Honto and Iriomote in neighboring Okinawa prefecture—are currently under consideration as a UNESCO World Natural Heritage Site due to their subtropical forests that boast unique biodiversity. If the 43,000-hectare area is certified, Kagoshima will become the only prefecture in Japan to have two World Natural Heritage Sites.
7 Things to Do on the Amami Archipelago
There are eight main isles that comprise the Amami Archipelago. Here are just some of the remarkable experiences possible on four of them: Amami Oshima, Tokunoshima, Okinoerabujima and Yoronjima.
1. Kayak the Amami Mangroves
Amami Oshima is home to the second-largest mangrove forest in Japan. Covering 71 hectares, the rare ecosystem is formed when freshwater and seawater mix, where the Yakugachi and Sumiyo rivers meet the sea.
One of the best ways to see the mangroves is by kayak. Traverse the labyrinth of channels and get a close-up look at this special protection area located within Amami Gunto National Park.
At high tide, you can paddle right into the heart of the forest. At low tide, a vast tidal flat is exposed, revealing numerous species of crab as well as the barred mudskipper and black heron. The waters are also home to the endangered Ryukyu ayu (sweetfish).
Expert-led canoe tours typically last one hour and depart from Mangrove Park, just over one hour's drive from Amami Airport. Visitors can choose from a one-seater or two-seater kayak and life jackets are provided.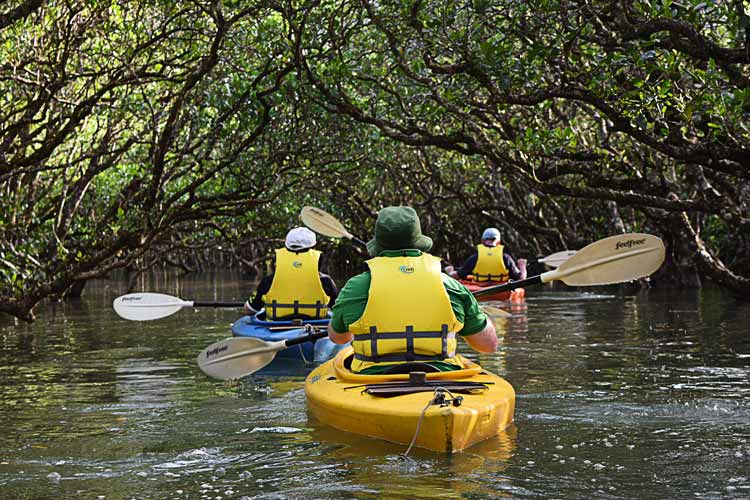 2. Take a Night Safari
Although Amami Oshima is famous as a beachy paradise, about 95% of it is forested. Kinsakubaru Virgin Forest is the most renowned. A primeval forest with subtropical broad-leaved trees more than 100 years old, it is full of wildlife, including rare and endangered creatures indigenous to the island.
Among the species you might see are the Ryukyu spiny rat, Amami jay, Ryukyu robin and Ishikawa's frog, whose colorful pattern has earned it the title of the most beautiful frog in Japan. If you're lucky, you might catch a glimpse of the incredibly shy Amami rabbit, a descendant of an ancient rabbit that once roamed the Asian mainland that Amami Oshima was connected to millions of years ago. Today, the Amami rabbit is found only on Amami Oshima and neighboring Tokunoshima.
As the forest comes alive at night, a great way to experience it is a night safari organized by a local certified eco-guide. Tours last two hours and are available from March to October.
Kinsakubaru is also popular during the day as a spot for shinrin-ryoku, the Japanese art of forest bathing proven to boost physical and mental health. Being under the forest canopy, watching the sunlight glint off the greenery, feeling the breeze and listening to birdsong is sure to promote serenity.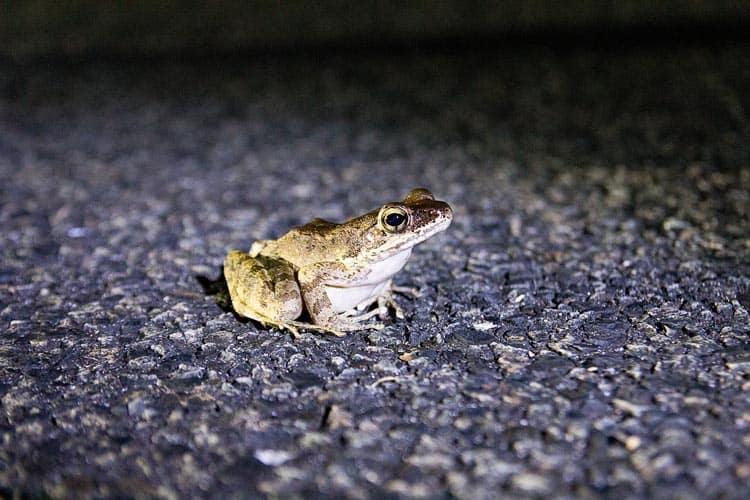 3. Hit the Amami Beaches
Measuring only 23 kilometres around yet boasting more than 60 stunning beaches, Yoronjima is truly a sandy jewel in a vast turquoise sea. This small isle is the most southerly part of Kagoshima prefecture and is accessible by air and sea.
Yoronjima's white sand, clear waters and average annual temperature of 23˚C attract swimmers and snorkelers year round, but the island retains a quiet and laid back atmosphere. Visit the ultimate Instagram-able beach, Yurigahama, which appears only during low tide, for shallow waters and star-shaped grains of white sand.
Further north, Amami Oshima is surrounded by a coral reef, making it popular for snorkeling and diving, too. Tomori Beach, about a 10-minute drive from the airport, has clear waters teeming with aquatic life. Also pristine and easily accessible, at 20 minutes by local bus from Amami city followed by a 20-minute walk, is Ohama Beach.
And, as if beautiful sand wasn't enough, Amami Oshima is also home to a pebble beach said to be a mood-boosting "power spot." When the tide runs over the giant smooth pebbles on Honohoshi beach, local people say the sound created is like a relaxing drumbeat.
4. Get Active
There is no shortage of outdoor activities on the Amami Archipelago and, with mild winters and hot summers, many can be enjoyed all year.
Okinoerabujima has one of Asia's largest cave networks. Join an English-speaking professional guide to explore its 1.2 kilometre illuminated section, where milky white stalactites and sky-blue pools are a feast for the eyes.
Although there are many spots suitable for snorkeling and diving throughout Amami Oshima, Tokunoshima, Okinoerabujima and Yoronjima, the calm Oshima Strait between Amami Oshima and Kakeroma has exceptional clarity. It's a great choice for spotting tropical fish, coral and sea turtles.
Numerous local businesses also offer kayak and SUP rental and experience tours such as a ride over the shallows in a glass-bottom boat, scenic outdoor yoga, and a picnic-BBQ on a deserted beach. Even the adventurous traveler is certain to find something new to try.
5. Make Brown Sugar
Brown sugar has long been important to the Amami Islands. It's believed that the "brown gold" was brought to Amami Oshima about 500 years ago. A local man had set sail for Okinawa but was hit by a typhoon and drifted to China, where he stayed for 18 months and learned how to cultivate sugarcane. On returning home, he brought three sugarcane seedlings, which kickstarted the local brown sugar industry.
Today, hectares of verdant sugar cane wave in the ocean breeze. Every year these fields produce hundreds of tonnes of brown sugar, which despite the name, ranges from soft white to brick-red to hard black varieties. With a high nutritional value and a sweet, slightly nutty flavor, brown sugar is hugely popular and features in many local snacks and treats.
One of the places to try making brown sugar from sugarcane is Minpaku Mura, a café, accommodation and glamping site in a sleepy coastal hamlet near Naze. Run by Rika and Teri Hisai in Teri's ancestral home, the facility hosts small groups to try the entire process, which takes about one hour. Teri's secret to success is adding some peanuts in the final step, which results in crunchy brown sugar snacks.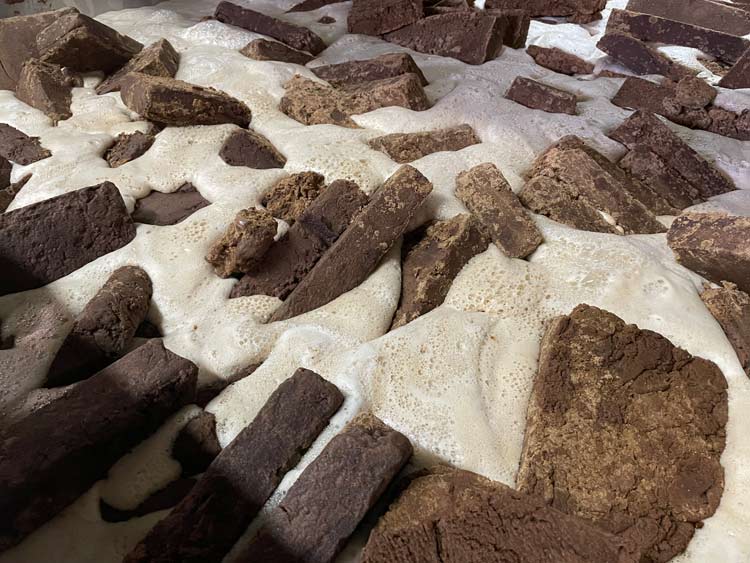 6. Sample the Amami Alcohol
With such love for brown sugar, it was perhaps only natural for local people to leverage it to make alcohol. In a production process found only on the Amami Islands, raw brown sugar is extracted from sugarcane and added to rice malt and water to create kokuto shochu.
Across the Amami Archipelago, there are about 25 distillers making 170 varieties of the local tipple, which is typically enjoyed on the rocks or mixed with water: in either cold, hot or carbonated form.
Amami Oshima Kaiun Shuzo produces three main kokuto shochu varieties, including Lento, which is matured by playing Mozart, Beethoven and Vivaldi in the tank in a process called acoustic aging, and Beni Sango, which has notes of chocolate and coconut.
Also on Amami Oshima is Yayoi Shochu Jozosho. Founded in 1918 by the first honorary citizen of Naze, this distillery produces its namesake Yayoi, which can be split with water, carbonated water or tea.
Kokuto shochu is known locally as the treasure of Amami Oshima and you will find no shortage of helpful people in restaurants and bars who can advise you how best to enjoy it. Meanwhile, for a behind-the-scenes look at production, both distilleries offer tours.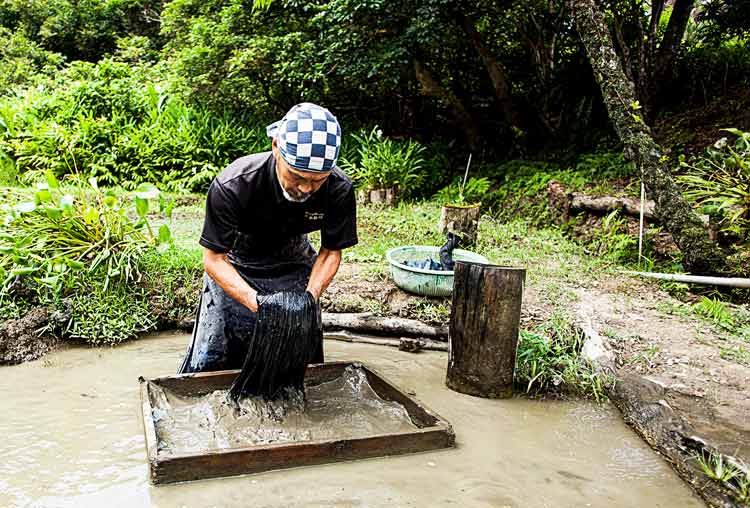 7. Watch Kimono Artisans
What better way to learn about the process of making a local Oshima tsumugi kimono than watching its creators at work? The kimono's sightseeing village, which is about 20 minutes drive from Amami Airport, is housed in a tropical botanical garden where visitors can see the production process that remains unaltered from 1,300 years ago.
First, craftspeople make intricate patterns on silk which is then dyed using extracts from the local Japanese hawthorn tree. Next, the material is dyed in iron-rich local mud before being hand-weaved at a rate of about 30 cm a day. The result is a unique grey-black kimono that is much prized in Japan for the care taken to create it.
Try the dyeing experience at the village to bring home your own souvenir or marvel at the artisans in their painstaking work.
Getting to the Amami Archipelego
The Amami Archipelago stretches over a vast swath of sea some 380–560 kilometres from Kyushu, making it well off the beaten track. Yet, you can get to many of its main islands in about two hours by plane from Tokyo or an overnight ferry from Kagoshima city, making them still highly accessible and well worth the trip.

To plan your visit, read more information on travel in Kagoshima.
Lead photo by KPVB