At the start of the Japanese rainy season, I was where most people wouldn't want to be: outside. Not between trains or on a cigarette break kind of outside either.
I was in a forest – a lush, misty, ancient woodland blanketed by a fairytale appropriate amount of moss and fern. All of which were made more vivid by the ever-falling drizzle.
My rain jacket had me soaked inside and out in that subtropical, early summer heat, but what did I care? I was in a fantasy world. I was in the middle of a medieval cedar forest on Yakushima – a remote, World Heritage Island between Okinawa and mainland Japan.
Getting to Yakushima Island
I was full of that freedom feeling. I'd just clocked out from my last day of work before a ten-day holiday. Having recently relocated to west Japan from the United States, I was ready to explore my new home.
I'd become aware of Yakushima from various UNESCO guides and a Sigur Rós music video. Also, and, maybe most popularly, as the inspiration for Hayao Miyazaki's Princess Mononoke.
I wanted to scratch a big one off my bucket list right from the start. I pinned its value not only to undoubtedly be an amazing trip but also for how difficult it would be to get there.
Yakushima has a small airport with infrequent flights from the mainland. But I didn't want to pass up the opportunity to visit Sakurajima before taking an early morning, four-hour cruise to Yakushima. Sakurajima is an active volcano just outside of Yakushima's prefectural capital city of Kagoshima.
Kagoshima is the southernmost prefecture of mainland Japan. Its coast borders Kagoshima Bay where ferries leave Kagoshima City daily to the neighboring southwest islands. Some of them go as far as Okinawa.
While there are faster, more expensive jetfoil ships that make it to Yakushima a few times a day, I wanted to take my time and lose myself in the early morning open sea while admiring the distances flying fish manage to glide. At least this is what I told myself in order to better manage my funds.
A Beautiful Arrival
A morning departure turned into an afternoon arrival at one of the most beautiful port pull-ins I'd ever witnessed. The view from the hull was mesmerizing. Moreover, jumping off the boat and into the nearest information center felt more like arriving at a national park than a place where over 12,000 people call home.
The cedar-covered mountains are difficult to see beyond. But it's clear even from the ship deck that most of the island belongs to the flora and fauna. That's why I was there: to get lost in the stuff I'm made of.
Did I mention I was staying at my first hostel? Add that to the adventure list. With limited lodging on the island and this whole experience being a big last-minute impulse, I booked a bed for two nights at Tomarigi. It's a biker's lodge full of expressive trekkers, travelers, and accommodating felines.
A Warm Japanese Welcome
An hour with the owner and I was convinced she'd never made an enemy in her life. She was welcoming, lively and quick to make a soft racial joke when the language barrier got too thick.
It was about my having the same skin color as her snow-white cats. She was a tie-dye angel, and she helped me plan my hiking route with a light but passionate seriousness molded from experience.
Before I could blink, I was rounded up by frequent bunk-warmers like family. Even before the arriving biker's dust had settled, a BBQ was going up and I was the guest.
I had planned a dawn start the next morning, but I was handed glass after glass of overflowing shochu (similar to sake). "Where are you from?" I was asked again and again, often by the same people as the night went on.
I knew that was about the only English they knew just as they knew it was about all I could answer in Japanese. The boiling meat and the clinking of glasses were what all brought us together. No deep conversation was necessary.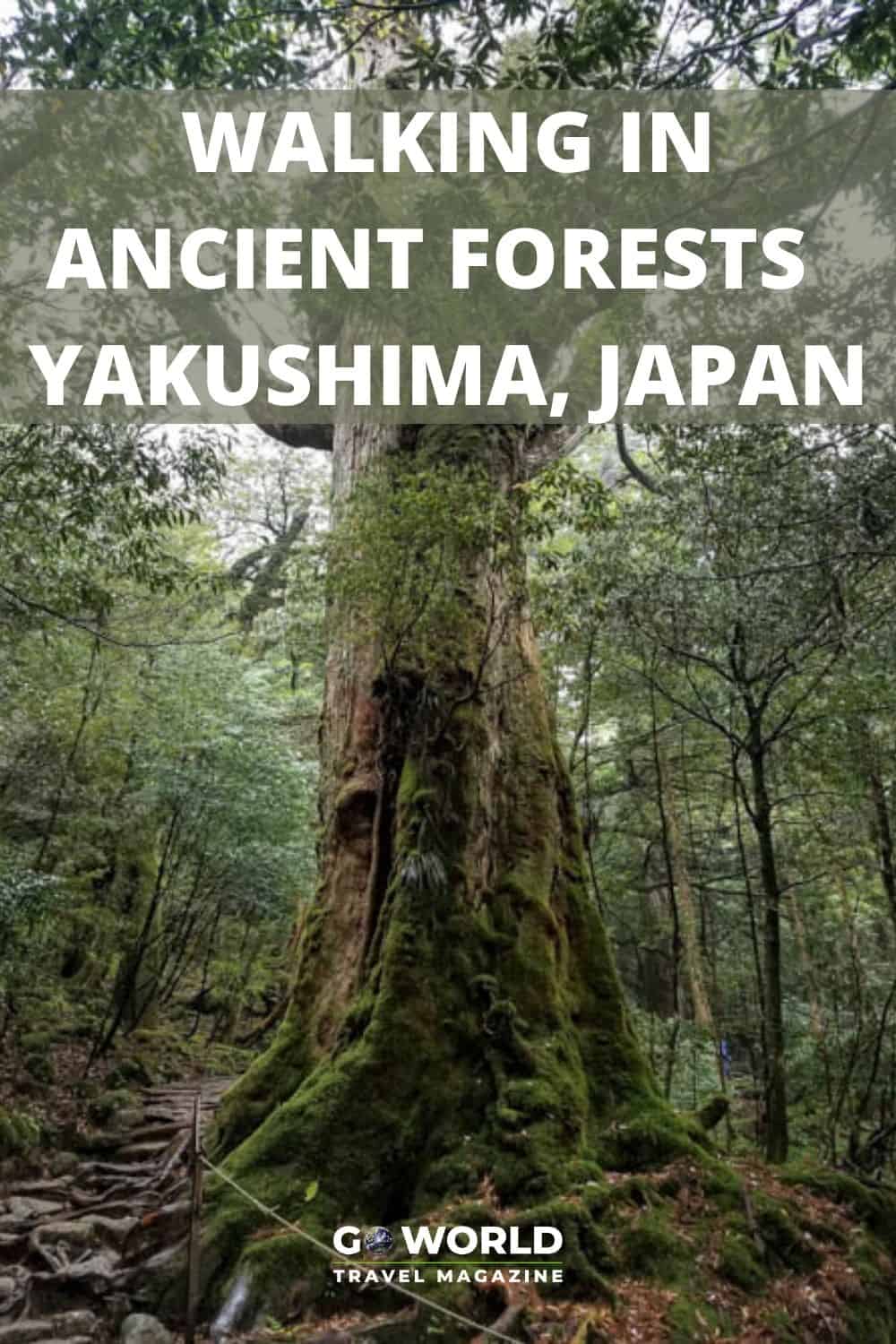 Meeting the Woods
I was up on time, dry-eyed, dizzy, and a tad regretful. However, feeling like I was about to head on an arctic expedition. I didn't even notice the morning downpour until my gear was on and I was already out the door. "Part of the experience," I muttered to myself, and I was too right.
The mist from the bus window that was to take me up the mountain gently petted the hills below. I was heading to the Shiratani Unsuikyo Ravine to get a glimpse of the emerald forest.
Hike Through Ancient Forest
The hike can easily be completed in a day and leads to a lookout boulder that offers spectacular views of the inner forests from above. Along the way, various significant sugi (cedar trees) are labeled and almost demand an undivided glimpse.
Trees like the "Nanahonsugi" tower above their neighboring saplings; covered in a thick moss or sometimes thousands of tiny ferns. Their worn, bright barks shine through the mist and tell stories of ages gone by – unaffected. Growing for growing's sake.
Many of these trees can be stepped into or even through like the "Kugurisugi" found an hour or so into the trek. It's sometimes difficult to move beyond these old giants unsure of whether or not you've learned enough from them. Many of them seem to be in the forms of mythical monsters or woodland spirits – appropriate for the Shinto of Japan.
Aside from the trees, the woods are full of waterfalls, colorful insects, swinging macaques, lackadaisical deer and several unique flowers species. One such flower was the Yakushima rhododendron which often bloom after most peak sakura (cherry blossoms).
These flowers, often white or pink, look similar to cherry blossoms but invade the forests with their contrasting colors. The evergreen backgrounds make it easy to spot bright blossoms and pleasingly so.
A Reawakening
The mood changes for part of the return hike. You'll start to discover smooth, seemingly barkless trees many of which appear tangled and twisted. Some of them are dark both in color and attitude as a potential antagonist from Fern Gully. In fact, many of the trees of the forest appear uniquely describable.
Sections of the course remain in your mind like portraits. Each scene can birth a mix of euphoria with an old, familiar song or the memory of a loved one. It's an immersive beauty that could pull a public scream from even the most reserved.
I found a bit of that feeling on that day. It's a sort of reawakening – a clearing of the brain fog left by staring at cell phones and belittling ourselves in the mirror. It may not produce anything that could be labeled as a miracle, but a morning in a place like that could pull just about anyone from their phone glow.
Feeling the Magic of Yakushima
Back at the hostel, I ran into an older local gentleman with who I bonded over a brief conversation about Dave Brubeck. He was a sax player and had spent fifteen years in and out of several corporate English learning centers in Kagoshima City, so he spoke my language fairly well.
I asked him why he decided to give up his job back home and move to Yakushima to work in a rental car shop (a booming business on the island as one can imagine). He said, plainly, "I want to hike every day. I love hiking, and Yakushima is a hiker's paradise."
Not only was he right, but what that really means is that Yakushima is an explorer's paradise – a place for anyone searching for anything within themselves.
Walking among the plants and animals of the island is a form of meditation, and there couldn't be a better way to uncover the inner answers of a plagued mind. I analyzed just this on the boat back to the mainland, and I've been a self-proclaimed amateur trekker ever since.
I've become a lot of things since that day, and the trees told me that it was all okay and always would be.
Book This Trip
Start planning your adventure to Yakushima today. Start preparing with hotel and VRBO reservations, local restaurant reviews, and tips on the best sights to see with TripAdvisor and Travelocity.
Check out flights, train tickets and ground transportation options throughout the area at the ultimate rates through OMIO Travel Partner.
Author Bio: Richie Henry is a southern Mississippi native living and working in central Japan as a high school teacher. His passions are music, literature, photography, hiking, and experiencing as much of the world as he can. He can also be found at unfilteredasia.webnode.com.