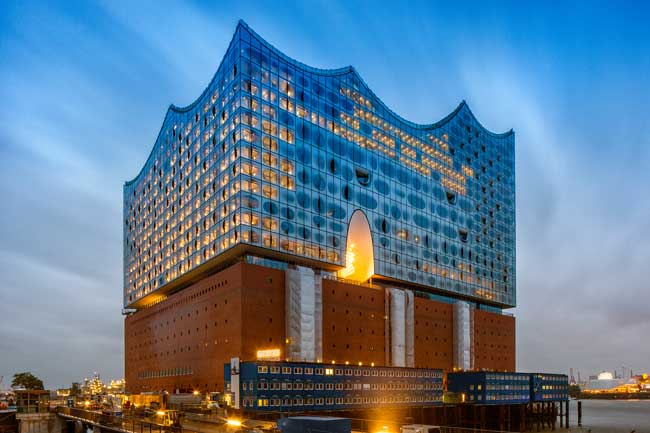 The Grand Glass Concert Hall Stands
If you build it, they will come. That's the idea behind the brand new Elbphilharmonie in Hamburg.
The grand glass concert hall stands tall on the Elbe River, a vibrant statement of Hamburg's position as a top European city, and a destination that should not be missed.
The long-awaited Elbphilharmonie in Hamburg, Germany opened in January 2017 after years of cost-overruns and delays.
But the wait seems to have been worthwhile, because tickets have been snatched up like gold. More than 30,000 tickets for the spring season sold out in half an hour.
While Sydney's opera house has become an iconic symbol of that classic city, Hamburg hopes its new concert hall will do the same.
Designed by Swiss architectural firm Herzog & de Meuron, the Elbphilharmonie – or Elphie, as she is nicknamed – resembles waves, a reflection of Hamburg's maritime character and long history as a port town.
Built on a former warehouse and surrounded on three sides by water, the Elbphilharmonie has redrawn Hamburg's skyline.
The structure is the tallest building in Hamburg and is easily seen from miles around.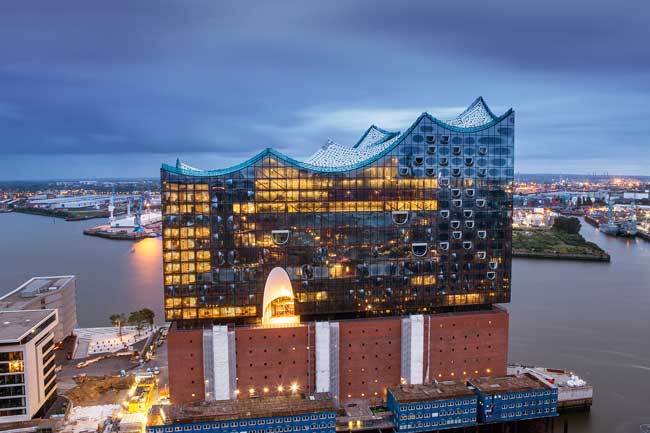 Visiting Hamburg
With a population of more than a million, Hamburg doesn't need such a landmark to boost its stature in Germany and Europe.
After all, it is the 3rd largest port in Europe. The city's stately homes and abundance of global companies reflect Hamburg's status as the wealthiest city in Germany.
Hamburg is a popular destination for Scandinavians and other Europeans, but when you step past Europe, many travelers are unfamiliar with Hamburg.
Americans flock to Oktoberfest in Munich and many visit Berlin. Yet many miss Hamburg, which is just 90 minutes from Berlin by train, and a perfect add-on for those exploring Germany.
The Elbphilharmonie hopes to change that, and will help introduce Hamburg to the world.
The grand structure, covered in more than 5,800 glass panes, houses three concert halls, a Westin Hotel, 45 apartments, and a range of places to eat and drink.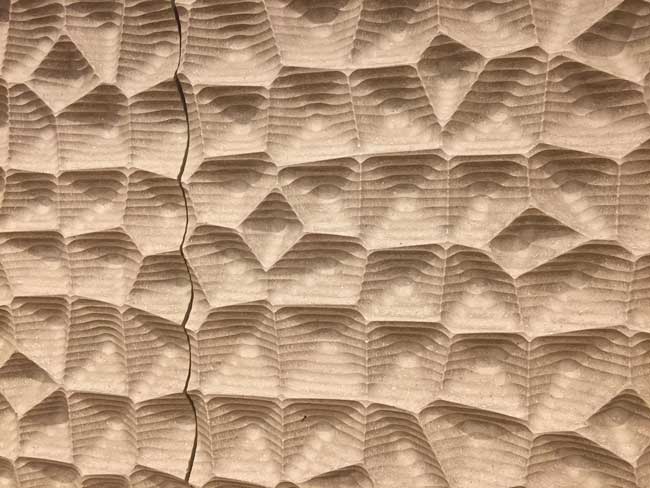 Elbphilharmonie Concert Hall
Elbphilharmonie is one of the most acoustically-advanced concert halls on the planet.
The venue's White Skin refers to 10,000 individually shaped gypsum fiber panels that cover the walls.
Developed by internationally renowned acoustician Yasuhisa Toyota, this special wall and roof structure ensures every corner of the concert hall receives perfect sound.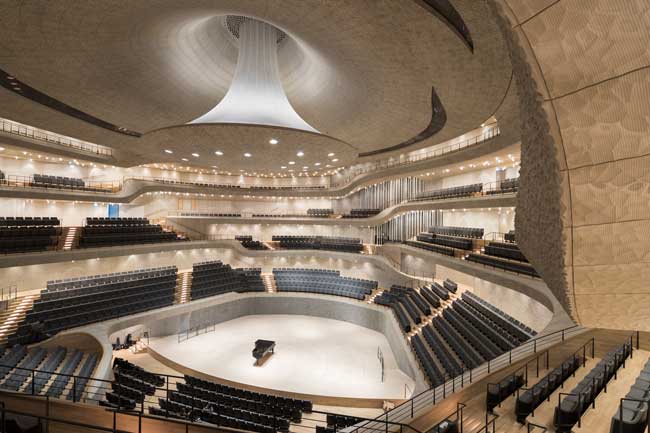 How to Attend a Concert at Elbhilharmonie
The introductory season is already sold out, so visitors to Hamburg should plan their trip well in advance to obtain tickets.
Each season will be announced in April, and tickets go on sale in June. Information and tickets can be found at elbphilharmonie.de/en
Concerts for Hamburg is a special series of one-hour concerts designed especially for the local market.
Tickets are affordable, and the traditional concert dress code is ignored. Performances cover a wide variety of genres, from symphonic to jazz to large-scale operatic works.
Even if you don't attend a concert at Elbphilharmonie, the concert hall's plaza is open to all.
Due to popularity, free tickets are needed to ride the 80 meter-long escalator to the plaza viewing platform.
Free tickets to visit the plaza are available at the Elphilharmonie's Visitor Center at Kaiserkai 62 and near the Elbphilharmonie entrance.
You can pre-book a plaza viewing ticket at Elbphilharmonie.de/en/plaza for a €2 charge.
The Elbphilharmonie is the second of Hamburg's two grand concert halls. Laeiszhalle, an historic venue which opened in 1908, also has a full calendar of concerts and events.
Hamburg's music scene includes three professional orchestras, several solo and chamber ensembles and a wealth of jazz, rock, pop and contemporary artists and composers.
From Brahms to the Beatles
Hamburg's tradition in music runs deep. Composers like Johannes Brahms, Gustav Mahler, and C.P.E. Bach were born and worked here.
The Composers Quarter, opened in 2015 near St. Michael church, highlights the life and works of many of these music greats.
Museum guests receive headphones with commentary in multiple languages to augment the displays.
The city's best known musicians, however, might just be the Beatles. John Lennon once said: "I was born in Liverpool, but I grew up in Hamburg."
The English band were teenagers and still in obscurity.
When they first performed in some of Hamburg's now famous nightclubs from 1960 to 1962, helping to establish Hamburg's legendary live music scene.
Hempel's Beatles Tour takes visitors to some of the Fab Four's key locations in Hamburg.
Stefanie Hempel, a local Beatles expert, offers insight and stories that bring the Beatles to life.
A trained musician, she can also belt out their music, adding to the Beatles nostalgia.
Hamburg's live music scene continues today as many young newcomer and established bands play at nightclubs in the Reeperbahn at the St. Pauli quarter of Hamburg.
When the Beatles first played clubs in St. Pauli, the area was best known for prostitution. Today, St Pauli is Hamburg's top entertainment district, with many bars and night clubs.
Speicherstadt
Music is not the only reason to visit Hamburg. The city's diverse neighborhoods offer a wide variety of experiences to travelers.
One of the best ways to view the city is by harbor cruise.
Cruises showcase the port and harbor, and journey through the canals of the Speicherstadt warehouse district, a UNESCO World Heritage Site that has now become a hip neighborhood for restaurants, shops and attractions.
One of those attractions is Miniatur Wunderland, one of the world's largest miniature railway attractions.
Iconic destinations from around the world come to life in miniature here, with working trains, boats, cars and even planes.
The attention to detail is mind-boggling, so time is needed to explore each room.
Coffee lovers congregate at Rösterei Burg, also in the Speicherstadt warehouse district. Hamburg's warehouses were once filled with coffee and tea bound for homes across Europe.
The custom coffee roaster honors that tradition with its coffee shop, store and coffee museum. Daily tours detail where coffee comes from and how it's roasted.
There's even an impressive collection of coffee making equipment from throughout the decades.
The Wasserschloss is just steps from Rösterei Burg.
As its German name suggests, the grand building does indeed look like a small castle surrounded by moats, and houses a restaurant specializes in contemporary and traditional German cuisine.
Downstairs is home to an extensive tea shop.
HafenCity and Beyond

While Speicherstadt reflects Hamburg's historic roots, HafenCity is a look into Hamburg's future. HafenCity, where the Elbphilharmonie is located, is Europe's largest inner-city urban development project.
What was once a harbor zone will become mixed use housing, offices, shops, restaurants and more.
It will be interesting to watch this area of Hamburg grow. Completion is estimated for 2025.
Other must-see Hamburg experiences include a Sunday morning visit to the Hamburger Fischmarkt (Hamburg Fish Market), where market barkers offer good-natured insults and try to out yell other vendors, creating a cacophony of sound that visitors and locals enjoy.
The market is just a few minutes from the bar and club scene at the Reeperbahn. It's a treasured Hamburg tradition to visit the Fish Market for a fish sandwich at the end of a long night out on the town, so don't be surprised to see some late-night partiers winding down.
If the weather is nice, follow the locals to Alster Lake, the city's favorite playground for biking, kayaking, walking and sailing. Lake cruises are a fine way to spend the afternoon in this world-class German city.
Where to Stay in Hamburg
Hamburg has a wide variety of hotels to choose from. The Elbphilharmonie is home to the 244-room Westin Hamburg Hotel.
Another popular option is the Park Hyatt Hamburg, a 5-star property located in the historic Levantehaus building in the heart of the city near Mönckebergstrasse, one of Hamburg's main shopping streets.
The Park Hyatt Hamburg is known for its Hansiatic elegance, its extensive spa and Apples, a top restaurant that locals also frequent. The hotel's 283 rooms are large, with warm cherry woods.
The luxury bathrooms include heated floors, large tubs and showers which have both hand-held and Japanese-style rain showers. It's a peaceful place to rest after a busy day out exploring Hamburg.
If You Go
Getting to Hamburg
Hamburg has an international airport with direct flights from many international destinations and throughout Germany.
The train from the airport to Hamburg's Hauptbahnhof (central station) takes 25 minutes.
Getting around in Hamburg
The easiest way to get around Hamburg is by using the public transportation.
The Hamburg Card includes all public transportation (even the train from airport to Hamburg's central main station), as well as discount admissions to 150 attractions and restaurants.
It is available from Hamburg Tourism at hamburg-travel.com.
Hamburg Tourism Information
hamburg-travel.com
Author Bio: Janna Graber has covered travel in more than 48 countries. She is the editor of three travel anthologies, including "A Pink Suitcase: 22 Tales of Women's Travel," and is the managing editor of Go World Travel Magazine (www.goworldtravel.com).