Depictions of mining gold in Colorado's past mingle with concrete and wood in today's modern design materials at Hotel Indigo in downtown Denver's Union Station neighborhood.
As with all Indigos in the InterContinental Hotels Group, this hotel incorporates the culture, style and history of the city in which it resides. So besides being in an historic section of Denver close to where gold was discovered in 1858, the hotel's decor invokes Colorado's gold mining days in the form of photos, both in frames and on murals. A huge art installation is striking in the large rotunda part of the lobby. The wood and steel sculpture is a fine example of Denver sculptor Norman Epp's "conceptual realism" style.
Guests checking into the hotel are greeted by Barkly, a lovable ambassador who hangs out in the lobby. When we arrived, though, he was taking a snooze (he's 13 years old, after all), but he's still a reminder that Indigo is one of the best dog-friendly hotels in Denver. Every dog 40 pounds or less is welcomed for an extra $100 per stay (refundable if Fiddo is a "good dog.") A Break with Barkley Package (extra fee) includes treats and food along with a bed and a bowl, and his owners get a map of the closest urban parks and dog-friendly patios. Barkly's hotel even hosts a canine cocktail hour and offers dog-walking services for additional fees.
Rooms at Hotel Indigo
A large black-and-white mural of a Colorado mountain scene graces the wall opposite the elevators on every floor.
In the hallways, wallpaper depicts bank notes used by the miners during the gold rush days. Bright red stripes liven up the grey tones of the carpet. In all, the hotel has 180 guest rooms, including eight suites and 13 accessible rooms on four floors.
In our king room, a grey-toned scenic mural behind the bed tries to soften the bleak effect of exposed concrete walls and ceiling. The sleek minimalist design may be trendy and efficient, but it lacks warmth and coziness. An uninviting hard wooden bench, metal nightstands and a long desk are the only other furniture. No drawers. On one wall a grey stylistic painting of a deer complements the Rocky Mountain theme, but even the animal looks sad. There's a mini fridge and a one-cup coffee maker; an iron/ironing board in the tiny closet barely 18 inches wide. WiFi is complimentary throughout the hotel.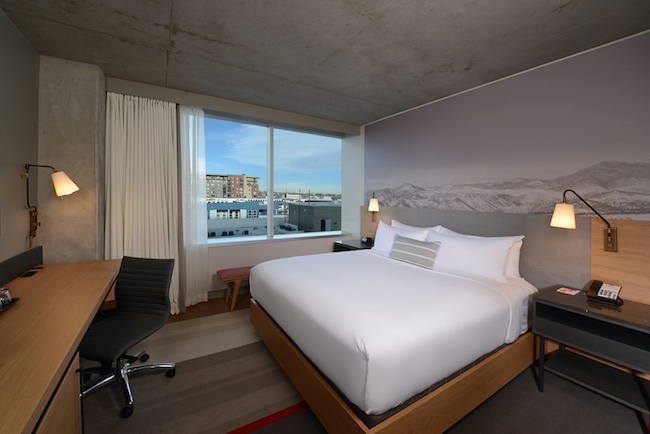 The one-sink bathroom with a glass-enclosed shower is tight. The shower door is too close for comfort to the person using the sink (think bumping butts!).
Dining at Hotel Indigo
The industrial look carries over to the restaurant called Hearth & Dram. It's an cavernous space with concrete floor, exposed heating ducts and floor-to-ceiling windows with city views. An open kitchen bustles with chefs working over a seven-foot wood oven. Don't sit near the kitchen; the fan is as loud as a jet engine!
Opposite the kitchen, the long bar boasts a collection of more than 360 whiskeys, harkening back to the miners and their drink of choice. But you have a choice from an iPad menu full of custom cocktails, local brews and small-production wines.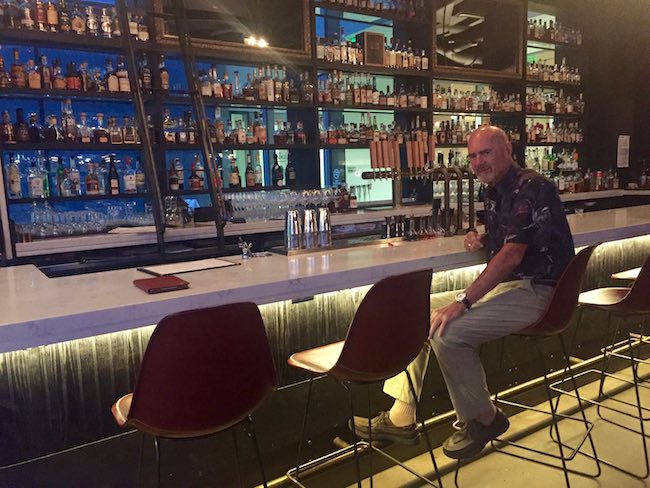 The menu skews toward meat entrees (a dry-aged ribeye for 1-2 people is $85), but I found a delicious pappardelle pasta with shiitake mushrooms and summer squash laced with a light cream and hazelnut oil sauce.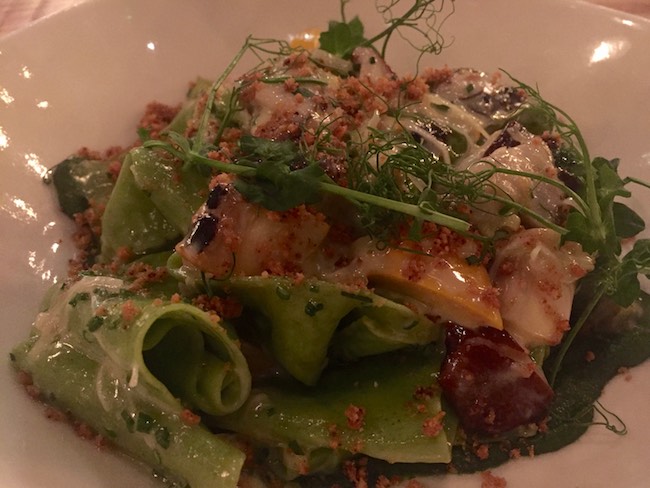 Larry devoured a roasted king salmon on top of wax beans with fennel and beet vinegar.
Breakfast offers twists on standard fare plus a few Mexican dishes like crispy huevos rancheros and breakfast burritos.
Meeting at Hotel Indigo
Three streamlined meeting rooms take care of business on lobby level. There's also a business center open 24/7. Valet parking is $32 per day.
A spacious fitness center with the latest equipment looks out over the city.
What to do in the area
Downtown Denver is a delightfully walkable city, with restaurants, museums, attractions, theatres, shops, sports venues, convention center and state capitol all within a short walk or free shuttle ride from the hotel. Click here for a complete list.
Hotel Indigo is in the bustling Union Station neighborhood, steps from the train to Denver International Airport and a few more to the light rail station for access to the 'burbs, Broncos stadium and Pepsi Center. It's also close to the 16th Street Mall where you can hop on a free shuttle to the Convention Center and entertainment district or walk to Coors Field and the bars and restaurants of the gentrified warehouse district of LoDo.
Hotel Indigo Denver Downtown, 1801 Wewatta Street, Denver, Colorado, 80202, U.S.; 303-623-4422; www.indigodenver.com.
Claudia Carbone is an award-winning travel writer based in Denver. Read about other hotels she's visited in Sleepin' Around.