It's perfectly legal to be naked in Arkansas' Hot Springs National Park. Yes, you read that right – the caveat being as long as you're in the Buckstaff Bathhouse.
Simply don your birthday suit and soak your troubles away when you visit this historic bathhouse within one of the most unique national parks in the country.
Bathing History in Hot Springs Arkansas
Hot Springs Arkansas was essentially America's first national park, predating Yellowstone by forty years. President Andrew Jackson viewed the mineral waters in this area as a coveted natural wonder. In 1832 he deemed the land protected, designing it as the first federal reservation.
This was the start of the Golden Era of Bathing when such waters were thought to have medicinal properties. The ailing, encouraged by their doctors, flocked to them for relief from a variety of conditions.
At first, the bathing facilities were rustic. But eventually, the waters' healing reputation combined with laws necessitating more sanitary and fireproof buildings, mandated changes.
The new accommodations had to suit the destination's nickname, "the American Spa," and were thus appropriately opulent and imposing.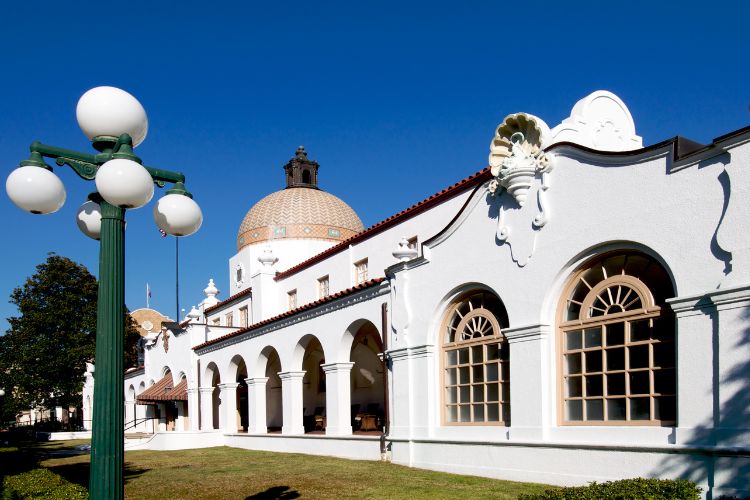 Bathhouse Row
Today, visitors can stroll down historic Bathhouse Row right in the heart of the town of Hot Springs. Eight ornate buildings, each with a different architectural style, are the marquee attraction in the National Park. They were constructed between the years of 1892 and 1923 and include Fordyce, Buckstaff, Quapaw, Lamar, Superior, Hale, Ozark and Maurice.
Stop in at the Fordyce Bathhouse first. This striking Renaissance Revival-style building now serves as the park's Visitor Center and museum. You can take a self-guided tour through all three levels of the place to see what a bath experience was like back in the day.
Special bathing and medical equipment, an exercise gym, dressing and massage rooms and more are on display. In addition, there are beautiful stained-glass skylights and ceilings, mosaic floor tiles, statues and marble fixtures.
As you read the informative signs, you'll learn that a typical day at the bathhouse in the 1900s-era involved the following. First, soaking in a tub while an attendant scrubbed your back, arms and legs. Then being wrapped in hot towels.
Next, a few minutes in the steam cabinet followed by a dip in the sitz bath (think of a bidet for your rear end – reportedly good for soothing hemorrhoids.) Finally, the needle shower, where pressurized jets hit you with water all over your body.
Oh, and depending on your needs, you might also get to spend time in a special hydrotherapy bathtub. This is where an attendant would stick an electric probe in the water, issuing shocks to supposedly relax your tense muscles or activate nonfunctioning ones.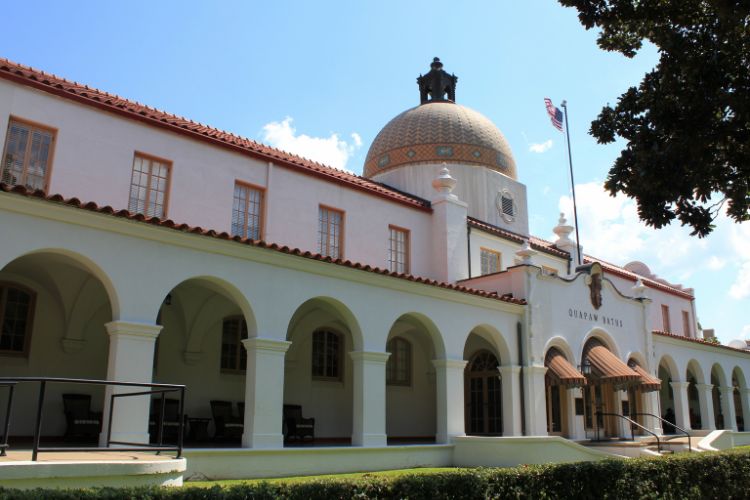 Soaking Opportunities – Traditional vs Contemporary
If you're interested in soaking in one of the bathhouses during your visit to Hot Springs, you have two choices, Buckstaff or Quapaw. For an authentic experience book a reservation at Buckstaff, the oldest, continuing bathhouse in Hot Springs, dating back to 1912.
At Buckstaff swimsuits are optional and men and women use separate facilities that include a soak, a hot towel wrap, a steam cabinet and sitz bath.
For something more contemporary, head to Quapaw and soak in the coed communal mineral pools (swimsuit mandatory) or get your own private bath. Better yet, opt for The Quapaw package, which features a private bath, massage, foot conditioning and scalp massage.
Lamar Bathhouse is now Hot Springs National Park's gift shop. Meanwhile, Ozark is the park's Cultural Center and displays artwork from the park's Artist-in-Residence Program. Hale is now a luxury hotel and Maurice is currently vacant.
Grab a Beer at the Only Brewery in a National Park
Superior Bathhouse, on the other hand, is home to the only brewery in a United States National Park. Furthermore, it is the only in the world to use thermal spring water to make its beer.
Get a flight of four or take a "beer bath" and sample all eighteen craft beers on tap. Or try one of the famous root beer floats, also made with spring water.
Get a Taste of the Water
You can also drink the thermal water at one of the town's "jug fountains," free of charge. They are hard to miss as that's where you'll typically see the locals lining up to fill their bottles. The public consumes a whopping 700,000 gallons a day and many swear by the water's positive effects.
As I waited my turn to fill my personal container, one man told me since he's been drinking the water, he feels better and gets sick less often. "It's really good for you," he said.
See the Hot Springs Bubble Up From the Earth
Check out nearby Hot Water Cascade on Arlington Lawn to see the water exit the earth. This is the largest visible spring in Hot Springs National Park.
The water emanates from the hillside, flows under a path, down a cliff and into two pools. Steam rises, letting you know this stuff is hot. How hot, you ask? 143 degrees Fahrenheit to be exact.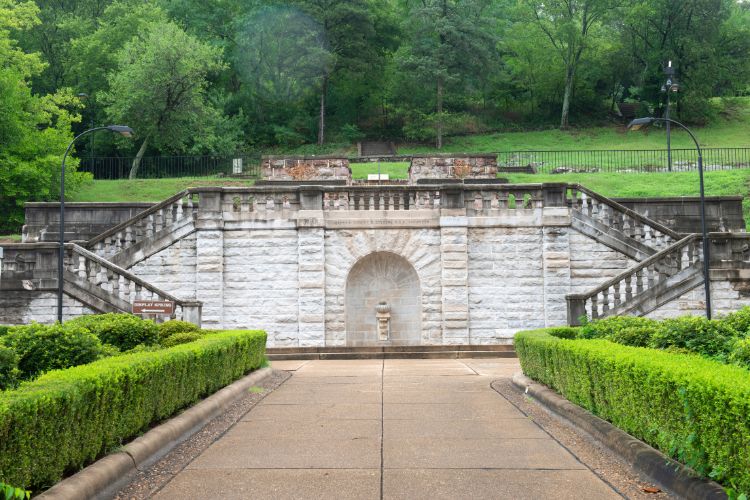 Famous and Infamous Visitors to Hot Springs Arkansas
Some famous visitors came to Hot Springs years ago to experience the purported curative powers of the thermal waters. Among them were numerous notable gangsters, outlaws and Major League Baseball players. The infamous figures, in particular, were attracted to the area for a couple of reasons.
One,  because of its reputation as a wellness mecca. But also, because there was plenty of entertainment available at the gambling establishments, clubs and brothels. Pick your vice.
Hot Springs offered Las Vegas amenities before there was even a Las Vegas. Most importantly, these men knew that the town officials and police often looked the other way when it came to questionable activities.
The gangsters were welcomed and their actions were tolerated because they spent lots of money during their visits, were friendly to the locals and some even engaged in charitable endeavors.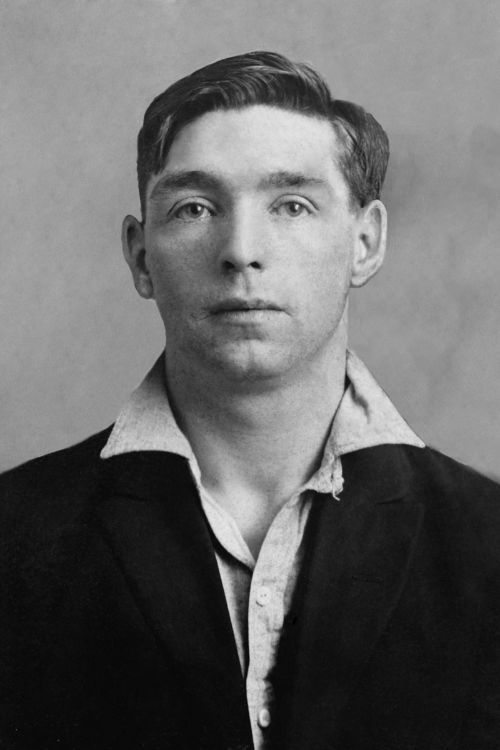 Take a Tour of the Gangster Museum
To find out more about the underworld presence in Hot Springs, join a guided tour at the Gangster Museum of America. You'll hear fascinating stories about how some of the most notorious criminals in the country rubbed elbows with the residents of this little valley hamlet in the Arkansas mountains.
The museum has seven galleries, each with audiovisual experiences, photos and artifacts. The Madden Gallery, for example, focuses on Owney "The Killer" Madden. He was a big player in NYC who amassed a fortune from several enterprises, including the Stork Club and the Cotton Club.
However, after serving a stint in Sing Sing, Madden was told in no uncertain terms that he was no longer welcome in New York State. He subsequently moved his wealth and skills to Hot Springs. Here he sought a slower lifestyle while helping to build an even bigger illegal gambling operation.
Although Madden was regarded as one of the toughest criminals among his peers, he also had a reputation as being one of the most generous. And the town of Hot Springs was a recipient of this largesse.
As an example, Madden constructed the biggest Boys and Girls Club in the state of Arkansas at the time. He also purchased uniforms for the high school band and made many contributions to churches and other organizations.
The Power Brokers Gallery is an exposé on the political machine that helped create the largest illegal gambling operation in the country.
At its helm were then Mayor Leo Patrick McLaughlin and Judge Verne Ledgerwood, who "organized" the town and kept it under their iron grip for twenty years.
Al Capone Gallery
Al Capone gets his turn in the spotlight in a gallery of his own. Though a feared crime boss in Chicago, Capone was known to be an amiable guy and generous tipper during his regular visits to Hot Springs.
He considered the town to be an enjoyable vacation spot, as well as a safe hideout due to its secluded location and "agreeable" police force. He would always bring an entourage with him of up to forty people.
The New York Connection Gallery showcases the many gangsters from NYC who came to Hot Springs, often under the auspices of seeking advice from Owney Madden. They included crime bosses Lucky Luciano, Meyer Lansky, Frank Costello and Ben Siegel.
The Outlaw Gallery introduces some new players to the scene. Alvin Karpis and the Ma Barker gang, Bonnie and Clyde, Jesse James and Frank "Jelly" Nash, all passed through the area, seeking a place to hide out when the heat was on.
Baseball History in Hot Springs
As for those baseball players I mentioned earlier, they came to town for spring training. Hot Springs is known as the birthplace of Major League spring training.
Between the late 1800s through the middle of the 20th century, it hosted more than 300 professional ball players. Included on this roster were Hall of Famers Babe Ruth, Cy Young, Jackie Robinson, Ty Cobb, Honus Wagner and Hank Aaron.
It all started in 1886 when the Chicago White Stockings, now the Cubs, went to Hot Springs to "boil out the winter." The team held practices on a makeshift field and the players "took the waters" to soak any ailments away. When the White Stockings went on to win the National League's pennant that year, other teams paid attention.
Check Out the View
For a picturesque view of Hot Springs and its environs, hike the 1.5-mile trail from town or take the scenic drive up to Hot Springs Mountain Tower. An elevator transports you 216 feet to the observation decks.
Here, at an elevation of 1,256 feet above sea level, you'll overlook 140 square miles of the surrounding countryside, including the entire National Park and part of the Ouachita Mountains.
The lower deck is enclosed and air-conditioned and contains exhibits about the park and local history. The upper deck is open-air and provides the best viewing site.
From this vantage point, with the landscape a lush green as far as the eye can see, you'll understand why Arkansas is called The Natural State.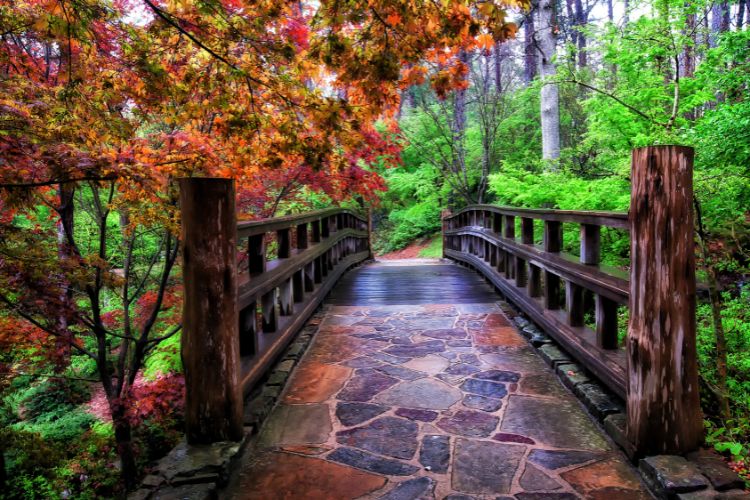 Explore Garvan Woodland Gardens
Garvan Woodland Gardens is another highlight in the area. Nestled on 4.5 miles of wooded shoreline along Lake Hamilton, this botanical paradise is only fifteen minutes from Hot Springs Arkansas.
Verna C. Garvan started the gardens in 1956. She plotted out the paths, selected the plants and chose their locations. Later, she gifted the 210-acre property to the Department of Landscape Architecture through the University of Arkansas at Fayetteville.
This lush Edenesque oasis boasts majestic landscapes and dynamic architectural structures. Ornamental and native shrubs and wildflowers bedeck the place along with a four-acre Asian garden. There are also several notable bridges, a children's adventure garden, a nature preserve and the spectacular Anthony Chapel.
As you stroll through this verdant setting, you'll discover treasures around each corner. Like the Garden of the Pine Wind, one of the best Asian gardens in North America.
Hundreds of Asian ornamental plants and trees create a serene and peaceful setting. And if you're there in spring, you'll be surrounded by a host of colorful azaleas and peonies. Key features include the Sunrise Bridge and the Joy Manning Scott Bridge of the Full Moon.
The latter is a sphere-shaped arch in the majestic bridge that resembles those found in China. Water features include a 12-foot waterfall, a koi pond and four pools.
Chapel and Tree House
The Evans Children's Adventure Garden is heaven for kids. It contains an interactive rock garden, a waterfall, a hidden cave, a maze and wading pools. There is also an elevated walkway, offering a picture-pretty view of Lake Hamilton.
The piece de resistance, however, is the Bob and Sunny Evans Tree House. It's every child's dream (and many adults too.) Suspended amid the oaks and pines, each of the four levels is based on a different part of the tree.
The first level, for example, is all about the roots. Next comes the trunk and branches, then the leaves and finally the flowers/fruit. Take a break from exploring and sit in one of the built-in, wooden seats.
The Hixson Family Nature Preserve looks out over the lake and encompasses 45 acres. There are educational displays along the walkway and benches for bird watching. The Audubon Society has identified more than 120 species of birds here, so keep your eyes peeled and cameras ready.
Don't miss the Anthony Chapel, one of the state's most unique and requested wedding venues. Made of native wood and glass, it boasts a 57-foot vaulted ceiling that appears to reach to the sky. Reportedly, the chapel has amazing acoustics that musicians adore. A gorgeous grand Steinway piano sits ready on the stage.
Food and Drink Scene
You'll probably work up an appetite as you tour the numerous attractions in and around town. Rest assured, good food can be found in Hot Springs.
Start your day at Kollective Coffee + Tea with an Iced Mocha or French Lemon Ginger Tea. Try a build-your-own bagel or Breakfast Bowl of Goodness to accompany your drinks.
For lunch, go to Café 1217, where you'll find fresh, unpretentious food, made from scratch. The salads and sandwiches are delish and service is efficient and friendly.
If you need an afternoon treat, make a beeline for Kilwin's, an old-fashioned confectionery shop selling handmade sweets, chocolates and ice cream.
Enjoy dinner at The Porter House, especially if you're a carnivore, as the restaurant's fame to claim is its prime steaks. But even if you're a pescatarian like me, you'll find plenty of options from shrimp skewers to grilled Atlantic Salmon and polenta-crusted Chilean Sea Bass.
If you're in the mood for south-of-the-border fare, try Rolandos Nuevo Latino. Good guac and a range of tasty entrees including enchiladas, tamales and quesadillas can be found at this popular local establishment.
Dine with a view at Fisherman's Wharf on Lake Hamilton. This laid-back spot is all about seafood. Opt to eat your grilled or fried fish on the spacious patio, right next to the water. Try and get there at sunset for the rosy glow.
Check out the Ohio Club when you're thirsty for a libation or just want to get a look at the famous mahogany back bar. The Ohio Club is the oldest bar in Arkansas, dating back to 1905, and it also served as a speakeasy, cigar store and casino in its time.
Everyone from celebs and gangsters to baseball greats and well-known musical acts graced the place. Nightly live music is still the mainstay.
Where to Stay in Hot Springs Arkansas
When it comes to accommodations, you'll be happy to hear there are plenty of options in town, from historical hotels to quaint inns. I chose to stay at Hotel Hot Springs, a contemporary, newly renovated property just a few blocks from downtown.
Rooms are spacious and comfortable and all the necessary amenities are available, including an onsite restaurant with an elevated pub menu.
Complimentary breakfast is included, as well as complimentary shuttle service to area attractions if you prefer not to walk.
Book This Trip
Start planning your relaxing escape to the hot springs of Arkansas today. Get prepared with knowledge on how to get around, hotel and VRBO options, hiking trails, local restaurant favorites and more through TripAdvisor and Travelocity.
Find exclusive flight discounts, car rental options and vacation packages through CheapOair.
Be sure to bring the best travel bags for your needs that is both durable and stylish, like the novel duffle from Herschel. Check out their selection of best-selling travel bags, accessories and clothes here.
More helpful links:
Author Bio: Debbie Stone is an established travel writer and columnist, who crosses the globe in search of unique destinations and experiences to share with her readers and listeners. She's an avid explorer who welcomes new opportunities to increase awareness and enthusiasm for places, culture, food, history, nature, outdoor adventure, wellness and more. Her travels have taken her to nearly 100 countries spanning all seven continents, and her stories appear in numerous print and digital publications.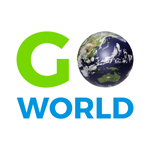 Latest posts by Go World Travel Magazine
(see all)