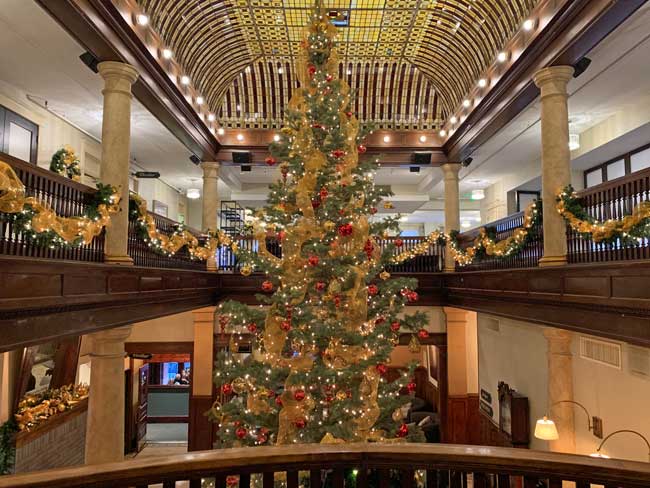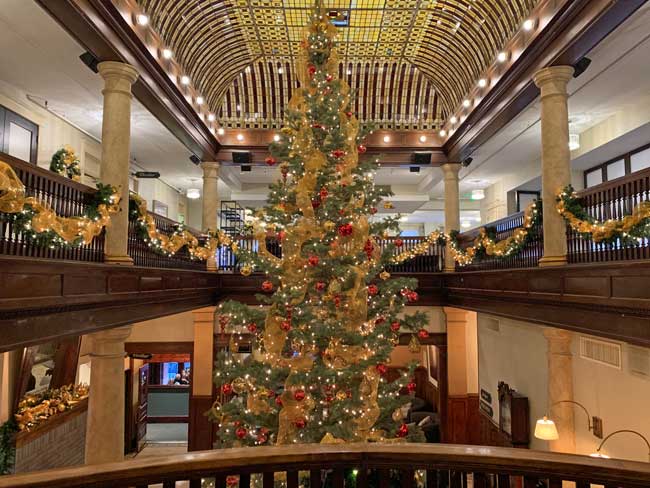 For me, the holidays mean time with friends and family – and travel. I don't want fancy presents, but value experiences to add to my memories instead.
That's why my husband and I often give each other the gift of travel. This year, we treated ourselves to a holiday weekend in Boulder, a Colorado town at the base of the Flatirons in the foothills of the Rocky Mountains. While many visit Boulder from around the country, for us it was less than an hour's drive, making it a "stay-cation" of sorts.
Weekend in Boulder
Though Boulder is not far from where I live, at times it can seem a world away. There's a reason that Coloradans jokingly call it the "People's Republic of Boulder," because this city at the base of the Flatirons, a striking range of rock formations, has always marched to the beat of its own drum.
Boulder is a free, independent spirit where open minds are welcome. Healthy food is on the menu, and an active outdoor lifestyle is part of life. And why wouldn't it be when you live in a place with hiking trails right outside your doorstep and sunshine more than 300 days a year?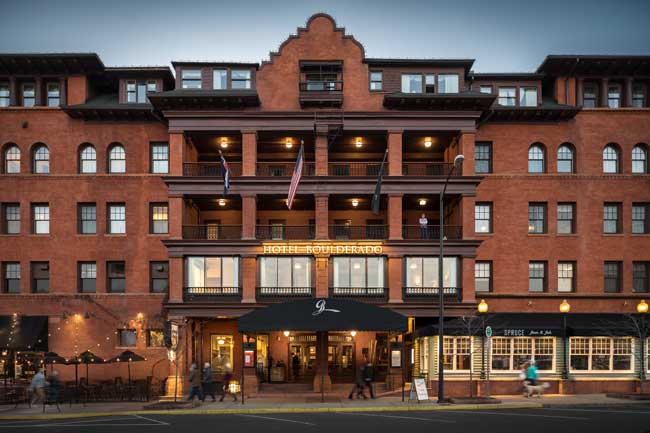 Hotel Boulderado
During the holidays, Boulder dons its finest to offer a unique type of holiday experience. Nowhere is that more evident than at the Hotel Boulderado, a historic Colorado hotel on the National Registry of Historic Places.
The hotel's deep history is interwoven with Boulder itself. Built in 1908, it has been an integral part of the community, hosting weddings, events and dinners for locals, and welcoming travelers, including the likes of Benny Goodman and Louis Armstrong.
Stepping into the Hotel Boulderado is like stepping back in time. You can still ride the original Otis elevator and sample the cool water at the drinking fountain with water sourced from the Arapahoe Glacier high on the Continental Divide.
Although the hotel's 160 rooms have all the usual touches of modern luxury, they still retain their Victorian style and charm. We stayed in a beautiful King Suite, with a large sitting room and spacious bedroom – all decorated in classic Victorian style. Outside our window, we could see the snowy peaks of the Flatirons.
But even with such a comfortable room, we didn't want to stay in our room the whole time. During the holidays, the hotel's Victorian lobby is especially welcoming, with garlands covering the grand cherry wood staircase. The centerpiece is a beautifully-decorated 28' live White Fir Christmas tree which soars to the tip of the colorful stained-glass roof.
Dining at the Hotel Boulderado

The hotel has three eating establishments to choose from. Spruce Farm & Fish serves locally-sourced modern cuisine, while the Corner Bar serves up custom cocktails and local beers.
License No. 1 is a speakeasy-style bar serving classic cocktails in chill, retro-inspired digs in the lower floor of the Hotel Boulderado. As open-minded as Boulder is now, it didn't repeal prohibition until 1969. When prohibition was finally repealed, Hotel Boulderado was first in line to get a liquor license, hence its name. Today, License No. 1 is a popular night spot with locals, as well as visitors.
Holiday Teas
During the holidays, Hotel Boulderado hosts Holiday Teas, offered on select afternoons in November and December. We were lucky enough to be there for a Nutcracker Tea benefiting the Boulder Ballet and featuring costumed dancers from the Ballet, a choice menu of treats and a parade to Tchaikovsky's March of the Toy Soldiers.
Although my husband had never been to a "tea," he enjoyed the teatime menu of gourmet tea sandwiches, scones and Cornish Cream, and plate of cookies, cheesecakes and chocolate-covered strawberries as much as I did.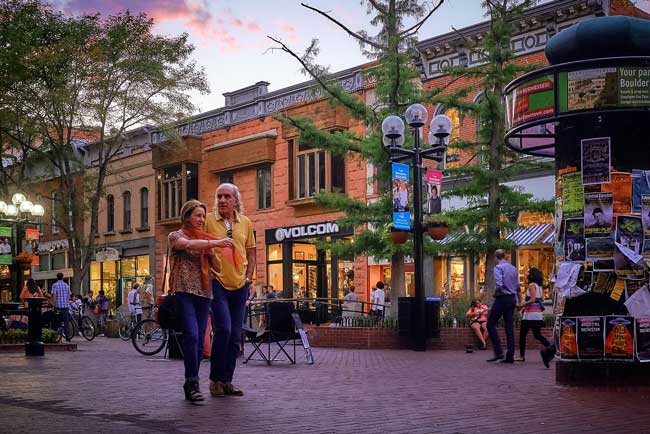 What to See and Do in Boulder
Pearl Street
Hotel Boulderado is just a short walk from Pearl Street, which is the heart and soul of Boulder. This four-block pedestrian avenue is rich in history. It's lined with independently-owned shops which reflect Boulder's distinctive lifestyle – from the Starfish Gallery to Urban Outfitters to vintage clothing shops and the Helping Hands Dispensary. My favorite store is Boulder Book Store, the town's largest independent bookstore with 20,000 sq. feet, more than 100,000 titles, and three floors.
Pearl Street is filled with colorful lights during the holidays. It's a great place to people watch; during the summer, you'll pass buskers singing, doing magic and much more. Solar-powered free Wi-Fi is available along the street.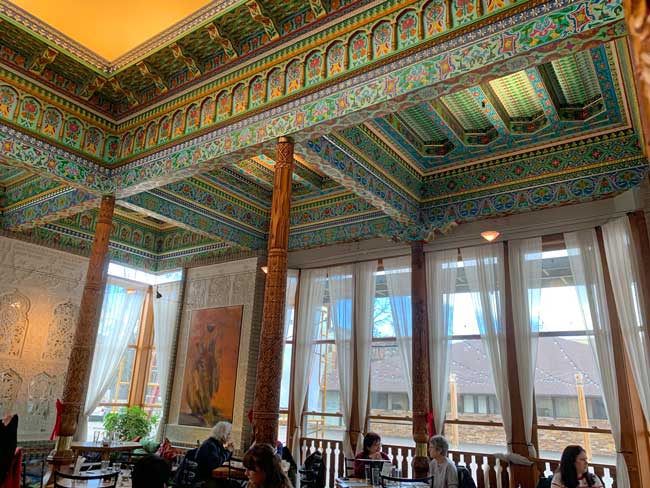 Dushanbe Teahouse
The Dushanbe Teahouse is something unique in the world. The exquisite teahouse just steps from Pearl Street on Boulder Creek was a gift from Boulder's sister city, Dushanbe, Tajikistan. Some 40 artisans created the hand-made teahouse over a period of two years, took it apart, and then packed the pieces into about 200 crates to be shipped to Boulder.
When the boxes arrived, no one knew quite what to do with them. The teahouse sat for almost a decade in boxes before it was finally erected in 1998. Today, it is a treasured part of Boulder, and serves as a popular teahouse and restaurant.
The artwork inside is something to see. You'll find hand-carved cedar pillars, handmade traditional Tajikistan furniture, original oil paintings done onsite by a Tajik artist and a fountain with seven bronze statues of women based on a 12th-century poem, "The Seven Beauties."
The Boulder-Dushanbe sister city friendship survived the breakup of the Soviet Union and the painful birth of a new nation. Today, this small country in Central Asia has their own gift sent from Boulder, a Friendship Center and Cafe in Dushanbe. The busy center has a language school for youth.
Dinner at Shine

Many restaurants in Boulder feature healthy, locally-sourced cuisine, and have plenty of vegan, vegetarian, gluten-free, and other dishes. We like Centro Mexican Kitchen, Snooze and Foolish Craig's on Pearl Street for breakfast.
The restaurant called "Shine" is quintessential Boulder. This popular restaurant is known for its tasty paleo and gluten-free dishes, and has a wide range of vegan and vegetarian dishes to choose from. The restaurant, owned by three sisters (CHECK), even offers a menu of healthy potions. Potions range from the "The Reset Button" with ginger root and vanilla to "The Firestarter" with red chile and pomegranate. For a little more fun, you can add a spirit to your potion. Shine does a good job of blending Boulder's hippie roots with the city's active and healthy lifestyle.
Holiday Lights at Boulder Central Park
Our location at Hotel Boulderado was so central that we parked our car and didn't use it for the whole weekend. With some 100,000 residents, Boulder is compact and has a good bus transportation system.
We chose to walk everywhere we went, and on our way back from dinner at Shine, we walked through Boulder Central Park, which was lit for the holidays with more than 225,000 lights. The park is located near Dushanbe Teahouse and Boulder Central Library. The trees and bridges along Boulder Creek were lit up with blue, green, white and other lights.
It seemed a perfect way to end our holiday weekend in Boulder.
If You Go
On Christmas Day, the Hotel Boulderado offers a Christmas Buffet. Selections include a Chef Carved Garlic & Molasses Rubbed Prime Rib and much more.
On New Year's Eve, Hotel Boulderado has a New Year's Eve Grand Gala. The hotel's first New Year's Eve Ball was held on December 31st, 1908.
Visit Boulder
More information on what to see and do in Boulder.
Latest posts by Janna Graber
(see all)