They had me at Dorothy Draper. When I was invited to visit The Greenbrier Resort in White Sulphur Springs, West Virginia, I jumped at the chance.
Draper was the design doyenne of the 30s, 40s, and 50s, and her lavish style captivated me ever since I saw her daring decorating at the Grand Hotel on Mackinac Island, Michigan. I fell in love with her large-flower wallpaper, brightly colored upholstery, and bold carpeting. The Greenbrier, which she began decorating in 1946 following the hotel's occupation as an army hospital, is perhaps her most stunning achievement.
Moreover, Draper captures a sense of place and history in The Greenbrier. The luxury hotel showcases her inimitable style from room to room and corner to corner.
The Draper style is known as Modern Baroque.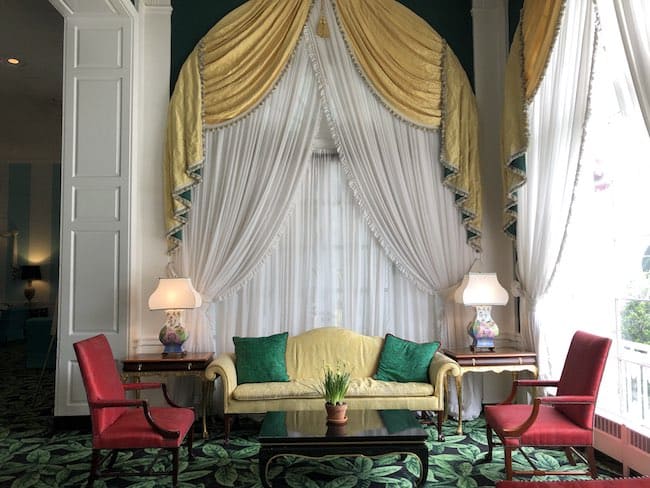 After Draper retired in 1960, her protege Carleton Varney became president of Dorothy Draper & Co. He remains the designer and curator of The Greenbrier to this day. You can find fabrics, wallpaper, and decor to buy at the Dorothy Draper Home store in the hotel's shopping level as well as online. You, too, can have a room that looks like this!
History of The Greenbrier
In 1778, a local settler learned about a sulpher spring from Native Americans and found that the water helped her rheumatism. Soon, word of "healing waters" spread, and the stagecoach brought people here seeking "the cure."
By the 1830s, the summer resort "Old White" was well established. An inscription in front of the resort reads: Here stood a famous hostelry affectionately known as The Old White. Once the pride of the old dominion, whose gracious hospitality, beautiful surroundings, and healing waters gained national renown and made it the object of many a pilgrimage. Here gathered from the north and south great generals, famous statesmen and philanthropists, lovely ladies and reigning belles who left upon the silent shore of memory images and precious thoughts that shall not die, and cannot be destroyed.
The Chesapeake & Ohio Railway bought the property in 1910, added more wings and converted it to a year-round resort. They changed the name to The Greenbrier after the county. The historic Old White structure was demolished in 1922, but the name remained for the 18-hole golf course built in 1914.
When WWII broke out, the U.S. Army bought the hotel to use as a hospital (President Eisenhower was a patient there), then sold it back to the C&O Railroad in 1946. That's when they hired Dorothy Draper to transform the interiors. The grand opening in 1948 was an international affair.
Guests included the Duke and Duchess of Windsor, Bing Crosby, and Joseph and Rose Kennedy, who spent their honeymoon there in 1914. Indeed, 27 U.S, presidents have slept here and countless celebrities and sports figures. Families return, generation after generation. Hence, it's called "America's Resort."
Rooms at The Greenbrier
I woke up in a field of Poppies, Tulips, and Iris on my first morning at The Greenbrier. My room was a Classic Suite with a lovely sitting room where I found a coffee maker and more Rhododendron flowers. It was lovely to revel in Mrs. Draper's imagination!
One thing that surprised (and also disappointed) me was that there were no fluffy robes in the closet or bathroom. With a $39 resort fee, I expected them as standard. I later learned one can call housekeeping to request robes and slippers at no extra charge. West Virginia's Governor Jim Justice and his holdings own the hotel, having brought it back from a 2009 bankruptcy.
Large groups like families and wedding parties can book exquisitely appointed cottages and estate homes on the property that are included among the 710-room count.
Dining at The Greenbrier
Unquestionably, my favorite part of staying at a historic luxury hotel is dinner in the Main Dining Room. They all have a Main Dining Room, and The Greenbrier's is as elegant as any. Leave your jeans in your room; the dress code calls for jackets and slacks for men, dressy casual attire for women.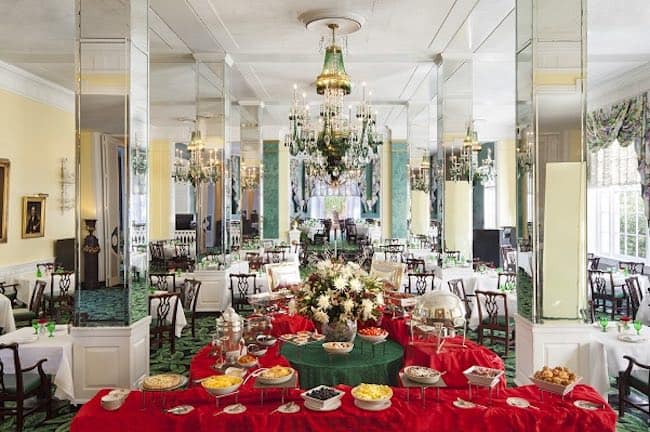 Besides the ambiance and furnishings, the food is just spectacular! The menu, written in French and English, offers a nice selection of appetizers, salads, meats and seafood, even a delicious vegetarian risotto dish. A specialty is Soupe à l'Oignon, a cream of five-onion soup individually poured over a dollop of chive chantilly cream. Desserts are as elegant as the decor, like this Grand Marnier Souffle.
In addition to the food being as famous as the spring water, the Greenbrier china has its own legacy. Each of the 20 restaurants and bars has its own pattern, and each has become a collectible.
The Lobby Bar is a distinguished place for cocktails before dining. Look up and you'll see the chandelier that was featured in the Gone with the Wind movie.
The Spa
Soothing pastels and indirect lighting set the mood for being pampered at The Greenbrier Spa. Besides a full-service spa, there's a hair salon (perfect for weddings), medical skin services, and healing and meditation offerings. The hotel pumps precious mineral water from the original spring for use in the spa.
Activities
I was surprised there's so much to do here—winter and summer. There are the usual resort activities, such as golf, tennis, swimming (indoor and out), and bowling. But a myriad of other adventures and entertainment like The Greenbrier Casino can fill up the days and nights. The one must-do activity is the famous Bunker Tour.
Underneath the hotel's West Virginia Wing lies a former emergency Cold War fallout shelter for members of Congress in case of a nuclear war. The U.S. Government secretly built it from 1958-1961.
It is a complete "city" encased within thick concrete walls with 18 dormitories, a clinic, a cafeteria, lounge areas, and decontamination chambers for more than 1,100 people. For 30 years, no one knew about The Bunker. Then, in 1992, The Washington Post revealed its existence in an article. Following the exposé, the government decommissioned it and today it is available for tours.
Tours last about 90 minutes; cost is $39/adult; $20/10-18 yrs.
Getting there
I flew into Greenbrier Valley Airport on United that offers daily flights to and from Chicago O'Hare and Washington Dulles Airports. It's in Lewisburg, only 15 minutes away from The Greenbrier. I had a chance to explore this charming little laid back town that dates back to 1751. North House Museum gives the full history and is worth a visit. Our leisurely lunch at The Humble Tomato oozed with the "Southern Hospitality" vibe, and our dinner at The French Goat was an intimate affair in an old 1800s house.
The Greenbrier Resort, 101 Main St. W, White Sulphur Springs, WV 24986; 855-453-4858.
Claudia Carbone is an award-winning travel writer based in Denver. Read about other hotels she's visited in Sleepin' Around.
Latest posts by Claudia Carbone
(see all)