Dear Readers: This article may contain affiliate links, which means we may receive a small commission, at no cost to you, if you make a purchase through a link. All opinions are our own and we only share things we recommend. Thanks for your support.
How to Use Google Flights to Find Cheap Airfare
Airline tickets are often a major vacation expense. So it's no wonder that many of us spend hours looking for the cheapest airfares.
Gone are the days when we had to rely on travel agents to plan a holiday. Now we use sites like CheapOair, OneTravel, Kayak, Expedia and many more to compare airfare and book flights.
Google is the latest to jump into the airline and hotel booking business. While Google Flights has been around since 2011, it was revamped in 2018 with even more user-friendly features.
The Google Flights app can help you find the most affordable airline tickets using their easy-to-use search tool, but the platform goes well beyond that, with a wealth of features such as the ability to track prices, pricing graphs, pricing on alternative travel dates and flight options at alternative airports.
To get started on your search for the cheapest airfare, go to google.com/flights and enter your dates and cities.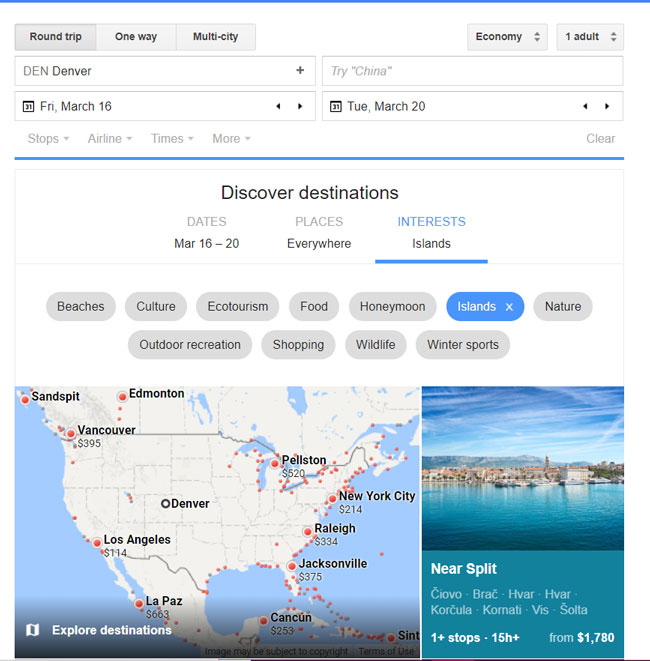 Google Flights: Discover Destinations
If you're open to travel suggestions, Google Flights is an excellent travel planning tool. One of our favorite Google Flights features is Discover Destinations, which lets you explore flight options by dates, places or interests. Simply put in your starting airport and then select the options that interest you.
A recent search for a one-week trip from Denver offered flights to Seattle for $146, Boston from $269 and Atlanta from $270. After selecting "Flights to Europe" for "one week" in "April," Google suggested flights to Istanbul from $902, Paris from $400 and Stockholm from $703, among others.
If you're not sure where you'd like to go on your next vacation, but you know what you want to do there, you can use the "Interests" filter. Google Flights offers options from beaches to food to adventure travel and islands. Simply select the option you want and Google Flights offers ideas. When we selected "islands," flights to places like Tahiti, Saipan and Fiji came up with pricing. You can also see pricing options for hotels at each destination.
Other small, but helpful bits of information are also provided with each flight, including whether or not Wifi is available on the flight and if in-seat power is available.
If you're a member of an airline alliance, such as One World or Star Alliance, you can filter for flights that fit that criteria. This helps if you're planning on using frequent flyer miles to book a trip.
It's important to note that you are NOT buying your airline ticket from Google. The site simply sends you to their partner airline's site to book directly. (Google earns a commission for each customer they send to an airline.)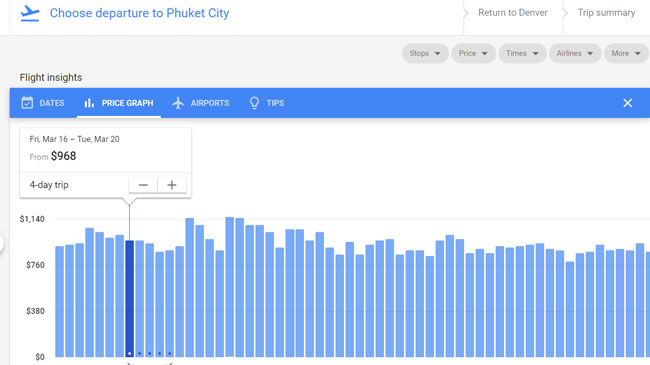 5 Tips to Use Google Flights to Find Cheap Airfare
Use the filters to select the type of journey you want – dates, airline, stops, times, etc.
If you're open to travel ideas, use the Explore Map to look at possible destinations and prices for a certain time frame
Search multiple airports in your search query for the best pricing options
Look at the pricing calendar for savings on alternative dates
Use the "track price" option for the flight you're interested in.
(Scroll down to bottom of search page and click Track Price. When flight prices changes, you'll get an email alert.) If the price goes down after you've bought the ticket, US Airlines let you cancel or make one change for free within 24 hours of purchase
Other helpful travel planning sites: 
OneTravel – Grab our Special Flight Deal! Save up to $20 with Promo Code OT20.Book Now!
CheapOair.com – Millions of Cheap Flights on 450+ airlines! Save Upto $50, Use promo code AIR50. Book Now and save Time and Money!
Allianz Travel Insurance – Travel The World Knowing You'll Be Taken Care Of. Affordable Plans As Low As $17.
Need Luggage? eBags offers Free Shipping over $49 + Easy Returns