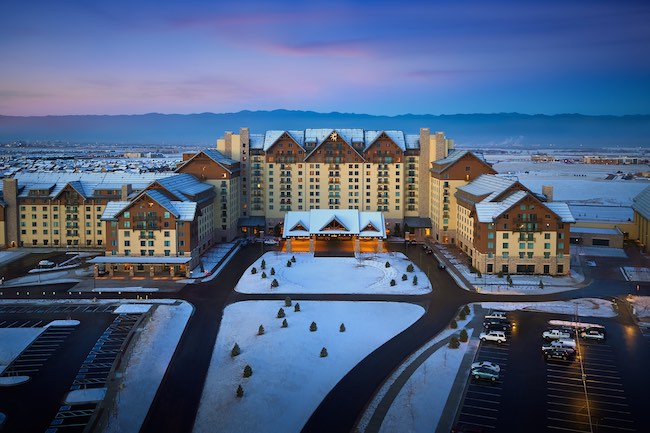 When they were building Denver International Airport on the plains east of Denver, people complained it was too far away on the prairie. Now Gaylord Rockies Resort & Convention Center has bridged the gap. It's not only a great place to stay before or after a flight but a destination in its own right. Indeed, it is a resort – just look at these swimming pools and spa!
The outdoor pool complex comes with a lazy river (summer months) and whirlpool. Also,  during summer weekends, music and poolside activities entertain overnight guests. In addition, you can reserve a private cabana.
The indoor pool has plenty of toys and slides to keep the kiddos happy. Likewise, grownups love the whirlpool and lap pool.
The 17-room Relâche Spa and Salon is a beautiful place to relax. The full-service spa is open from 8 a.m. to 8 p.m. every day.
The spa features an Ice Fountain where you can cool off after a visit to the sauna or steam room. As a result, this induces blood vessels to give rise to a euphoric sensation.
Inside Gaylord Rockies
Entering the lobby, I am overwhelmed by its enormity. It's the opposite of an intimate boutique hotel, if that's what you prefer. But if you like a playground with a plethora of things to do and see, you will love this place. Waterfalls, fireplaces, restaurants, a general store, a game room, fitness center, ping-pong, tennis courts, tons of meeting spaces and the largest sports bar screen you'll ever see. You can even rent a bike to explore the area.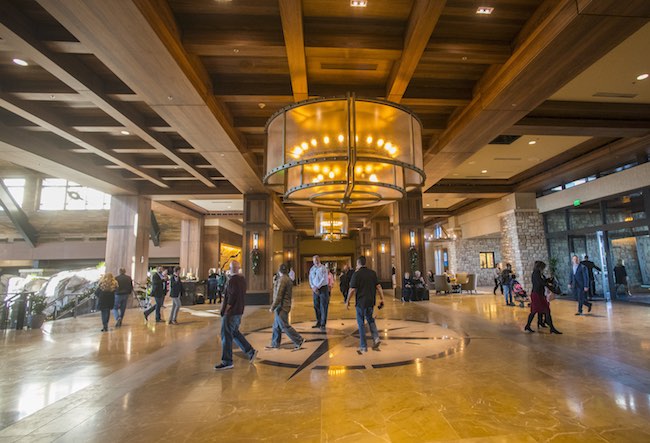 Though the lobby is huge, comfortable groupings of furniture break it up into more intimate spaces.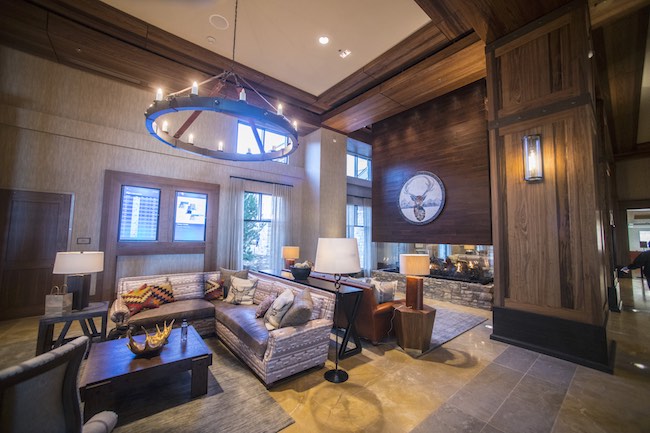 Grand Lodge of Gaylord Rockies
The centerpiece is the Grand Lodge, a large common area at the bottom of a grand staircase from the lobby. At the opposite end an atrium window eight stories high looks out onto the Denver skyline and Rocky Mountains beyond. The lodge mimics the Colorado outdoors.
Unfortunately, most of the foliage and trees as well as the big boulders are not real, giving it a sort of Disneyesque feel. Native trees and grasses can't thrive indoors, hence the copies. But the design folks did a great job referencing each element to a specific area in Colorado. Water cascades alongside staircases leading from the lobby to the Grand Lodge into "Crystal Lake."
There's even a train engine (it's real). . .
. . .and a waterfall named after Cascade Falls. The elevators to the right are designed to resemble mine shafts, giving a nod to Colorado's mining past.
Rooms at Gaylord Rockies
The mountain theme is most effective in the 1,501 guests rooms where artwork depicts Colorado wildlife, wallpaper looks like a forest, carpet resembles Aspen trees, and Native American motifs define the bed pillow. The handsome headboard could be. . .a trunk?
The king room is spacious with a desk, chest of drawers, mini fridge and large television opposite the bed. WiFi is free to Bonvoy members; $14.99/day to all others. In the closet I find a safe, iron/ironing board and, surprise, hiking and camping maps as wallpaper. The bathroom is nice with two sinks, a separate room for shower and loo, and bathrobes. While the 114 suites are larger, they retain the same alpine elements. Of these, 14 are presidential suites.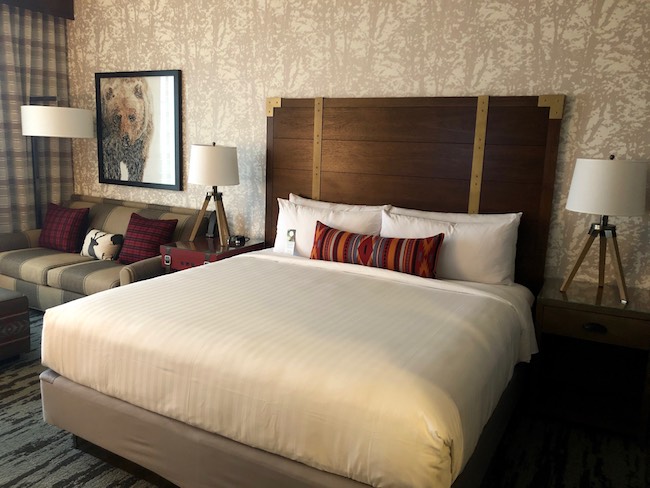 Dining at Gaylord Rockies
Eight food outlets offer options for dining. Restaurant cuisine includes Italian, Asian and an American steakhouse. You'll never miss a game at the Mountain Pass Sports Bar. Its 75-foot TV screen blinds you with sports channels while you munch on bar fare and beer.
Breakfast is served only in Vista Montagne, the Italian restaurant, and Cocoa Bean Coffee House for light snacks. I indulge in Ricotta pancakes with fruit compote at Vista Montagne. They were so good, I can't wait to go back for dinner.
Convention Space
First of all, as a convention center hotel, its proximity to the airport is a huge benefit. The hotel offers more than 500,000 square feet of indoor and outdoor space for meetings, including a huge exhibit hall and 69 meeting rooms.
Secondly, if time allows during your convention, you can hop a light rail train at the airport for a 35-minute ride to Union Station in downtown Denver.
Final notes
Colorado residents receive a special rate; ask for it when you book. Self parking for overnight guests is $29/day; valet, $39/day. No smoking and no pets.
Gaylord Rockies Resort & Convention Center, 6700 North Gaylord Rockies Boulevard, Aurora, Colorado 80019; 720-4522-6900; www.marriott.com
Claudia Carbone is an award-winning travel writer based in Denver. Read about other hotels she's visited in Sleepin' Around.