The Gaylord Rockies in Aurora, Colorado always celebrates the holidays with family-friendly events and attractions for all ages. This year, they're inviting guests to experience the magic of "A Christmas Story" through the artistry of hand-carved ice sculptures.
Using more than two million pounds – or 1,000 tons – of ice, the amusing Warner Bros. holiday classic, 'A Christmas Story™' is brought to life in ice sculpture form by a team of 40 world-class ice artisans from Harbin, China, the famed Ice City.
This year's ICE! attraction promises to be a chilly extravaganza featuring over 10 scenes from the beloved family tale, brought to life in intricate detail by skilled artisans.
From the old man's major award to Aunt Clara's pink nightmare, visitors will delight in scenes meticulously carved from more than 6,000 massive ice blocks.
The carvers, employing techniques passed down through generations, invest over 12,000 man-hours during a six-week period to craft the nearly 17,000-square-foot frozen spectacle. The range of ice sculptures, from coin-sized details to towering scenes over 30 feet tall, showcases the artisans' exceptional talent.
Colored ice, clear ice, and LED lights combine to create a visually stunning display, while a state-of-the-art chilling system ensures the attraction's temperature stays at a crisp nine degrees Fahrenheit. To keep warm, guests will don the signature blue parkas provided by Gaylord Rockies.
"This is the first time Rockies has put on 'A Christmas Story,' and watching people come together to enjoy it never gets old," remarks Suzy Hart, General Manager of Gaylord Rockies. ICE! has become a cherished tradition at Gaylord Hotels for two decades, and this year promises to be a unique and memorable experience.
Beyond the icy scenes from "A Christmas Story," guests can enjoy additional frosty delights. Two-story-tall ice slides, ice tunnels, and arches provide thrilling entertainment. The ICE! experience culminates in a separate area dedicated to a Nativity scene, meticulously carved and shaped from crystal-clear ice.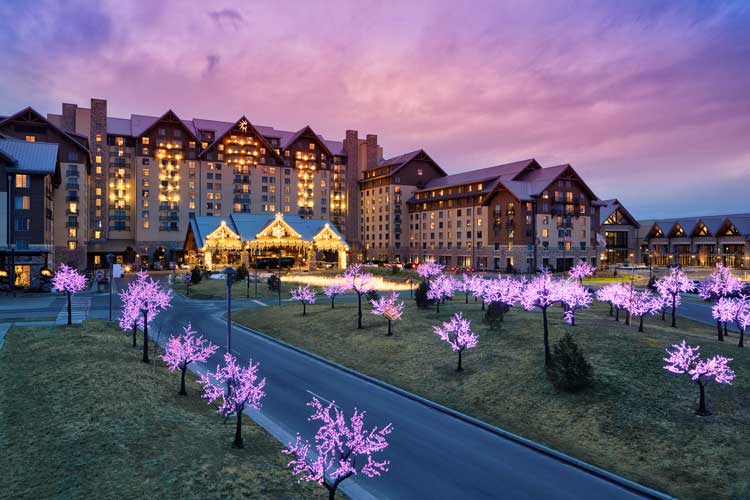 Adding to the holiday magic, the acclaimed "Cirque: Spirit of Christmas" returns for another year. Produced by Gaylord Hotels and directed by Broadway luminary Neil Goldberg, the Cirque-style show promises dazzling costumes, breathtaking aerial performances, and gravity-defying feats. The 65-minute spectacle follows Noel, a child disheartened by holiday chaos, as dreamlike chapters unfold with trapeze artists, acrobats, and aerial silk performers, rekindling the Christmas spirit.
The holiday offerings at Gaylord Rockies extend far beyond ICE! and Cirque. Guests can test their wits in the Naughty or Nice Escape Room, join Santa's Elf Training Academy to craft special keepsake gifts, and decorate gingerbread in the Gingerbread Decorating Corner. Santa Claus himself will be available for meet-and-greets, and Mrs. Claus will host a festive celebration with a retelling of "Twas The Night Before Christmas."
Mistletoe Village, a hub of holiday activities, offers everything from Build-A-Bear Workshop® to the Reindeer Games™ Scavenger Hunt featuring Rudolph and The Misfit Toys. The Yuletide Street Market completes the festive experience with an array of holiday gifts, collectibles, toys, apparel, and more.
For those seeking relaxation amid the holiday hustle, the Relâche Spa at Gaylord Rockies offers Winter Wonderland treatments featuring the benefits of eucalyptus.
Overnight guests are treated to exclusive perks, including "Chill Pass" privileges for ICE! and early-entry access to ICE! and Mistletoe Village with the "Extra Cool Hour" experience. Special Christmas at Gaylord Rockies packages, including room rates and event admission, are also available.
Reservations fill up quickly, so guests should plan to book ahead. The holiday season at Gaylord Rockies is a blend of tradition, innovation, and festive magic for visitors of all ages.