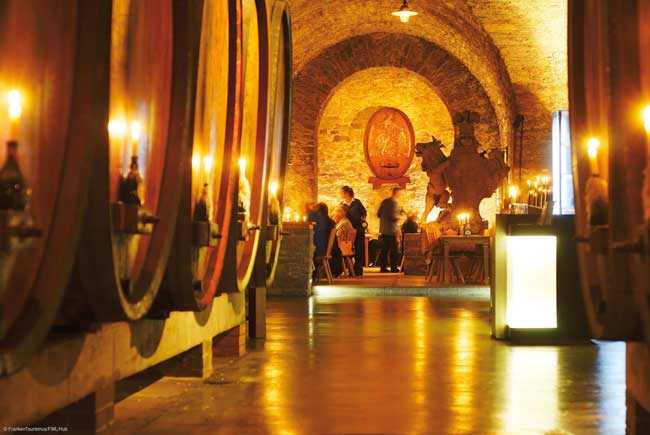 It's dark here in the cellars, but tall candles mounted on huge wine casks light our way. We're deep in the Staatlicher Hofkeller, the cellars of the Bavarian state winery below Würzburg Residenz Castle in Franconia.
While Germany may be known for its beer, in this region of Bavaria, wine heritage runs deep. Wine has been cultivated in Franconia for more than a thousand years, and vineyards cover the hills and countryside. Winemaking families that have honed their craft for centuries can still be found in the region's medieval villages and towns.
The obvious treasure of Franconia is its white wine, which dominates the region. The most popular local favorite is Silvaner, a fruity wine that is perfect on a warm, summer day. Wine here is bottled in the Bocksbeutel, a short round bottle that is uniquely Franconian.
What is Franconia?
You won't find Franconia on a map, and there is no political unit called Franconia. Instead, it's a cultural identity that reaches back to the day when Germany was many tribes. The Franken were a tribe that eventually became a separate duchy of the Holy Roman Empire.
Today, Franconia is part of the German state of Bavaria. Yet its unique heritage is still evident in its dialect, culture and traditions. Ask almost any Franconian and he or she will tell you, with a smile, that they are Franconian first, and Bavarian second.
In other parts of Germany, locals go to the beer garden for relaxation. Here in Franconia, folks head to the wine cellar. It only seems fitting then, to be sitting in the cellars of a beautiful castle drinking Silvaner. The Staatslicher Hoffkeller has been making wine since 1128, making it one of the oldest wineries in the world. With a wine heritage like that, you can bet they know what they're doing.
Würzburger Residenz
The stately castle above us is a UNESCO World Heritage site. Once home to powerful prince bishops who ruled this region in the mid-1700s, the Residenz offers a glimpse into a regal past.  Intricate frescoes and over-the-top architecture are the norm in this baroque and rococo masterpiece. Just walking up the elaborate staircase and viewing the giant fresco by Venetian artist Tiepolo is worth the € 7.50 price of admission.
Another must-see in Würzburg is Marienberg Fortress, which sits high on a hill overlooking the city. The Fortress's impressive museum (Museum für Franken) includes a world-famous collection by medieval woodcarver, Tilman Riemenschneider. But my favorite part is the Fortress garden, which offers an incredible view of this town of 125,000 residents.
Much of the city was destroyed by bombing in March of 1945, but the townspeople worked diligently to restore the city's baroque architecture. In a small room in city hall, I find an exhibit detailing those dark days. It tells of individuals who helped make a difference, including the citizens of the small American town called Faribault, Minnesota. Faribault helped in relief efforts after the war, and eventually adopted the town of Würzburg. The two sister cities have close relations to this day.
Continued on next page