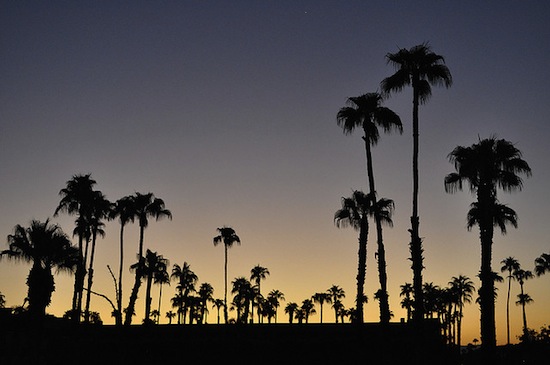 When you hear someone mention Palm Springs, you may think: movie stars, golf and a desert oasis with palm trees. But you're probably not thinking: a getaway with the kids.
You should.
Yes, it has streets named for famous '50s celebrities, such as Bob Hope, Dinah Shore and Gene Autry. Yes, it has like a thousand golf courses. Yes, it has plenty of palm trees and desert landscapes.
It also has a terrific children's museum, a desert museum/zoo/botanic gardens, an aerial tram to the top of a mountain, and a fascinating national park nearby.
Hotels offer day programs for kids, city parks have lots of great playground equipment and water features, and many restaurants will please toddlers as well as teens.
In fact, if Florida, New Orleans and Mexico sound too crazy for your family spring break trip, consider this Southern California oasis.
Reasonable room rates are available during the summer and fall, but spring also offers some good rates for families during the week. Family-friendly hotels include the J.W. Marriott, the Hyatt in Indian Wells and the Westin, which even has a "director of fun."
Here are some highlights of affordable things to do for families:
The Living Desert
It's a zoo. It's a botanic garden. It's a museum. It's all of these. The Living Desert is a conglomeration of everything you need to know about this native ecosystem. The zoo part includes giraffes, zebras, bighorn sheep and other animals that inhabit the deserts of Africa and North America. Even the carousel is populated with gazelles, mountain lions and camels. Kids can take a side trip to pet some kids (i.e., baby goats) in an African village mock-up. The botanic gardens include varieties of cacti you never knew existed, as well as flowering plants and trees – and be sure to visit the butterfly garden.
A hands-on museum for kids let them explore the wonders of the desert ecosystem, including creating sand dunes in an enclosed glass case. At the animal hospital, you can see critters getting check-ups.
Desert Adventures

Don a hat and some sunscreen for an educational eco-tour with Desert Adventures. This Jeep tour company will take you to Joshua Tree National Park or the Indian Canyons, but you can do those on your own. You might want to consider taking the "Wonders of the Coachella Valley" tour, though. Our guide, a weathered soul with a long braid who called herself "Captain Morgan," knew every fact there was to know about the Palm Springs area, from how many acre feet of water is used by golf courses to how much power is generated by the vast field of windmills on the nearby wind farm. She'll take you to 1,000 Palms, an oasis formed by water seeping up from the San Andreas Fault. You get to actually walk on the fault itself.
You'll visit Cabot's Pueblo Museum, built by a fellow named Cabot Yerxa out of reclaimed things he found, but emulating the style of a Hopi pueblo. Look closely to see some of the everyday things he incorporated into the structure, which includes 35 rooms, 150 windows and 65 doors.
A clue to his personality can be found outside one entrance. The sign says:
There is no place
Just like this place
Anywhere near this place
So this must be the place.
Joshua Tree National Park
If Dr. Seuss imagined a park, it would be this one. The high desert is surrounded by mountains and punctuated by enormous piles of gigantic boulders, all stacked neatly, if precariously, as if left behind by some giant's child while he went off to dinner. Oddly, there are few rocks in between the piles.
Then there are the trees. Not trees at all, but a tall, oddly shaped relative of the yucca plant with spiky clusters on the ends of its branches. Bizarre.
Though the park is vast, you can see most of what you want to see by coming in the north entrance and visiting "the heart of the park," as the rangers call it, where most of the boulders and trees are. The entrance is about an hour's drive from Palm Springs and you can spend anywhere from a few hours to all day, depending on whether or not you hike, picnic, take photos and such. Though it's a desert landscape, the park is usually cooler than town because it sits above 3,000 feet altitude.
On the way to and from the park, you'll pass that massive field of about 2,500 windmills. A sight to see in itself is when all are spinning. All that electricity being generated? It goes mostly to Las Vegas, to power the casinos and multitude of lights.
The Tramway
The Palm Springs Aerial Tramway rivals any tram anywhere for panoramic views and its steep ascent/descent. The trip begins at Valley Station north of downtown Palm Springs, at about 2,600 feet in altitude and climbs to the Mountain Statin at 8,500 feet – almost straight up.
Those who are afraid of heights might not like this trip – everyone stands and the car rotates during the ride, so everyone gets to see all views. When facing the mountain wall, keep an eye out for wildlife. You're passing from the Sonoran desert to an alpine zone, so there are lots of possibilities.
Wear a warm jacket and hang on to your hat. It may be sweltering in the city, but the temperatures drops at least 30 degrees and the wind can be fierce. There are amenities on top – food service, a film about the history of the tram, viewing areas and – surprise! – a gift shop.
Children's Museum
The Children's Discovery Museum of the Desert isn't huge, but it has lots of engaging activities packed into the space. "Be an Archeologist" lets kids dig for dinosaur bones. Some kids love the pet grooming area, and others go crazy with paint on an old VW Beetle set aside just for their artistic efforts.
Jonathan Desantis watches his 4-year-old daughter, Victoria, wield paint with abandon.
"We're members, and we come here all the time," he says. "This is her favorite thing to do."
They also have a membership at the Living Desert, and love the Cathedral City Civic Park, where she likes to splash in the public fountain on a hot day.
"It's free," he says. So is the local art museum on Thursdays and the Palm Desert Museum on some Wednesdays, for kids, he adds.
What about the commercial water park on Gene Autry Trail?
"It's expensive for us," he says, "and a little wild yet for her."
Instead, they go to the Palm Desert Civic Park, which has a water park for just $5, and it's more her speed, he adds.
"There are lots of free and inexpensive things for families to do here," Desantis says. "Most people don't know that."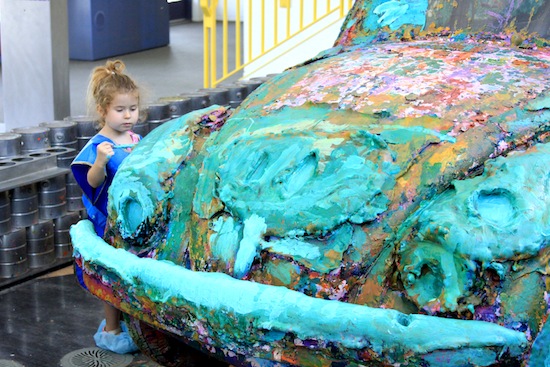 Dining with Kids in Palm Springs

And don't think that Palm Springs, for all its posh reputation, doesn't have restaurants suited to a family's tastes and budget.
Check out Lulu's California Bistro, with lots of healthy options on the kids' menu, or its sister restaurant, Acqua Pazza, which has won awards in almost every category in local restaurant surveys. Las Casuelas offers tacos and other Mexican fare suitable for tender palates and has four local locations. There are a number of affordable local burger joints with small portions for children, and if you ask anyone in town where to get a great pizza, they'll tell you to go to Bill's.
Bill's Pizza, a downtown institution, has lots of fresh, high-quality topping choices to suit just about any palate.
You might notice that the guy at a nearby table looks familiar. He pays his bill, gets up and walks out past your table. OK, it's Morgan Freeman – we're pretty sure. And if your kids never saw him on "The Electric Company" (a PBS show where he played several characters), they'll surely recognize him from the Batman/Dark Knight movies.
Palm Springs still has star power, for all ages.
If You Go to Palm Springs

For more information on Palm Springs, contact the Greater Palm Springs Convention & Visitor Bureau, (760) 770-9000 or (800) 967-3767. Or go online to www.visitgreaterpalmsprings.com.
Author Bio:  Linda DuVal is the former travel editor for The Gazette, now a freelance writer and co-author of a travel guide book, "Insider's Guide to Colorado Springs."