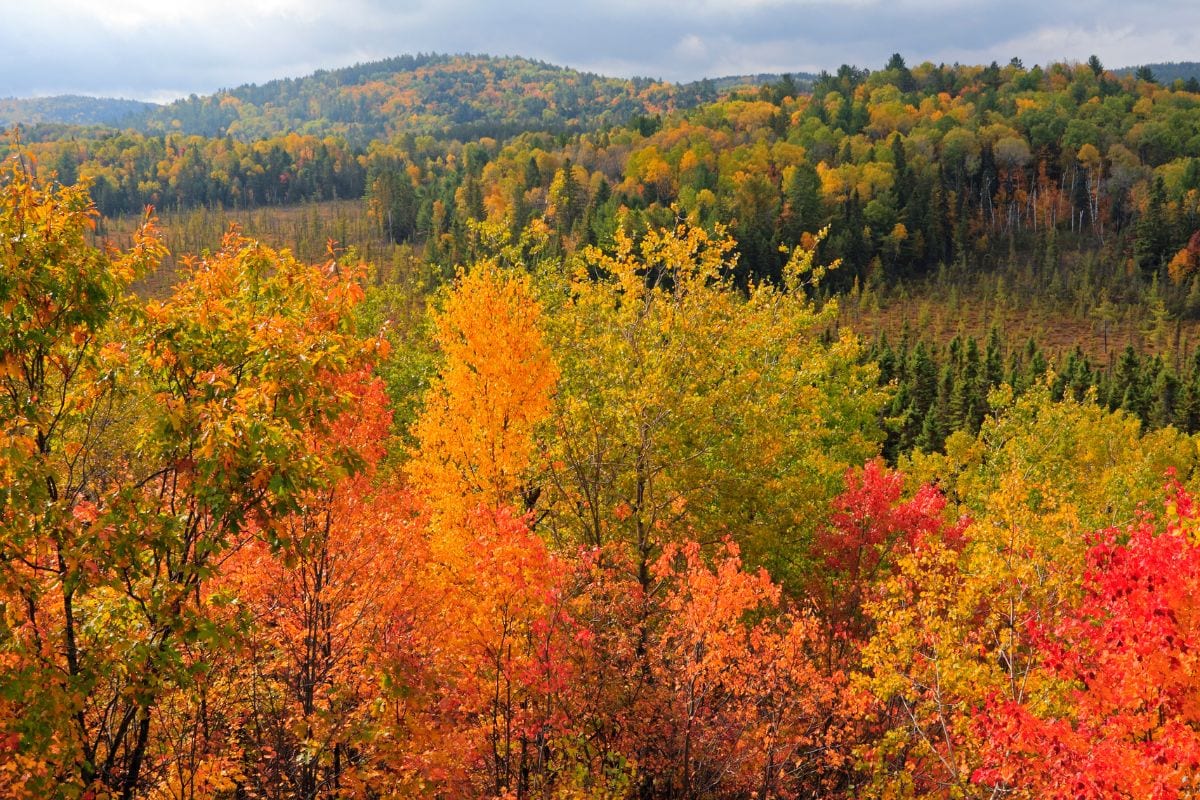 The region of Ontario, Canada is home to some of the most exquisite fall colors in the world. The combination of crisp sunny days, moderate rainfall and cool nights is the perfect recipe for bright fall colors. The wide variety of trees in this area produces an array of colors that unfold at different times, creating a captivating and multi-dimensional tapestry of hues.
There are many ways to enjoy fall colours in Ontario, but we recommend either embarking on a road trip and tooling around or taking a train. Below you'll find the best places and routes to see the fall colors in Ontario.
When is the Best Time to See Ontario's Fall Colours?
October is the best month to see the fall colours in Ontario. The leaves generally begin to change color mid-September, peak in early October, and tend to last until mid-October. By the end of October, many of the leaves have fallen and rain typically gets heavier. You can track the fall colours in Ontario and regional changes here.
Best Driving Routes to Enjoy Fall Colours in Ontario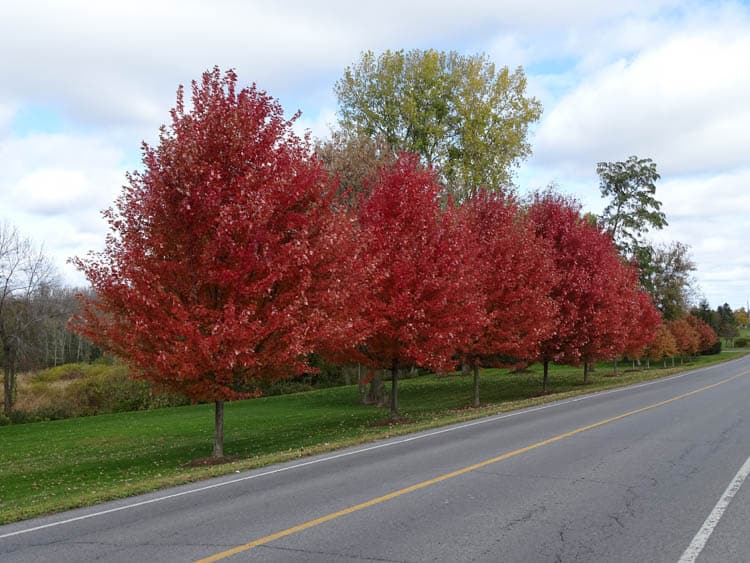 Prince Edward County
A casual autumn drive in my own neighbourhood is always a treat.  A nice loop tour includes the Rednersville Road from Rossmore to Carrying Place, Highway #33 to Wellington and Bloomfield, then Highway #62 back to Rossmore.
Book your hotels during your Ontario road trip here.
Alternately, at Bloomfield, you could continue east to Lake on the Mountain and the Glenora ferry. Then, drive alongside the lake all the way to Bath or Kingston.
Visit www.pecounty.on.ca.
Oak Hills
In the fall, my wife and I enjoy a drive through the Oak Hills, near Stirling. For a pleasant loop tour, I'd recommend including Frankford and Batawa as well. Another option is to drive on a loop that includes Springbrook, Marmora, and Madoc.
Northumberland
Another drive in our own neck of the woods will take you along Lake Ontario's north shore to Presqu'ile Provincial Park, Brighton, Colborne, Grafton, and Cobourg. Complete the loop by heading northeast to Roseneath and Warkworth.
Visit www.northumberlandcounty.ca
Actinolite and Napanee Loop
Take route #37 from Belleville to Tweed and Actinolite, route #7 northeast to Kaladar, then #41 south to Napanee before completing the loop.
Just before arriving at Napanee, you might decide to stop at Hell Hole on Centreville Road where you'll find a well-signed nature trail on private property. This will take you to the hole in the earth, where a ladder will take you down into Hell (a cool, dark, underground cave).
Read More: Weekend Getaway in Ontario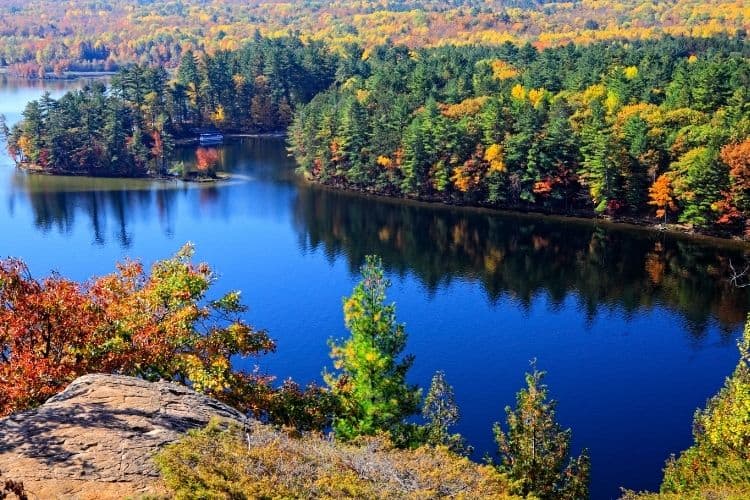 Bon Echo Provincial Park
At Actinolite, continue north on route #41 to Bon Echo Provincial Park. Here you'll find the towering Mazinaw Rock and many native pictographs. You'll also find some great canoe routes in this area.
Check out www.ontarioparks.com/park/bonecho
Kingston and the Thousand Islands
Take the Old Perth Road to Westport then make a nice loop tour that takes you to Chaffey's Locks, Charleston Lake, and Gananoque. You might even decide to add an autumn colour cruise in the Thousand Islands to this road trip.
Check out www.rideau-info.com and www.thousandislands.com
Algonquin Provincial Park
One of my all-time favourite spots for fall colours in Ontario is right through the park (on #60). On one autumn trip there, I had to stop twice for moose. You can also prolong your visit by camping, cycling, or hiking within this beautiful setting.
Don't forget to stop at the Visitor Centre for yet another spectacular view. You can make this a nice loop tour by driving south of the park, through Haliburton, and back to Bancroft.
Visit www.algonquinpark.on.ca
Haliburton Highlands
In this region of lakes and forests, check out the Panorama Lookout on South Lake Road (at Minden). Then enjoy a loop tour that includes visits to Peterborough, Lindsay, Fenelon Falls, Bobcaygeon, and the village of Haliburton itself.
Visit www.haliburtoncounty.ca
Muskoka
With its hardwood forests and plethora of lakes, this area attracts a lot of autumn visitors, so expect some crowds. You can take #400 and #11 to Gravenhurst, Bracebridge, and Huntsville (where Lion's Lookout offers you a great view of the area).
The nearby Dorset Lookout Tower overlooks the Lake of Bays.
Visit www.discovermuskoka.ca
Read More: Niagra's River Road: An Autumn Wonder of the World
The Ontario Ghost Road
The Old Rosseau-Nipissing Colonization Road was one of a network of roads devised by the provincial government to encourage settlement of the area. This was to aid the large lumber companies with better access and to provide this flourishing business with a built-in workforce.
Although this drive is further away and more challenging I found it to be very scenic and historically interesting. This rugged road began in Rosseau (southwest of Huntsville) in 1864 and ran parallel to what's now route #11. It now passes through several ghost towns, including Seguin Falls, Spence, and Rye.
For more information: www.nipissingroad.ca
Ottawa Valley
Northwest of our nation's capital city, you'll find this region of wilderness, waterways, and woodlands. Take a loop tour that includes Calabogie, Renfrew, Wilno (Canada's oldest Polish settlement), Barry's Bay, and Foymount (where you can get a stunning, panoramic view of the region).
Check out www.ottawavalley.org
The Near North
Begin this tour in North Bay and head north to Temagami, Cobalt, and New Liskeard. For an extended tour, you could drive further northwest, to Timmins, then south to Sudbury, and east back to North Bay. There's a captivating train excursion for those fall colours in Ontario between North Bay and Temagami.
Agawa Canyon
No list of routes to see fall colours in Ontario would be complete without including this popular wilderness excursion on the Algoma Central Railway. You'll depart from Sault Ste Marie and the train trip will include a stop on the canyon floor where you can hike or picnic.
For information and to book your tour, visit www.agawatrain.com
Book This Trip
There are, of course, many other options for seeing the fall colours in Ontario, so if you don't choose one of these listed here, then simply select some intriguing route of your own design. The main thing is to just get out there and enjoy the magnificent beauty.
After all, it may be a long time before you'll have bare, clear roads again, for there's a rumor that 'the white stuff' is coming just around the corner.
Author Bio: John is a freelance travel writer and photographer who enjoys travelling the world and writing about his adventures. He has written weekly travel features for a group of community newspapers, presented several travelogues, and is the author of two major cycling books: "Cycling Canada" and "Cycling the USA"
Read More: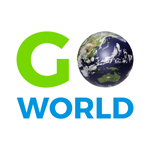 Latest posts by Go World Travel Magazine
(see all)