What do you picture when you think of the State of Nebraska? If images of vast plains and seemingly endless cornfields come to mind, you're not wrong. Nebraska is the nation's third-largest corn producer.
Yet, there is so much hidden beauty scattered across the state just waiting to be explored. Because it is not well-known, visiting Nebraska is a wonderful way to see natural beauty, open land, and a dimensional history that dates back 541 million years all while avoiding crowds.
If you come with an open mind, you'll discover the unexpected beauty of western Nebraska and have some unforgettable adventures.
You can make your road trip even more entertaining with the Autio storytelling app by Kevin Costner.
The Fascinating History of the Oregon Trail
The bulk of what I previously knew about the Oregon Trail came from the 1971 computer game where you try your best to survive the treacherous journey of moving westward. As fun as this game is, it is not the epitome of accuracy. My education was thoroughly refreshed at the Oregon Trail Museum and Visitor Center in Gering, Nebraska.
The Oregon Trail was explored and defined by pioneers in the early 1800s and served as a critical route for westward expansion. In total, it was 2,170 miles long, connecting the Missouri River to the valleys of Oregon. Travelers embarked on this journey in pursuit of new opportunities and a better life in the West.
After crossing the Missouri River, travelers cut through the northeast corner of Kansas until they reached Nebraska, where they traveled through the prairie for approximately 486 miles. As they reached the western part of the state, the terrain began to shift from flat open lands, to rock formations, cliffs, and forests.
Read More: Exploring the Historic Oregon Trail and Its Legacy
The Most Well-Known Landmark on the Oregon Trail: Chimney Rock
Chimney Rock is a natural rock formation that stands tall and proud in an otherwise flat prairie. Travelers on the Oregon Trail were amazed by this landmark because not only was it interesting but it symbolized progress.
Among the 300 journals left by Oregon Trail travelers, Chimney Rock was discovered to be the most documented landmark of them all. What they didn't know yet, was that it foreshadowed a future of navigating challenging terrain and harsh conditions as they approached the Rocky Mountains.
Scottsbluff National Monument
Right by the Oregon Trail Museum and Visitor Center is the Scottsbluff National Monument, which is a beautiful rock formation with dynamic cliffs and scenic views. There are many hikes up the formation but if hiking isn't your thing, you can drive to the top, too. This monument was the second most mentioned landmark in journals from the Oregon Trail.
Scottsbluff National Monument and the town of Scottsbluff are both named after a fur trapper named Hiram Scott who grew too ill to travel and was abandoned by his companions. He died shortly after and had the bluff and town named in his honor.
Shops to Explore in Crawford, Nebraska
Drive east of Scottsbluff and you'll encounter the charming town of Crawford, Nebraska. The downtown is small but is home to Gibbons Honey Farms, White River Gallery, and the Prairie Agate Rock Shop. There are all sorts of quirky places to explore here that give you a taste of the Crawford character.
Read More: Explore America's Heartland: A Road Trip in Nebraska
Visit Fort Robinson State Park
Nearby is the expansive Fort Robinson State Park, which is the largest in Nebraska with over 22,000 acres of land. It has a fascinating history that dates all the way back to prehistoric times.
The best way to get a taste of the whole property is to take an hour-long Jeep tour. You'll drive through prairies, hills and forests all the way up to a jaw-dropping view with an 83-mile vantage point. Fort Robinson State Park highlights the antithesis of what you might expect from Nebraska with such dynamic terrain and bright green foliage.
Along the way, you'll encounter a wide variety of prairie-dwelling animals including bison, pronghorns, donkeys, long-horn cattle (two herds in all of America), prairie dogs, and more. One of my favorite parts of Nebraska is the vast amount of open space. If you're coming from the city or a congested suburban area, the boundless nature of Nebraska will be a breath of fresh air.
Remember the song Home on the Range? I learned about some inaccuracies that I thought were intriguing. Buffalo are native to Africa, and bison are native to the Americas. Antelope are native to Africa and pronghorns are native to the Americas. So "where the buffalo roam" should be "where the bison roam," and "the deer and the antelope play" should be "the deer and the pronghorns play." Doesn't quite have the same ring to it. Pronghorns are also the fastest land mammals in North America, running up to 60 miles per hour.
Prehistoric History at the Trailside Museum
Fort Robinson State Park features excellent museums packed with information relating to the surrounding area. My favorite was the Trailside Museum, which dives into the wild wonders of prehistoric times.
Back in the Paleozoic and Mesozoic times, the Great Plains used to be an ocean filled with ancient life. There are plenty of fossils at the museum as evidence. As the ocean subsided (millions of years later) and the Ice Age began, the area was populated with mammoths, saber tooth tigers and other creatures.
This time period is referred to as the Land Before Time because mammoths and humans coexisted at the same time towards the end of the Ice Age.
Fun Fact: A sabertooth tiger is more closely related to a panda than a tiger!
The main museum highlight is an exhibit called, "Clash of the Mammoths." This remarkable display features the fossilization of two bull mammoth heads, linked together by their tusks. It is said that they died in the middle of a fierce battle. The fossils were discovered a mere 15 miles away from the museum's current location.
Read More: Seeing Stars in Nebraska: Carhenge, Stargazing and Other Adventures
Toadstool Geologic Park
This was one of the highlights of my time in Nebraska and I wish I could've spent more time here. Toadstool Geologic Park is tucked away a few miles outside of Crawford. It hosts otherworldly rock formations that resemble toadstools.
There are many hikes to choose from that offer grand views of the surrounding prairie. The landscape is so surreal that it feels like you're on another planet. There were hardly any people there which is appealing if you're looking to avoid crowds on your adventures.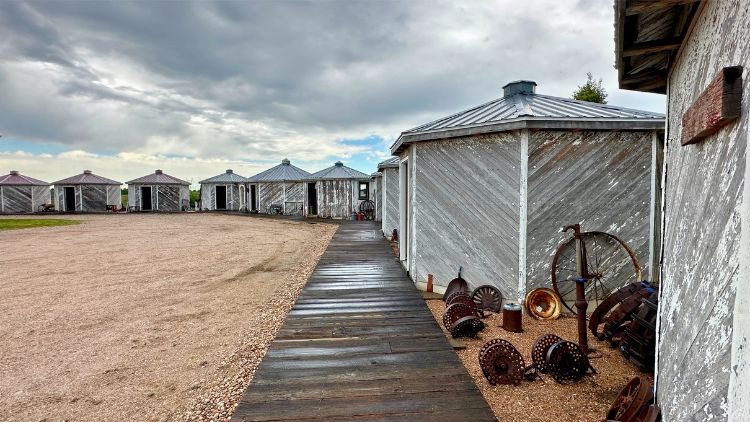 North Platte, Nebraska: Potter's Pasture, Antiques, and Tanking
A three-hour drive from Crawford is the lively town of North Platte located on the North Platte River. North Platte is home to some great museums including Buffalo Bill Ranch, the Cody Park Railroad Museum, and Lincoln County Historical Museum. North Platte is the perfect mix of country charm and Wild West flair.
Potter's Pasture is another scenic area 40 miles outside of North Platte that debunks the misconception that Nebraska is completely flat. The 100 acres of land is privately owned and operated but they are always welcoming campers, bikers, and hikers.
The land is stunning with rolling hills and beautiful forests and smells like fresh cedar and dew drops. It's advised to avoid going if it is too rainy because the road going up can get muddy and slick. Regardless, it should be a must-see on your journey in North Platte and is such a blissful escape.
If you like antiquing, you must plan a visit to Grain Bin Antique Town. There are 20 historic grain bins with a wide range of antique collectibles sorted in each one in addition to a large warehouse space with other antiques.
Tanking Adventure Down the North Platte River
By far the most amusing part of the trip was tanking down the North Platte River. This was a goofy adventure I would've never expected. Tanking refers to the big metal water tanks designed for horses and cows.
Someone came up with the idea of placing water troughs in a slow-moving river with a couple of oars. It became a fun cheap way to cruise down the river.
Each tank can accommodate 4-6 people depending on the size. Because the tanks are circular, navigating with the ores took some trial and error. They are relatively unsinkable and steering with the ores is only necessary when encountering shallow areas, rocks, or trees. Since the river is so slow, it is not too difficult. If it's a nice day, parking the tank and taking a swim is very refreshing.
With so much fascinating history, beautiful nature, and quirky activities, Nebraska offers a delightful travel experience like no other.
If You Go:
Tourist season in Nebraska is from June to August, so be sure to book accommodations in advance if you visit then.
Tornadoes & Storms: Peak storm and tornado season are the months of May and June. If you visit during these months, be conscientious of local weather reports and seek shelter when necessary.
The best way to get to Western Nebraska is to fly into Denver International Airport and rent a car. It is about a three-hour drive to get to Scottsbluff from there.
For more information on travel in Nebraska, see VisitNebraska.com
Read More: